Incredible Natural Products for Energy, Weight Loss, Insomnia, Anxiety and more
Be Epic, Healthy & Happy

B-Epic is a new star brand of natural supplements which offers high-quality product combo for energy, anxiety, depression, stress, weight loss, deep sleep and more. With many years of industry experience, our developers have created a unique product with unique benefits for health, mind and spirit!
Visit the official B-Epic website

What is B-Epic 3-pill combo?
This is the name of the combination of two BEPIC products – Elev8 and Acceler8. These are over-the-counter dietary supplements that come in the form of small capsules of different colors.
An Elev8 box contains 30 capsules. Inside a box of Acceler8 contains 60 capsules. Of these, 30 are white, which are called Acceler8 Sleep and 30 violet (or brown), which are called Acceler8 Restort.
All together, three types of multi-colored capsules are called "B-EPIC combo".

What is B-Epic 3-pill system?
The B-Epic 3-Pill System is based on the daily use of three B-Epic dietary supplements – Elev8, Acceler8 Sleep and Acceler8 Restore.
A green Elev8 capsule is taken in the morning, white (Acceler8 Sleep) and violet/brown (Acceler8 Restore) before bedtime.
The duration of taking is not limited. The longer you take 3-pill combo, the better your health results.
---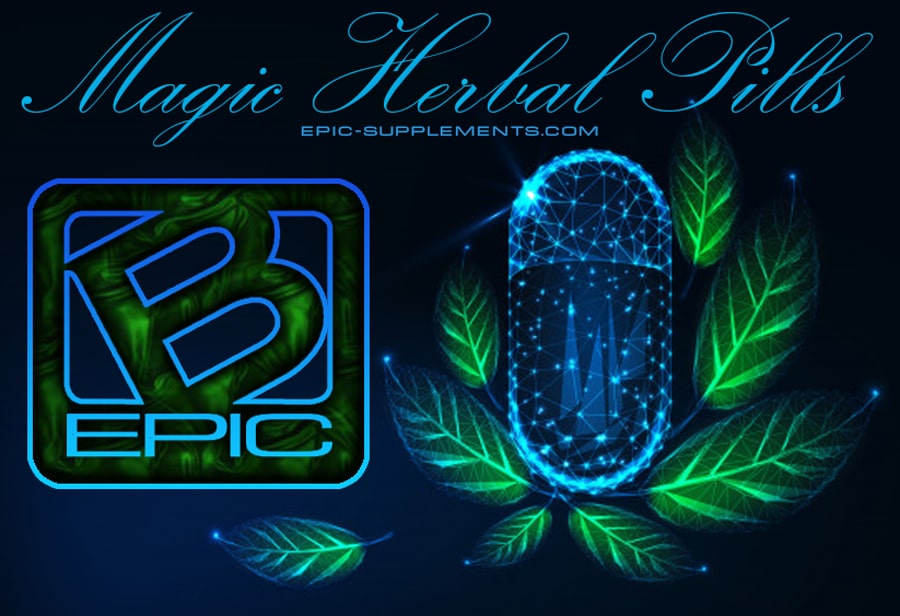 ---
3-Pill Combo Benefits
Elev8+Acceler8 combo is developed with a perfect blend of healing ingredients necessary for body regeneration, mind clearness and high spirit.
With B-Epic high-performance lifestyle products you will be the best version of yourself. The Company source the most effective and proven natural herbs, mushrooms and microflora complexes that have been used for centuries in traditional healthcare practices. Our formulators enhance the ingredients power with modern extraction and supplementation technology to create this product you can trust.
3-pills combo nourishes your mind and body with all-natural herbal, whole food, and medicinal mushroom extracts.
This synergistic combo naturally cleanses and detoxifies blood vessels, liver, kidney, epidermis and other body systems.
The supplements contains on non-habit forming blend to help sleep well!
Easily and naturally eliminate extra pounds while you sleep soundly.
Obtain daily natural boost of energy, mental clarity, and focus.
New energy and mental focus can improve your daily performance in order to gain new professional and social achievements.
Feel more relaxed, relieve stress and anxiety, improve your mood and overall feeling of well-being.
With B-Epic 3-pill system based on green (Elev8), white (Acceler8 Sleep) and violet/brown (Acceler8 Restore) pills, you will experience an Epic feeling every day … and every night!

Some customer results
---
Reviewed by Melissa Hession from South Carolina, USA:
"The before is god awful believe me I know it took a lot to show that to the public (I ate my feelings in quarantine) but it's important to show how this has helped, this is the difference in my body in 50 days!!
I've taken 10 years off my face. All anxiety is gone, sleep better and I feel like a million bucks!!
I never knew how important gut health was until I found this stuff. 17 lbs and a ton of inches, and I've been off antidepressants for 50 days and my hair has grown over an inch as well."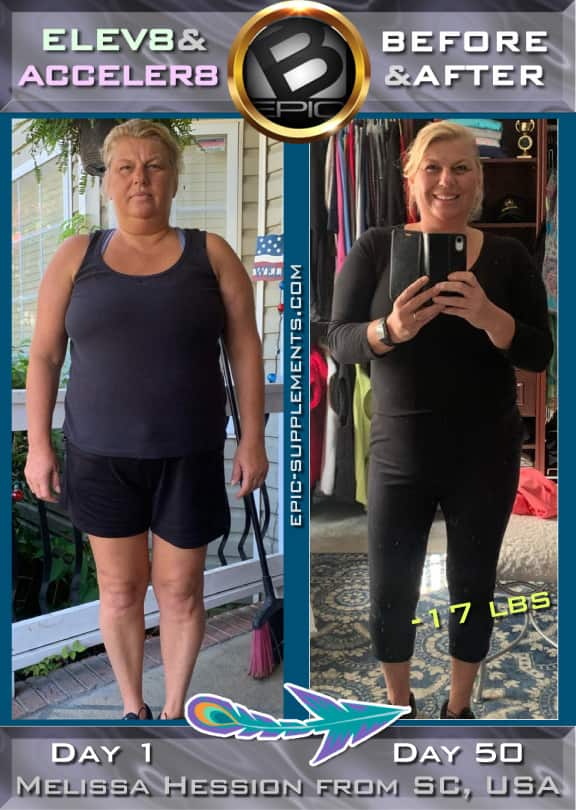 ---
Isaac Devaney from Houston, USA shared his review:
"As a 18 year old, 2 1/2 months on this product has changed my life in a mental way & physical way as well!
In a physical way.. my acne is gone , more muscle definition & my energy is out the roof!
As far as my mental … I'm way more focused, productive, & it has made me realize my worth! Also, it has gotten rid of my social anxiety, I am way more patient & my mood is up! I'm determined to better myself & others!
These gems can benefit anyone no matter how old you are!"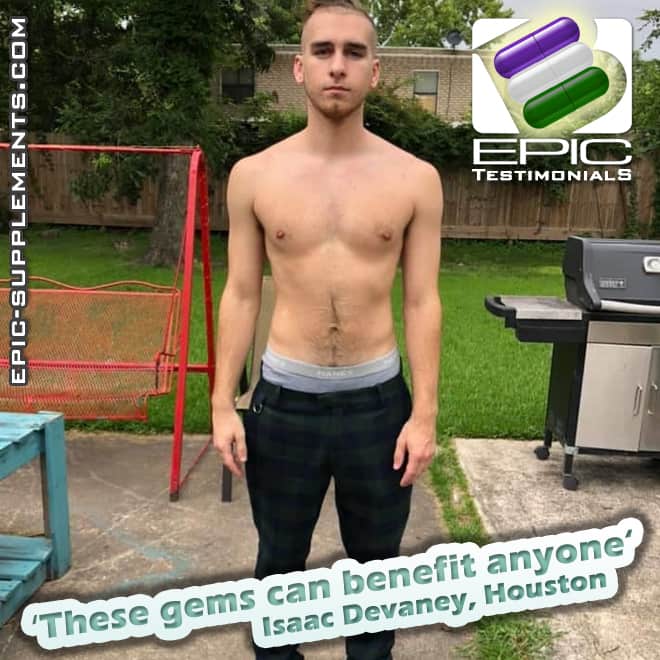 ---
Jennifer B. Ruggles from Kentucky, USA wrote:
"My 3 weeks result is 7 lbs down.. but this is not what I'm most excited about..
What absolutely amazes me is how much stronger I am. For over 13 yrs I have taken a lot of meds for my Chrons, fibro, pain, inflammation, insomnia and migraines that "helped" but never actually solved the issues to have more better days than not, not to mention the side effects I dealt with from the meds! I have suffered from depression, anxiety and pain in my arms and legs, some days it was difficult just to get out of bed!! I have tried supplements in the past that helped for awhile until the formula changed and no longer worked for me. In my personal research I have learned that inflammation is the root of most autoimmune diseases and with the right nutrition it can target the root..
I blindly started taking these 3 little life savers for weightloss & energy which is great but then I gradually started noticing I no longer suffer every day from all the issues and side effects!!!! And my gut issues…. well they are regulated ))
I am happier now because the mood enhancers are amazing.. and feel like my old self again!!
I'm so thankful I listened to my gut and took a chance!!! No one should have to endure being miserable every single day!!! Live your life!!"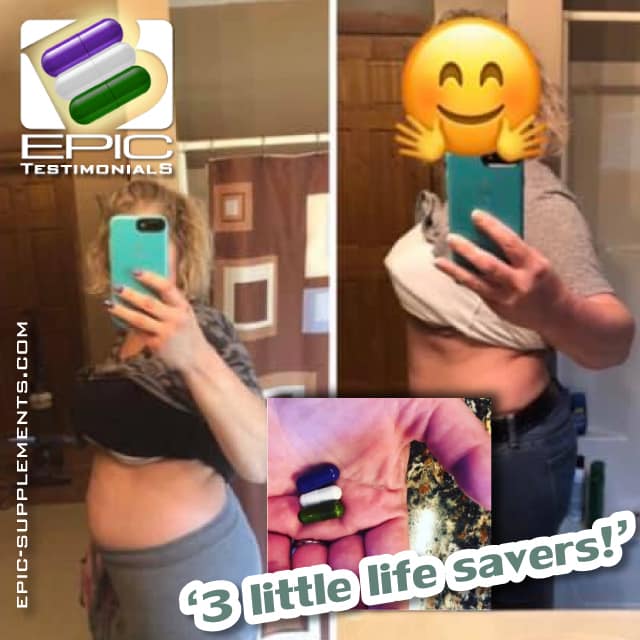 ---
Mariah Chatelaine from Canada wrote:
ONE MONTH! Since I joined this EPIC journey!!!!
I don't just wanna talk about my weight loss…
My hair is growing in thicker, and faster! My nails had splits in them and they dried up! My energy is out of this WORLDDDDDD! My depression is very much non existent! I don't feel the need to take anything for my anxiety.
Guys… let's talk about the sleep I'm getting… I went from 3-5 hours to 6-8 hours and even made it to 10 one night!!!! I used to wake up with clenching headaches… almost daily. I've only had 2 in a MONTH!
And losses…. 22 lbs down and 28 inches down (one arm one leg!)
Everyone always wants to talk about losses but I'm about the gains baby!
We should be taking healthy vitamins and minerals… so what's the difference between buying from the pharmacy or B-EPIC? Ohhh I know… THESE WORK!!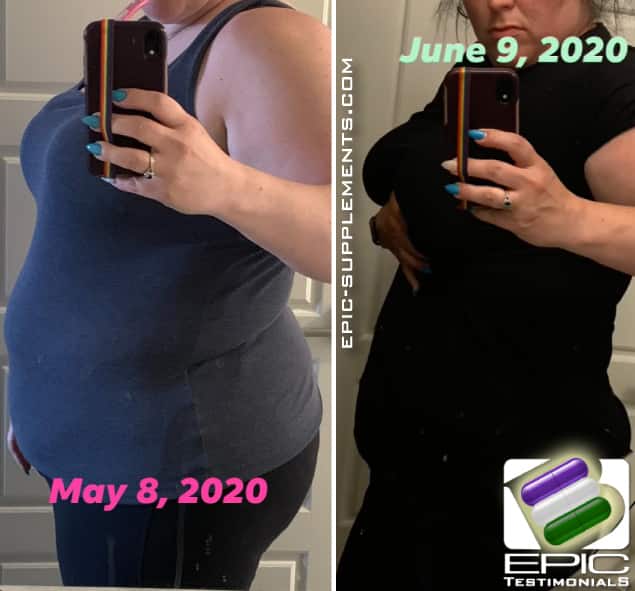 ---
Jennie Vega from Connecticut, the USA wrote:
"3 little pills system changed my life completely.
I been struggling with my weight and I was at a plateau for awhile. Which was causing low self-esteem and my depression started to kick in bad. When I had my car accident in December it was really back and I was eating so unhealthy and I could not do my yoga which was even more depressing.
I use to take all these vitamins and now I have everything I need in 3 little pills and its cost effective and I am feeling FABULOUS!
My A1C drop from 7 to 5 and my BMI drop from a 47 to a 35. My mood is great great now, I am back to clean eating, exercising 5 times a week, but most of all my B-Epic!"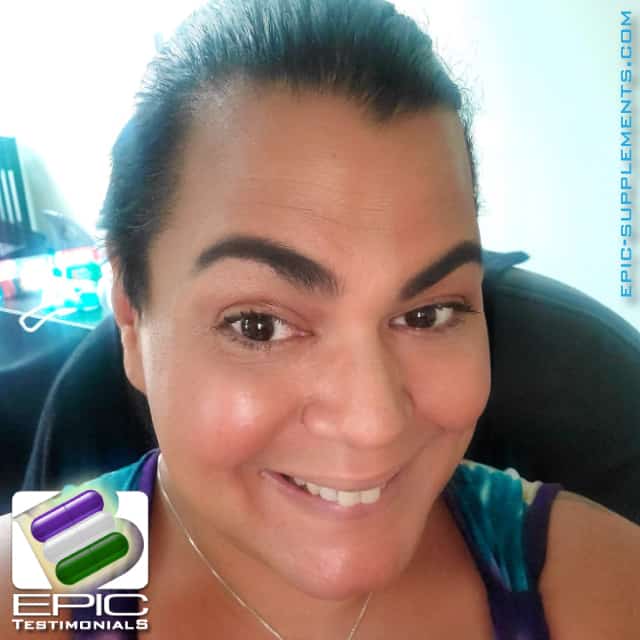 Shannen Castro from US said:
"I've been taking the 3-pill system for 3 months now (Haven't missed a day). I have amazing Energy and my Focus is on point! I'm also off all my Anxiety and Depression medication that I've been taking for 10 years. It took me about 2 weeks before I started to get that good ol' sleep.
I've lost 5 to 6 pounds. I bought these shorts from Kohl's 2 years ago and of course they didn't fit me ((
Yep and I don't return stuff! So in my dresser drawer they sat.
Well the other day when it was super hot outside here in Wisconsin. I was looking for some shorts to wear. And I thought what the hey. Why not try these on again?
Welp! I was honestly not expecting them to fit and What do you know I can fit them ))"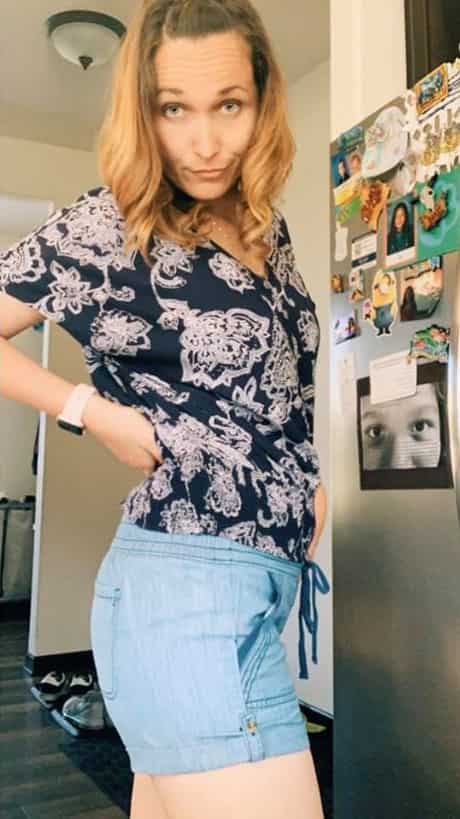 ---
See also: B60 Bundle