BEpic company operates in more than 50 countries around the world. The list of BEpic countries is shown below.

What countries is B-epic in? (Full List)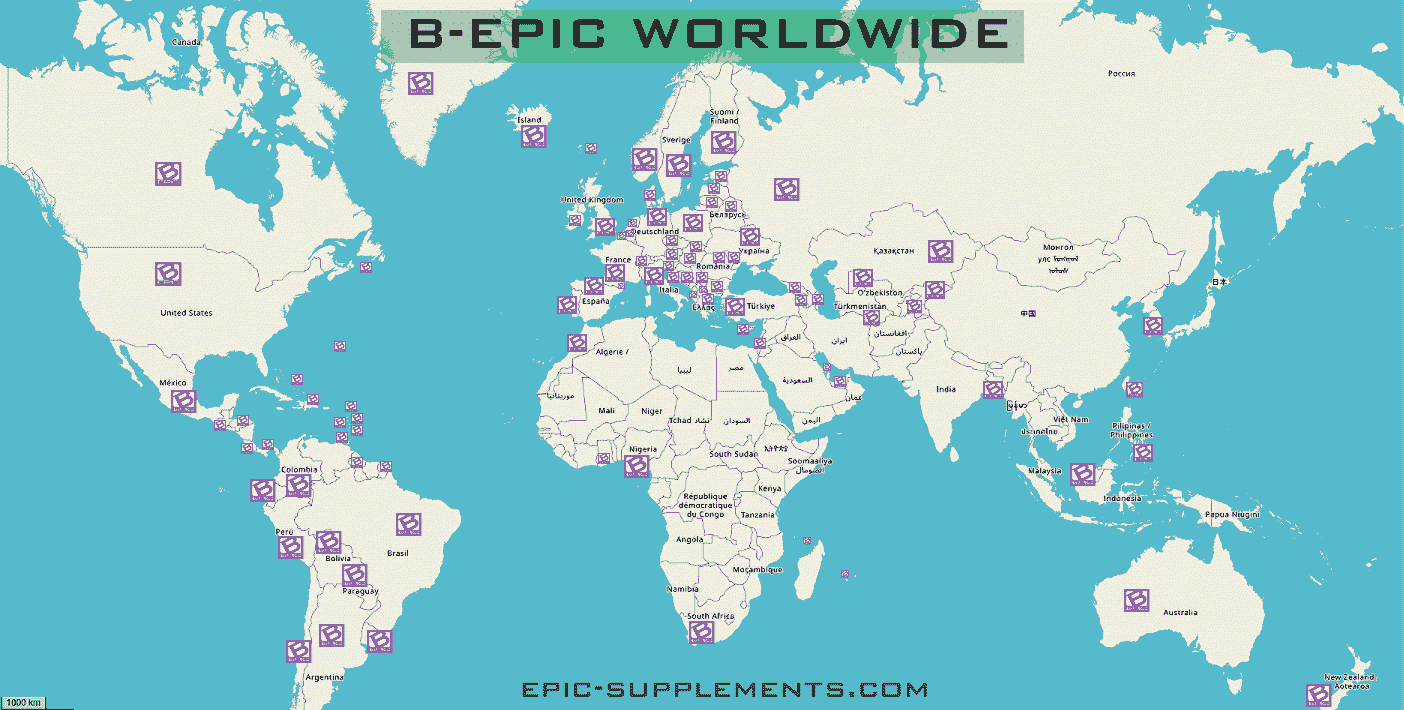 Residents of these countries can sign up on the company's official website as a Independent Distributor or Preferred Customer. Also, B-Epic products are delivered to these countries. See in which countries BEpic is available.
B-Epic products available in the following countries
Andorra
Anguilla
Antigua and Barbuda
Armenia
Australia
Austria
Azerbaijan
Bahamas
Belgium
Bermuda
Bolivia
Bosnia & Herzegovina
Bulgaria
Canada
Chile
Colombia
Costa Rica
Croatia
Cyprus
Czech Republic
Denmark
Dominican Republic
Ecuador
El Salvador
Egipt
Estonia
Faroe Islands
Finland
France
French Guiana
Georgia
Germany
Greece
Greenland
Guadeloupe
Guatemala
Guyana
Hungary
Iceland
Ireland
Israel
Italy
Kazakhstan
Kyrgyzstan
La Reunion
Latvia
Lithuania
Luxembourg
Malaysia
Martinique
Mayotte
Mexico
Moldova
Monaco
Montserrat
Netherlands
New Zealand
Nigeria
Norway
Panama
Peru
Philippines
Poland
Portugal
Portugal
Romania
Russia
Serbia
Slovakia
Slovenia
South Africa
South Korea
Spain
St. Kitts and Nevis
Sweden
Switzerland
Taiwan
Tajikistan
Trinidad and Tobago
Turkey
Turkmenistan
Ukraine
United Arab Emirates
United Kingdom
United States
Uruguay
Uzbekistan
Note: the list may expand
Availability of products
The company manufactures and distributes the following products
(click on the icon for details)
Please note
Not the entire product list may be available in your country in current time.
Some products are available only during LTO (Limited Time Offer).
How to buy BEpic supplements worldwide
To make a purchase, you need create account on B-Epic website and place your order
The safest way to buy Elev8 / Acceler8 tablets and other supplements at the lowest price is to order them on the bepic.com official website. You need to create an account and place an order. It will be delivered to you by the postal service.
---
Shipping Services
BEpic products are delivered to different countries by the following parcel services
| Country | Service |
| --- | --- |
| United States | USPS |
| Canada, United Kingdom, Australia, New Zealand | Landmark Global |
| Israel | Landmark Global |
| Austria, Belgium, Bulgaria, Croatia, Czech Republic, Estonia, Germany, Hungary, Ireland, Italy, Latvia, Lithuania, Luxembourg, Poland, Portugal, Romania, Slovakia, Slovenia, Netherlands, France | GLS (General Logistics Systems B.V.) |
| Ukraine, Russia | Velox |
| Philippines | LBC Express |
| Sweden, Denmark, Norway, Kazakhstan, Kyrgyzstan, Uzbekistan and other countries | DHL + local post services |
Attention: the list is subject to change
In some countries (eg South Africa) it is possible to pick up products from a local warehouse.
---
Payments
You can purchase B-Epic products on the company's official website using Your credit or debit card. This is the safest way to buy Elev8, Acceler8, B-Keto, Regener8 and other supplements at the lowest price.
To purchase, you need to create an account on the company's website and place an order. It will be delivered to you in a few days.
To pay for BEpic products you will need one of the following cards
Visa card
American Express
mastercard

Discover Novus.
You will need to indicate your card number, expiration date, three-digit CVC number (indicated on the back of the card).
Note: payment by Paypal, bitcoins and other payment services is not yet available.
All payments on official B-Epic website are safe. Please use only authentic B-Epic website – www.bepic.com

Some customer results
(20 Before-and-After Pictures)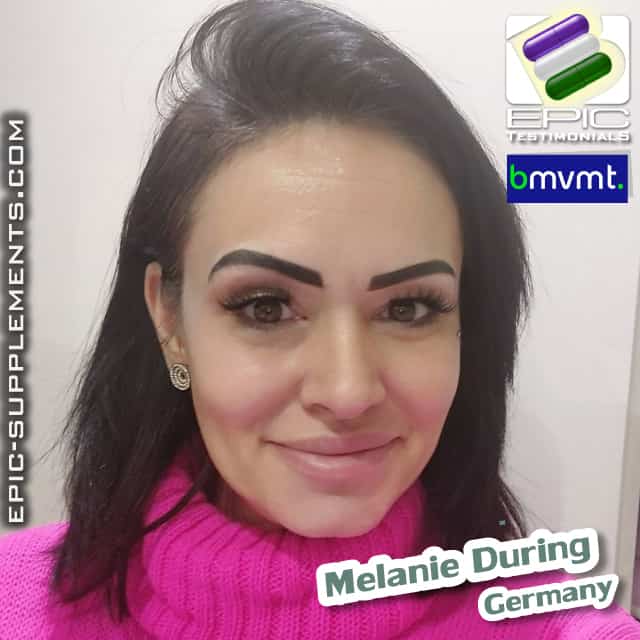 BEpic products review by Melanie During from Germany:
"I am Melanie 47 years old, mother of 6 children.
I've been getting sicker and sicker in the last few weeks because of stress I got two stomachs ulcers and my condition has become more critical so I'm not even able to work anymore.
I was very skeptical about all these supplements because of course I've tried a lot and it didn't help me.
Well, I ordered and tried products BEpic and this is now about 11 days ago.
I am so overwhelmed with what these products have done to me in such a short time and I never thought it was possible!
I'm doing so incredibly well and I've lost almost 6kg. I haven't been in pain since, I'm fit and in a good mood and my skin is getting more beautiful day by day.
Today I went to the doctor and even he immediately noticed that I look completely different but the best thing is that my stomach went back to the swelling.
This is a complete transformation in this short time and almost magic 🦋"
---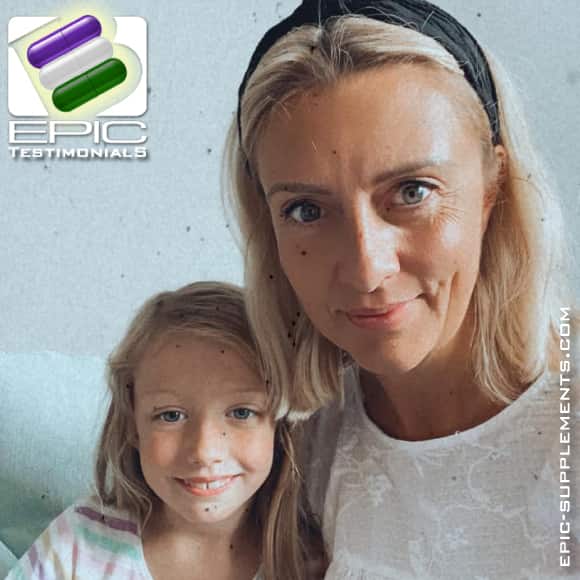 Review by Aley Dibblee from UK:
"I have suffered with Anxiety for 29 years and over that time have been on various prescription meds. I'm still taking Citalopram, but thanks to these frankly miracle supplements, I've halved my dose from 20mg to 10mg.
First time in years! I could cry at the thought of only taking natural products for the rest of my life knowing they will help me cope with whatever life may throw my way.
Don't get me wrong, prescription drugs are great but I'd rather not put manufactured substances in my body if I can help it."
---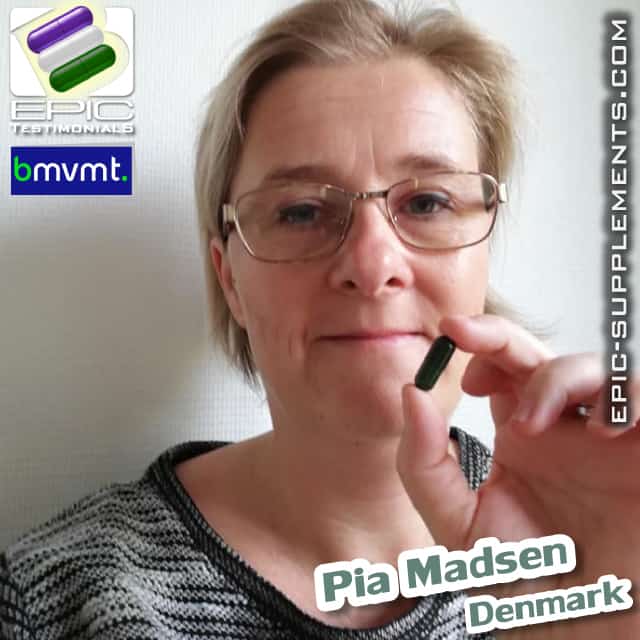 Testimony of Pia Madsen from Denmark:
"I have now been working on the products for 9 weeks🙂 The first 4 weeks I took Elev8, Acceler8 and B-Keto. For the last 5 weeks I have also been using the Royal Blue tea.
I have gotten much better! I clearly feel I have bigger profits and more energy. I have become more active. I sleep great, then wake up ready and rested.
I have had a craving for my sugar cravings but now my appetite is significantly reduced. My skin has glowed and my hair and nails have become stronger (my nails grow completely wild).
I have lost 10.3 kg (22.7 pounds)! I am having a flat stomach and my BMI is now in the normal range. I am excited and keep the motivation to get to the finish line🤩"
---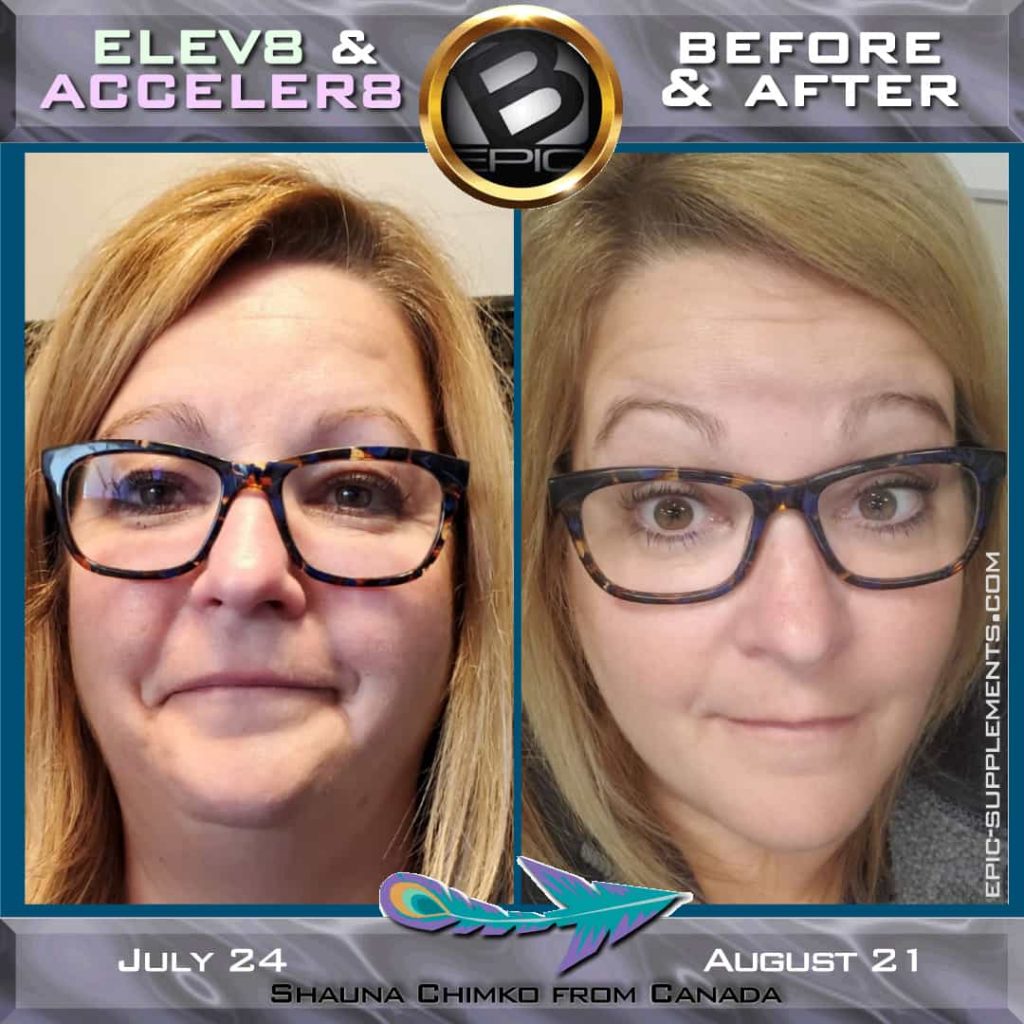 Shauna Chimko from Alberta, Canada wrote:
"I was introduced to these 3 pill system 1 month ago. The part that excited me was hopefully getting some sleep results, anything else was a bonus. I had been consistently getting up between 2:00-3:30 am and not being able to fall back asleep.
I am happy to report 2 days after starting, my sleep had increased by 6 hours a night. I was ecstatic. Sure I still have nights when I wake up, but I fall back to sleep quite easily. I have sustained energy throughout the day and don't feel the need to nap.
I didn't take measurements or step on the scale. I did however take a face picture the day I started. I took another picture last Friday. Do you think this system works?"
---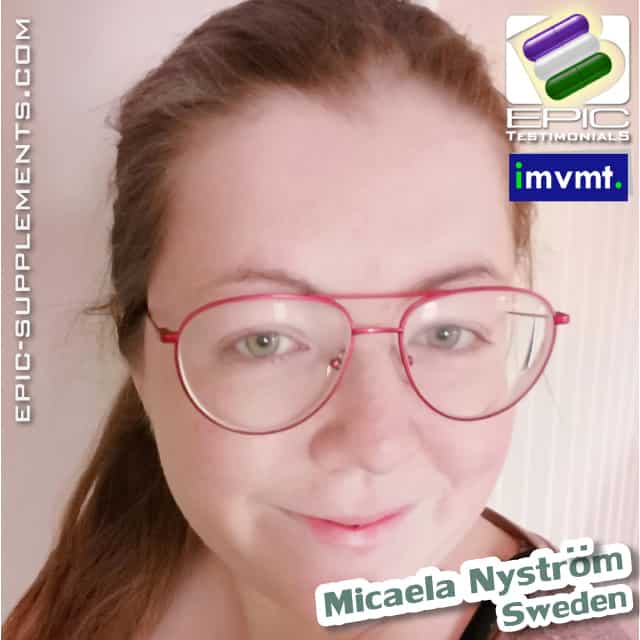 B-Epic Review by Micaela Nyström from Sweden:
"Now I have been taken the 3-pill system for a few months and want to tell you how it has been for me.
First, the energy! I have a 1,5 year old at home, and before the Green pill, even though I had important things to do, I could not help but take a nap when he slept. I did this probably 3-4 days a week at least. I love that I get a consistent energy during the day without highs and lows.
My stomach: I have a very stress-sensitive stomach, so much that I can get so much pain in my stomach that I need to take painkillers for 1-4 days a week. Since I started with the 3-pill, I have only had a stomach ache three times in several months.
I have shrunk in measurements around the stomach and my stomach feels good. I am so happy about it.
I fall asleep fast. My smartwatch registers significantly more deep sleep than before the white pill, it's cool. I wake up in the morning and feel rested."
---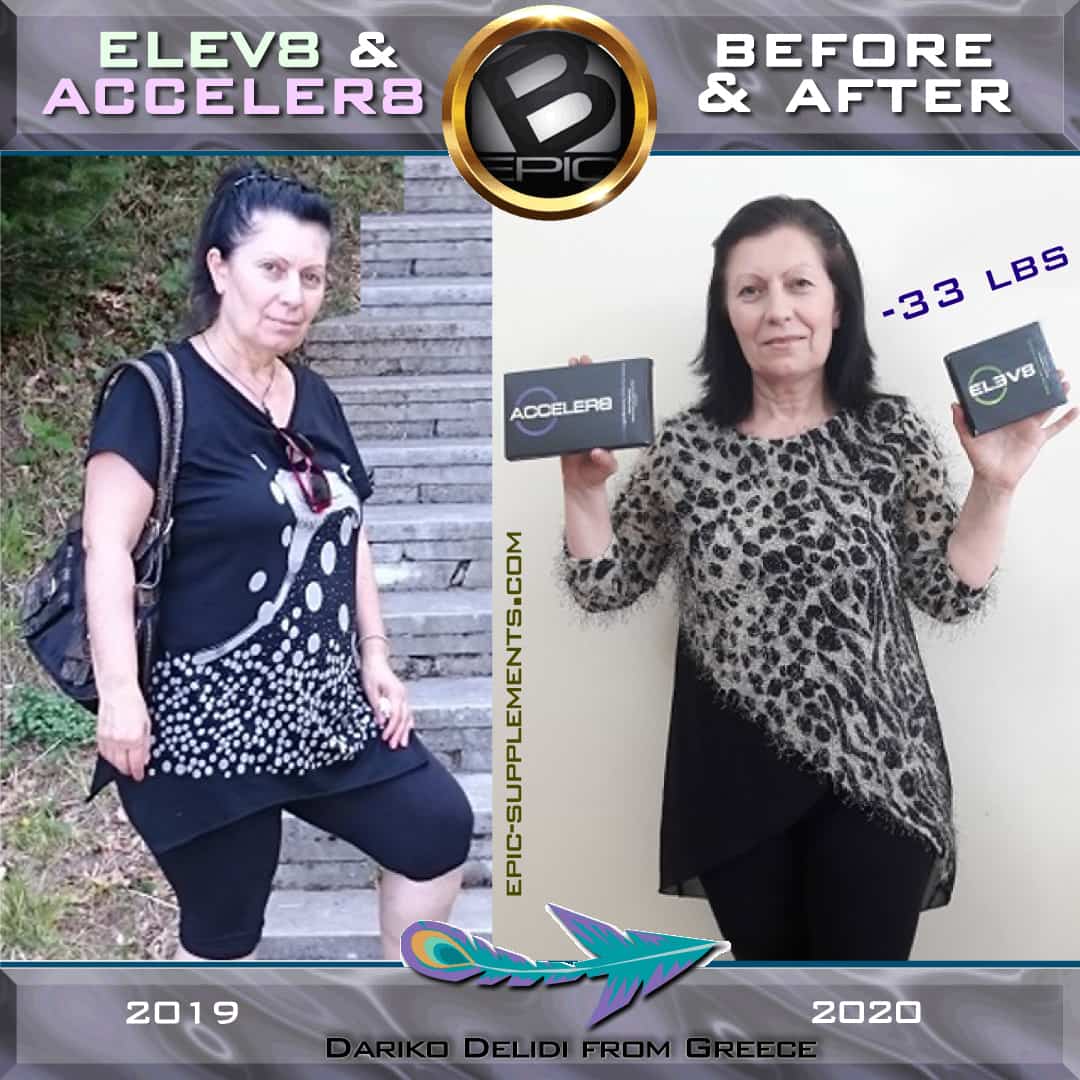 Dariko Delidi from Greece, Thessaloniki wrote
"And I'm already 61 years old. I have been taking cell nutrition products for about 3 years.
AND I HAVE THESE SUCH RESULTS!!!
• Energy, stamina
• depression is gone
• sound healthy sleep – as in childhood
• hair and nails are strengthened
• gone headaches and dizziness
• severe back pain passed (could not bend – to bend), my right hand does not bother in heat and cold (I have a plate there, after surgery)
• swelling of the legs
• long-term cystitis has gone
• lost 15 kg
• clarity of mind, ease throughout the body
I have been taking ELEV8 for about 3 years, with short breaks. ACCELER8 – more than a year. When I added ACCELER8 – then I started to lose excess weight
I RECOMMEND THE PRODUCTS EVERYONE AND EVERYBODY!"
---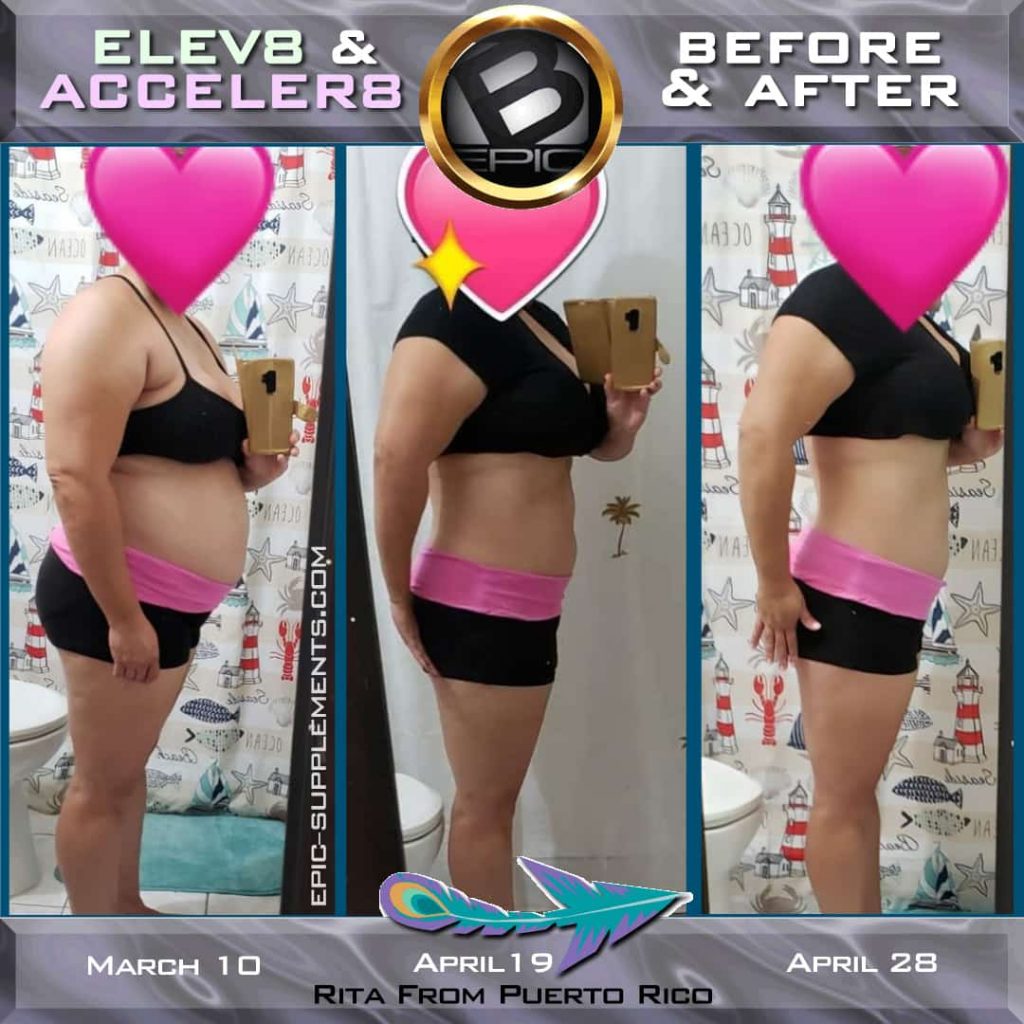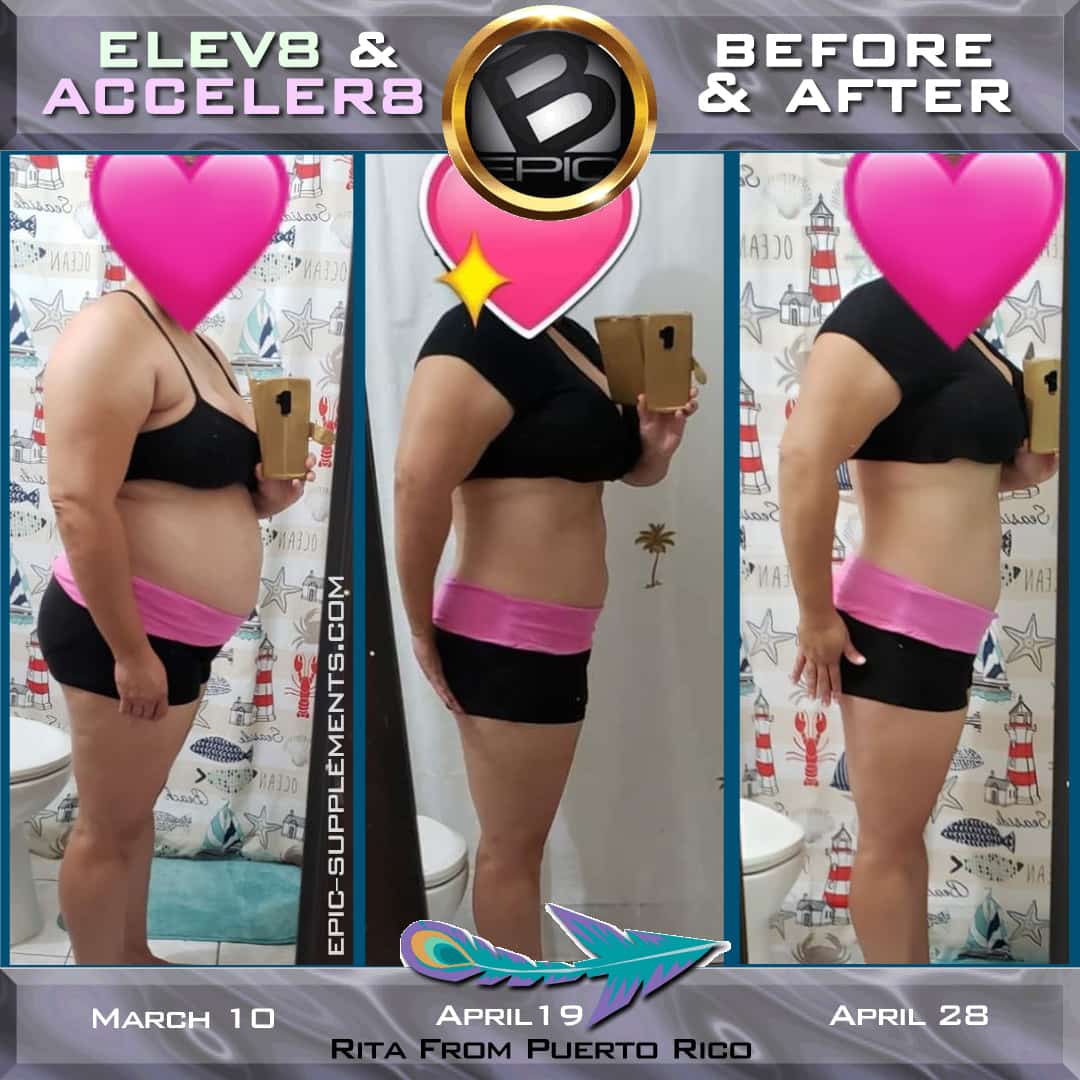 Rita Díaz Ortiz form Puerto Rico told the following:
"Now is 50 days of may epic transformation.
Obtaining the best results from a 3-pills system and alkaline water ionized by 70 minerals."
---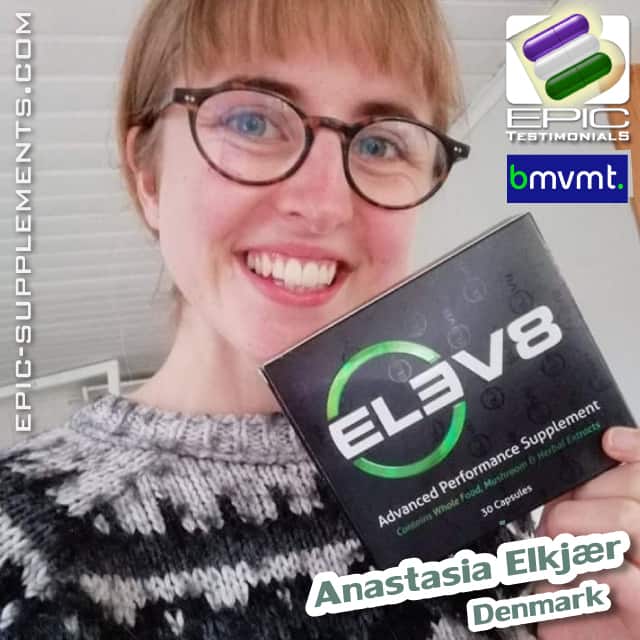 Anastasia Elkjær from Denmark told the following:
"Finished the 7 day with my favorite epic pack 🤩 (Elev8 has to be my favorite though!) and blue tea.
I experience:
A lot more energy (i feel like everyone around me is complaining about being tired, while I jump around like crazy) and I can meditate second thing in the morning and not feel like I'm falling asleep 🙏🏻
I no longer crave sugar to get energy!
My mood is more balanced – overall I feel better
I wake up more refreshed.
My nails, hair and eyelashes are growing like crazy!
My skin looks more healthy and overall I feel like I'm glowing from the inside and out 💖
Thank you BEpic!!"
---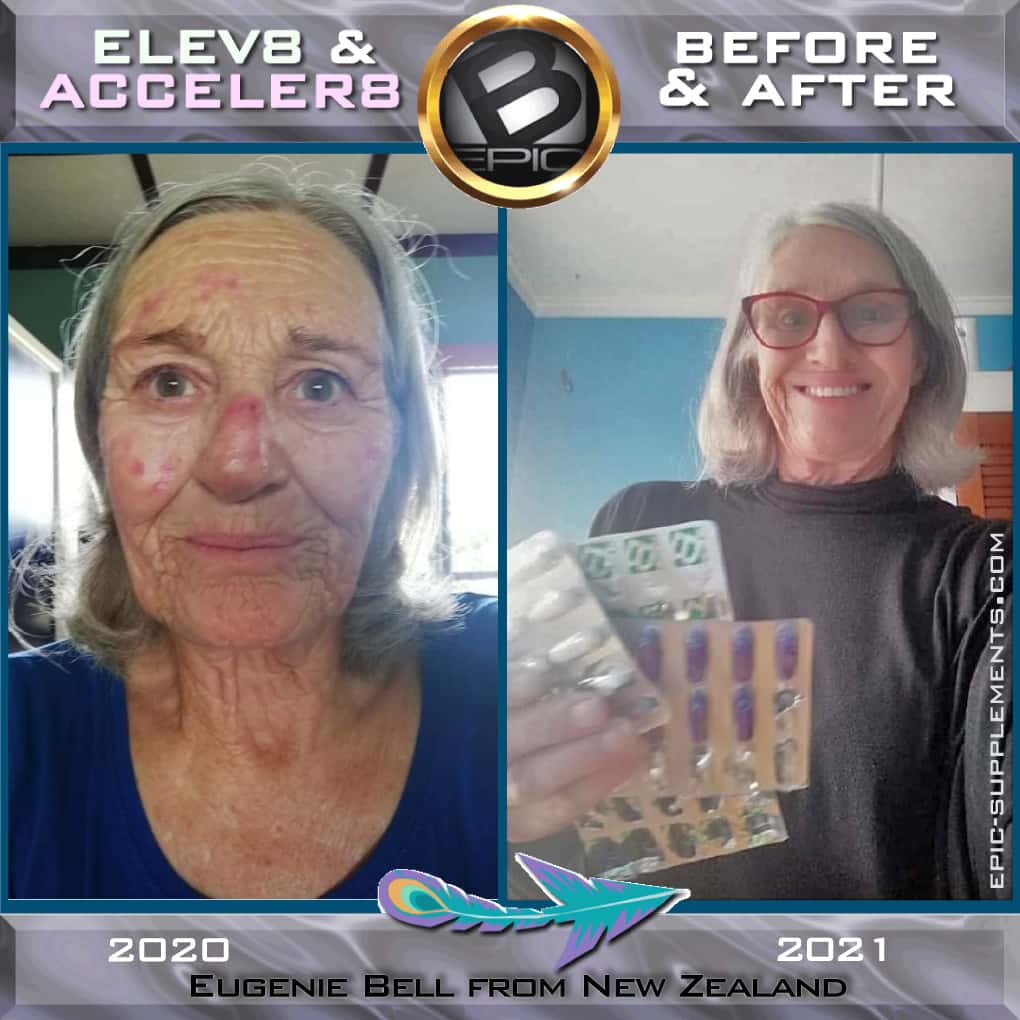 Story of Eugenie Bell from New Zealand
"My face update. It's not easy to share.
It has helped me so much. For at least the last 12 years, I have not gone out without makeup on because my face was so bad. I have lupis and I get the butterfly rash and sometimes sores.
Some days are worse than others. I have tried so many creams from $130.00 to $10.00 my main one cost $105.00 but none, that I could use full time as I would break out.
I stopped going out, even to a supermarket. My husband did it for me. I let my hair grow out and no more colours, as I said I was not in a good place.. I'm not one to do pics.
I had to get my sores extremely burnt off as my doctor said they could be cancerous within a year and have to get them cut out. So I went for the burn. I will put pics up so you can see. All with no makeup no nothing.
Then I found my magic beans 💊 💊 💊 which really helped. Then my magic drink Regener8 well my face felt and looked better and better. I hardly wear makeup now. I'm so confident to go out without it now. These products are my life savers for everything.
I am not making medical claims. This is just my story."
---
B-Epic story of Julie McLarty Bainbridge (Loire Valley, France):
"15 years ago, I had to start hormone treatments to have a baby. I gained more weight with the treatments than I did during my pregnancy. 11 years ago, same thing. I felt tired, sore, and sluggish.
I had two amazing boys who were / are full of life, but I wasn't. I was tired, overweight, grumpy, unhappy with myself and in poor health. No matter what I did whether it was dieting, running, swimming, zumba, or walking I couldn't shift the weight. I couldn't even look in the mirror.
14 months ago, I decided to start a wellness system and take care better of myself. It's like a cloud was lifted from my shoulders.
The Epic Pack has changed my life!
Today, I can look in the mirror, I'm a better mom, teacher, and wife thanks to this system.
I am finally happy in my own skin.
P.S. The picture with my second baby popped up in my memories and I couldn't believe it! I wish I'd known then what I know now."
---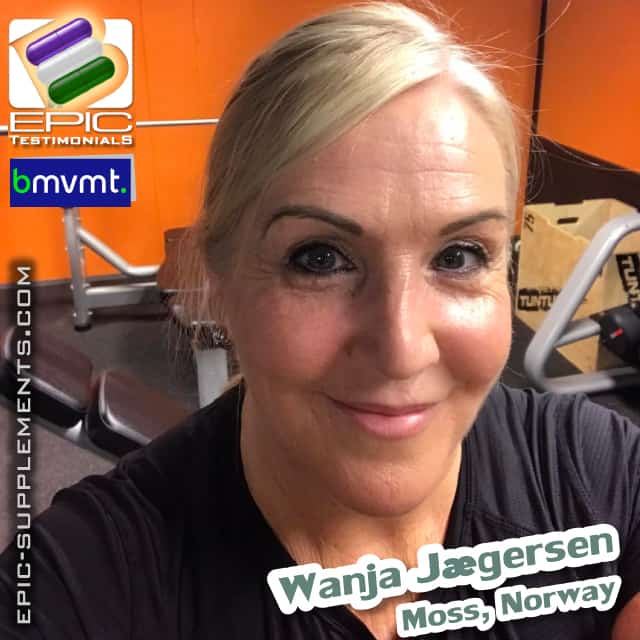 B-Epic experience of Wanja Jægersen, Norway:
Starting with B-Epic's products has made a huge difference for me and my health!
High blood pressure, problems with my breath, pain in my thighs and legs when walking, tired and with little energy, a stomach that did not work properly and repeated awakenings at night, pain in my joints and obesity are just some of the things I previously struggled with!
I started with the 3 capsule system in June 2020. I am incredibly happy to have lost 19 kg (42 lbs) in total! Now my energy is stable from morning to night, a stomach that works the way it should and I sleep deeply, through the whole night.
I have lost the desire for sweets, I don't like coffee (which I have loved for more than 40 years, and have smaller meals. My life has changed completely. When the body is in balance, life is good ♥ ️
---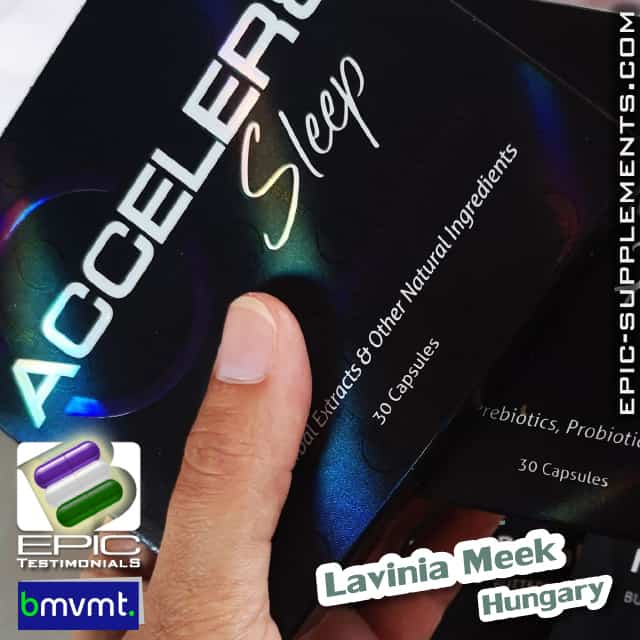 B-Epic Acceler8 reviewed by Lavinia Meek, Hungary:
Some people say gut bacteria can affect your mental health and mood, I can tell you that (if you are like me, very responsive to your body telling you how it feels) as soon as I started taking ACCELER8 Restore my gut was throwing a HAPPY DAYS PARTY.
If you want you can try the ACCELER8 Restore and Sleep (as a combo it also makes you lose weight) in one go.
My personal fitness update with Acceler8:
Pilates: core & abs 2 of 15 ✅
Flat belly workout 2 of 30✅