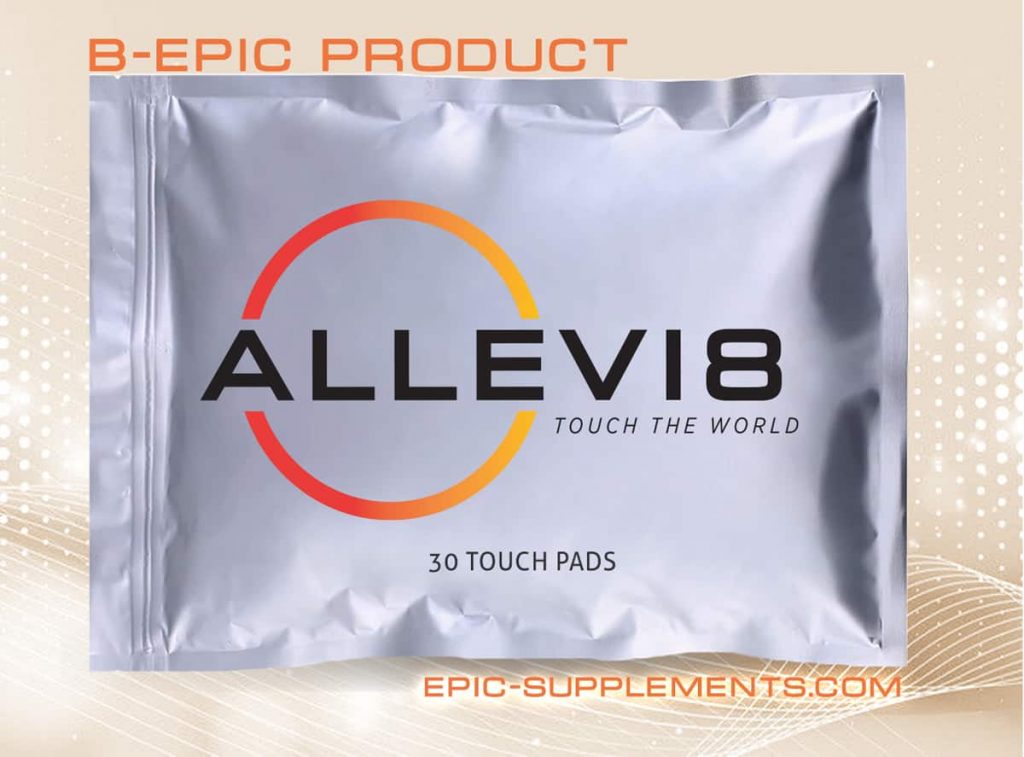 New product of the BEPIC company. Soothing, calming & relaxing!
ALLEVI8 Touch Pads is a set of pain relief, anti-stress and relaxation patches.
Formulated with natural ingredients, this patch offers pain relief and relaxation in a safe, non-invasive manner.

How to use
Peel off the backing and just place the adhesive side of patch on clean, dry skin (no cream or oil). Rub patch to smooth out any wrinkles.
It will start to work in approximately 20-30 minutes and delivers soothing, calm and relaxation for up to 10 hours.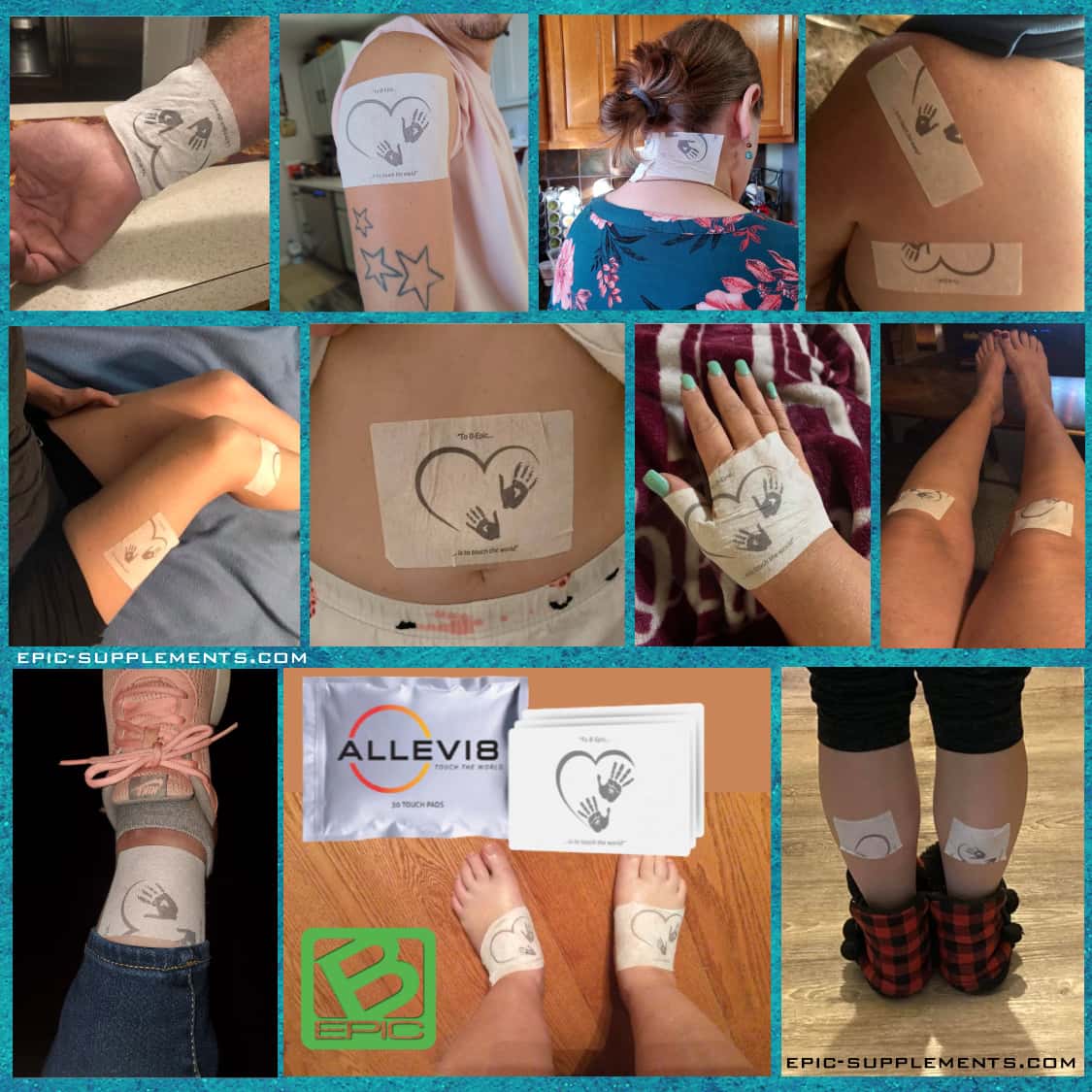 ---
Benefits
Soothes achy, stiff joints
Relieves internal aches and pains
Rejuvenates sore, tired muscles
Provides quick stress relief
Anxiety symptoms go away
Provides feeling of relaxation and calmness
Used transdermal delivery system is more efficient than the oral delivery of drinks or pills
Unlike relaxation drinks and oral supplements, you control when and how much of the ingredients penetrate your body. You can just remove the patch to stop receiving the contents at any time
Allevi8 Touch Pads by B-Epic (official video)
---
Product Info
Content: 30 patches (touch pads)
Sulfate, paraben, and phthalate free. Not tested on animals.
Vegan & muslim-friendly.
Intended for individuals aged 13 and older.
Store patches in a dry place. Keep away from direct sunlight.
Made in USA for BEpic company
Prices
For Brand Partners:
1 Regener8 pack (30 Servings): $59.95 + shipping + international fees (outside US) + one-time registration fee $19.95
1 Regener8 + 1 Allevi8 (30 touch pads): $100 + shipping + international fees (outside US) + one-time registration fee $19.95
For Preferred Customers:
1 Regener8 pack (30 Servings): $69.95 + shipping + international fees (outside US)
---
Ingredients
Active ingredients:
Ginger
Tourmaline
Capsaicin
Lavender
Ginseng
Potassium
Magnesium
Auxiliary ingredients:
Water soluble adhesive
Cellulose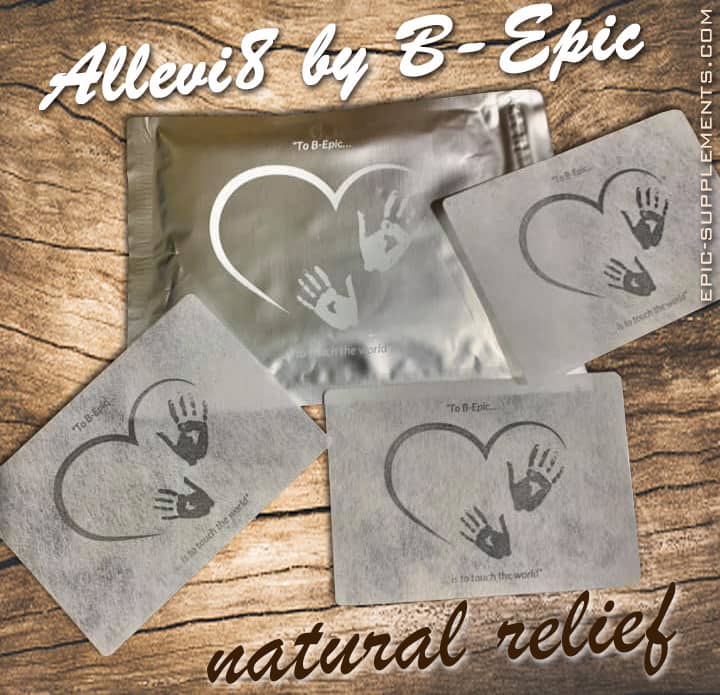 ---
Cautions
For external use only
Do not apply to head, face, kneecap, or elbow
If pregnant or breast feeding, consult your physician prior to use
Avoid putting pressure or sleeping with pad on for extended period of time

Do not leave on longer than 10 hours at a time

Use only one pad within 24-hour period
Do not use for more than 10 consecutive days
Side effects
Mau cause skin irritation
May remove skin hair when removed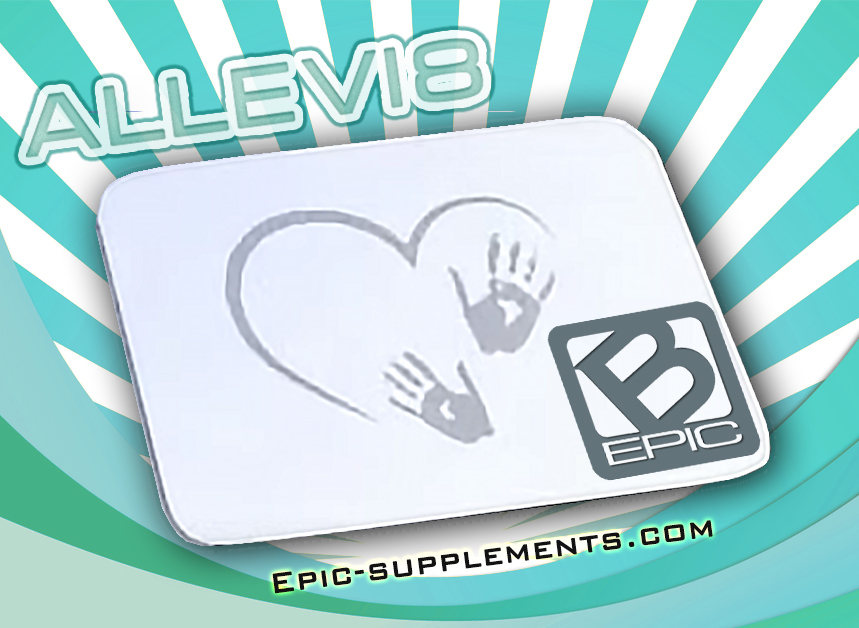 Allevi8: Customer reviews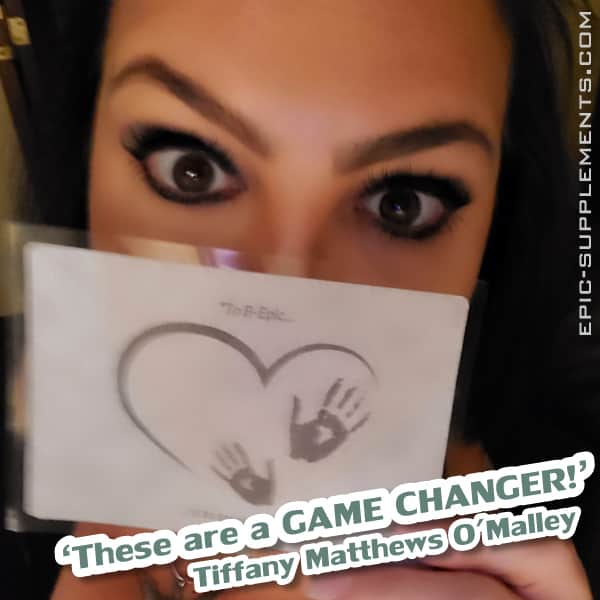 Tiffany Matthews O'Malley from Pennsylvania shared the post:
"Ohhhh. MMMM. Geeeeee.
I have suffered back pain for 15 years. 10 years ago I was diagnosed with Degenerative Disc Disease.
For years I had trouble walking and getting up and down from a seated position. And then I got pregnant again. This was the last straw for my back. After Blake, who is 8, was born I had to sleep on my knees in a fetal position on a hardwood floor. I did that for a year.
Then one day, I got up and couldn't walk. I ended up bound to using a WALKER at 38 years old. I was so low mentally. I got back surgery in 2013 to remove parts of the herniated and ruptured discs. I FINALLY got some relief. But over the last year I have been experiencing that haunting pain again. I was starting to get PTSD of my days spent on ice packs with no relief.
Then BEpic released these patches for discomfort.
I got my first one on yesterday. It stayed on for 10 hours and budged ZERO. I have had more relief than I have ever had from anything. I don't have one on today and I feel fantastic. That means the benefits are LASTING!!!
And I only needed 1/2 patch to do all that magic!!!!
These are a GAME CHANGER!"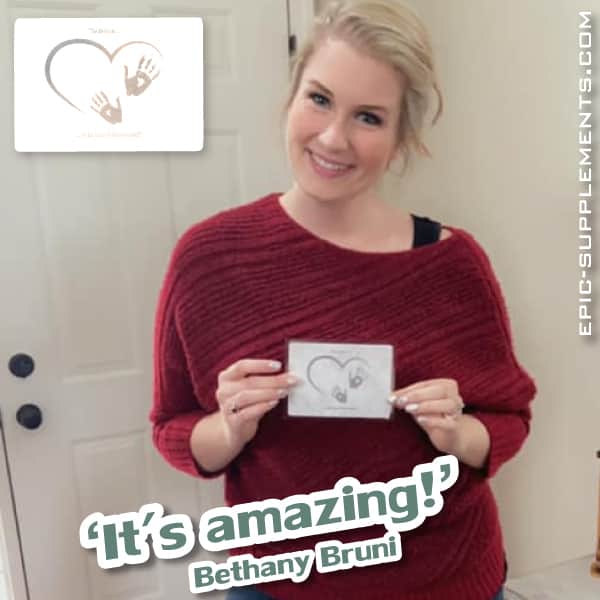 Review by Bethany Bruni, Michigan, US:
"I'm going to be super honest… I wasn't very excited about this patch. I didn't see the vision for it and the science behind it went way over my head…
But I decided to give it a try anyways because the list of benefits was as long as my arm. My husband and I tried them the other night before bed and I swear we both felt a sense of calm and relaxation that I can't even try to explain. But that wasn't even the best part..
I work a desk job and spend 40 hours a week leaning over a keyboard. My shoulder blades are always knotted up and so sore.
I decided to cut one of these patches in half and put them on my shoulder blades and omg y'all. Within minutes I had relief. It's been hours now since I've put them on and I still have no tension in my back and shoulders like I normally do.
This is a game changer for anyone who experiences back pain or muscle tension. It's also good for muscle recovery after a work out! And when used on the solar plexus it seriously provided an overwhelming sense of calm and I slept like a rock (even better than usual if that's possible).
I just know whatever these geniuses came up with, it's amazing!"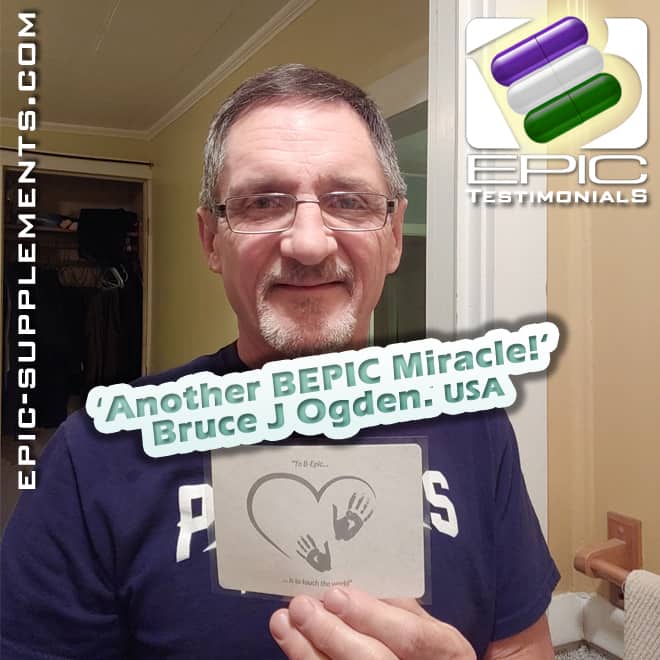 Review of Bruce J Ogden from Massachusetts:
"For the last two months I have made every effort to stretch my back and hams daily! It's a must. I herniated a disc years ago, they shaved it, but it still talks back. Anyway, I had to spend 3hrs driving. 1-1/2 in each direction.
Normally I would have had to exit the vehicle slowly to be sure I didn't pull anything on the way up. I simply exited the vehicle and then went into the home. It wasn't until I entered the bathroom that I realized I had no back pain? I'm like what the heck? Then it dawned on me, I put the ALLEVI8 patch on before leaving the house! It's kept me comfortable all day and I just finished an 70min A-Team session with no pain!
Another BEPIC Miracle!"
---
See Also
All BEpic products
BEpic supplements for anxiety
BEpic supplements for depression