Rejuven8 is an innovative premium serum for the protection, restoration and rejuvenation of face and neck skin. It is produced on GMP-certified equipment in the USA using only plant components. Release form – bottle with 1 fl.oz (15 ml) of serum. The bottles are equipped with an airless system and a dispenser, for convenient use and to extend the shelf life of serum.
Rejuven8 Brief Info
REJUVEN8 SKIN SERUM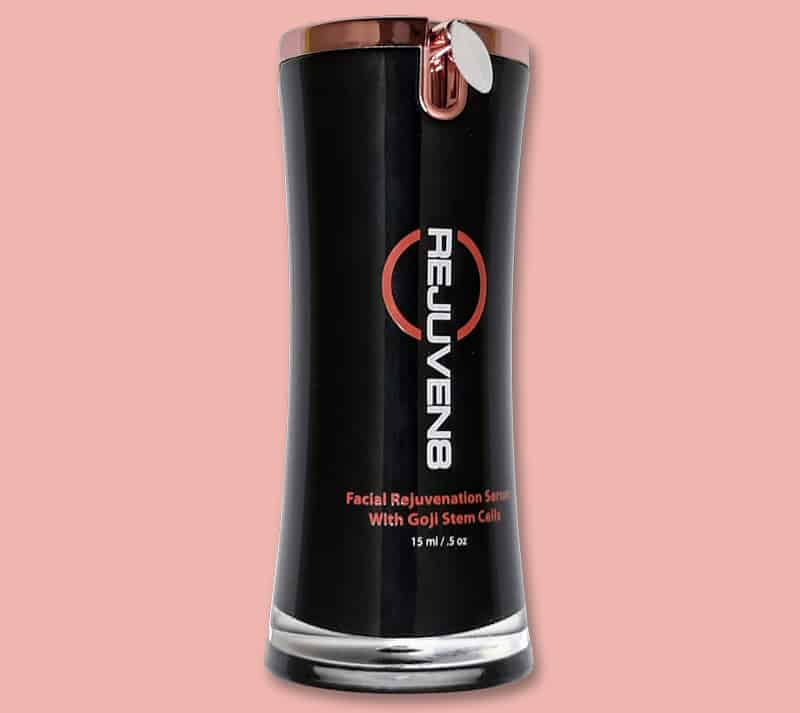 Increased Production of Elastin & Collagen
Innovative Swiss technology
With Goji root stem cells
You only need 1-2 drops a day
1 MONTH SUPPLY
Customer Price
79.95 USD
Excluding shipping charges & international fees
---
Independent Distributor Price
69.95 USD
Excluding 19.95 USD registration fee, shipping charges & international fees
Rejuven8 benefits
Increases smoothness and elasticity of the skin
Provides moisture to the surface and deep layers
Increases vitality and longevity of skin own stem cells
Strengthens and tightens the skin to significantly reduce sagging
Significantly reduces fine lines and deep lines
Rapid rejuvenation of skin tissue after damage
Ensures protection against sunburn and free radicals
Provides pigmentation smoothing, redness reduction
Reduces the visibility of varicose veins
You will get lightening and whitening facial skin
The main "feature"
Unlike thousands of similar products, Rejuven8 is working to increase the production of not only collagen, but also the second most important fibrillar protein – elastin. If collagen is produced throughout life (although it decreases by old age), then in most people the production of elastin practically ceases by the age of 25.
Not only collagen, but also elastin is the main feature and the main advantage of this serum.
Clinical Results
The serum has passed clinical trials in vivo (with real people). The results showed that regular use of the drug for 4 weeks gives the following results:
skin smoothness increase (roughness reduction) by 61%
93% increase in elasticity
increase in epidermal thickness by 9.9%
49% increase in moisture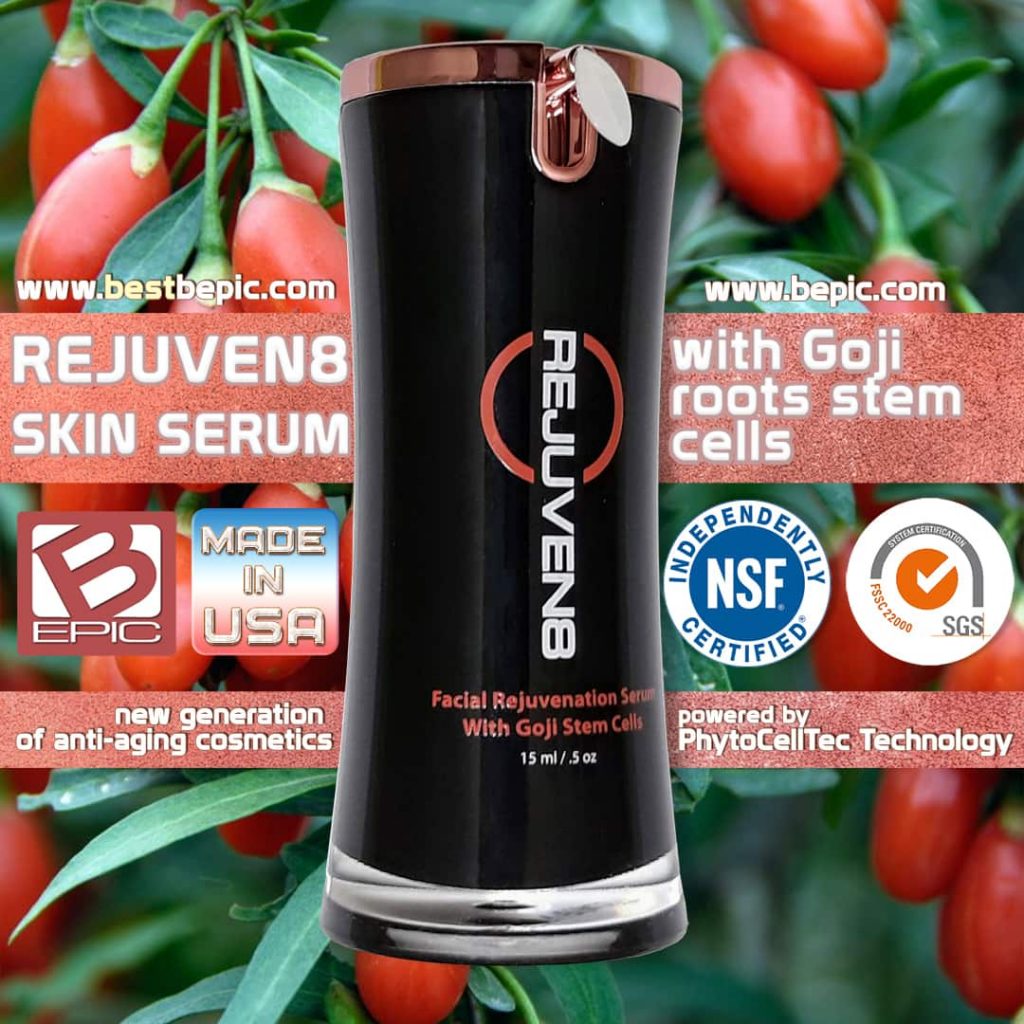 Rejuven8 Reviews and Before & After Pics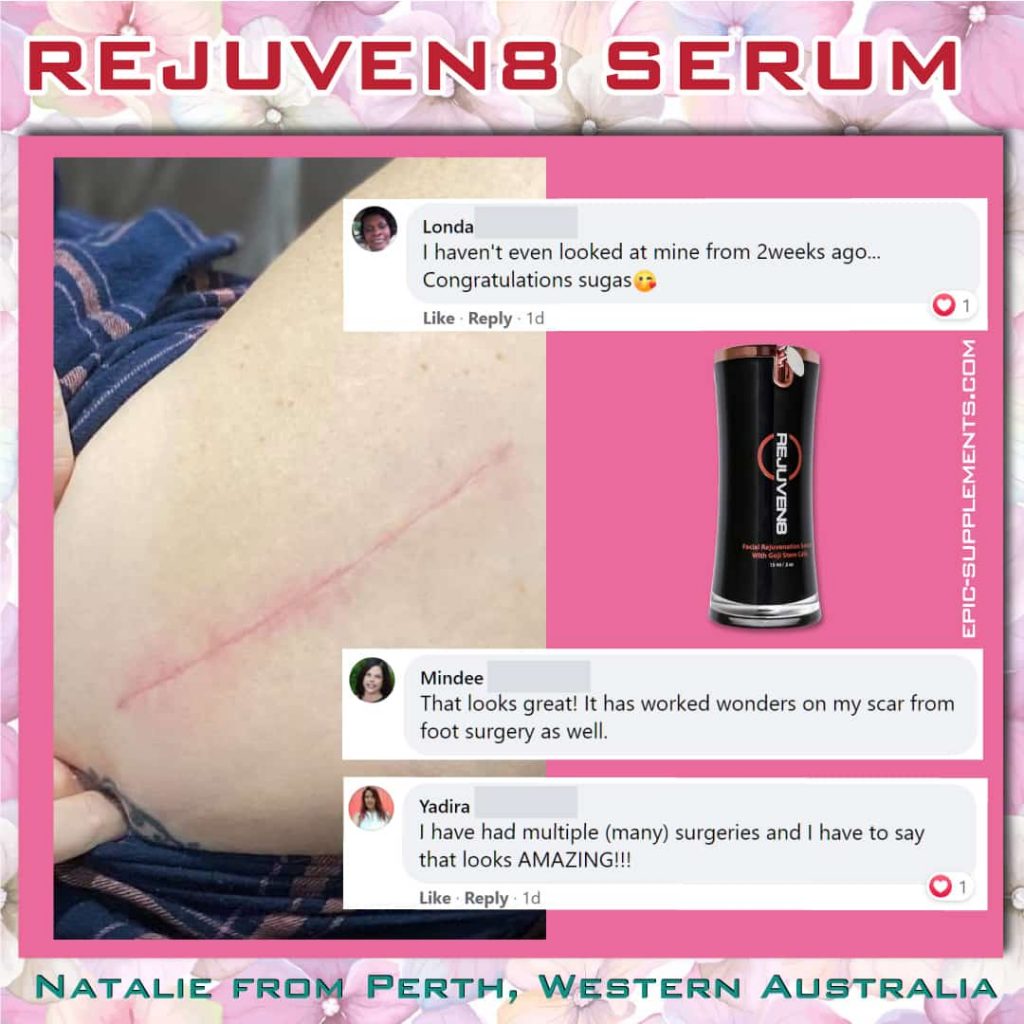 Natalie E. from Perth, Western Australia shared:
This is my scar from my hip replacement surgery 6 weeks ago.
I have been putting B-Epic serum called Rejuven8 for the last 4 weeks!!!
Rejuven8 Ingredients
Deionized Water, Thermus thermophilus Ferment, Dunaliella Salina Extract, Camellia Sinensis Leaf Extract, Hydroxypropyl Cyclodextrin, Palmitoyl Tripeptide-38, PEG-8 Dimethicone, Glycerin, Сyclopentasiloxane, Polysilicone-11, Phenyl Trimethicone, Lusium Barbarum Callus Culture Extract (Goji), Glyceryl Glucoside, Sodium Hyaluronate, Phenoxyethanol Isomalt, Lecithin, Sodium Hydroxide, Carbomer, Sodium Phytate, Phosholipids, Xanthan Gum, Potassium Sorbate, Ethylhexylglycerin, Sodium Benzoate
Directions
Apply serum to problem areas twice a day, morning and afternoon or evening before all other creams or powders. The serum can be used not only on the face, but also on the neck and on other skin patches. Expect to see visible results within 30-45 days.
Note: At the first use, do 10-15 intense clicks so that all air leaves the bottle.
Video: Some tips from customer
Base Technology: PhytoCellTec™ Goji
REJUVEN8 is enhanced by a high-quality goji root stem cell extract that helps revitalize aging stem cells in our skin.
When making cosmetics from stem cells, not a whole plant is used, but only the tiny parts of the root tips. That is why stem cell cosmetics are much more effective and more expensive than conventional herbal cosmetics.
PhytoCellTec™ Goji patented technology used to extract stem cells from goji roots. The technology is developed by the Swiss laboratory Mibelle Group Biochemistry (Bucks, canton of St. Gallen).
PhytoCellTec™ Goji is designed to improve activity of aged mesenchymal stem cells; increase exosome signaling by mesenchymal stem cells, which in turn boosts extracellular matrix production in fibroblasts.
FYI: Mesenchymal stem cells are multipotent stromal adult stem cells which can self-renew by dividing and can transubstantiate into multiple tissues including skin.
In 2019, this technology was recognized as the best European innovative technology in the nomination "Anti-aging cosmetics" and was awarded the prestigious European BSB Innovation Award.
Rejuven8 manufacturer
Rejuven8 Serum is manufactured for B-Epic at Ingenuity Beverages, LLC
Address: 11706 Chapman Hwy # 2B Seymour TN 37865-5278, USA
E-mail: sales@ingenuitybeverages.com
Web site: ingenuitybeverages.com
Phone: +1 865-229-0998
Price
Price for Distributors:
$69.95 for one 30-day bottle + shipping cost ($8.45-14.95) + one-time registration fee $19.95
$109.95 for two 30-day bottles + shipping cost ($8.45-14.95) + one-time registration fee $19.95
Price for Customers:
$79.95 for one 30-day bottle + shipping cost ($8.45-14.95)

All BEpic Products