ImmunoCode is Innovative Dietary Supplement
Containing Transfer Factor, Oligosaccharides, and Beta Glucans
For Improved Immune Function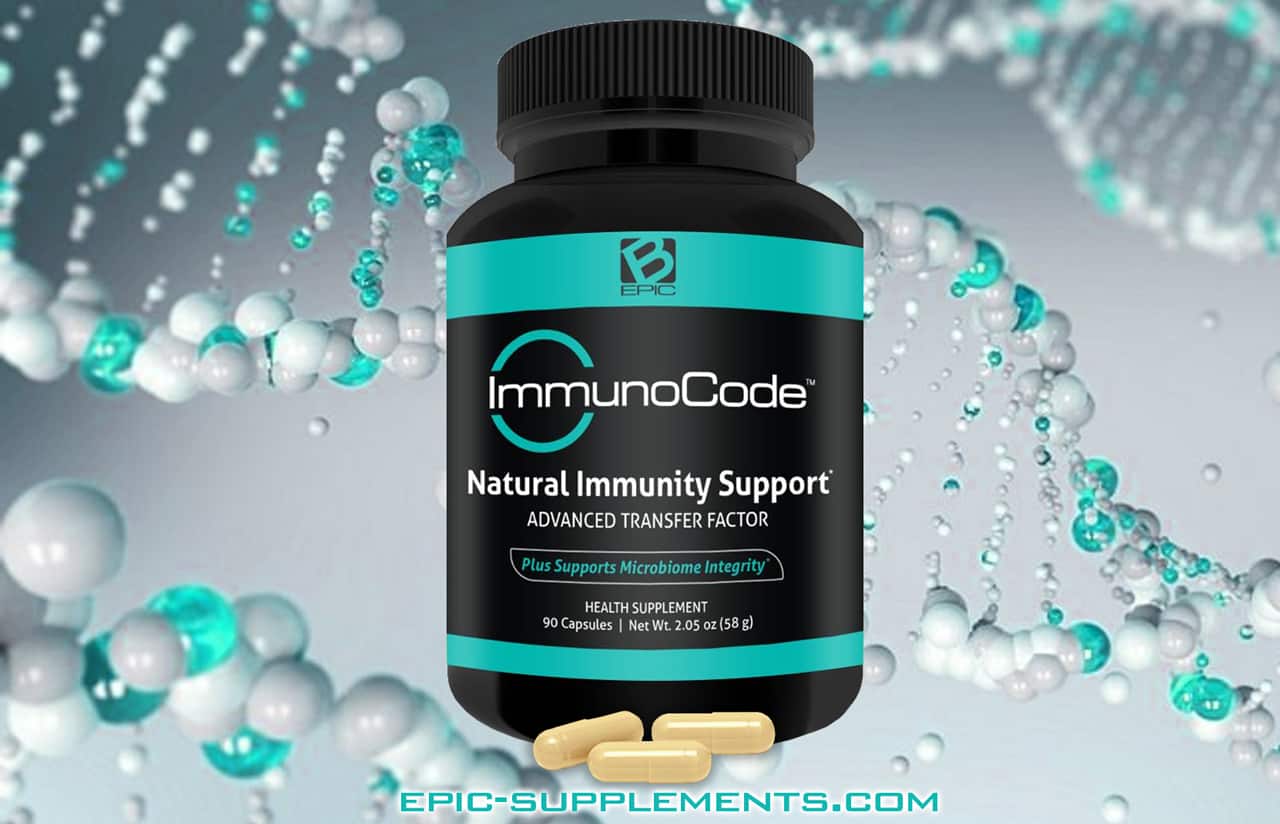 What is ImmunoCode
ImmunoCode is an dietary supplement formulated with the finest natural ingredients and cutting-edge scientific advances to optimally support your body's defenses. It contains advanced Transfer factor is a collection of molecules that help train your body's immune system and support its rapid and powerful response to external threats [1].
ImmuneCode's Transfer factor can be used for infectious diseases in people with weak immune systems. These infectious conditions include: the presence of bacteria or viruses in blood, infections of the sinuses, bronchitis, influenza (including swine), SARS, shingles, chickenpox, hepatitis B, tuberculosis, fungal, parasitic and yeast infections. Transfer factor is also used against infections caused by disease-causing microbes, including cytomegalovirus, Epstein-Barr virus, mycobacteria, yeast-like fungi.
ImmunoCodeTM is a registered trademark of B-Epic Worldwide, LLC.
IMMUNOCODE CAN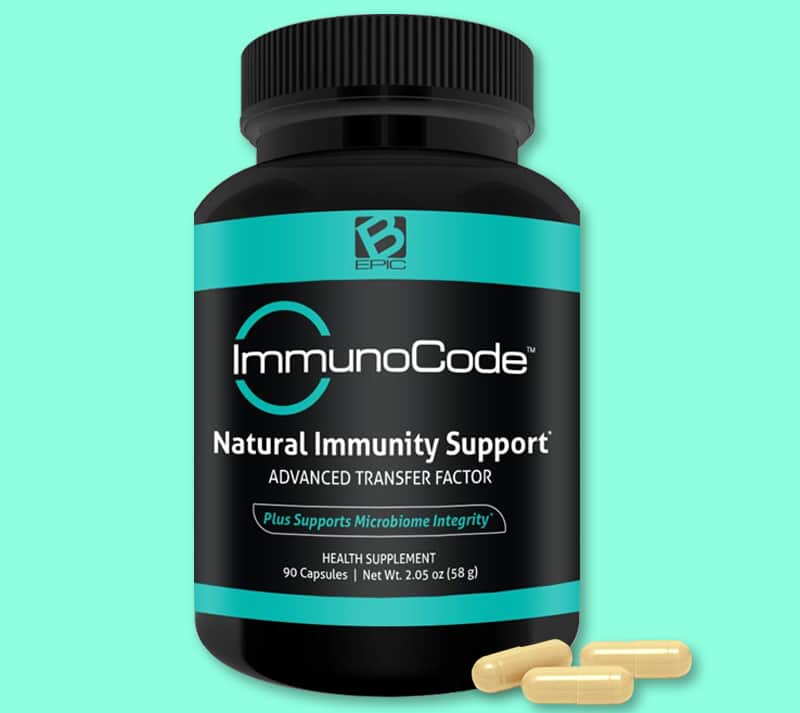 Improves Immune Function
Supports Your Microbioma
90 Pills in a Container
Serving size: 3 Pill Daily
1 MONTH SUPPLY
Customer Price
69.95 USD
Excluding shipping & international duty
---
Distributor Price
50 USD
Excluding 19.95 USD registration fee, shipping & international duty
---
Health Benefits of ImmunoCode
• Harmonizes the immune system
• Regulates the immune response
• Supports the health of intestinal microbioma
• Maintains the integrity of the gut
• Fights inflammation
These statements have not been evaluated by the Food and Drug Administration.
This product is not intended to diagnose, treat, cure, or prevent any disease.
---
What threats does the Transfer Factor react to?
Transfer factor contained in this product is a collection of approximately 200 different biological components of the immune system. Each of them has its own role. Some are antigen-specific, which means they respond to specific threats (such as a specific virus or bacteria).
Others are conditional or non-specific. They prepare anyone's immune system for threats it has never faced before. When the body has a conditioned immune response, the immune system usually responds to a new threat within 1–2 days instead of the usual 3–5 days.
ImmunoCode for Energy
The product increases your energy levels, although it does not contain energy components.
The fact is that Immunocode is designed to make the immune system more efficient and as it is more efficient it uses less energy. Remaining energy is then available for all other actions that we want to perform.
Gut Health and Inflammation
Inflammation is part of the immune response. In order to deal with it you need to know where the trigger is.
Oftentimes inflammative process triggers in the gut. Immunocode is one of the best products that you can use for gut health.
ImmunoCode's Natural Oligosaccharide Mix is brand new on the market. It helps condition the gut and condition the ability of the immune system to respond properly.
The other things that are in the immunocode are the mushroom extracts those help maintain the integrity of the gut lining. If that gut lining has high integrity then harmful agents won't leak through the gut into the bloodstream and create an inflammatory condition.
---
Product Details
Available in capsule form. A standard bottle contains 90 capsules for 30 days of use.
Capsules are completely safe for adults, when used according to instructions. No risk of cytokine storm.
Free of GMOs, natural colors and flavors.
Made in the USA using a cGMP certified and FDA registered and inspected facility
Third party tested.
---
Suggested use
• For adults and seniors: Take 1 capsule daily per 50 pounds of body weight. For example, if your weight is 150 pounds, take 3 capsules a day. For an extra immune boost, take 1 capsule per 25 pounds of body weight. For example, if your weight is 150 pounds, take 6 capsules a day
• For children: Calculate the daily dose as the child's weight divided by 50 pounds. ImmunoCode is completely safe, since the transfer factor was created by nature specifically for children. It enters the colostrum during the very first breastfeeding. It helps the child's immune system prepare for threats that his mother has already experienced. Therefore, ImmunoCode can be taken from infancy.
• For immuno-compromised persons: Take it at normal daily dosage. It is also permissible to increase dosage slightly.
• If you are sick with something, increase the dosage of ImmunoCode.
Store in a cool, dry place.
Caution: Consult your physician before taking this or any health supplement, especially if you are pregnant or nursing, have a medical condition, or are taking prescription drugs.
What is the best time to take capsules?
At the usual dosage – 3 capsules per day – you can take a capsule in the morning, afternoon and evening.
If you have normal stomach sensitivity, it is better to take it 15-20 minutes before meals. It is also possible to take three capsules at once.
In case you have problems with the gastrointestinal tract, it is preferable to take it after or during a meal, no more than 1 capsule at a time.
Can I take ImmunoCode on a regular basis?
Yes, you can. The product is designed to be taken daily for as long as you like. There are three reasons why continuous use makes sense:
Immune cells in the body are produced every day, hence this is a normal physiological process.
Old immune cells are constantly being replaced by new ones, therefore, the body needs constant support in order for the cells to be replaced normally.
We do not know when we will face a new threat, so daily support allows us to be prepared for whatever we may face on that particular day.
Should I take more capsules when I'm stressed?
The higher the stress level, the greater the need for nutrition of the immune system.
When you are under stress, you should increase your immune code intake.
May i feel any discomfort while taking this product?
Sometimes, at the beginning of the consumption of this product, people feel a little nausea or mild discomfort in the liver area. This is because the body flushes out toxins and detoxifies the liver.
If the discomfort is too severe for you, simply reduce the dose temporarily. When the body is cleansed, you will return to normal.
"The ImmunoCode is the tool and the source of immune information used by the immune system to increase its efficiency"
Dr. William J. Hennen
---
Ingredients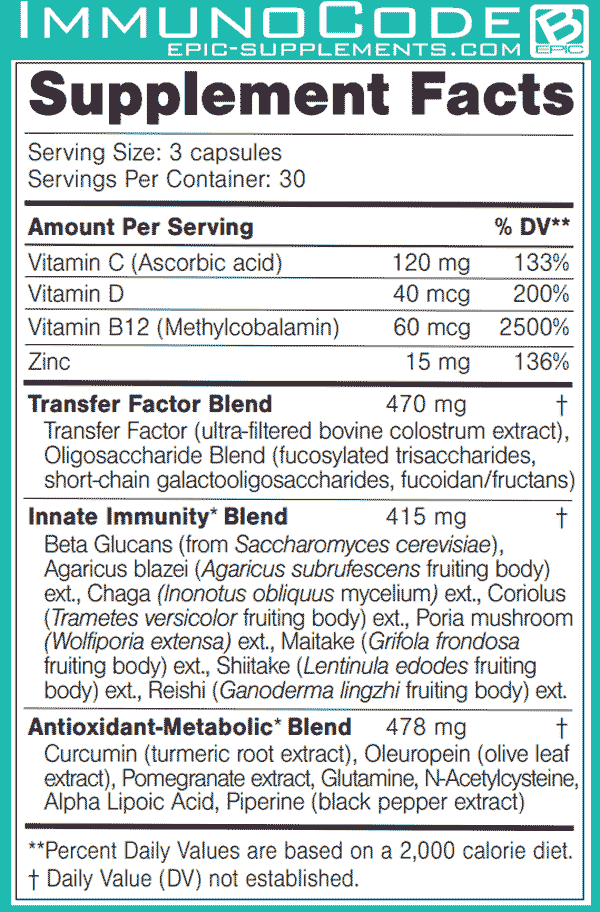 The product contains natural active ingredients with high bioavailability:
Transfer Factor Blend (470 mg)
A complex of advanced transfer factors extracted from cow bovine colostrum )
Natural Oligosaccharide Mix (fucosylated trisaccharides, short-chain galactooligosaccharides, fucoidan/fructans)
The Transfer Factor Blend is designed to communicate useful information to the immune system to fight off harmful microbes.
Innate Immunity Blend (415 mg)
Includes the following extract:
Agaricus blazei (Agaricus subrufescens fruiting body)
Chaga (lnonotus obliquus mycelium)
Coriolus (Trametes versicolor fruiting body)
Poria mushroom (Wolfiporia extensa)
Beta Glucans (from Saccharomyces cerevisiae)
Maitake (Grifola frondosa fruiting body)
Shiitake (Lentinula edodes fruiting body)
Reishi (Ganoderma lingzhi fruiting body)
These revolutionary oligosaccharides improve gut health. There is a close relationship between gut health and the immune system. The beneficial bacteria help balance and strengthen the innate immune system.
(FUI: Congenital or nonspecific immunity is the defense system you were born with. It protects you from all pathogenic microbes. Innate immunity includes barriers that prevent harmful substances from entering your body.)
Antioxidant-Metabolic Blend (478 mg)
Curcumin (turmeric root extract),
Oleuropein (olive leaf extract)
Pomegranate extract
Glutamine
N-Acetylcysteine
Alpha Lipoic Acid
Piperine (extracted from black pepper)
This powerful antioxidant blend provides anti-inflammatory protection and boosts metabolism.
Other Ingredients
Palm Oil extract
Natural Flow Agent (from non-GMO corn and bamboo fibers)
Complex of vitamins and minerals (zinc, vitamins C, B12 and D)
Gelatin capsule
---
About ImmunoCode Formulator
Dr. William J. Hennen holds a Ph.D in Bio-organic chemistry. Hi is an famous accomplished researcher, professor and author. He hold more than 10 patents and has published over 30 scientific articles and books in medicinal and nutritional bio-chemistry. In particular, he is the author of the book "Enhanced Transfer Factor. Dietary supplement containing biologically active substances for improved immune function"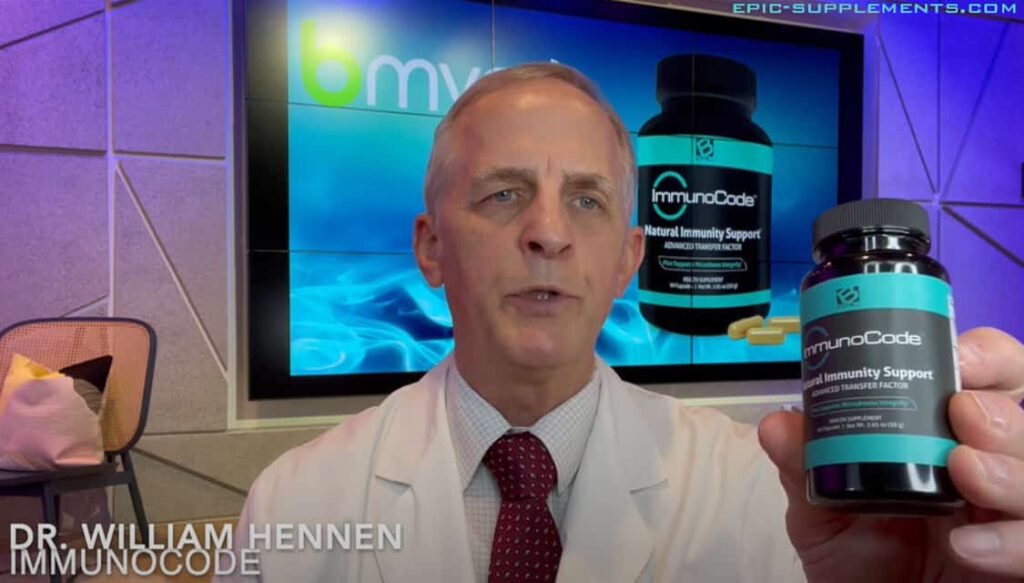 Dr. William J. Hennen in Brief:
PhD in Bio-organic and Medicinal Chemistry, with several post-doctoral specializations.
30+ years experience in the design and development of pharmaceuticals and natural supplements.
Known as the "Father of Transfer Factor: 'with over $ 4B in estimated product sales, to date.
Expert at uniting the best of science and nature for products of superior efficacy, quality, and safety.
As he says: "I design products for my family and share them with yours."
Reviews on ImmunoCode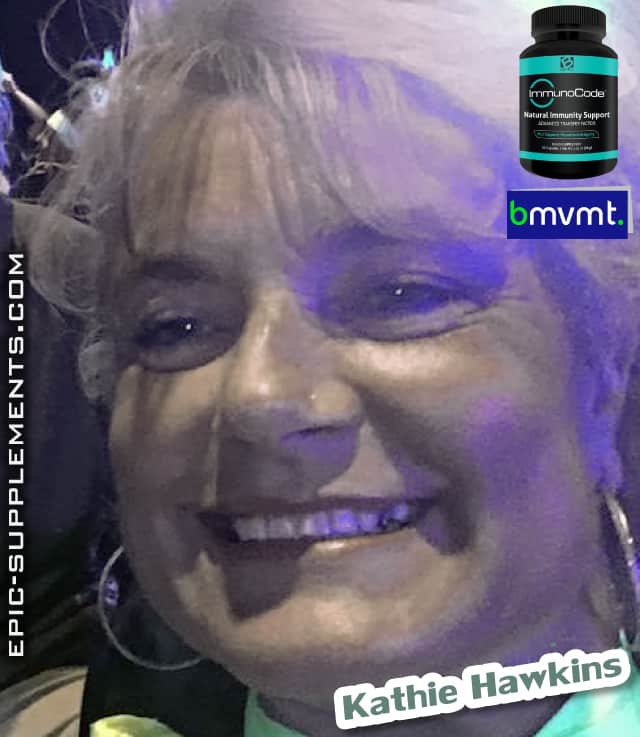 Kathie Hawkins shared her epic experience:
I have severe allergies all year long! My purple Acceler8 has been working pretty well by taking it 2 x daily! I take 2 at a time in between when needed to combat a severe episode! It works within a few hours.
But I have just added our New product ImmunoCode taking 3 x daily! I've been on it for almost a week now & feel much better daily! I haven't had to take the extra 2 purples at a time since!
I'm really loving our new product!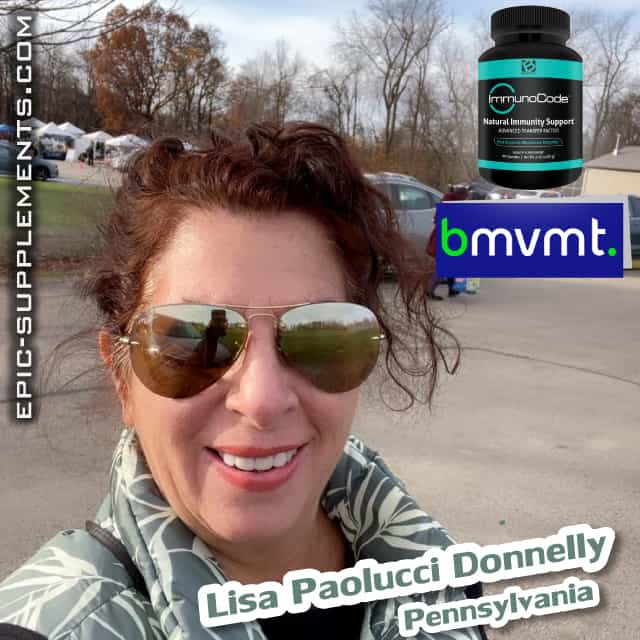 Lisa Paolucci Donnelly story:
"My own personal story with ImmunoCode is unique.
I have had Cancer 3 times and an auto immune disease for almost 30 years. My last Cancer was 17 years ago and the Cancer didn't kill me, but my destroyed immune system and liver and kidney could have.
I was given a choice to fight or flight and I chose to fight. I discovered Dr Hennen and his first formulation 16 1/2 years ago when in desperate need to repair my body so I didn't have to live in a bubble. Took about 18 months until my liver went from 20% functioning to 60%, now today it's 100%! Plus, my arthritis seems to be leaving me)
When I say this saved my life, it literally did. I'm not making any medical claims or intending to treat or diagnose any disease!"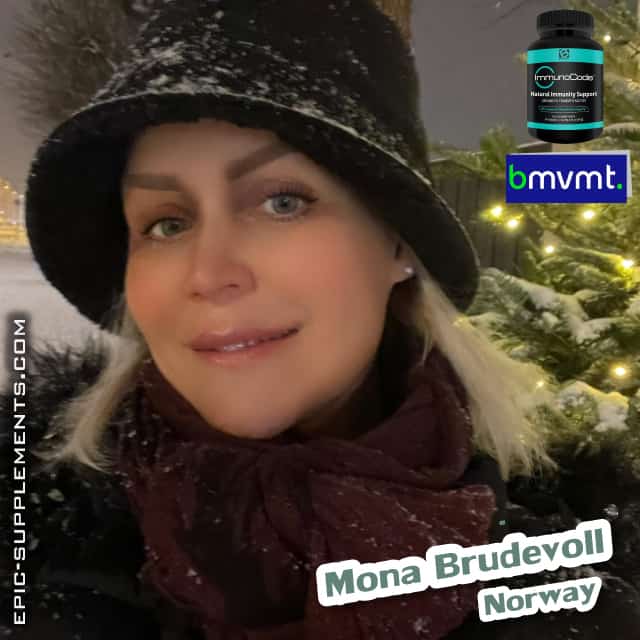 Mona Brudevoll from Norway shared her review:
"I was sick for a long time before Christmas with respiratory diseases. It was quite serious and was daily with a doctor. Had to have strong medications, different types. The immune system became very low. I was prepared for the fact that I had to spend a long time recovering.
I was so lucky and received ImmunoCode. I felt my whole body get stronger. The symptoms that viruses / bacteria offer; exhaustion and pain in the body disappeared day after day. The coughing subsided and the fever disappeared. I managed to be more active again.
Am so grateful that I got to try ImmunoCode?"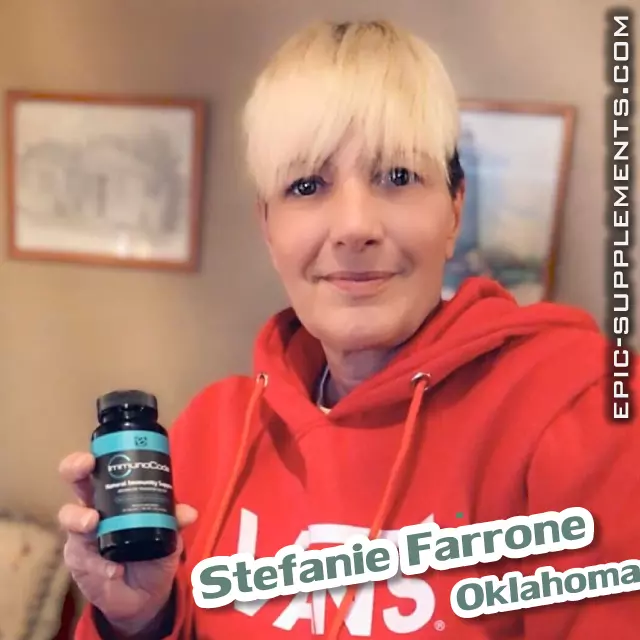 Stefanie Farrone's ImmunoCode testimony:
"Hi Everyone, just wanted to share my excitement about this gem. I am taking our Immunocode since it came out.
I am considered a 1st responder at my job and interact with the public daily. Needless to say I am cautious about my health.
A few weeks ago I felt a sniffle coming on, and I took a few extra capsules. A day later, no sniffles! I know we are sitting on a goldmine of amazing products!
I am not making any medical claims, just sharing my experience."
---
Prices & Ordering
| Pack | Distributor | Customer |
| --- | --- | --- |
| • 1 ImmunoCode can (1 month supply) | – | 69.95 USD |
| • 2 ImmunoCode can (2 month supply) | 99.9 USD | – |
| • 1 ImmunoCode + 1 B-Cardio | 99.95 USD | 109.95 USD |
Shipping cost and custom fees (for international orders) are not included
2 IMMUNOCODE CANS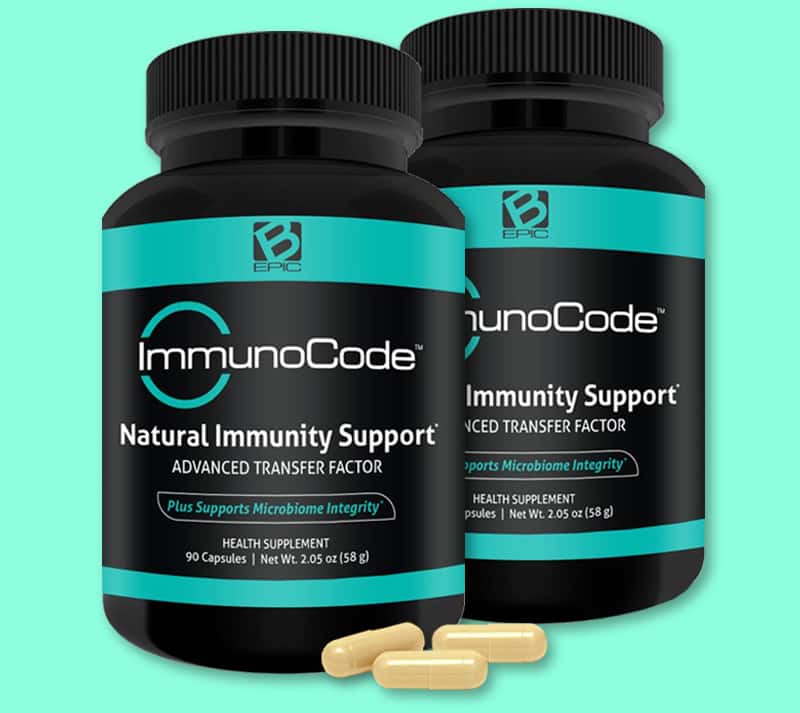 Regulates Immune Response
With Transfer Factor
90

Pills in a Container

Serving size: 3 Pill Daily
2 MONTHS SUPPLY
Customer Price
Not Available
For BEpic distributors only
---
Distributor Price
89.95 USD
Excluding 19.95 USD registration fee, shipping & international duty
IMMUNOCODE CAN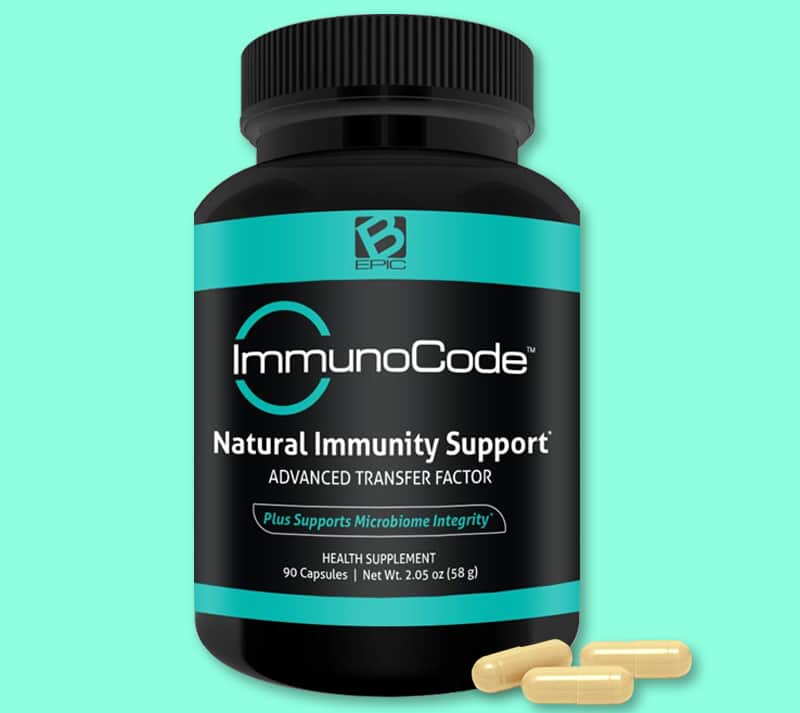 Improves Immune Function
Supports Your Microbioma
90 Pills in a Container
Serving size: 3 Pill Daily
1 MONTH SUPPLY
Customer Price
69.95 USD
Excluding shipping & international duty
---
Distributor Price
50 USD
Excluding 19.95 USD registration fee, shipping & international duty
IMMUNOCODE & B-CARDIO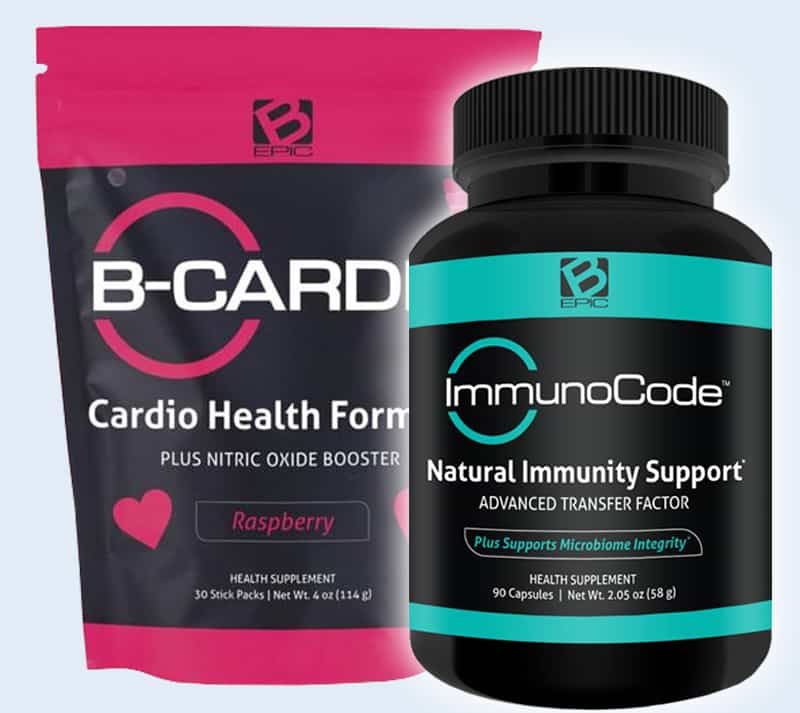 Harmonizes Immune System
Supports Heart & Joints
New Proven Formulas
Made in the USA
1 MONTH SUPPLY
Customer Price
115.00 USD
Excluding shipping & international tax
---
Distributor Price
104.95 USD
Excluding 19.95 USD registration fee, shipping & international tax
All BEpic Products