Innovative Dietary Supplement
Containing Transfer Factor, Oligosaccharides, and Beta Glucans
For Improved Immune Function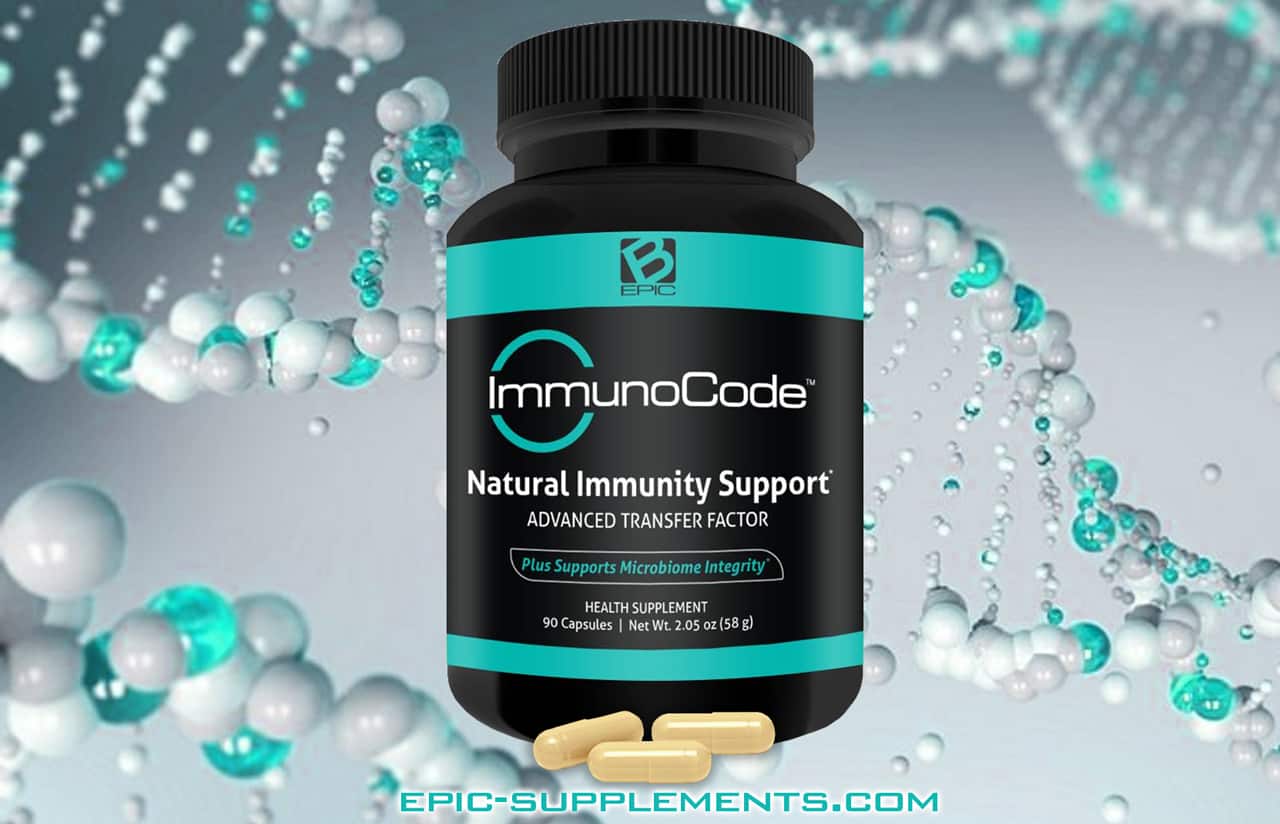 What is ImmunoCode
ImmunoCode is an dietary supplement formulated with the finest natural ingredients and cutting-edge scientific advances to optimally support your body's defenses. It contains advanced Transfer factors – i.e. molecules that help train your body's immune system and support its rapid and powerful response to external threats.
ImmuneCode's Transfer factors can be used for infectious diseases in people with weak immune systems. These infectious conditions include: the presence of bacteria or viruses in blood, infections of the sinuses, bronchitis, influenza (including swine), SARS, shingles, chickenpox, hepatitis B, tuberculosis, fungal, parasitic and yeast infections. Transfer factors are also used against infections caused by disease-causing microbes, including cytomegalovirus, Epstein-Barr virus, mycobacteria, yeast-like fungi.
ImmunoCodeTM is a registered trademark of B-Epic Worldwide, LLC.
---
health Benefits of ImmunoCode
• Regulates the immune response
• Harmonizes the immune system
• Supports the health of intestinal microbioma
These statements have not been evaluated by the Food and Drug Administration.
This product is not intended to diagnose, treat, cure, or prevent any disease.
---
Product Details
Available in capsule form. A standard bottle contains 90 capsules for 30 days of use.
Capsules are completely safe for adults, when used according to instructions.
Free of GMOs, natural colors and flavors.
Made in the USA using a cGMP certified and FDA registered and inspected facility
Third party tested.
---
Suggested use
Take 1 capsule daily per 50 pounds of body weight. For example, if your weight is 150 pounds, take 3 capsules a day
For an extra immune boost, take 1 capsule per 25 pounds of body weight. For example, if your weight is 150 pounds, take 6 capsules a day
Store in a cool, dry place.
Cautiion: Consult your physician before taking this or any health supplement, especially if you are pregnant or nursing, have a medical condition, or are taking prescription drugs.
---
Ingredients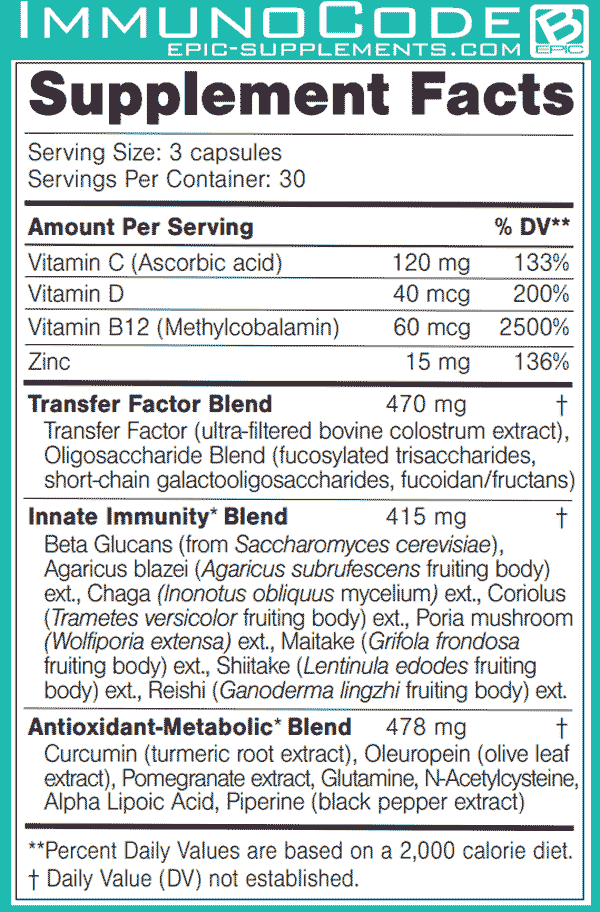 The product contains natural active ingredients with high bioavailability:
Transfer Factor Blend (470 mg)
A complex of advanced transfer factors extracted from cow bovine colostrum )
Natural Oligosaccharide Mix (fucosylated trisaccharides, short-chain galactooligosaccharides, fucoidan/fructans)
The Transfer Factor Blend is designed to communicate useful information to the immune system to fight off harmful microbes.
Innate Immunity Blend (415 mg)
Includes the following extract:
Agaricus blazei (Agaricus subrufescens fruiting body)
Chaga (lnonotus obliquus mycelium)
Coriolus (Trametes versicolor fruiting body)
Poria mushroom (Wolfiporia extensa)
Beta Glucans (from Saccharomyces cerevisiae)
Maitake (Grifola frondosa fruiting body)
Shiitake (Lentinula edodes fruiting body)
Reishi (Ganoderma lingzhi fruiting body)
These revolutionary oligosaccharides improve gut health. There is a close relationship between gut health and the immune system. The beneficial bacteria help balance and strengthen the innate immune system.
(FUI: Congenital or nonspecific immunity is the defense system you were born with. It protects you from all pathogenic microbes. Innate immunity includes barriers that prevent harmful substances from entering your body.)
Antioxidant-Metabolic Blend (478 mg)
Curcumin (turmeric root extract),
Oleuropein (olive leaf extract)
Pomegranate extract
Glutamine
N-Acetylcysteine
Alpha Lipoic Acid
Piperine (extracted from black pepper)
This powerful antioxidant blend provides anti-inflammatory protection and boosts metabolism.
Other Ingredients
Palm Oil extract
Natural Flow Agent (from non-GMO corn and bamboo fibers)
Complex of vitamins and minerals (zinc, vitamins C, B12 and D)
Gelatin capsule
---
About ImmunoCode Formulator
Dr. William J. Hennen holds a Ph.D in Bio-organic chemistry. Hi is an famous accomplished researcher, professor and author. He hold more than 10 patents and has published over 30 scientific articles and books in medicinal and nutritional bio-chemistry. In particular, he is the author of the book "Enhanced Transfer Factor. Dietary supplement containing biologically active substances for improved immune function"
Dr. William J. Hennen in Brief:
PhD in Bio-organic and Medicinal Chemistry, with several post-doctoral specializations.
30+ years experience in the design and development of pharmaceuticals and natural supplements.
Known as the "Father of Transfer Factor: 'with over $ 4B in estimated product sales, to date.
Expert at uniting the best of science and nature for products of superior efficacy, quality, and safety.
As he says: "I design products for my family and share them with yours."
---
All BEpic Products