Boost Your Health with O2 Drops: Activated Oxygen Supplements from B-Epic!
BEpic O2 Drops® is a highly effective product containing bioavailable stabilized oxygen molecules plus essential micronutrients.
What is O2 Drops
O2 Drops is an all-in-one wellness treatment that contains a bioavailable (easily absorbed) form of stabilized activated oxygen (ozone) and lipophilic (fat soluble) minerals that renew and strengthen the body at the cellular level.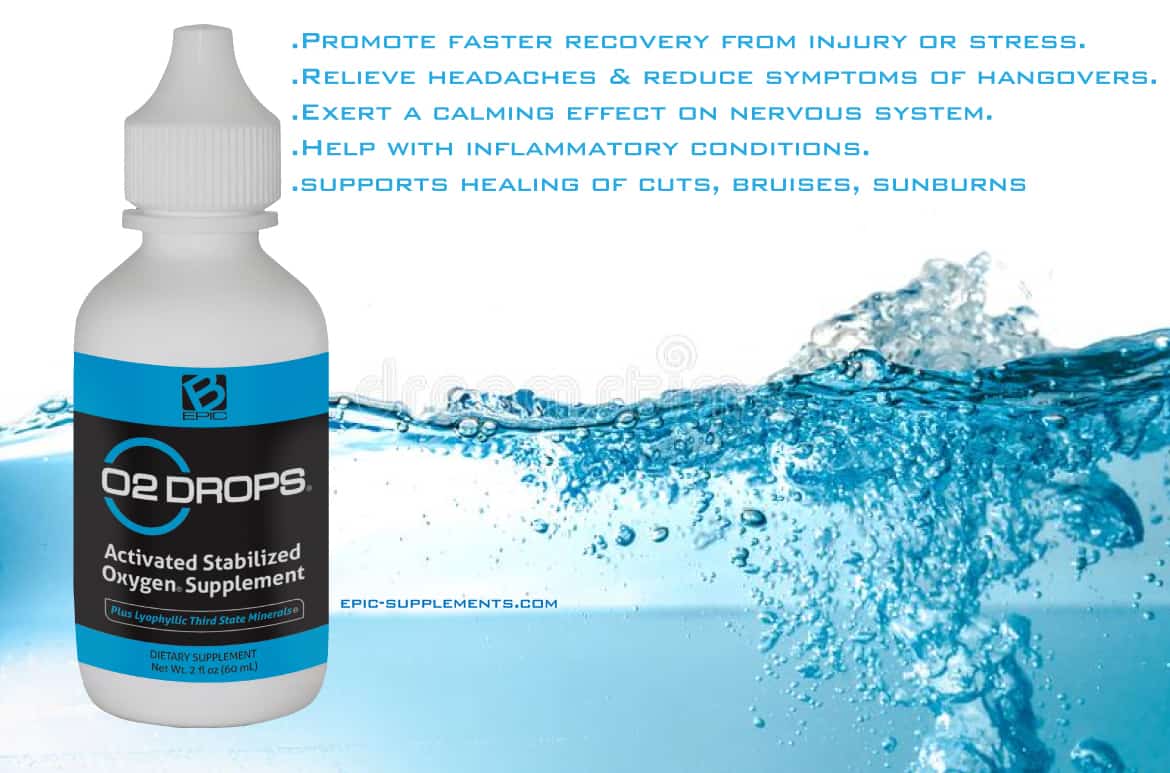 Scientific studies have shown that B-Epic O2 drops improve overall health, energy and focus; help to increase mental and physical performance; promote weight loss and improve sleep; they strengthen the immune system and promote a quick recovery.
The patented Activated Stabilized Oxygen (ASO®) technology used in O2 Drops has been independently tested by several reputable international laboratories and universities. Studies have shown that O2 drops are extremely effective and completely safe.
Manufactured in an FDA licensed facility.
O2 Drops® is a registered trademark of B-Epic Worldwide.
---
O2 DROPS
Overall Health, Energy, Focus
Bio-Available Oxygen Molecules
Natural, pH Balanced & Safe
15-30 Drops 1-2 Times a Day
1 MONTH SUPPLY
Customer Price
49.95 USD
Excluding shipping & international fees
---
Distributor Price
39.95 USD
Excluding 19.95 USD registration fee, shipping & international fees
---
Health Benefits of O2 Drops
This product can be used both internally and externally. Its use can provide the following health benefits.
Benefits for internal use
Improves overall health
Increases energy levels, mental and physical performance
Improves sleep, makes waking up easier
Provides faster recovery from injuries and emotional upheavals
Relieves headaches
Reduces hangover symptoms
Has a calming effect on the nervous system
Strengthens the immune system
Promotes weight loss
Benefits for external use
When O2 Drops applied to the skin, it helps to heal wounds, bruises, sunburn, cuts, skin rashes and insect bites, and relieves physical pain from them;
When used as a nasal spray, the product provides moisturization, cleansing, and reduction of inflammation in the nasal cavity.
When used as a mouthwash, it improves breathing and helps control bacterial growth.
Relieves sore throat when used as a nasopharyngeal rinse
Can be used as a safe and natural hand sanitizer
---
How to use O2 Drops
How to take: Take 15-30 drops (1-2 ml) sublingually (drip under the tongue, hold for 30 seconds and swallow). Drops can be diluted with water in any convenient amount.
Frequency of taking : 1-2 times a day
Time of taking: 30 minutes before a meal or 1 hour after a meal. It is recommended to do one of the techniques before going to bed, since the body is more actively restored during sleep.
Dosage Recommendations
Common Use
Dose
Bottles
Needed
Daily General
Health
30 drops AM +
30 drops PM
2 per month
AM Energy &
PM Repair
15 drops 2x per day
1 per month
Pre & Post
Workout
15 drops Before +
15 drops After
1 per month
Weight
Management
30 drops 1x per day
1 per month
You can adjust the dosage and time of taking depending on the results of use and sensations.
Other uses:
As the basis of a compress for damaged / inflamed skin areas
By spraying or rubbing the skin to improve its condition
For rinsing the mouth and nasopharynx (dissolve O2 Drops in a glass of water before).
The product can be used for pets (dosage – 1 drops per 1 pound of body weight)
Store in a cool, dry place.
Warning. Avoid contact of the liquid from the vial with metal. Do not use metal spoons or vessels.
---
Ingredients & Supplement Facts
Bioavailable oxygen
Distilled water
Sea salt
Trace minerals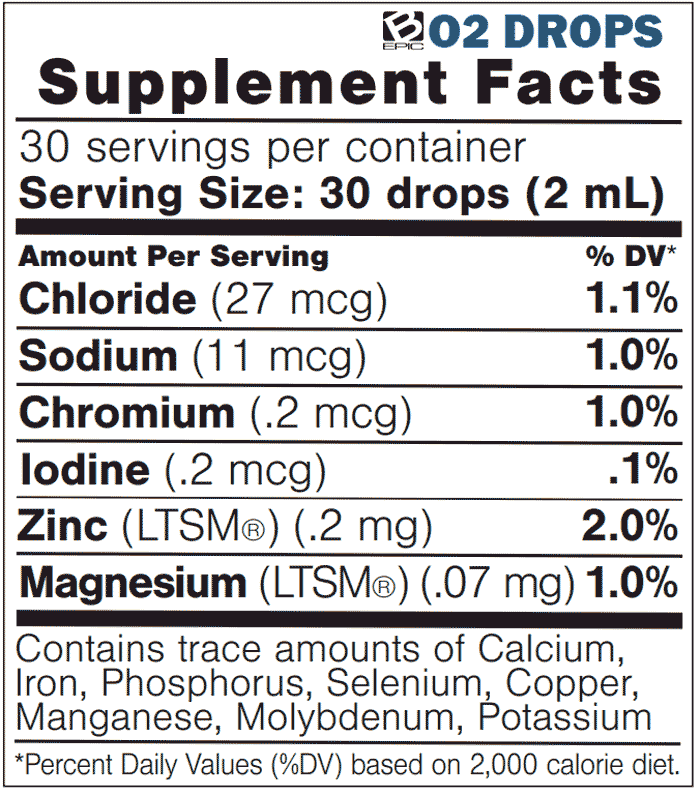 Vegan and Gluten-Free
No Caffeine, No Additives, No Preservatives
---
All BEpic Products