Welcome to Bepic Team!
With decades of experience in the industry, our corporate team has successfully launched multiple lines of top performing health and wellness products generating millions and helped tens of thousands of people achieve financial independence and time freedom through online businesses. And now we are looking for success-minded individuals who want to join us as we take the B-Epic brand and business to the next level. Whether it's making extra money every month or having a successful lifestyle, you can make it a reality with B-Epic business!

START EARNING WITH BEPIC!
YOU NEED TO MAKE SEVERAL EASY STEPS TO START EARNING
Step 1.
Get to know Bepic and its product line.
Step 2.
Familiarize yourself with the compensation plan of the company. Find out how much and what Bepic pays for.
Step 3.
Sign up for Bepic and start your own business
---
Use the most trendy and proven way to make money on the Internet today! And how to do it, the Company will teach you!
Bepic is a real home business!
This is a recommendation based business!
The most honest, affordable and profitable form of earning on the Internet to date!
---
Benefits and Prospects
Just look what opportunities you have:
International company. People from more than 50 countries make money with BEpic;
The markets of North and Latin America, as well as Europe & Asia countries are almost free;
Fully automated ready-made business system and platform;
You can earn money without leaving your home;
Ability to combine with the main employment;
No sales required, You just share recommendations;
Several excellent products, including the legendary Elev8;
You will provide yourself with passive income for many years;
You will earn decent money in a fairly short time;
Reliable and long-term business;
B-Epic is not a pyramid scheme, but a legal company registered in the state of Utah (as R & D GLOBAL, LLC);
The company has been testing its products and business platform for 3 years on the markets of Eastern Europe and Central Asia and has shown brilliant results.
With your own B-Epic business, you get to be the boss! Because you control your time, priorities, and earnings, you can build a business that fits your life and needs.
You get to be part of something bigger by representing a brand that is committed to quality, innovation, and empowering others to be their best self ever.
Doubt that you can do it?
Do you consider it impossible to start making money on the Internet without risk, without investments and without sales?
BEpic is a new generation company offering an online business without direct sales, but with the ability to work through the Internet. The Company has a most revolutionary compensation plan in the history of the network business! More than 570,000 people have proven that this is possible after choosing BEpic!
Honestly, no extra efforts will be required from you. You can succeed even if you are new to the online business and have heard of such an opportunity for the first time. With the high-quality Bepic products you will not encounter any difficulties.
No special knowledge is required from you. All that is required of you is at least a drop of free time and desire. No more, no less!
By doing business through the Internet, you can earn income MUCH MORE than with any usual employment. Start acting and Bepic business will become your best friend and faithful assistant in gaining financial independence!
Give it a try!
Start your business with B-Epiс. You will not regret it!
---
How to make money with BEpiс
Bepic company offers you a ready-made online store with an extended affiliate program. Through the online store, the company's products are sold and delivered to the end customer. The company takes care of all these issues. Your task is to build a customer network of consumers. This is done in many ways, but the main one is your personal recommendations that attract new customers. And the company pays you for recommendations!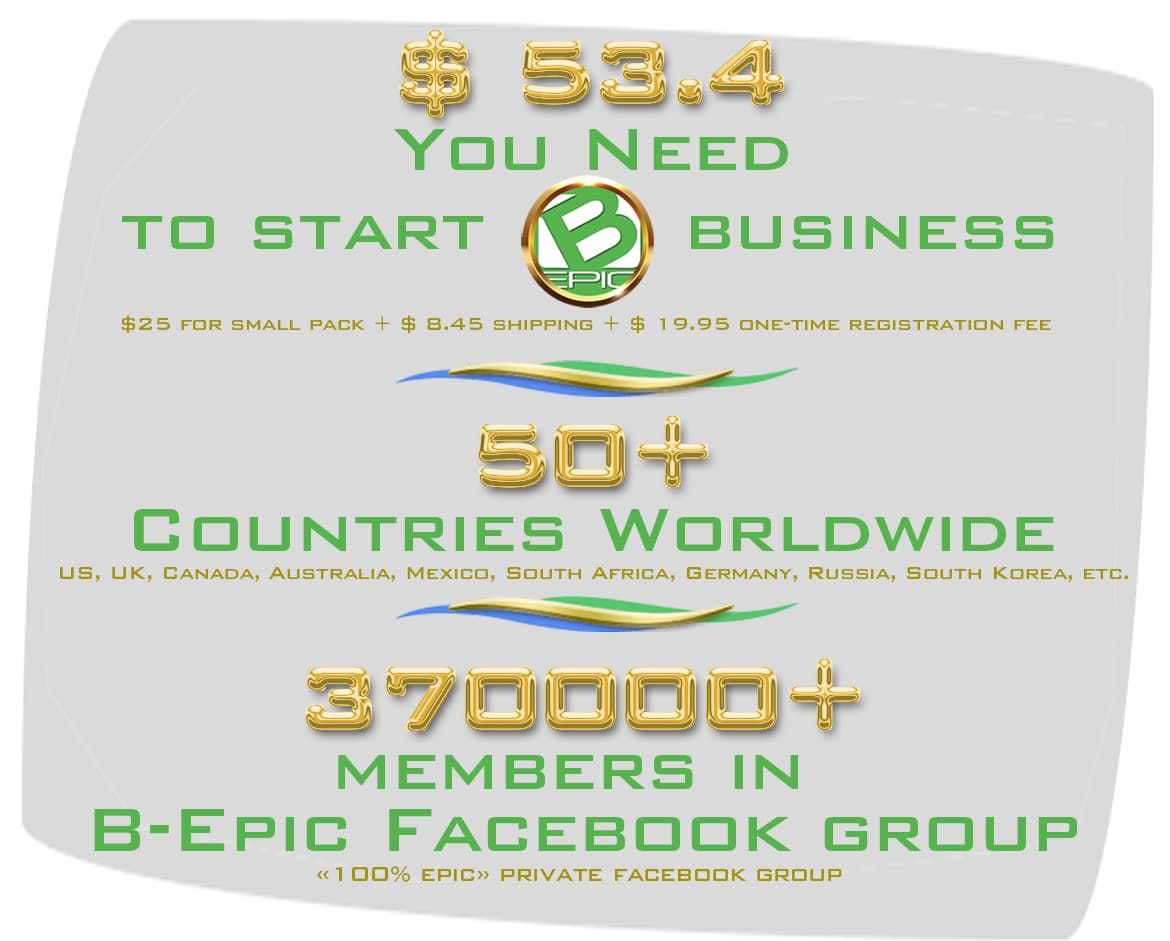 ---
How do recommendations work?
We all love each other to recommend something, especially if we ourselves liked it or we got our positive result. According to statistics, 85% of people trust the sincere recommendations of other people. And with Bepic products you are sure to get your own result. Just try the product and feel the positive effect!
So, you recommend people to consume products, they, in turn, recommend to other people, those next and so on. Thus, to build a network of consumers, and you only need to start this chain of recommendations.
In fact, it's very simple to recommend what you like to others and get paid for it. In fact, we are doing this every day, but we don't get money for it. Remember, with what pleasure you tell your acquaintances about a hairdresser who successfully cut your hair, or about a cozy cafe where you liked buns and therefore you advise your friends to go there. We just recommend, just spread the word about what we love.
So, Follow These 3 Simple Steps
Step #1: Get started by purchasing any pack of BEpic products (price starts at $25 + shipping + $19.95 one-time registration fee).
Step #2: Share with 2-5 people who desire better health and are ready to control their financial future. The goal is to complete this step in your first two weeks.
Step #3: Teach your partners to also complete Steps 1 and 2.

It's really that simple!

What B-EPIC offers
The company offers percentage of sales.
The company pays money to each participant in the chain of recommendations as a percentage of the price of orders. Yes, you get a percentage on every purchase in this chain! At the same time, you do not need to sell products yourself! Each consumer buys products directly through the company's online store (using your so-called sponsorship code). But, of course, if you yourself want to, you can sell products, earning even more!
In fact, partners act as advertising agents. B-EPIC does not need to spend money on advertising and offline stores, and it pays saved money to partners. In general, Bepic pays up to 80% of its profits to partner network.
You may think that 80% is a lot and the product is becoming more expensive because of this? Let's figure it out! The price of the products you buy in the store includes the income of regional and local wholesale intermediaries, the cost of maintenance and profit of the retail store, and advertising costs. As a result, chewing gum costs $ 20 cents, but we buy it in a store for $ 2.
BEpic saves on intermediaries, and therefore has the ability to pay you for recommendations!
It's simple!
While no can guarantee your success, we can guarantee that our system works, our products work, and tens of thousands of people have already achieved success with B-Epic businesses model.

You have a unique opportunity to join a young and actively developing business with truly high-quality products.
You decide!
Want to know more?
Visit online B-Epic Presentation (English) TONIGHT at 9 pm EST / 6 pm PST.
Join online from 160 countries.
You will receive information from the top leaders of the Company about its mission, products and compensation plan. In addition, you can get answers to all your questions.
JOIN ONLINE:
Join online at https://zoom.us/j/704204185
OR
Dial-in using a local number for your location: https://zoom.us/u/a2dS3rxjp
Zoom Meeting ID: 704 204 185
Read full Manual for Brand Partners