A product to help you lose weight and get the best sleep of your life!

About Acceler8
Acceler8 is a dietary supplement that is a combination of two types of pills


taken together before bed. White pill prepares your mind and body for a deeper night's sleep and promotes weight loss. While the purple pill gently and naturally works with your body's biochemistry to accelerate digestion, flush toxins, increase metabolism. As a result, every morning you become slimmer and more cheerful.
(9 Before-and-After pictures)
Acceler8 Brief Info
ACCELER8 PILLS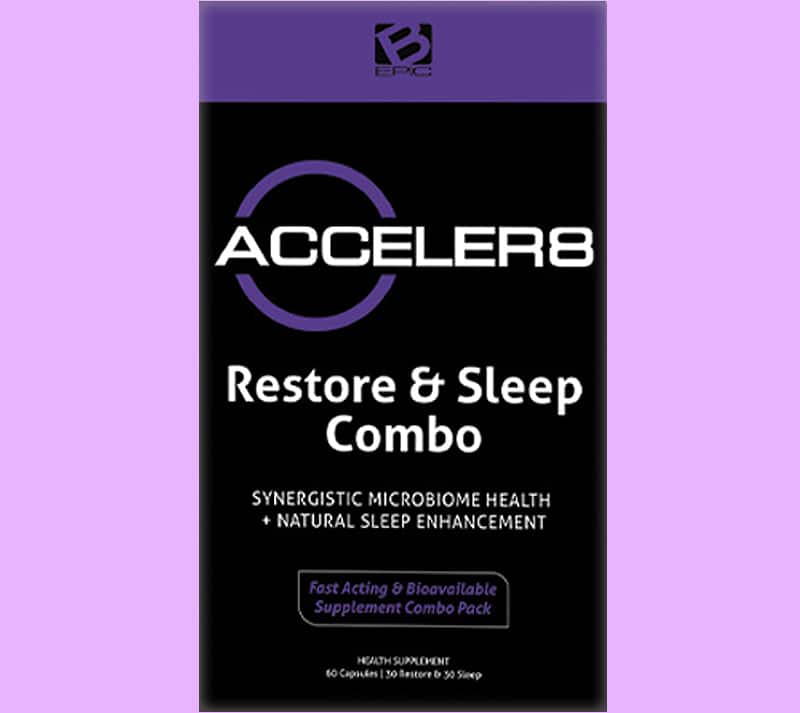 Sleep, Digestion, Weight Loss
Herbal and Bacterial Ingredients
30 Sleep+30 Restore capsules
Serving size: 2 Pills per Day
1 MONTH SUPPLY
Customer Price
69.95 USD
Excluding shipping & international fees
---
Distributor Price
59.95 USD
Excluding 19.95 USD registration fee, shipping & international fees
Acceler8 is a fast-acting all-natural supplement intended for:
regulating body weight
improving sleep
normalizing digestion
promoting mental and physical relaxation
neutralizing the harmful effects of antibiotics
cleansing the body and other health benefits
+enhancing the action of Elev8 pills.
So, best & fastest results achieved when you use Acceler8 with Elev8 pills.
---
Acceler8 pack includes two types of pills – purple/burgundy

(aka Acceler8 Restore) and white

(Acceler8 Sleep):
Acceler8 Restore purple (burgundy) pills are designed to detoxify the body, normalize digestion and improve the entire gastrointestinal tract as a whole, strengthen the body's protective functions and normalize weight. Ultimately, the goal of taking purple pills is to significantly improve the health of all organs and get rid of a number of chronic diseases.
White pills (Acceler8 Sleep) include extracts of valuable medicinal germs, natural melatonin, trace minerals, vitamins and amino acids. White sleep pills are designed to naturally improve sleep and to start weight loss while sleeping. Purple pills contain herbal extracts and live bacteria.
Benefits of White & Violet/Burgundy Pills
The package includes 60 capsules – 30 white (aka Acceler8 Sleep) and 30 purple or violet/burgundy (Acceler8 Restore). You should to take them together – 1 white and 1 purple capsule – half an hour before bedtime, once a day.
Acceler8 Restore

naturally restores balance to the body and digestive system so you feel healthier and function optimally. It is packed with three proprietary blends – 1. Digestive Balance Blend, 2. Gentle Sculpting Blend, and 3. Prebiotic, Probiotic & Enzyme Blend – that have a gentle detoxing effect and work synergistically to improve digestive function, aid the body in cleansing itself of toxins, and promote a healthy immune system.
When the body is overloaded with toxins, it can feel lethargic, swollen and suffer from many other health problems. Acceler8 Restore helps to remove toxins from the body and return a forgotten feeling of lightness.
In addition, each pill is packed with high quality, probiotics, enzymes and high-stable prebiotics, that help replenish a beneficial level of good bacteria in the gut microbiome, which is crucial for overall health and strong digestive and immune systems.
Acceler8 Sleep

quickly and easily lulls the mind and body so you can get a full night's sleep and wake up feeling rested and energetic. It contains 3 all-natural useful ingredient combinations – 1. Deep Slumber Blend, 2. Stress Melt Blend, and 3. Max Bioavailability Blend that harmoniously promote mental and physical relaxation and improve sleep quality. It is formulated to help you naturally and effortlessly unwind from your hard day, fall asleep faster, sleep more soundly, and not feel groggy in the morning.
It contains powerful plant extracts and other natural substances that work harmoniously to naturally lower cortisol levels and the balance of serotonin, which helps the body and mind feel more relaxed and can help reduce stubborn weight caused by stress. This is important because stress increases the level of cortisol (proof) and reduces the level of serotonin in the body (proof) – both of these factors can interfere with sleep and cause weight gain. Acceler8 SLEEP will help to cope with these negative effects!
CAUTION: Acceler8 Sleep causes drowsiness or sleepiness; do not take when driving, operating machinery, or engaging in any activity that requires alertness.
Warranty period of storage – 36 months.
Developed by Everything Good Nutrition (Utah, US)
Made in the USA exclusively for B-Epic.
Discover for yourself the life-changing benefits of this amazing supplement!
Order your pack of Acceler8 pills now backed by a 30-day money-back guarantee.
Create an account and make a purchase from the official online store
How to Use and Dosage
Dosage for a day: 1 purple capsule

and 1 white capsule

30 minutes before going to bed.
It is recommended to take white and purple capsules in the same time. Dividing capsules into parts (as is done with Elev8) is not recommended – the capsules contain live bacterial cultures that die with light or air.
Note: there are alternative taking rules
Acceler8 capsules have almost no contraindications. Therefore, they can be taken even by pregnant and lactating women.
The limitation is the individual intolerance of the individual components.
Caution: in the first days of taking the supplement, it can cause mild upset stomach. even sleep disorders. After a few days, these symptoms will disappear.
Taking in the morning and afternoon is not recommended.
See also: F.A.Q.
It is recommended to take the product for at least 2-3 months.
Ingredients & Supplement Facts
Purple capsules

contain: Humic acids, Plant extracts (Ginger root, Milk thistle, Cranberry 20:1, Dandelion root, Marshmallow root, Cassia acutifolia (Senns), Slippery elm bark, Aloe vera root), Inulin, 9 Enzymes, Psyllium husk powder, Living probiotic bacteria with ultra-high digestibility, Charcoal.
White capsules

contain: Melatonin, Magnesium and Calcium citrates, L-Theanine amino acid, plant extracts (Valerian root, Passion fruit, Hops, Lemon balm, Black pepper, Indian Ginseng aka Ashwagandha), complex of vitamins and trace minerals.
Note: the composition for the EU countries has differences (see figure)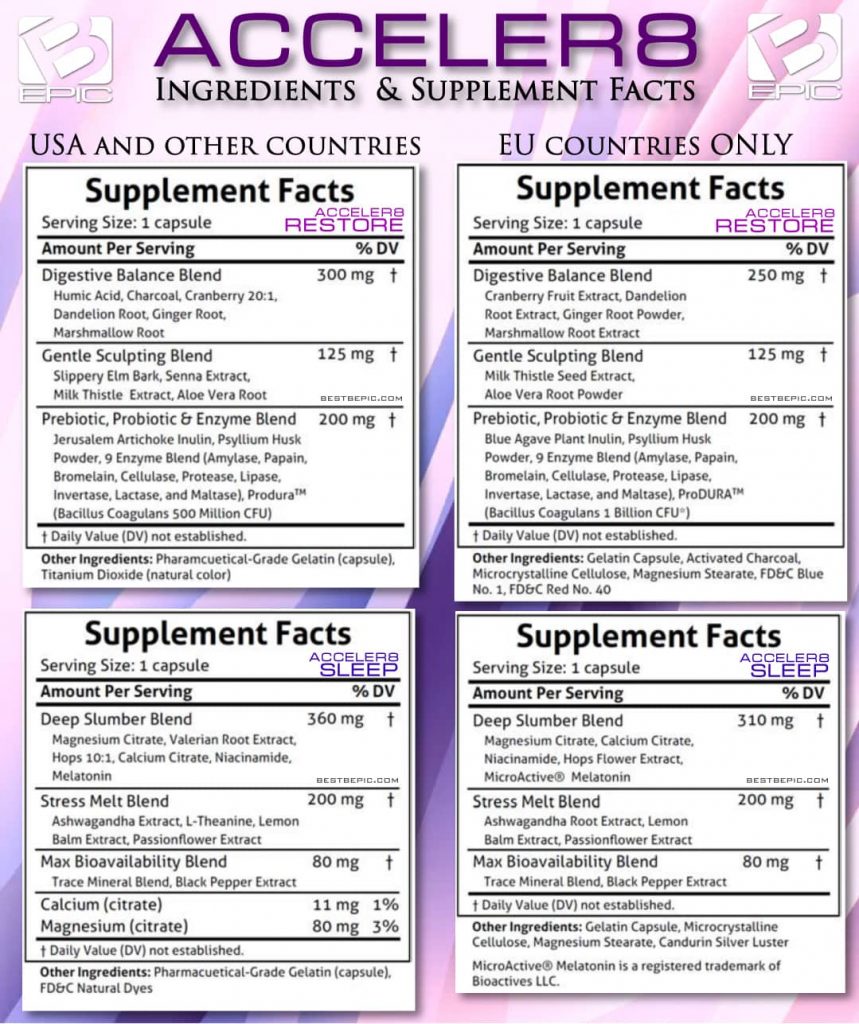 Acceler8 Results & Reviews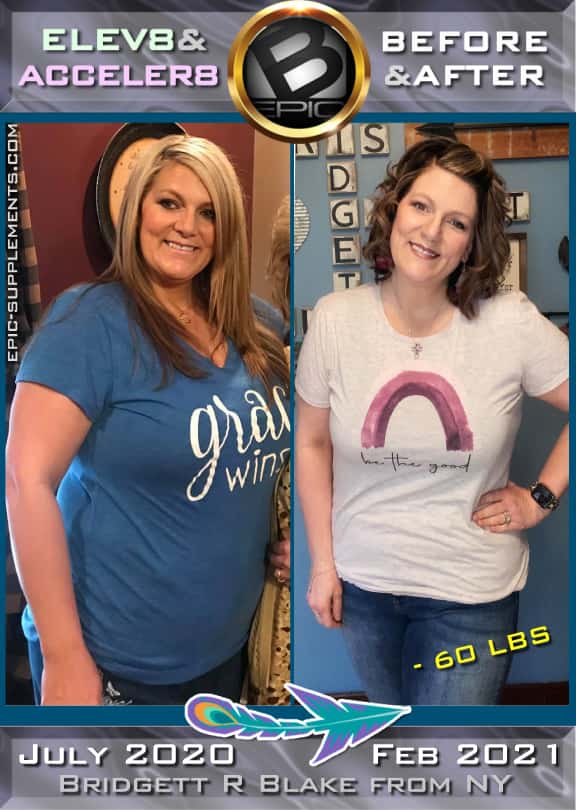 Review by Bridgett R Blake from NY, the USA:
"This system still blows my mind! Started these products in July 2030 and I am now (Feb 2021) down 60 pounds !! 🙂
They are so much more than weightloss though! The energy is insane. Oh my gosh my mood is so much better and my sleep has improved 150% !!
If you are skeptical about trying these products, I get it. I was the same way, but now my only regret is not trying them sooner! I could've been living my best life a long time ago!
Don't wait any longer. You won't regret it!!"
---
May Carlson's testimony: "I couldn't be more happier!"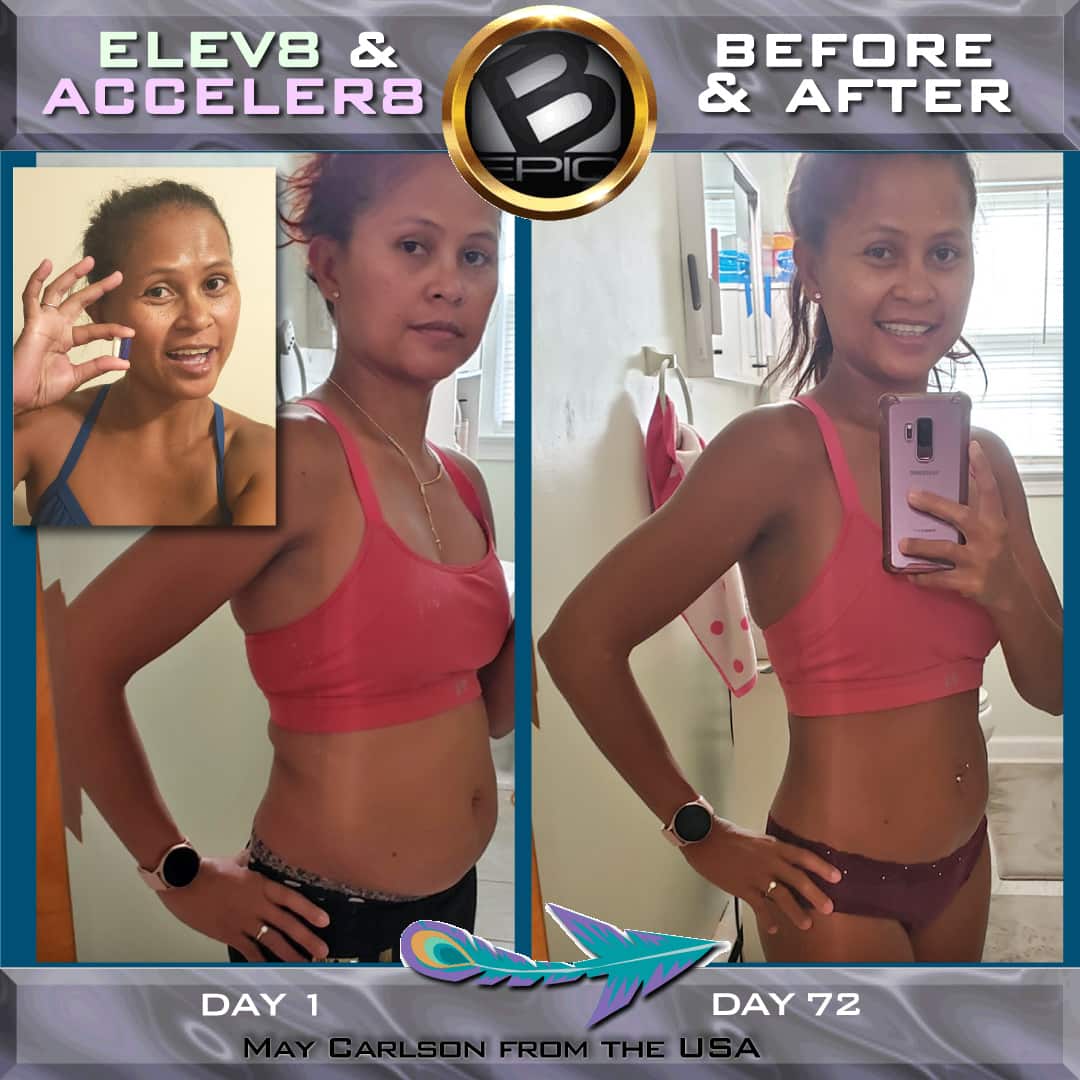 I started this journey with a doubt but thought to myself I'll give it a try, and I am so grateful I did.
This is my 72 days with these two amazing white and purple pills. I couldn't be more happier. Purple pill after dinner and white 30 minutes before bedtime. I can wear my XS again, and I sleep like a log every night. 100% Epic.
These two supplements give my self-esteem back. Just amazing!
---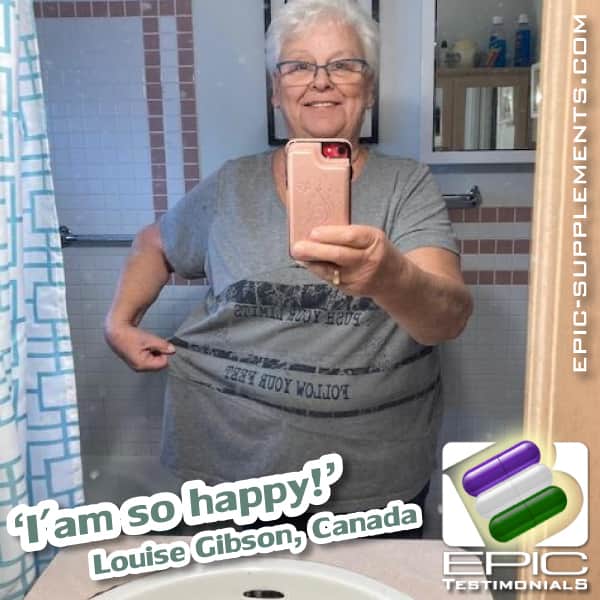 Testimony of Louise Gibson from Canada:
I'am so happy with my results taking Acceler8. Since June this year to now I have lost 30 lbs. Not only have I lost weight my body feels alive again. I ran out of my pills for a few days and didn't feel good at all. Finally they came and I am back on track again. My brain fog is getting less and doing more physical things.
This is the year I turn 70 so I want to be the best I can be. The T-shirt I am wearing today I bought a year ago didn't try it on until I got home and it was way too tight. Now it's kinda too big but I will continue to wear it.
If you are sitting on the fence please jump off even just for your Well Being.
---
"This product has done so much for me!!"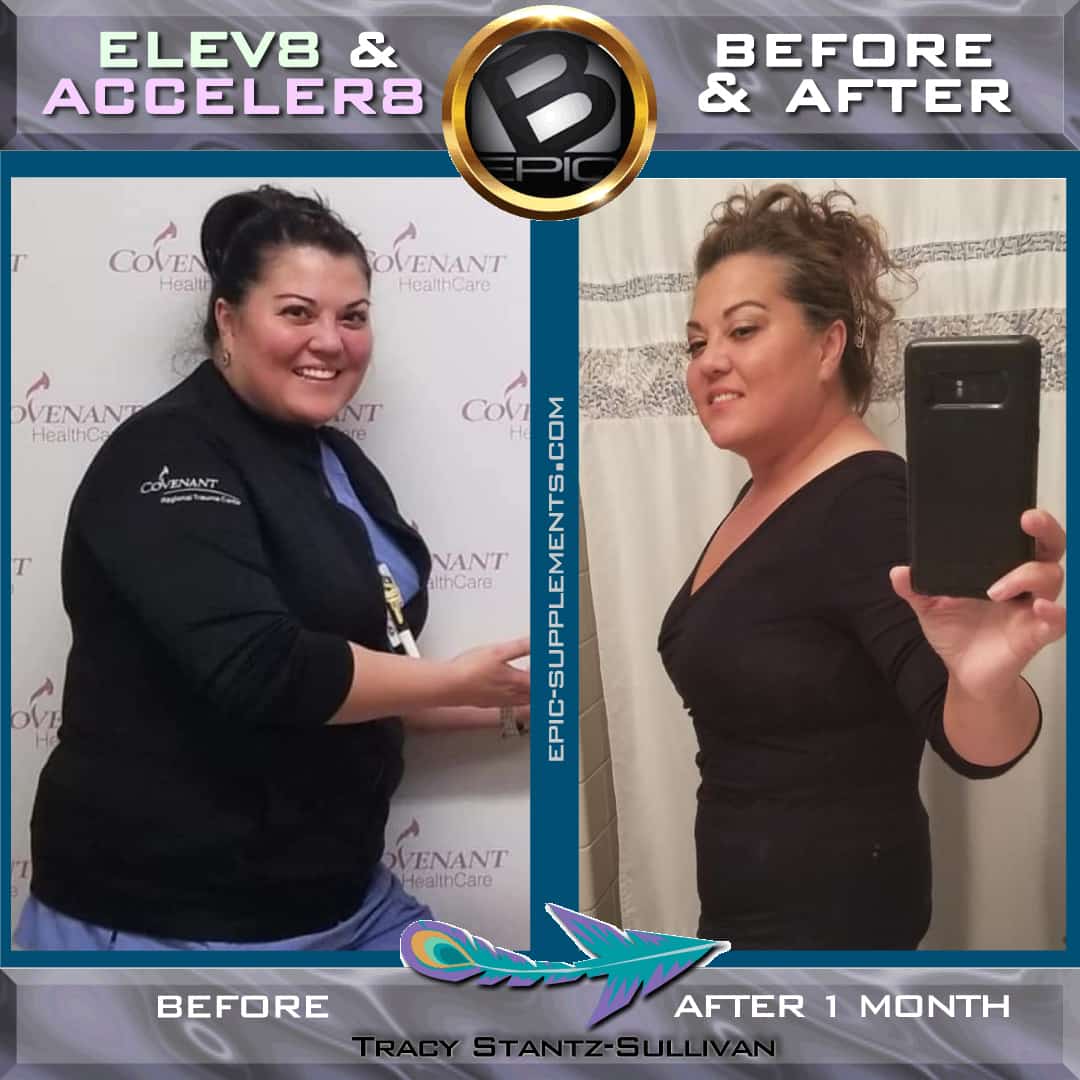 Tracy Stantz-Sullivan's review:
"So it has been 1 month on these pills!
I am down pounds and inches! No longer taking my sleeping pills Ambien, because I sleep like a baby now!! Have tons of energy!! GI health is on track, less stress and anxiety and off my antidepressant and xanax! Also noticed that I have new hair growing on the top of my head!!!
This product has done so much for me!!"
---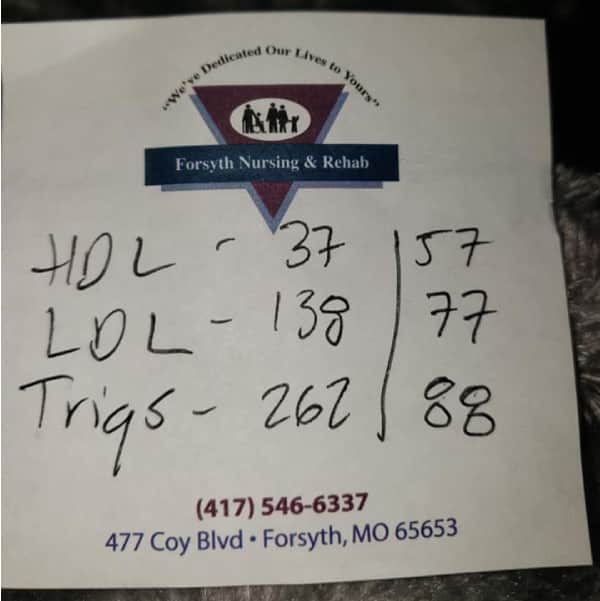 Tiffinee Thrash from Missouri, USA, said:
I have a huge testimony on my bloodwork. I have been taking Acceler8 for a month in a half. This company has changed my life and I am no longer at levels to worry about serious heart disease.
My LDL levels went down dramatically and my Dr said it's very very hard to do that! So my LDL levels were severely bad and my triglycerides were through the roof and in 45 days I will not have to get put on High Cholesterol medication and blood pressure medication.
My Dr said to me that my body started making healthy cholesterol. Just wow!
(On the written piece of paper the first numbers was my bad levels and the second is my most recent levels while taking Acceler8)
More re
---
Review about bEpic's Acceler8 from United Kingdom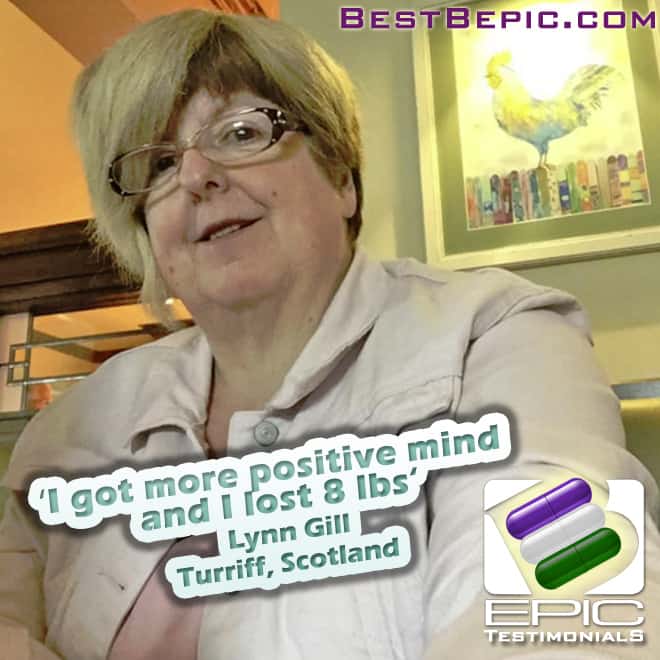 Lynn Gill (Turriff, United Kingdom) tells:
"I been on Acceler8 for 5 nights. Feel great after a amazing night sleep my head feels much clearer and I got more positive mind and I lost 8 lbs what is there not like. All natural gluten free.
Plus u have 30 day money back guarantee.
I am loving my journey and can't wait try the other amazing products!"
---
"Words cannot even express the gratitude!"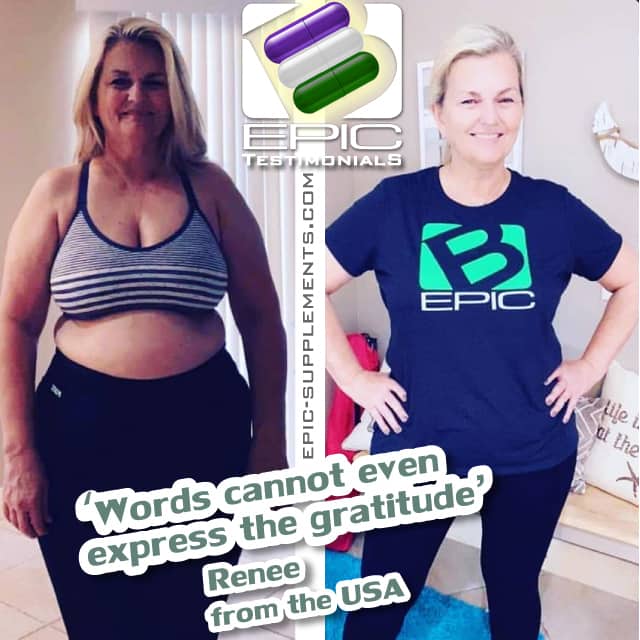 Renee review: "My results in just over a month! I'm 53 years YOUNG!!! I started this journey in March shortly after my 36 year old son Billy started.
Words cannot even express the gratitude I have for this company!! From the products to the comp plan, my life has been changed! First thing I did after a week was ditch the scale I'm an inches girl and you might be too! Don't get fixated on the scale, it's never accurate. I just kept trying on clothes and realized I was reaching in the back of my closet for my smaller jeans and tops. It's just mind blowing how three little could do so much in Just a very short time!
I have more energy, mental focus, reduced stress, sleeping better.
Bonus!!! My clothes fit so much better! loving my new Epic shirt!"
---
"I took my photos again today and I'm in shock!"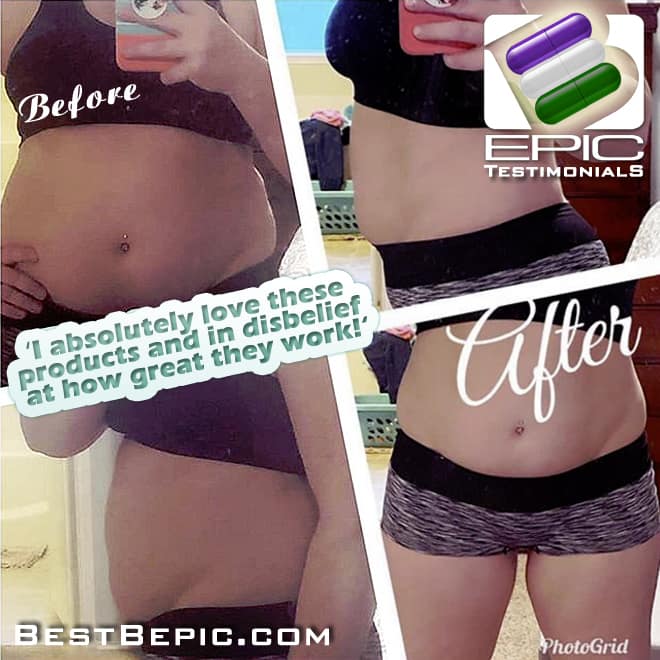 "Hey everyone!! I just wanted to share! I started Acceler8 and Elev8 on 1/1, and I took my photos again today and I'm in shock! The left side is only a day prior to starting this journey and then today 1/29, I can't believe it!
I've lost 7 lbs in less than a month, and about 1/4"-1/2" in my biceps, waist, thighs and chest! I absolutely love these products and in disbelief at how great they work!
I have clean energy and i'm so much more focused during the day, and sleep like a baby at night!! Exactly what I needed!!
Also I'm not a big water drinker so that's always tough, and I haven't really changed my diet except trying to make healthier choices!"
---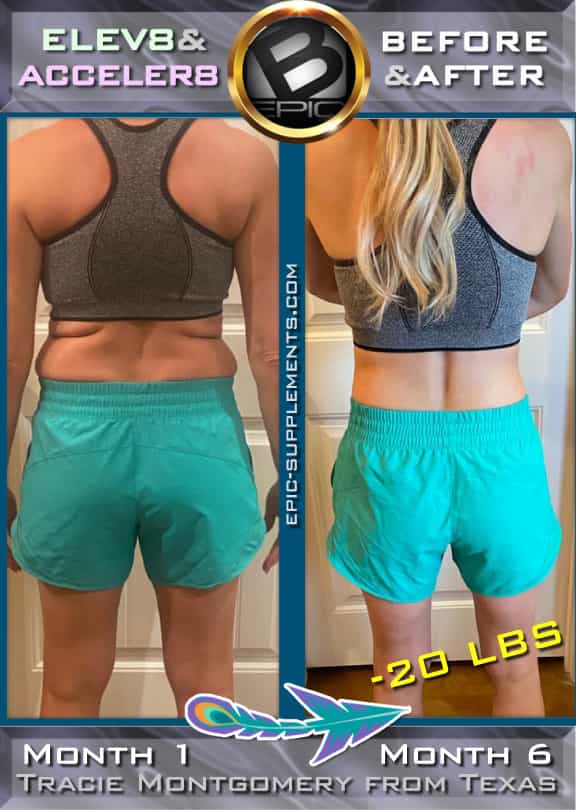 Review by Tracie Montgomery from Texas:
"For those of you who have been watching and still wondering if these supplements really work…
I was quiet shocked today when I compared my new pictures …yesterday I reached my 6 month mark since I started taking these supplements for my gut health.. I'm so stinking excited!! Y'ALL I AM OFFICIALLY DOWN 20 lbs as of today!
I literally haven't changed anything else other than taking 3 supplements a day..NOPE I have NOT changed my diet. This goes to show you no matter what u do, gut health is SO important.
These supplements have been a life saver for me."
---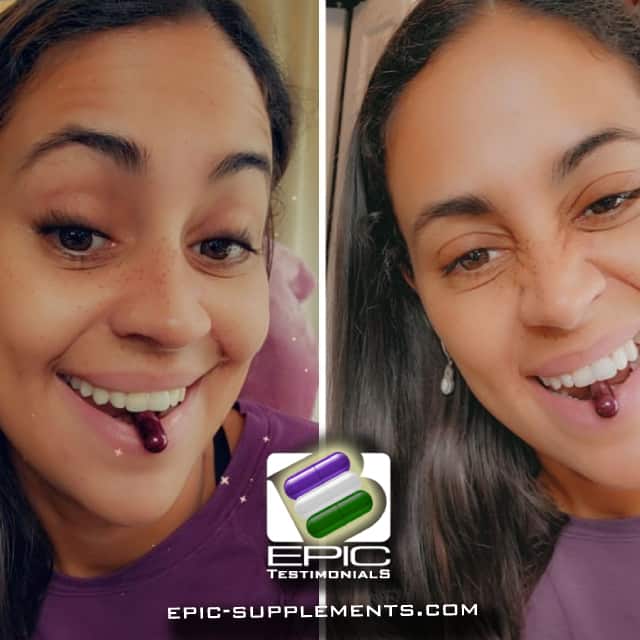 Review on Acceler8 by Tiffany Carter:
I am so thankful not only for what my purple capsule has done for my gut heath- but what my lifestyle change has done for my relationship with my daughter…
Getting my health where it needs to be in order to be healthy and happy for my daughter and show her what this lifestyle means is something I never thought I would get when I started this journey. I now have the energy to keep up with her & and my mood to match her.
✅Better Gut Health
✅Better mood
✅Fruits & Veggies
Most importantly our relationship is stronger than ever and we continue together to be better humans. This lifestyle has changed my family and we will forever be grateful 💜🤍💚
Disclaimer: Results will vary on an individual basis.
Prices
For Brand Partners: $ 99.95 for 120 capsules or $ 59.95 for 60 capsules + one-time registration fee $19.95
For Preferred Customers: $ 109.95 for 120 capsules or $ 59.95 for 60 capsules
Excluding shipping costs ($ 8.45-21.95) and custom fees
Note: To purchase at these prices, you should to sign up on the B-Epic official website (instructions)
ACCELER8 PILLS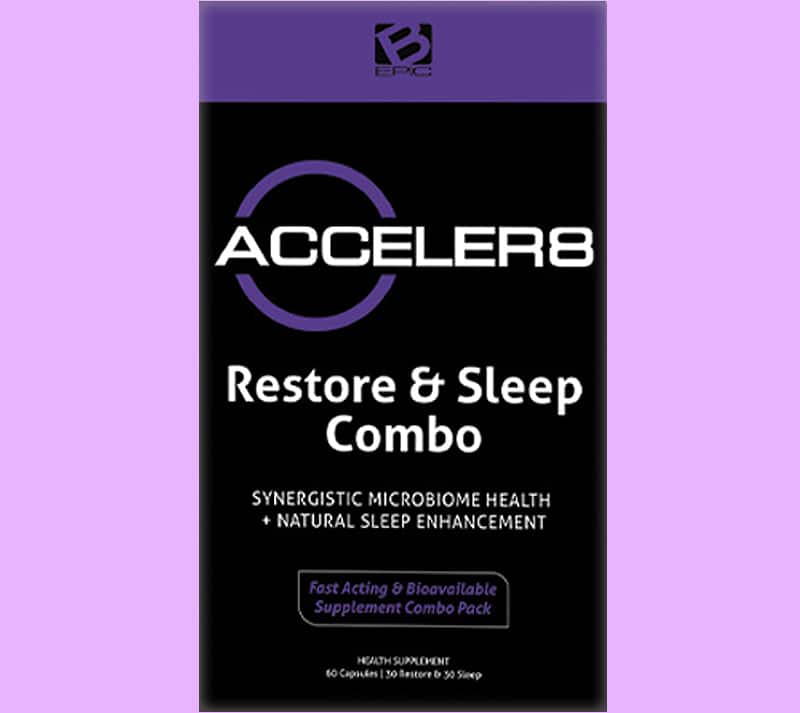 Sleep, Digestion, Weight Loss
Herbal and Bacterial Ingredients
30 Sleep+30 Restore capsules
Serving size: 2 Pills per Day
1 MONTH SUPPLY
Customer Price
69.95 USD
Excluding shipping & international fees
---
Distributor Price
59.95 USD
Excluding 19.95 USD registration fee, shipping & international fees
ACCELER8 DOUBLE PACK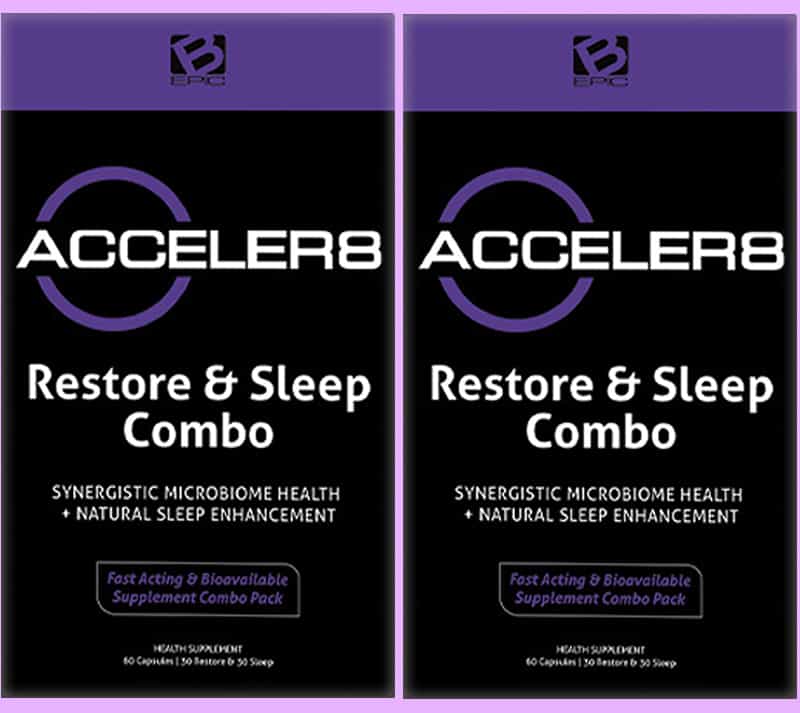 Sleep, Digestion, Weight Loss
Herbal and Bacterial Ingredients
60 Sleep+60 Restore capsules
Serving size: 2 Pills per Day
2 MONTHS SUPPLY
Customer Price
109.95 USD
Excluding shipping & international fees
---
Distributor Price
99.95 USD
Excluding 19.95 USD registration fee, shipping & international fees
Profitable Proposition!
ELEV8 / ACCELER8 COMBO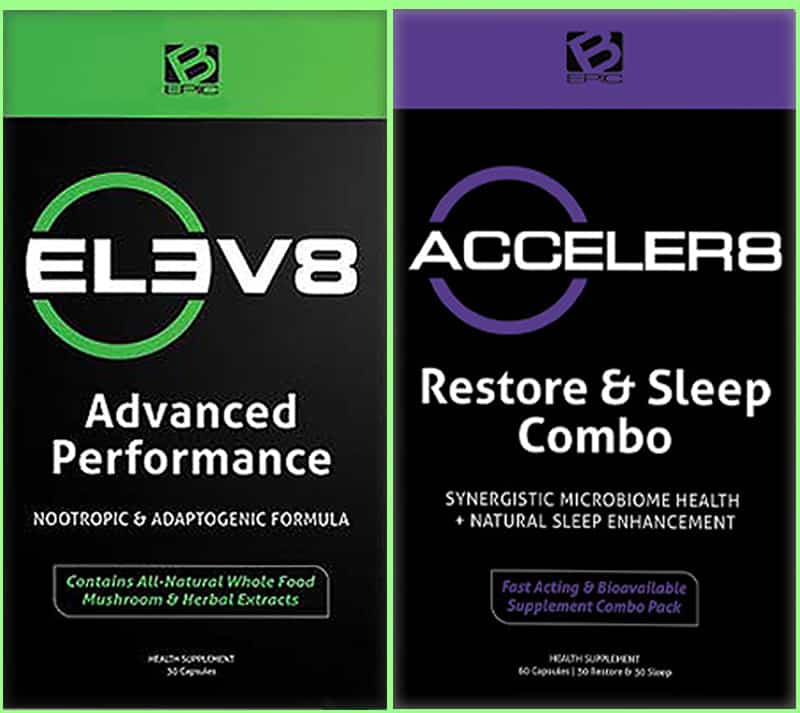 Energy, Weight Loss & Health
Only Natural Ingredients
30 Elev8 + 60 Acceler8 Pills
Elev8/Sleep/Restore pill Daily
1 MONTH SUPPLY
Customer Price
99.95 USD
Excluding shipping & international tax
---
Distributor Price
89.95 USD
Excluding 19.95 USD registration fee, shipping & international tax
Create an account and make a purchase from the official online store
See also:
Testimonials and Reviews
How to Buy
All BEpic Products