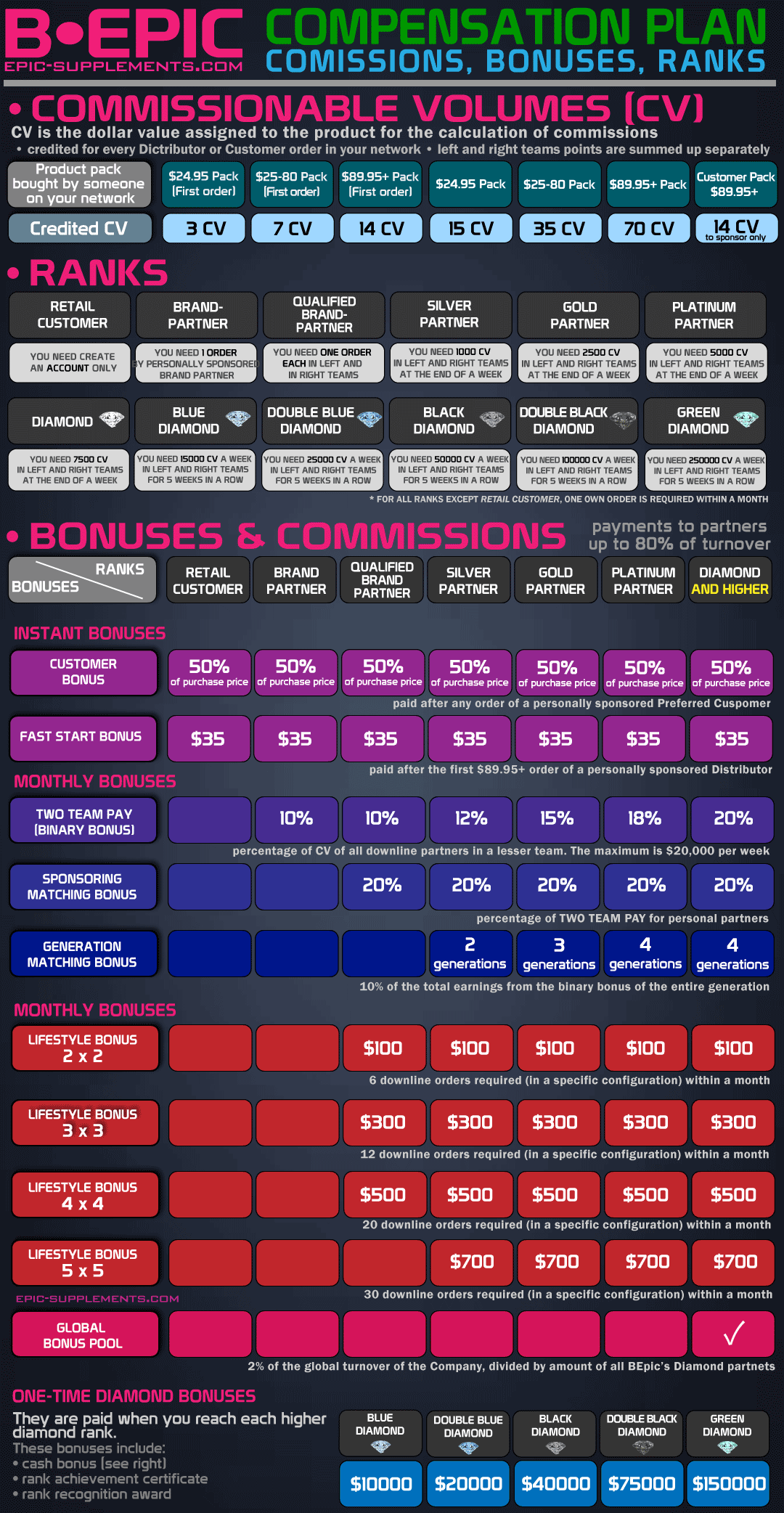 B-Epic Compensation Plan: Principles and Overview
BEpic's compensation plan (or "marketing plan") is one of the most lucrative in the industry and is designed to maximize the earning potential of all Independent Brand Partners. It provides for multiple ways for you to earn money, including an industry-leading bonus program. First, it's free to sign up. Then with one product order, you're in business! As a promoter you get paid 50% of every new customer order you secure. Many of Brand Partners make a good living by simply promoting to customers. If you want to expand your business anywhere in the world, when you bring in a new Brand Partner, you're paid 50% of their first order and qualify for a percentage of their organization's volume as well. And as your business continues grow, so do your opportunities to make even more, including significant monthly bonuses.
Thus, as an Independent Brand Partner (Memeber or Distributor), you can make a great part-time or full-time income simply by introducing others to BEpic products and business opportunity. It costs nothing to sign up for your own B-Epic business, and you can be making money right away!
Our easy-to-follow business system is 100% cloud-based, so you have no inventory to worry about and don't have to do any shipping or collecting payments. Our products are great too and are backed by a 30-Day Money Back Guarantee. They are ordered by customers online via your B-Epic website link and shipped straight to them from our warehouse. And you get paid online each week!
When you sign up, you get everything you need to get started, including your own B-Epic professional website URL with ecommerce store and online dashboard. Plus, you are backed by our proven turnkey business model, easy-to-use cloud-based tools, and topnotch support and fulfillment services.
---
---
Binary structure of network
Making money with BEpic is simple due to the power of our Two Team plan. In this simple but powerful plan, you have a team on your left side (aka "leg") and a team on your right side. As you personally help others join BEpic, you can place them in either of your legs within network structure. New members can also be placed on your teams for you by your Sponsor (or other Members above you) in addition to the efforts of those members below you in your organization.
The B-Epic binary "Two Team" Pay Plan pays a very generous percentage (up to 10%-20%, based on your rank; see below) of the commissionable volume (CV) generated by all the partners in the smaller of your teams, with volume calculated to infinity and with no cycles.
As you acquire a retail customer base and build a team of other dedicated Brand Partners, your earning potential skyrockets!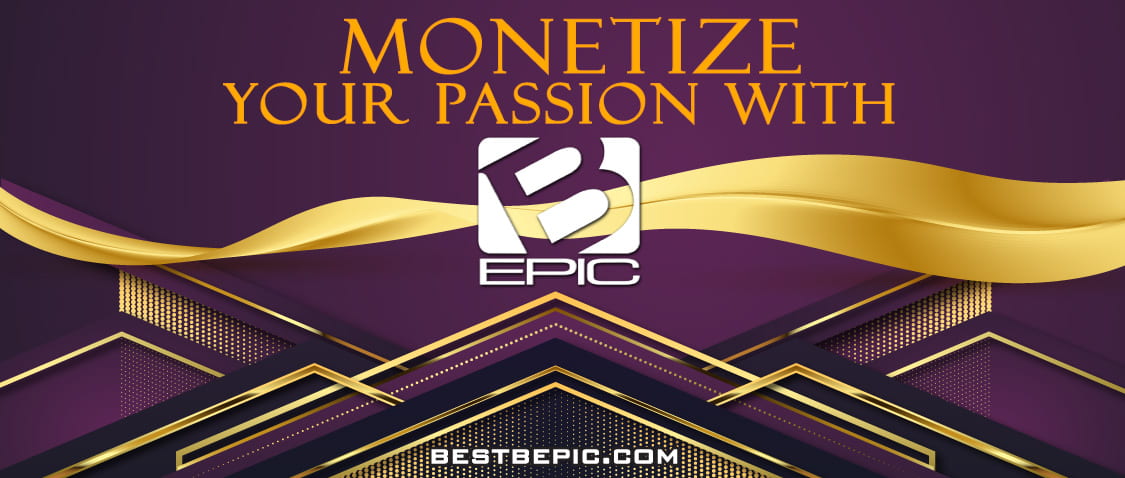 Ranks
A rank is a status that depends on the network's turnover under you. The higher the status, the higher the percentage of payments, and the greater the number of bonuses that you receive.

There are 7 base & 5 Diamond+ ranks in B-Epic Compensation Plan.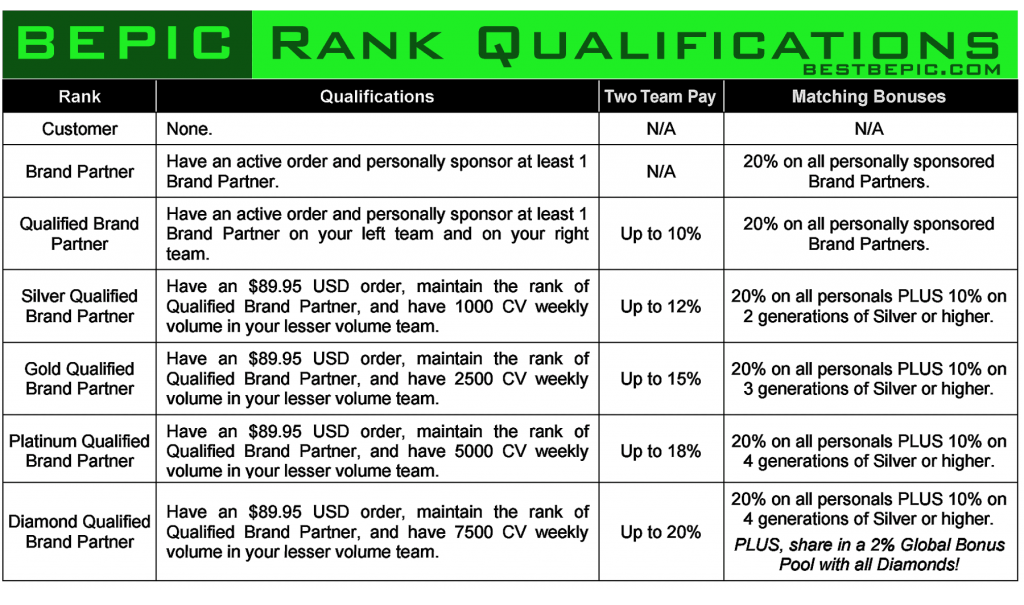 Diamond+ ranks:
Blue Diamind (you receive $10,000 one time bonus when attain this rank)
Double Blue Diamind (you receive $20,000 one time bonus)
Black Diamind (you receive $40,000 bonus)
Double Black Diamind ($75,000 bonus)
Green Diamind ($150,000 bonus)
---
11 types of Commissions in B-Epic Compensation Plan
PV or Personal Volume is the actual product price in dollars excluding shipping.
CV or Commissionable Volume is the dollar value assigned to each product for the calculation of commissions.
(#1) Customer Bonus Earn 50% of the PV (or dollar amount) on all your retail customer purchases. (Also, 20% of the CV goes into the Two Team Pay Plan.)
(#2) Fast Start Bonus Earn 50% of the CV on the first order of every Brand Partner that you personally sponsor.
(#3) Two Team Pay Earn up to 20% on the CV of your lesser volume team every week. No cycles.
The maximum Two Team Pay is $20,000 per week.
(#4) Sponsoring Matching Bonus Earn a 20% check match on all your personally sponsored Brand Partners.
Match is based on the Two Team Pay (#3) only.
(#5) Generation Matching Bonus Earn a 10% check match paid on up to four generations of Silver Qualified Brand Partners or higher rank. Match is based on the Two Team Pay only.
(#6) Global Bonus Pool As a Diamond Qualified Brand Partner, earn a share in a 2% Global Bonus Pool of the total company CV every month.
(#7-10) Monthly Lifestyle Bonus. Earn up to $700 USD monthly Lifestyle Bonus by purchasing an $89.95 USD pack or higher and sponsoring other Brand Partners at the same package level or higher who also each sponsor other Brand Partners at the same package level or higher. This bonus pays every month you are qualified.
(#7) 2 who get 2 on $89.95 USD or higher pack = $100 USD monthly commission
(#8) 3 who get 3 on $89.95 USD or higher pack = $300 USD monthly commission
(#9) 4 who get 4 on $89.95 USD or higher pack = $500 USD monthly commission
(#10) 5 who get 5 on $89.95 USD or higher pack = $700 USD monthly commission
(#11) One-time Diamond bonuses. They are paid when you reach each higher diamond rank. These bonuses include: significant cash bonus, rank achievement certificate, rank recognition award
Read more about bEpic bonuses
Commission Schedule
The Customer Bonus and Fast Start Bonus are both paid in real time; they are entered into your e-wallet instantly. The Two Team Pay and both Matching Bonuses are paid weekly with a one-week delay. For these the commissionable week runs 12:00 am EST Wednesday through 11:59 pm EST Tuesday; and the corresponding commissions are entered into your e-wallet the following Wednesday.

The Global Bonus Pool and Lifestyle Bonus are both paid monthly; they are entered into your e-wallet on the first Wednesday after the 15th of the month following the commissionable period. You can request a payout from your e-wallet at any time, and it will be paid on the upcoming Friday. All such requests submitted through the week by 12:00 am EST Thursday are paid on the Friday of that same week.