What is B-Epic?
BEpic (aka B-Epic; bEpic) is a network trading company from the US that entered the world market at the very beginning of 2017 with one, at that time, product – Elev8 "energy & weightloss pills" with adaptogens and ingredients for brain and body. Quickly enough it became clear that the capabilities of the supplement are much wider than their creators expected. The product has gained immense popularity in Europe and Asia. At the beginning of 2018, the BEpic product line was replenished with second product – Acceler8 capsules. In June 2019, the third product appeared – Gr8 Kids for children, in August – the first cosmetic product, Rejuven8 face serum, and in November 2019 – Hydr8 coral water, in 2020 – bImmune powder, Allevi8 patches, Regener8 tea, and CBD Gummies & Oil.
Some product results
Now the company officially ships products to more than 100 countries. Its popularity and turnover is constantly growing. The company plans to dedicate 2020 to actively entering the markets of North and South America, as well as Japan.
Company details and requisites
Headquarters Address: 3075 N. Fairfield Rd, Layton, Utah 84041, USA (tel. 888-335-7493)
Full name: R&D Global DBA B-Epic
Website: bepic.com
e-mail: cs@bepic.com
Founder, President and Owner: Dan Putnam
Co-President: Lynn Putnam
Vice President of Operations: Gina Day
Vice President of Sales and marketing: J.C. Martinez
Management company: R & D GLOBAL, LLC.
CEO – Richard Theodore Putnam Jr. (1526 N Dixie Downs Rd Unit 1 Saint George UT 84770-4103; tel: (435) 986-9787) See More
Established: November 2016
Partners:
Everything Good Nutrition – Product Development and Release (more info)
DHL, Landmark Global & USPS – logistics/shipping
bEpic's Mission
"We are improving the quality of human life; we give people confidence, reliability and financial comfort, helping to realize aspirations and dreams."
---
Work and business principles
BEpic is a modern multilevel marketing company. This means that all products are sold through online stores of individual (independent) distributors (representatives; partners). All online stores are located on a single platform – the B-Epic official site. Products are not sold through ordinary shops, supermarkets, pharmacies.
Distributors earn through personal sales, and also receive bonuses through the activities of the trade network that they built. The distributor's trade network includes distributors who are attracted to the company by this person, as well as people, respectively, attracted by those distributors. Payments and bonuses are regulated by a special document – compensation plan.
B-Epic is a company that provides a unique opportunity to have your own business, working at home. It is an almost completely automated system that provides its partners with all the necessary tools for a effective operation. The company is successfully changing the perception about working at home for thousands of thousands of people around the world.
B-Epic is a new life format that could be yours tomorrow!
Products
There are currently 6 products in the BEpic product line.
BEpic products are unique and high-quality products, often unparalleled in the world! You will not find them in retail on shelves in the store. They are sold exclusively in the online stores of the company's distributors.
•Elev8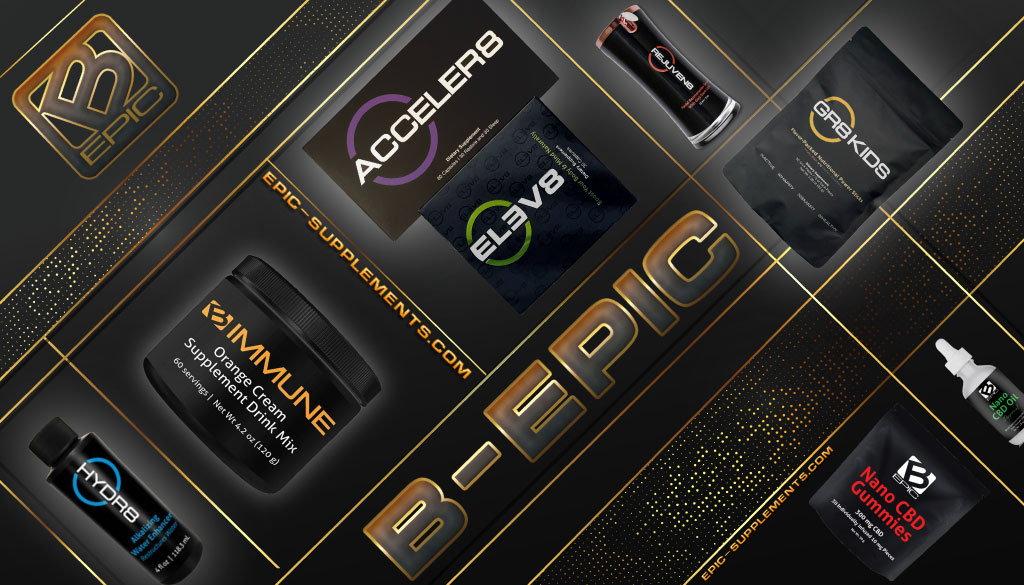 These green pills (capsules) became famous just a few months after their appearance on the market. Designed to increase the adaptive abilities of the body and the brain, they quickly proved to be an excellent remedy for joints diseases, high sugar, arterial hypertension, benign tumors, vitiligo, allergies … and not only*
Product packaging contains 30 capsules for 1 month. Read More
•Acceler8
This product is completely different from the first one – both in composition and in principle of action. Acceler8 is an independent product designed to: control overweight, improve sleep, normalize digestion, neutralize the harmful effects of taking antibiotics, cleanse the body and enhance the action of Elev8 capsules.
Each package of Acceler8 product contains 60 capsules of two types – 30 purple (Acceler8 Restore) for detox, normalization of digestion and weight loss and 30 white (Acceler8 Sleep) for weight loss in sleep, accelerate body recovery and deepening sleep. Read More
See also: What is B-Epic's trio
•Gr8 Kids sticks
The purpose of the product is to accelerate the development of the child, maintaining his physical, emotional and mental health & protection from disease*. Gr8 Kids gives the child:
Energy (sugar and calorie-free)
Good mood
Developed mind
Healthy sleep and appetite
Good health
The main aim of BEpic's Gr8 Kids is to ensure that the child never gets sick and develops at the maximum physiologically acceptable rate.
This product can be successfully taken not only by children, but also by older people. Read More
•Hydr8 water
HYDR8 is a liquid supplement for preparation of "healthy" alkalized water rich with negative ions. The product is packaged in a 4 oz bottle, which allows you to get 192 servings of pure, structured water. The main component of HYDR8 water is patented pH-Booster Blend™ which instantly and permanently raises the pH of water by approximately 2 full points to make it more alkaline.
HYDR8 water contributes to the comprehensive restoration and improvement of the state of the human body as a whole and its individual organs in particular. It nourishes the body with an environmentally friendly liquid and a complex of minerals that are vital for normal well-being. Read More
•Rejuven8 serum
Rejuven8 is an innovative premium serum for the protection, restoration and renewal of face and neck skin. The serum has passed full-fledged clinical trials in vivo (in real people). Testing showed that regular use of serum for 4 weeks gives the following results:
Skin smoothness increase (roughness reduction) by 61%
93% increase in elasticity
Increase in epidermal thickness by 9.9%
Up to 49% increase in moisture

Read more about Rejuven8
•b-Immune powder
BImmune (or B-Immune) is a natural dietary supplement that effectively increases the body's own forces in the fight against infections and optimizing immune system response and balance.
BEpic's BIMMUNE is a unique immune promoting & supporting drink that can serve as a useful tool to strengthen and maintain the balance of a healthy immune system, keeping it ready for when resistance support is needed. Read More
•Nano CBD Gummies and Oil
The new B-Epic products which reduces body pain, lowers anxiety, improves sleep, has neuroprotective effect, lowers blood pressure, reduces the frequency of epileptic seizures, promotes anti-acne actions.
The products are based on Cannabidiol (CBD), one of the main cannabinoids found in the cannabis plant. Without psychotropic properties, this substance is becoming more and more popular as a remedy for many health and wellness problems. Read about Gummies and Oil
---
---
More pictures Before-and-After