This page describes in detail the compensation plan of BEpik, including various types of payments to distributors (bonuses).
What B-Epic pays for
BEpic pays distributors when other people buy products via official web-site using their referral links.
Explanation: Each distributor has his own referral link, in which their sponsor code is embedded. Sponsor code is an username that a distributor chooses when registering with the Company.
If another distributor is registered by the distributor's link, the first one receives a percentage of the second's earnings.
When the third distributor is registered by the link of the second, the first will receive income from the work of both. And so on ad infinitum …. The second, third and subsequent distributors form the network of the first distributor who will profit from their network.
For each purchase made within its own network, the distributor receives up to 7 types of bonuses. The number of bonuses depends on the rank of the distributor – the higher the rank, the more bonuses.
Below are all types of B-Epic bonuses.
Customer Bonus
If you have just recently become an Independent Distributor, then this is the most profitable bonus that you will receive.
For ANY ORDER OF A PREFERRED CUSTOMER who has registered using your personal referral link, YOU WILL RECEIVE 50% of the order value. The order must be placed on the official bEpic website.
Read more about Preferred Customer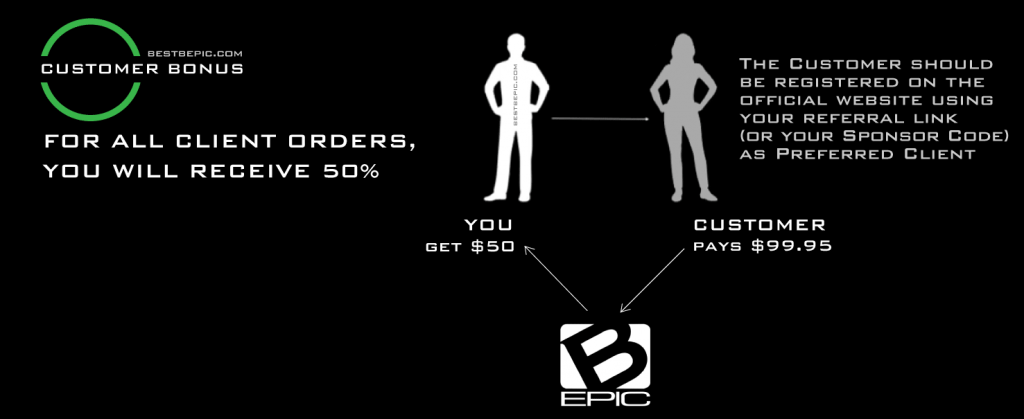 ---
Fast Start Bonus
For FIRST ORDER OF A BRAND PARTNER (aka Independent Distributor) who has registered using your personal referral link, YOU WILL RECEIVE 50% of order CV. The order must be placed on the official bEpic website.
Explanation: CV or Commissionable Volume is the value assigned to each product pack for the calculation of commissions.
| | |
| --- | --- |
| Pack price | cv |
| $89.95 or higher | 70 |
| $49.95-69.95 | 50 |
| less than $49.45 | 25 |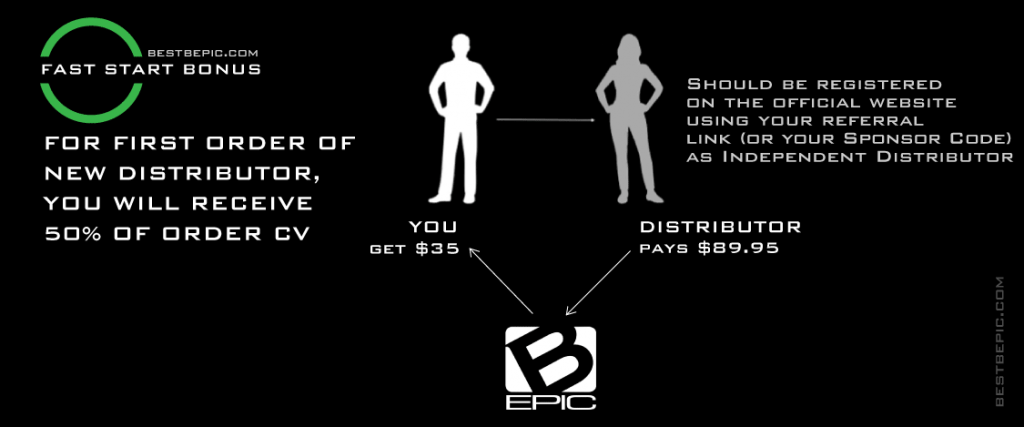 Read more about Independent Distributor
---
Two Team Pay
Two Team Pay is one of the most important payouts for experienced Partners. Its essence is shown in the figure.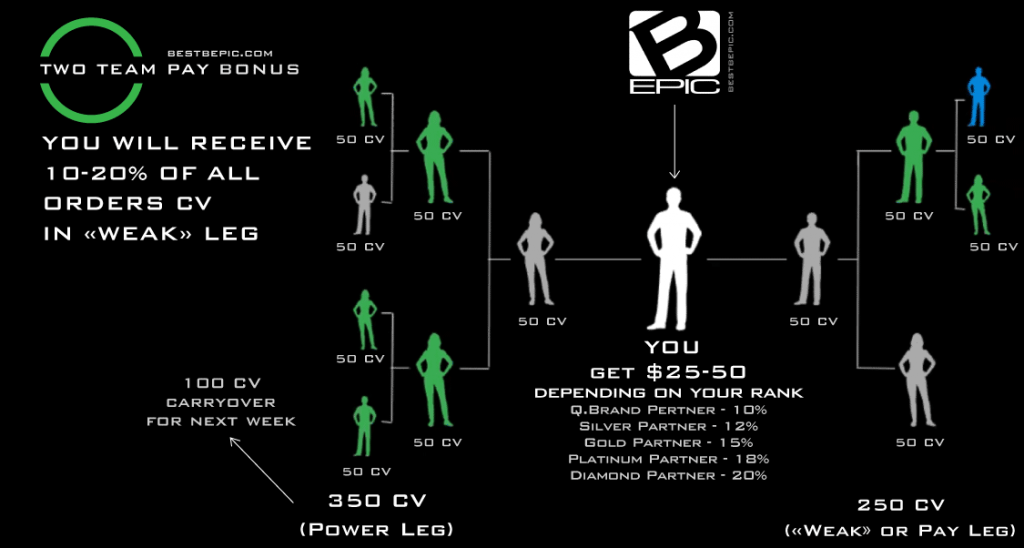 Explanation: B-Epic has so-called a mixed compensation plan that combines the features of binary and linear.
The meaning of Binary Comp Plan is that under you are built two "teams" or "legs". Some people form one "leg", part another. When registering a person, you decide where to put him.
So, when your partners buy products, you are awarded points (cv). At the end of each week, the total points are calculated in each leg, and the amount of cv in the smaller ("weak") leg is converted into USD.
The ratio of points and USD depends on the rank. The Qualified Brand Partner receives 10% of the points in the weak leg, and the Diamond is about 20%. This payment is called Two Team Pay.
To receive this bonus, you must have a Qualified Brand Partner rank or higher. Brand Partner receives cv, but they are not converted into money, but only accumulate.
You receive payments from purchases of all partners that are below you on the network, without limiting the "depth". However, the payment may not exceed $ 20,000 per week.
Please note: CV are converted into money and transferred to your e-wallet at the end of next week.
---
Sponsoring Matching Bonus
This is an easy to understand and important linear bonus. You will get 20% of CV earned by partners whom you personally enrolled to the Company using your referral link. CV received are converted into money at the end of next week.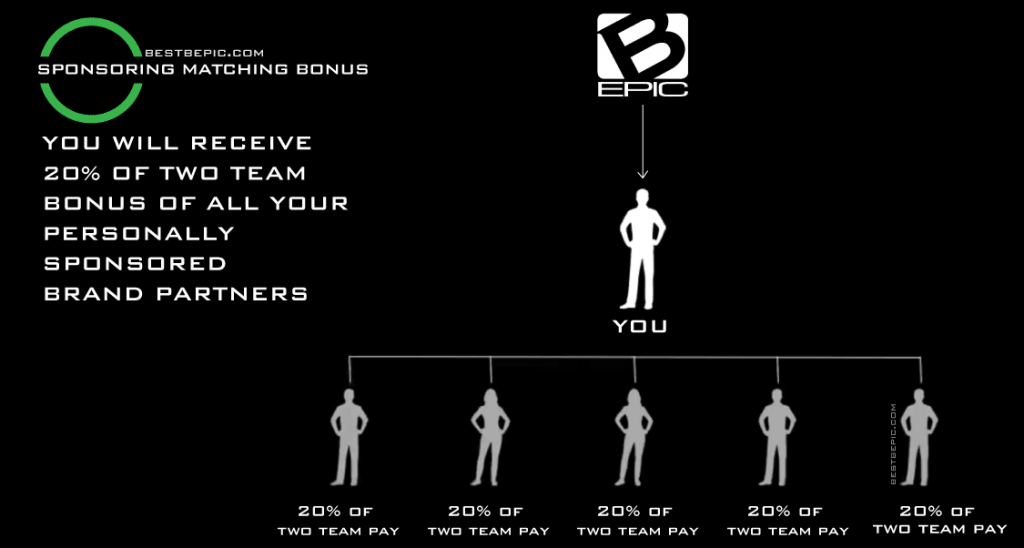 Please note: the CV are converted into USD and transferred to e-wallet at the end of next week.
---
Generation Matching Bonus
This is the second linear bonus in the company.
When your network grows to a certain size and you get the title "Silver Brand Partner", you will begin to receive a bonus not only from personally registered partners, but also from those whom they personally registered … and those whom these people have registered … and so on … down to the 4th generation down.
A generation is not just one person, but a whole network structure that starts and ends with partners in Silver rank (see figure). This bonus
especially important for partners with a large network.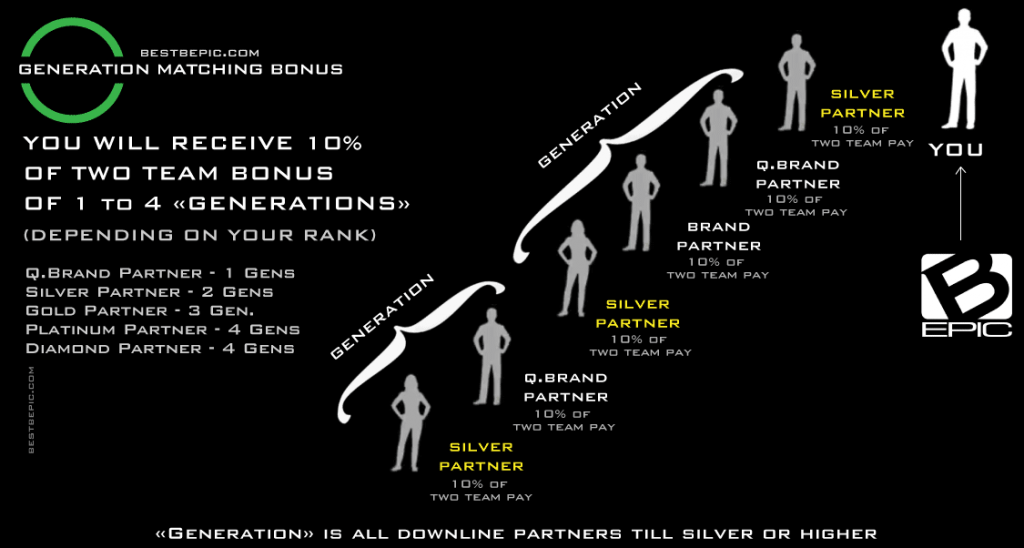 Note: this weekly bonus is paid at the beginning of next week.
---
Global Bonus Pool
To receive this bonus, you must build a large network and achieve Diamond qualifications within the current week.
The value of this bonus is determined as follows: 2% of the total number of points awarded to all partners of the Company during the week is divided by the number of "diamonds". Points are then converted to dollars.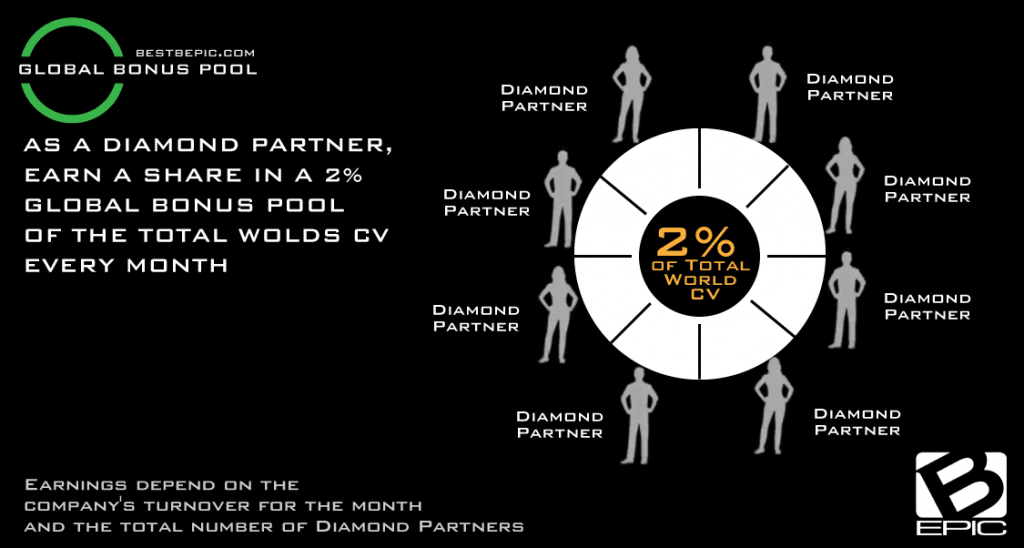 Monthly Lifestyle Bonuses
In order to receive one of these bonuses, your network must have 5 registered partners in person, each of which has 5 own partners, and each of them must order products during the current month. Of course, you must also order products.
There are 4 such bonuses. Within a month, you can get only one of them.
2 who get 2 on $89.95 USD or higher pack = $100 monthly bonus
3 who get 3 on $89.95 USD or higher pack = $300 monthly bonus
4 who get 4 on $89.95 USD or higher pack = $500 monthly bonus
5 who get 5 on $89.95 USD or higher pack = $700 monthly bonus
Check here which packs are participating in the bonus calculation.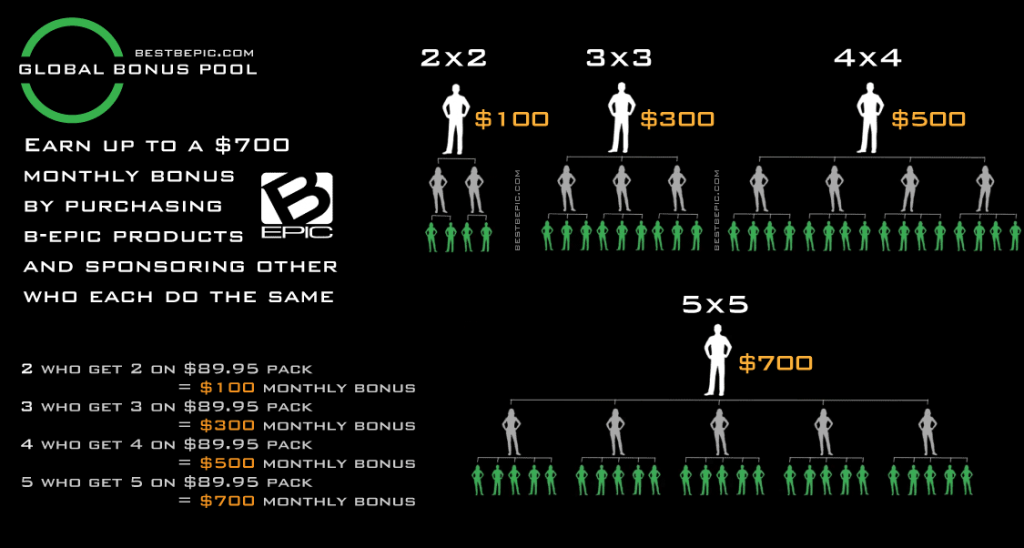 Note: This monthly bonus is paid on the 13-16th of the next month
---