Read about all Elev8 ingredients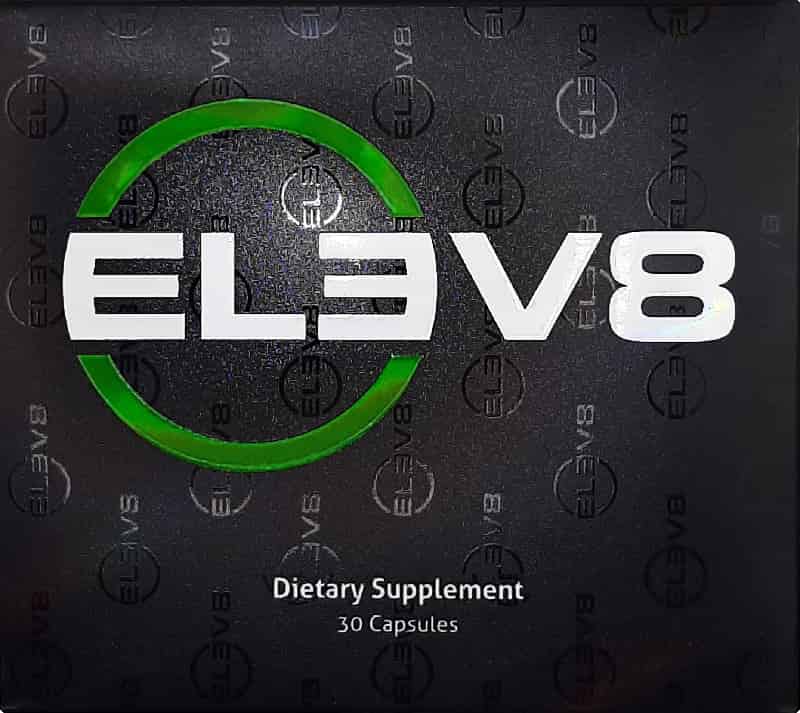 B-Epic's Elev8 pills/capsules have a 100% plant composition.
Elev8 ingredients can be divided into three groups:
Adaptogen plants, which increase the body's resistance and adaptability to external impacts (ELEV8 Adaptogen Super Blend)
Components that positively affect the energy functions of the body and brain activity (ELEV8 Nature's Energy & Clarity Blend).
Extracts of fruits and vegetables that provide the body with various trace elements, vitamins, amino acids, glycosides, terpenes, saponines and fiber (ELEV8 Whole Food Nutrient Blend).
Note: This division is conditional, since some ingredients can be included in in several groups (for example, Cordyceps or Rodiola Rosea).
---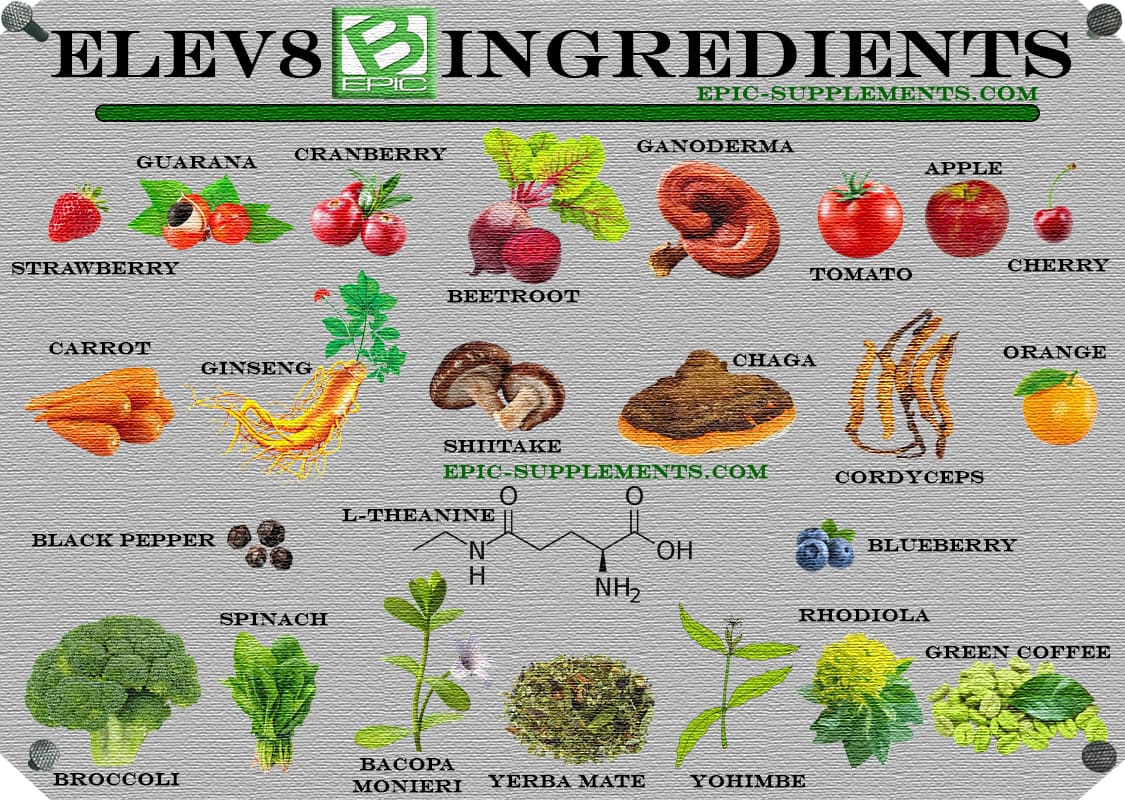 BEpic Elev8 Ingredients List
The following is a brief description and main useful functions of all ELEV8 plant Blends with ingredients lists.
Elev8 Adaptogen Super Blend
ELEV8 is based on a mixture of natural adaptogens, which combines super-herbs and oriental medicinal mushrooms. Most of the components have been known for thousands of years and used extensively in Chinese, Tibetan and Siberian traditional medicine. Adaptogens have an amazing ability to help people feel good – even when under physical and mental stress.
Modern clinical studies have shown that adaptogens can be effective in combating physical and mental fatigue, and also reduce feelings of depression and anxiety. They improve memory, cognitive and mental abilities, strengthen sleep. Adaptogens protective activity may also help strengthen the immune system, as well as the body's natural ability to withstand the damaging effects of an aggressive environment.
The composition of a super-mixture of adaptogens includes:
---
ELEV8 Nature`s Energy & Clarity Blend
Nature`s Energy & Clarity Blend is made from a synergistic mixture of healing herbs with the addition of vitamin B3. It is loaded with powerful nootropics and other natural stimulants that have long been used in traditional Asian medicine to promote physical energy, stamina, mental clarity and good mood. At the present time, these natural substances continue to be used to increase brain productivity and concentration; create a calm, balanced energy; improve memory and focus, reduce brain fog.
This Blend includes:
Yerba Mate ( extracted from Ilex Paraguariensis leaves)
Green Coffee Beans
L-theanine amino acid (extracted from certain plants and fungi)
Guarana, fruits of Paullinia cupana (uses in a version for non-EU countries only).
Advantra Z based on Bitter orange (uses in a version for EU countries only)
Ginseng (uses in a version for EU countries only)
Yohimbine (extracted from the bark of a Yohimbe tree; for non-EU countries only)
Natural Vitamin B3
---
ELEV8 Whole Food Nutrient Blend
This Blend is made from live fruits and vegetables with scientifically proven health-promoting properties and essential nutrients.
Whole-food nutrients are nutrients that are extracted from the original plant material together, as a whole. Such a combination acts synergistically and is therefore much more useful than individual extracted substances. For example, extracted vitamins are surrounded by substances that contribute to their better absorption by the cells.
Elev8 contains 12 whole food compositions, each of which represents the most complete spectrum of nutrients of a particular plant. Among them are the following: Cranberries, Spinach, Broccoli, Carrots, Beets, Strawberries, Tomatoes, Apples, Oranges, Cherry, Blueberry, Black Pepper extracts.
---
Note: the composition for the EU countries has differences (see figure)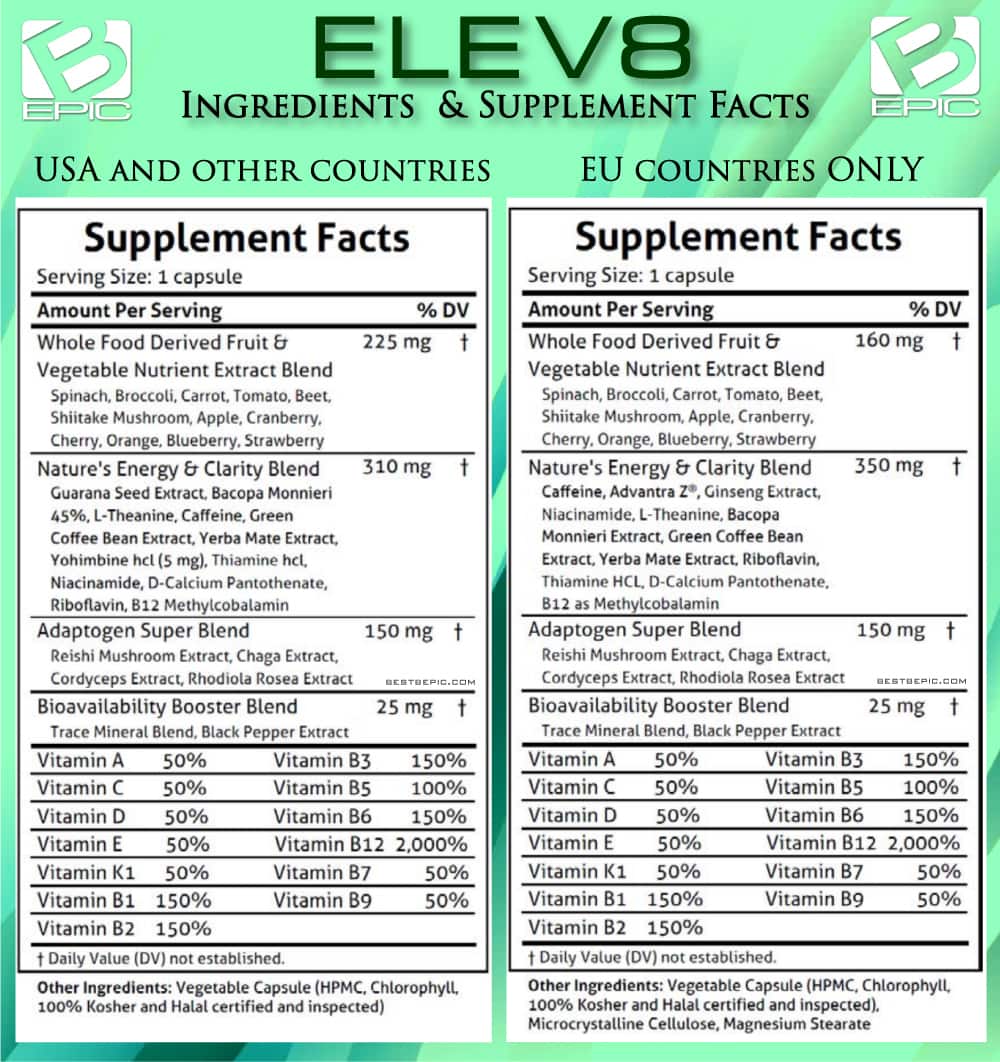 ---
Capsules shell ingredients
Shell's substance is an additional useful component because it is made from materials of plant origin – hydroxypropyl methyl cellulose (HPMC) and chlorophyll.
HPMC is an absolutely harmless substance widely used in medicine and in the manufacture of medicines. It is produced on the basis of ordinary cellulose. Suitable for vegetarians, vegans, Muslims and people with gluten intolerance.
---
---
Elev8 Ingredients – are they effective & safe?

B-Epic uses natural ingredients only and therefore we can say that Elev8 is safe. The natural ingredients ensure that the user does not suffer from side effects which are as a result of chemical or GMO additives. Elev8 is effective, because all its ingredients have been used for centuries in traditional medicine in different countries, and are considered very strong. Let us take a look at the main ingredients:
Bacopa Monnieri – This product reduces the stress levels of the user thus having a positive impact on the mood. It also improves the memory and at the same time keeps the consumer happy.
Rhodiola Rosea – This is a herb which is mostly used to combat fatigue and to ensure that the user has high energy levels and also increases the rate of metabolism which makes the brain healthy and active.
Reishi Mushroom – This ingredient is commonly used to ensure that the body has a strong immunity thus protecting it from disease causing organisms. It also ensures that the body has enough supply of oxygen and all hormones are balanced.
Guarana – This ingredient is obtained from a plant which is commonly found in the Amazon rain forest and it is mainly used to improve memory and to ensure that the consumer is active and alert at all times.
Yohimbin – This ingredient is obtained from the bark of a tree commonly found in Central Africa and it is used to stimulate nervous activity.
Chaga – This ingredient is a type of mushroom which is normally used medicinally to treat many ailments. It is beneficial to this product because it has protective benefits and it also helps get rid of stress, and also inhibits the growth of cancerous cells.
Cordyceps – This is also a type of mushroom which is known for its ant-oxidant properties. It helps get rid of anxiety, depression, stress and fatigue. It also gives strength and stamina.
Green Coffee Bean Extract – This ingredient is obtained from coffee beans. It also helps boost the immune system of the user and also help reduce excess weight. It is mostly important because it helps reduce blood pressure of the individual.
Yerba Mate – This ingredient is important for its increase in libido, improve the mood of the user and also help reduce stress levels[3].
L-Theanine – This organic ingredient is responsible for keeping the user relaxed and also get rid of fatigue. It keeps the user alert and gets rid of drowsiness.
B group Vitamins – These vitamins help increase the rate of metabolism and oth.
---
See also:
Elev8: main info
Elev8 on official website
Acceler8 Ingredients