Research-Based Nitric Oxide Booster
Innovative Cardio Health Formula
What is B-Cardio
B-Cardio is not just a health supplement designed to improve cardiovascular health and prevent heart disease. It is a unique and completely new formula that includes patented nutritional technology to help protect the heart and vascular system from aging. In addition, B-Cardio will improve your stamina, accelerate recovery and increase your ability to deal with stress. It has anti-aging and anti-inflammatory properties.
B-Cardio Health Benefits
The supplement is a booster in the production of useful nitric oxide. It is a natural compound synthesized in the body from the amino acid L-arginine under the action of certain enzymes. In particular, it is synthesized in the inner cavity of the walls of blood vessels (epithelium). Nitric oxide has a vasodilating effect, improving blood flow and preventing blood clots. In addition, it allows the blood to more efficiently deliver nutrients and oxygen to the tissues of the heart and blood vessels, while simultaneously removing metabolic waste from them, contributing to improved performance and the entire cardiovascular system recovering. Also, the product is able to regulate the level of Homocysteine (α-amino acid), the increase in which leads to the destruction of the arteries.
Therefore, regular intake of B-Cardio supplement will be beneficial for the prevention of cardiovascular diseases, the healing of blood vessels, heart tissues and a number of related body systems.
Activates the Body's entire Nitric Oxide system in 20 minutes. It is possible to demonstrate its work using a third-party laboratory test (strips for saliva), which is included in the pack.
Additional Benefits
Increased energy and stamina without caffeine and artificial stimulants
Improving the effectiveness of your daily exercises
Relieve muscle soreness and promote faster recovery
Has anti-aging and anti-inflammatory properties.
"If you take B-Cardio on a regular basis, over years, that not only stops cardiovascular disease. It starts to reverse the damages so that vessels that have been damaged by unchecked cardiovascular disease processes can be remodeled. You can restore over time your vascular system to a pristine state"
Adam Saucedo, M.D.
B-CARDIO CANISTER
Heart & Vessels Health
Energy & Stamina
Test Strips Included
Serving Size: 1 Scoop (3g)
1 MONTH SUPPLY
Customer Price
60 USD
Excluding shipping & international fees
---
Distributor Price
50 USD
Excluding 19.95 USD registration fee, shipping & international fees
---
Product Details
Proprietary formula with L-Arginine and L-Citrulline
Servings Per Container: 30
Serving Size: 1 scoop (3g)
Instant Nitric Oxide Tester Strips Included (uses saliva)
Gluten Free, Dairy Free, MSG Free
0 Calories and Sugar-Free
Manufactured in USA using a cGMP certified facility
Formulated by Adam Saucedo, M.D. Third-party tested
---
Ingredients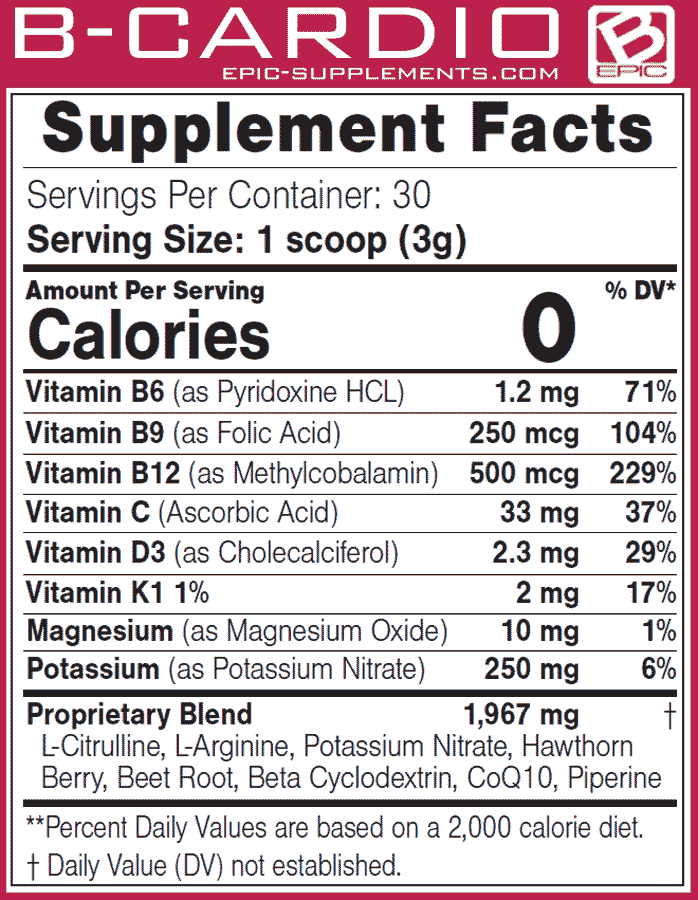 Proprietary Blend
L-Citrulline
L-Arginine
Potassium Nitrate
Hawthorn Berry
Beet Root
Beta Cyclodextrin
CoQ10
Piperine

(extracted from black pepper)
Other Ingredients
Natural flavors
Citric Acid
Malic Acid
Silicon Dioxide
Sweeteners (Sucralose, Stevia Extract)
---
How B-Cardio works
There are a number of similar products on the health market that are designed to boost the body's production of nitric oxide. But B-Cardio has a significant advantage over them. If competing products stimulate the production of nitric oxide only by the vascular epithelium, then BCardio affect all body systems capable of producing nitric oxide. This dramatically increases the effectiveness of the product.
Adan Saucedo, M.D. about B-Cardio: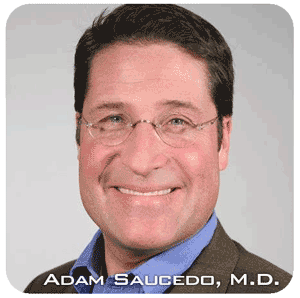 "I believe it to be a very new and important approach to delivering elevated to elevate levels of nitric oxide in your bodies. Nitric oxide is a is a very simple molecule but critical to are to our health it's comprised of just two atoms one of nitrogen one of oxygen and it's produced in a special lining that exists in our vascular structures.
There's a single cell layer in our heart and in our arteries in every vascular structure in our body called endothelium and that's the site of the production of much nitric oxide.
Nitric oxide mediates the health of almost every major organ of every major organ system in our body critical to health. The endothelial cells produce nitric oxide but there are other parts of the body that produce nitric oxide that haven't been understood for a long time.
This new product addresses the other sites of nitric oxide production aside from the endothelium. All the products on the market right now utilize the endothelium to elevate nitric oxide. They ignore the necessary nutrition to drive the other areas of the body that produce nitric oxide.
So a whole majority of the body system is being ignored and we don't provide for those precursors through our western diet. It provides less than one-tenth of nutritional precursors to drive the other systems for nitric oxide production. We have engineered this product to deliver the necessary nutritional precursors to drive the rest of the nitric oxide system that that exists in our bodies.
This is a whole system that is it's really co-dependent, it's interrelated, they function together as the whole system. It's a cooperative synergy that creates to produce nitric oxide that establishes tools for health and establishes parameters in our bodies to prevent disease.
It's probably one of the most powerful things we can do to drive general and systemic health in our bodies so we're addressing a huge problem cardiovascular disease and many other interrelated diseases that come along with cardiovascular disease – diabetes, hypertension, etc. This product will address that by providing precursors to drive the entire system of nitric oxide production and that's a huge difference.
Far more than a product designed to improve cardiovascular health and prevent heart disease, B-Cardio is a unique and completely novel formulation that includes proprietary nutritional technology that will help you age-proof your heart and vascular system. It will enhance your workouts and aid recovery as well as your ability to cope with stress. It contains anti-aging and anti-inflammatory properties."
---
Nitric Oxide Research Awarded Nobel Prize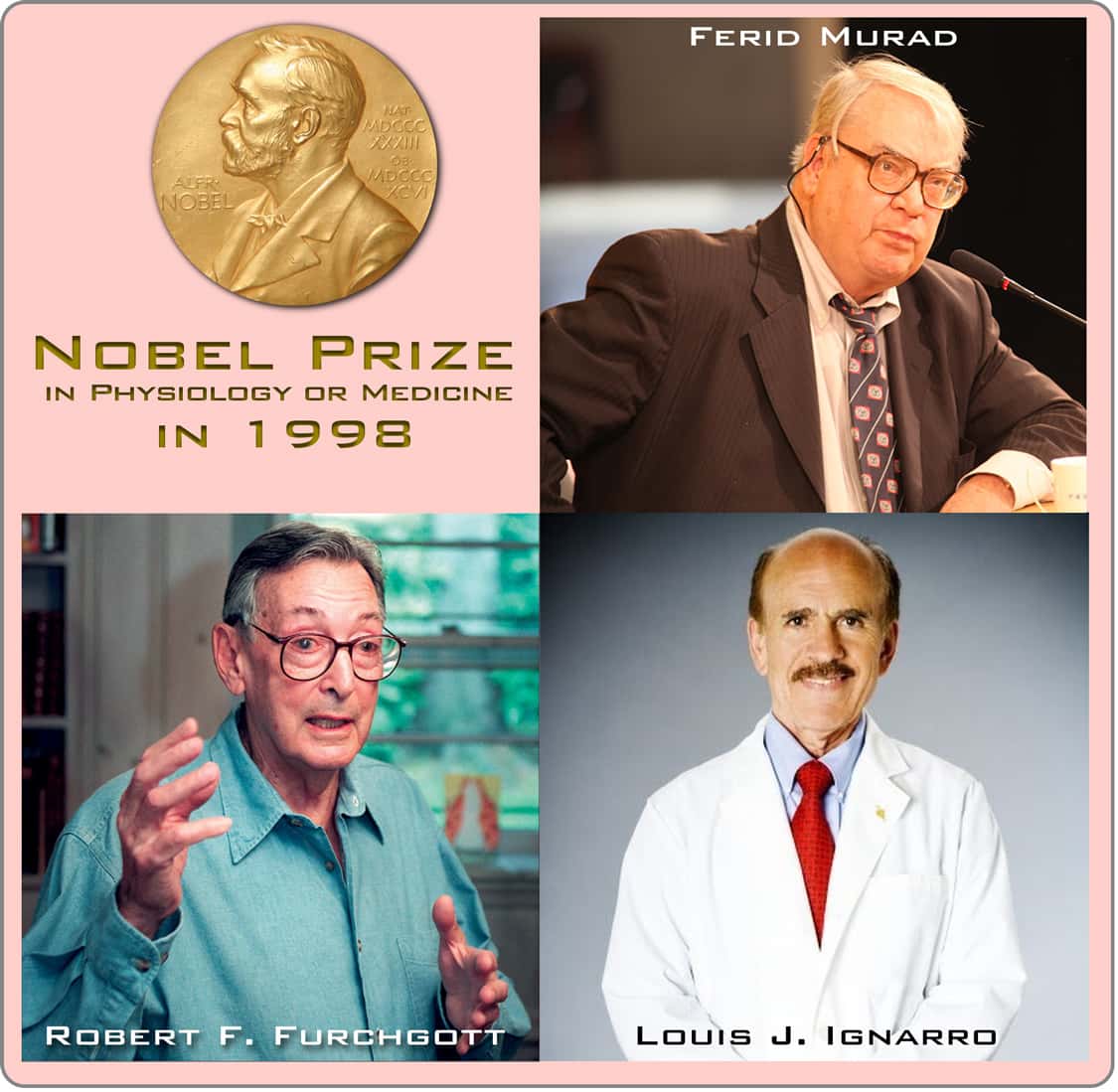 In 1998, the Nobel Prize in Physiology or Medicine was awarded to three American pharmaceutical scientists for the discovery of the important role of Nitric oxide in the functioning of the cardiovascular system.
The Nobel Committee recognized Robert F. Furchgott, PhD, Louis J. Ignarro, PhD, Ferid Murad, MD, PhD for their persistent efforts to prove that nitric oxide, an endogenous gas, can have such a decisive biological effect. Research has proven that the gas plays a crucial role in fundamental biological processes such as the regulation of blood pressure, the functioning and malfunctioning of the immune system, and the activation of mechanisms in the central nervous system, affecting everything from gastric motility from memory to behavior.
The discoveries of these three American pharmacologists, who discovered that Nitric oxide is a signaling gas in the body, revolutionized medical care, especially in cardiovascular medicine, opening up new avenues for potential therapies.
In the years since the discovery of three American scientists was recognized by the Nobel Committee, it has become clearer how Nitric oxide protects the heart, stimulates the brain and kills bacteria, and further research has confirmed that Nitric oxide plays an important role. in protection against the onset and progression of cardiovascular diseases.
Many believe that Nitric oxide, formerly known only as an air pollutant, may one day form the basis for the development of drugs that can treat many diseases from Alzheimer's to hypertension.
---
Price for BCardio
| Pack | Distributor | Customer |
| --- | --- | --- |
| •1 B-Keto Canister (1 month supply) | 50 USD | 60 USD |
Shipping cost and custom fees (for international orders) are not included
Customer Reviews
Coming soon…
All BEpic Products