B-Epic is preparing to release a new product – liquid AriBella collagen+ supplement developed by Kairoz life. It has a delicious fruit taste.
What is AriBella Collagen+
Aribella Collagen+ is a Grass-Fed Milk Collagen Peptide formula combined with 14 other clinically proven ingredients. Aribella Collagen+ contains exclusive proprietary blend of hyaluronic acid and many other clinically proven ingredients and nutrients that may be missing from your daily diet.
The product tastes great and can promote muscle development, increase your strength, reduce pain, burn fat, increase stamina, speed up recovery, and more.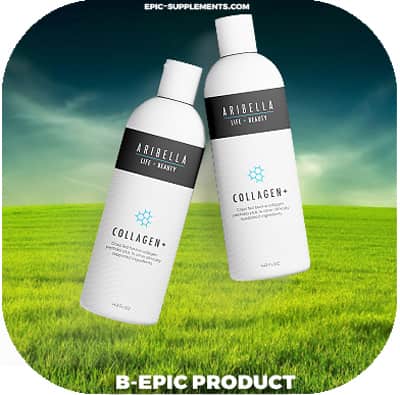 Health Benefits
Improved skin health
Healthy joint function
Improved digestive health
Promotes weight management
AriBella Collagen+ Ingredients
Purified Water
Grass Fed Collagen Peptides
Aloe Vera Gel 200:1 Extract
Hyaluronic Acid
Pyruval Glycine
CLA (Conjugated Linoleic Acid)
Garcinia Cambogia Extract
L-Glycine
MSM (Methylsulfonylmethane; organosulfur compound)
L-Carnitine
Inositol (vitamin B8)
Bearberry (Uva Ursi)
Stevia Extract
No GMO. Gluten, soy, caffeine, and dairy free.