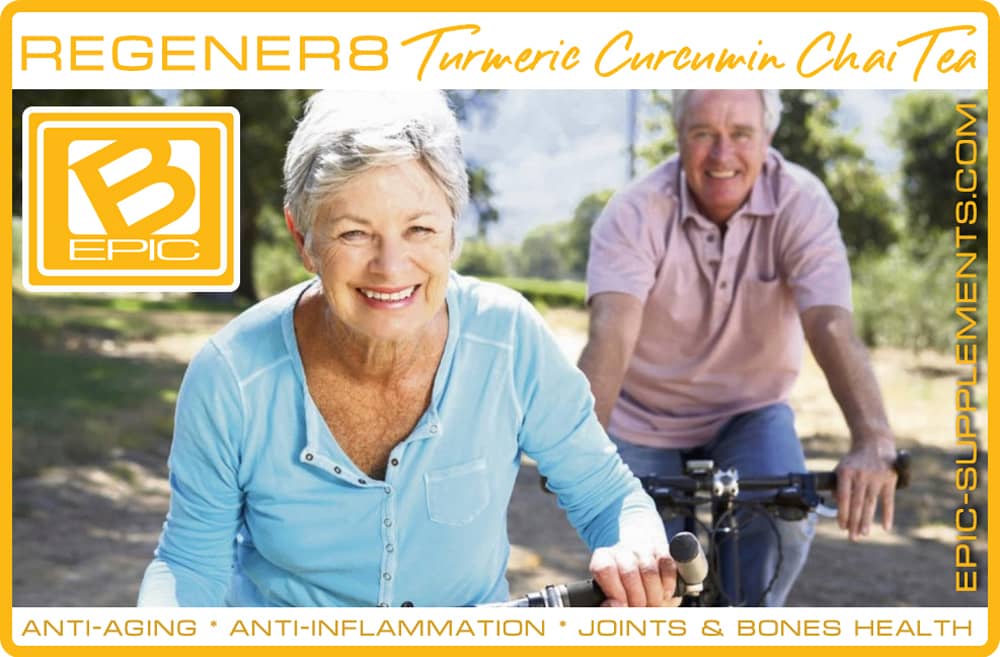 Regener8 is Turmeric Curcumin Chai Tea
Anti-Aging & Anti-Inflammation Health Supplement
The effect is achieved within hours, not days!
Regener8 is a new product of B-EPIС, launched in October 2020.
A delicious, quick and easy way to improve your health and longevity! REGENER8 is anti-aging and anti-inflammatory Curcumin tea that has been scientifically proven to be effective. This product not only helps you look and feel great, but also tastes good.
The main purpose of the supplement is to suppress inflammatory processes in the body to slow down its aging.

Product Info
Servings per container: 30
Serving Size: 1 packet (3.1 g) of BEpic Regener tea
Calories per serving: 5
Total Fats – 0
Total Carbohydrates – 0
---
Regener8 Benefits
Supports anti-aging and immune system efficiency
Reduces chronic inflammation
Relieves joint pain and swelling
Helps keep bones and joints healthy
Promotes teeth, nail, hair, and skin health
Assists in appetite suppression
Regulates blood sugar level
---
Prices
For Brand Partners:
1 Allevi8 (30 touch Pads): $59.95 + shipping + international fees (outside US) + one-time registration fee $19.95
1 Regener8 + 1 Allevi8 (30 touch pads): $100 + shipping + international fees (outside US) + one-time registration fee $19.95
For Preferred Customers:
1 Allevi8 (30 touch Pads): $69.95 + shipping + international fees (outside US)
---
How to Use
Direction: Add 1 packet (3.1 g) of tea to 6-10 ounces of warm or cold liquid (e.g. water or tea), stir and drink.
Storage: Store in a cool, dry place.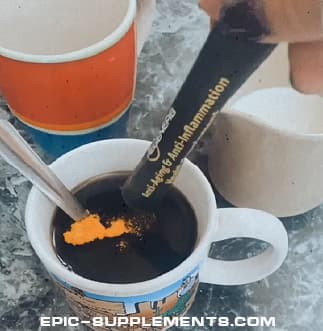 ---
---
BEpic Regener8 Ingredients
BioBDMC™ 30 – Curcumin extract from Turmeric plant (Curcuma longa root extract) (300 mg)
Proprietary Blend with Hyaluronic Acid, Blueberry Powder, Calcium Ascorbate, and D-Biotin (180 mg)
Collagen Protein / Bovine (400 mg)
Other Ingredients: Glyvia™ (sweetener), Silicon Dioxide (anticaking agent), and Natural Flavors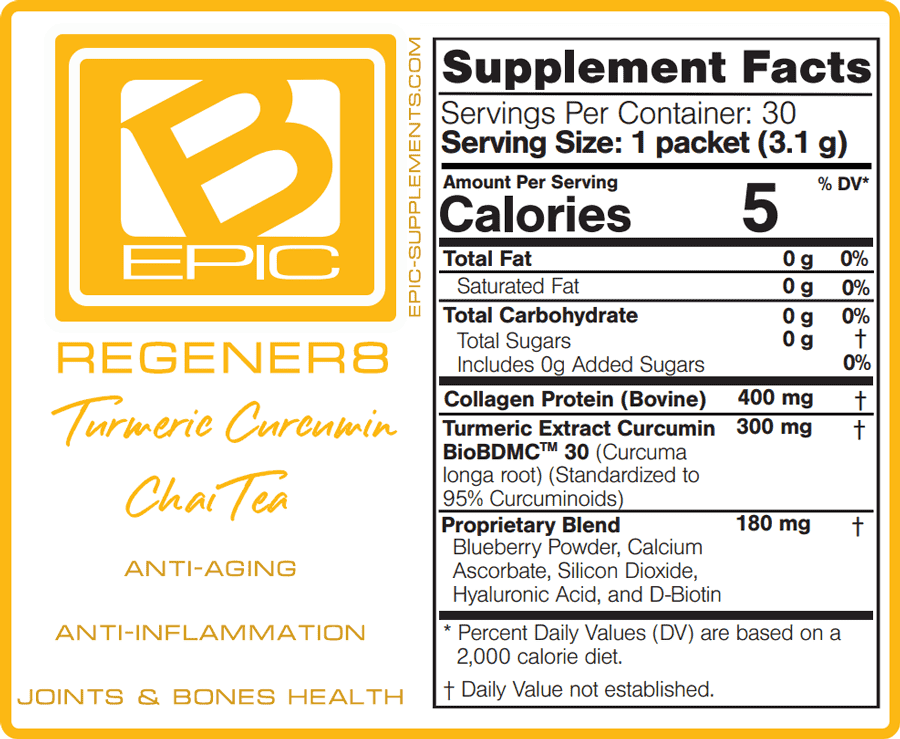 ---
How Regener8 works
Age-associated chronic inflammation is characterized by unresolved and uncontrolled inflammation with multivariable low-grade, chronic and systemic responses that exacerbate the aging process and age-related chronic diseases.
By suppressing inflammation, you can rejuvenate body tissues, including blood vessels, joints and skin.
---
Ingredient Effects
Curcumin is the active ingredient of turmeric, a spice widely used in Indian cuisine and Chinese medicine. It is known now for its preventive virtues against age-related neurodegenerative diseases but many studies still grant it many other benefits, notably on the regulation of telomere length, inflammation or skin aging.
Besides that, Curcumin is involved in cellular signaling and gene regulation mechanisms that allow it to act on the overall aging of our bodies.
Recent research suggests that curcumin may help treat oxidative and inflammatory conditions, metabolic syndrome, arthritis, anxiety, and hyperlipidemia. Curcumin can also help treat inflammation and muscle pain caused by intense exercise. This speeds up recovery and improves the performance of active people. Regener8 contains curcumin extract in the form of BioBDMC™ 30 (read below).
Taking collagen supplements has been shown to reduce joint inflammation and stimulate own collagen synthesis in the body. This may help promote pain relief among people with joint disorders like arthritis.
Hyaluronic acid is a substance that occurs naturally in the skin, eyes, and joints. Its primary function is to trap water inside tissue cells, keeping the eyes moist and the joints lubricated. Hyaluronic acid in dietary supplements helps wounds heal faster by regulating inflammation levels and signaling the body to build more blood vessels in the damaged area.
Blueberry Powder enhances cognitive function, improves insulin resistance and glucose tolerance, supports joints and bone health. Consuming blueberry powder for four months results in reduced pain, stiffness and difficulty in doing daily activities, improved normal moving while walking, and beneficial effects on certain anti-inflammatory biomarkers.
Calcium Ascorbate is the calcium salt of ascorbic acid. As a type of vitamin C, calcium ascorbate also offers health benefits, such as improving immune functioning, repairing damaged tissues, and promoting bone, teeth, and skin health.
D-Biotin is a B7 vitamin found in food. D-Biotin supports nail and hair health, stabilizes blood sugar, rebuilds tissues, and supports thyroid function.
---
More about BioBDMC ™
Curcumin BDMC30™ is a novel anti-Inflammatory engineered-curcumin ingredient, patented by Biologic research laboratory located at Vancouver, Canada.
This naturally extracted turmeric extract curcumin that provides relief from pain, swelling, and other common ailments associated with tissues, joints and bones inflammation. Patented pharmacology delivered by a novel research-supported mechanism that is recently peer-reviewed and published.
Reasons for effectiveness
Curcumin extracts typically deliver a curcuminoid proportion as: diferuloylmethane (curcumin I) 75–80%; demethoxycurcumin (DMC — curcumin II) 9-12%; and bisdemethoxycurcumin (BDMC — curcumin III) 0.2–3%. Traditional curcumin extracts (even the 95% variation) maximally delivers 3% of this BDMC activity and therefore cannot inhibit a key protein (MSK1) that regulates inflammatory cytokine transcription (generation).
Curcumin BDMC 30™ is developed to deliver a minimum 30% concentration of these MSK1-inhibiting curcuminoids.
Curcumin BioBDMC™ inhibits two key regulator proteins (NF-kB & MSK1) in the inflammatory pathway, and also Prostaglandin-endoperoxide synthase 2 (COX-2) enzyme.
BioBDMC™ performs as much as 14 x better than Ibuprofen and Aspirin (ASA). Therefore this ingredient works faster (in hours) instead of days (like regular curcumin 95% does).

Customer reviews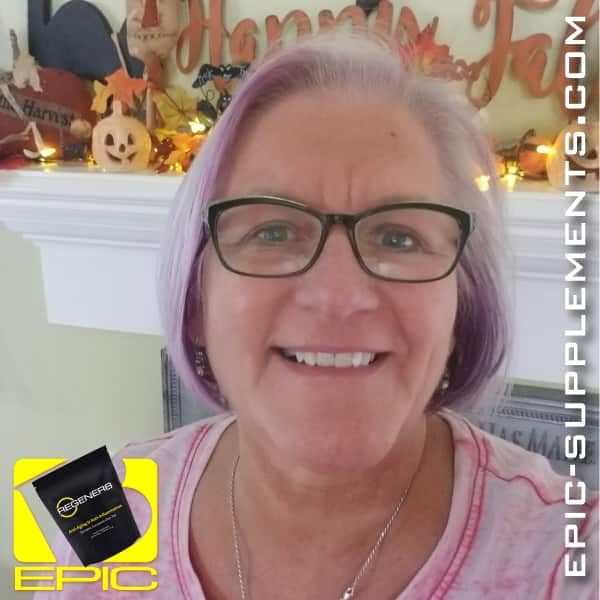 Review by Connie McGinnis from Michigan:
"My Regener8 review Day 3
pain free in joints that usually hurt in the morning
not a lover of flavor, likes best in coffee or tea, hot or cold. Not so much in just water.
I do believe this product is a behind the scene worker, for anti aging, regeneration of skin, bones, hair, nails and works as an anti inflammatory, detoxifying and immune booster. We all need this product in our daily regiment.
Another great product, I will have to give it 5 stars!"
**This and other statements have not been evaluated by the FDA.
This product is not intended to diagnose treat cure or prevent any disease.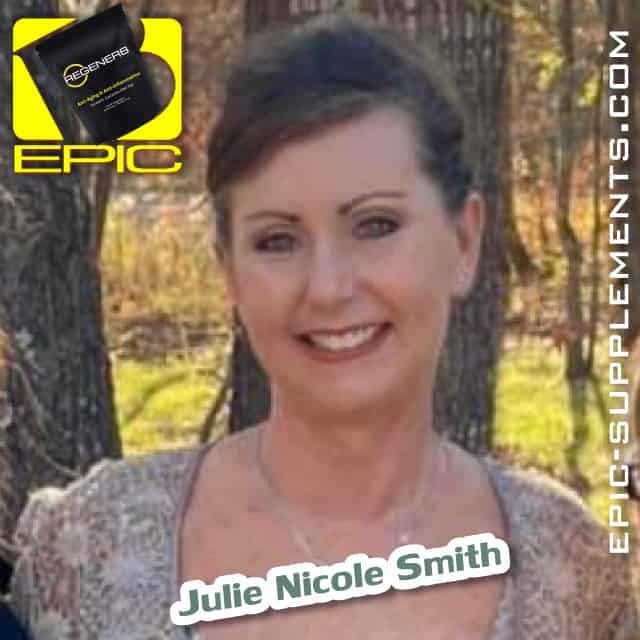 Testimony of Julie Nicole Smith from Texas:
This is my personal testimonial.
I have had some extreme pain in my elbows for about 3 months now. very painful! Painful to move, painful when just resting….just painful! I was taking Regener8 and the pain was less and I could actually move. I have not taken it for a couple of weeks and the pain has been horrible……I have laid off of working out for a few weeks due to pain, doctors appointments and other life events (wedding, funerals, Christmas, family).
Finally, I have a diagnosis!!! Psoriatic Arthritis is the culprit! Regener8 is on order and I can't wait to get it and start back…..but in the meantime, I have started using the Alevi8 and let me tell you…..I can actually bend my elbows without wanting to cry!!!
If you have not tried BEPIC products….you should! BEPIC has changed my life….in many different ways!!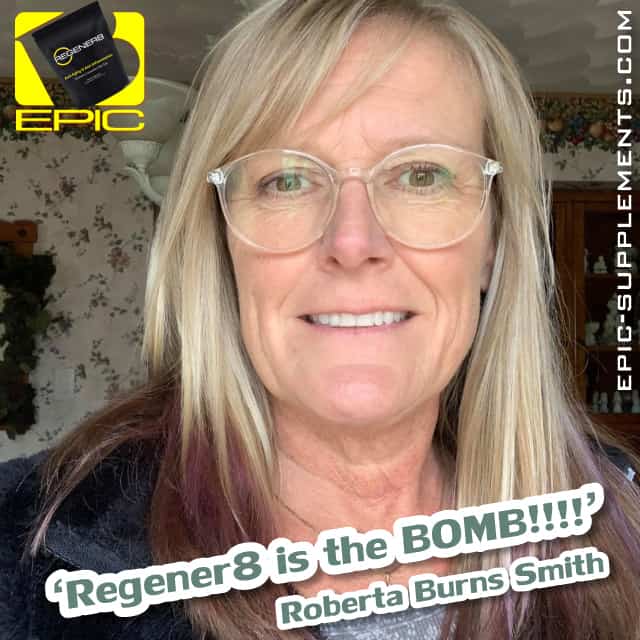 Post of Roberta Burns Smith from WV, USA:
"Nothing! I mean nothing has worked as well as the Regener8 for my chronic back pain!
The Allevi8 is awesome helps quite a bit on local areas, but the Regener8 is the BOMB!!!!
I drank it before bed, took my sleep supplement and slept good. I woke up without the aches and pains I usually have in the AM!!
I'm a lifer for both of these awesome products! Healing from the inside and the outside!"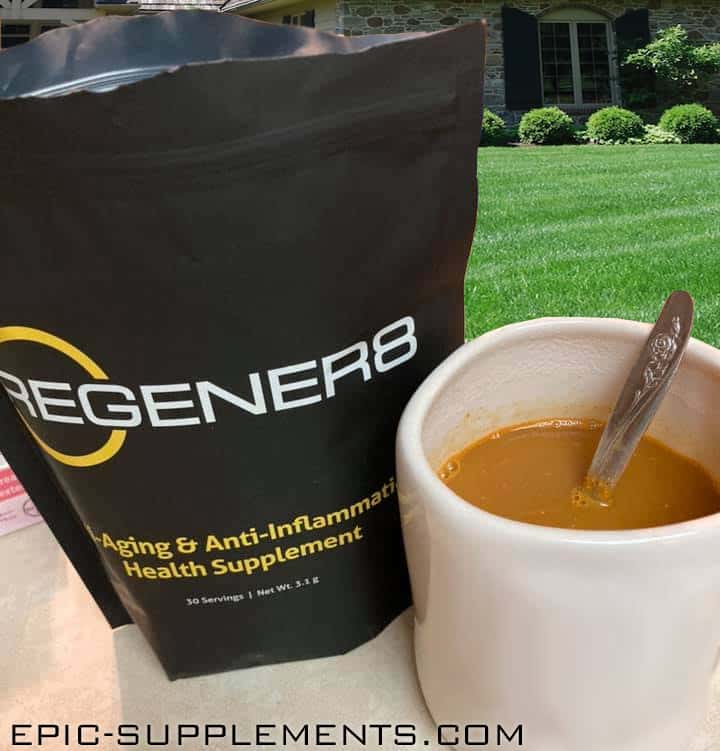 The post written by Lea Ann Eaton Graves:
I'm going to be real honest with all of you!! REGENER8 is by far my favorite supplement this far!!!
For my husband and myself this product has been life changing for our joint pain!
For the first time in several years my knee pain is almost nonexistent. The stiffness, soreness and the everyday all day pain is all but gone.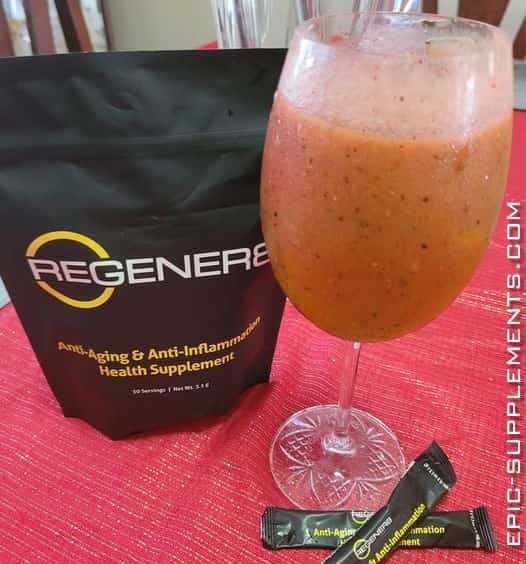 Reviewed by Ruth DeSario from Chicago, Illinois:
"I'm proof that this product is amazing for pain… I have Rheumatoid Arthritis and the pain can get really intense… The pain in my knees have been getting worse, hurting more and more….
I started on this product a little over a week ago and I am amazed and delighted… I have no pain in my knees, even when walking up and down stairs… my back pain has gone down to bearable and I have no pain at all in my hand or fingers…
I am so encouraged with this product and want to share it with everyone who will listen… If you have pain, give it a try! What have you got to lose??? Nothing, except your pain…"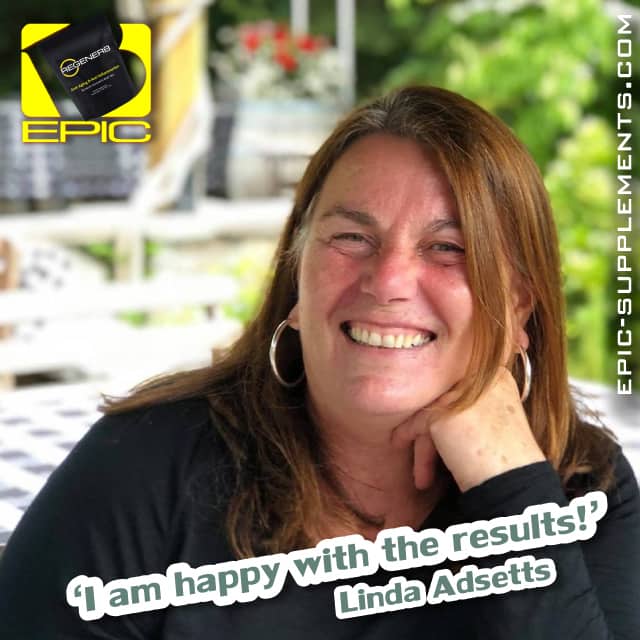 Message from Linda Adsetts, Ontario:
"My knees have been problematic. I have to stay on top of my exercises for them and even then if I overdo walking they hurt like heck! I have been on the B-Epic pills for 2 1/2 months and I am happy with the results, so I ordered this product and had my first cupful (which is yummy if you like chai).
Regener8 is a product that contains Turmeric and other things to fight inflammation. it is an anti-aging product too. I mixed it with 1% powdered milk and hot water. I didn't wake up with pain last night. I had another cupful this morning and within 1 1/2 my knees were way better.
If you have pain from inflammation that stops you from the activity that you enjoy, you might want to try this vs pharmaceuticals. God is in the drugs but if you don't have to and something else works without the side effects to your liver etc. then you might want to consider this."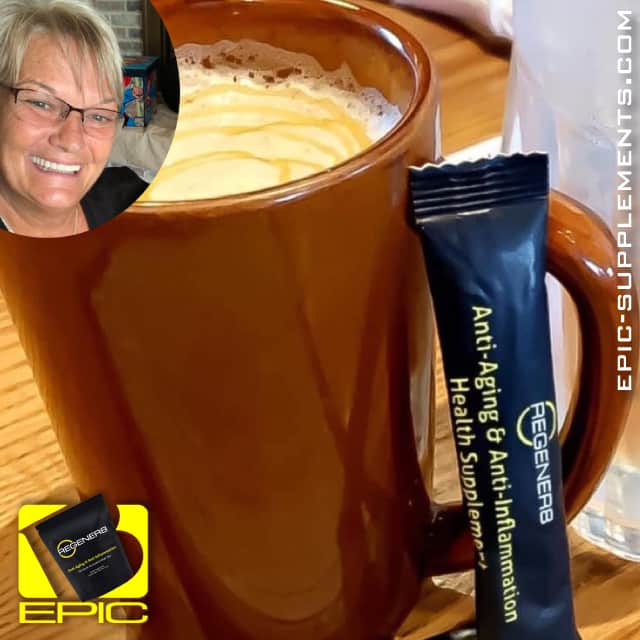 Reviewed by Gina Parker from Florida, the USA:
"I have been adding a pack to my coffee each day for 2 weeks and I must be honest …. it really taste good (It's Chia flavored).
Here's a few of the benefits I've experienced:
No swelling or pain in my right leg or knee area (from knee replacement April 2019) while working 12 hour days six days a week. Prior to starting this powerful little packet my leg would be swollen by the end of the day every day.
Decreased Appetite – just really not hungry (thanks to the Turmeric and Curcumin)
Skin started to feel healthy and look healthy again (thanks to the collagen)
And … (drum roll) I've lost 2 lbs.
This is definitely something I'll keep using.
Of course I'm making no medical claims …. just sharing the changes I have noticed in a short period."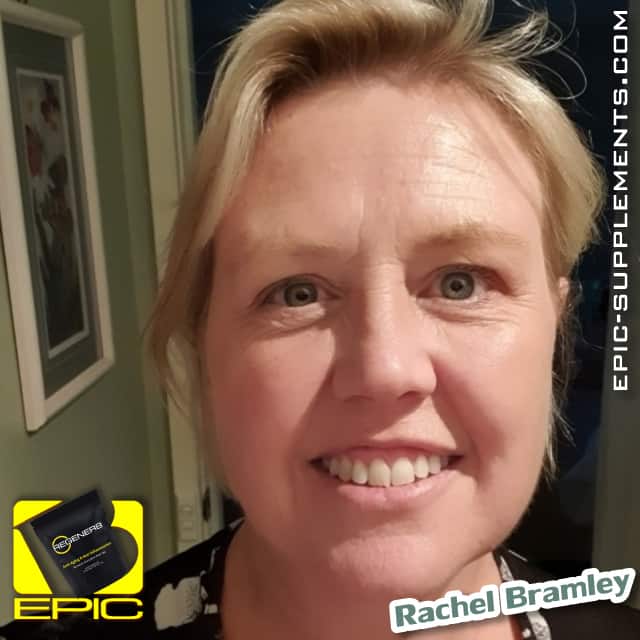 Review on Regener8 by Rachel Bramley:
"I'm on day 3 and it has changed my life dramatically. I have lived with chronic pain and I can't believe how it has offered so much relief from my daily and nightly pain and I have gained mobility back in my hips and knee again. I am now an able bodied person again. I wasn't expecting it to work so quickly or as effectively.. Yes I wanted it to work liked I'd heard but OMG this is the bees knees.
I'm totally in love with it and see myself on it for the rest of my life. I was on Endone, Lyrica and another anti inflammatory medication for my pain and am no longer using them."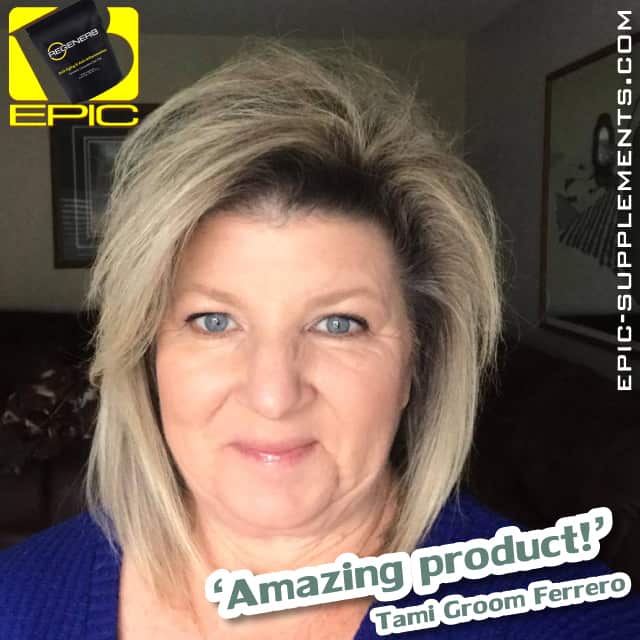 Comment of Tami Groom Ferrero from California:
"I tore my meniscus bad in August 2020 and need surgery. I couldn't sleep without pain, couldn't walk without pain or limping.
Since started taking the Regener8 in November I have been pain FREE, and no more limp.
Amazing product!!"