B-ECO Fuel Tabs technology reduces fuel consumption and maintains your vehicle's protection and performance.
B-ECO. Simple Way To Save Your Money And Our Planet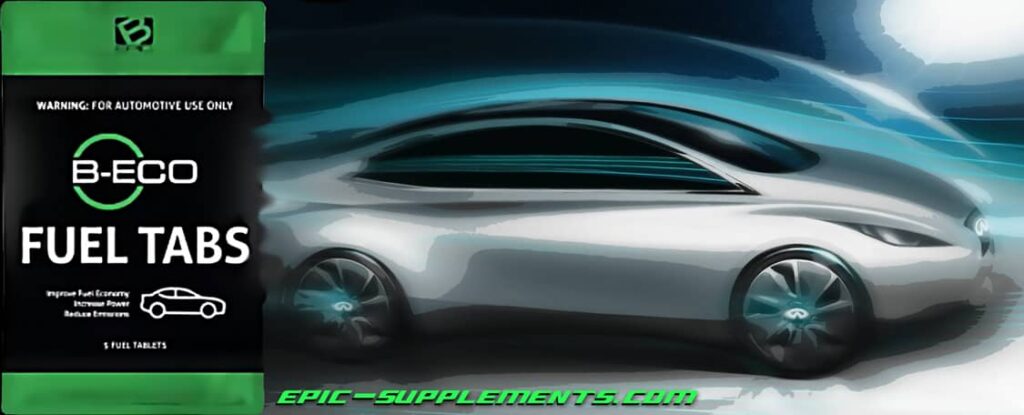 To increase fuel savings up to 15%, improve vehicle performance, and lower maintenance costs,
use B-ECO Fuel Tabs every time you fill up your vehicle.
Simply insert one fuel tablet into your vehicle's fuel tank prior to fueling.
Each fuel tablet treats 20 gallons of gas or diesel fuel. It also reduces harmful emissions and smoke exhaust, and cleans the internal parts of your vehicle's engine.
It is safe to use for gasoline and diesel engines with any grade of fuel
5 B-Eco Fuel Tabs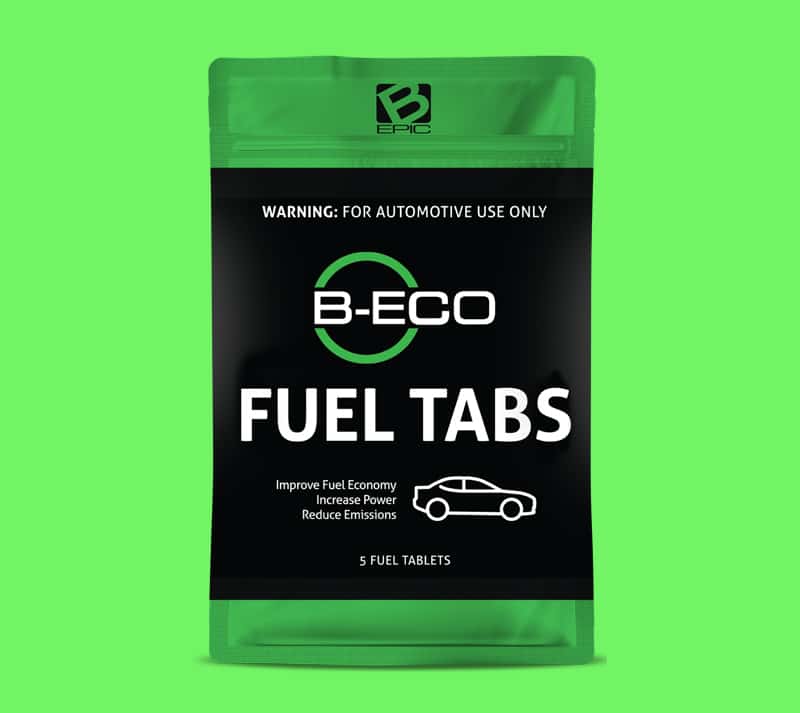 Save Money at the Gas Pump
Reduce Emissions and Exhaust
1 B-Eco tab for 20 gallons of fuel
Safe for engine, safe for nature
Enough for 100 gallons of fuel
Customer Price
24.95 USD
Excluding shipping & international fees
---
Distributor Price
19.95 USD
Excluding 19.95 USD registration fee, shipping & international fees
---
---
What are B-Eco fuel tabs?
B-Eco Fuel Tabs is a B-Epic product designed to reduce vehicle fuel consumption and lower engine emissions.
Designed for vehicle engines using gasoline, diesel fuel or gas (propane, butane).
From a technical point of view, the B-Eco is a fuel combustion catalyst. It is a latest generation catalyst, devoid of the disadvantages of previous fuel economy products.
For information: A catalyst is a chemical that speeds up a chemical reaction. In this case, we are talking about the reaction of fuel combustion inside the engine)
Average reduction in fuel consumption when using B-Eco: 15-20%, in some cases up to 30%.
B-Eco is produced in the form of tabs, added to the tank with gasoline or diesel fuel (for gas engines, the tablet is placed in the refueling nozzle).
Manufactured in the USA specifically for BEpic. Tested and certified by American Petroleum Institute.
One B-Eco package contains 5 tabs. They are enough for 100 gallons (about 340 liters) of fuel.
Used by commercial fleets for years, B-Eco now available to the public!
Benefits of B-Eco tabs
Fuel economy is 15-20%, in some cases up to 30%
Increasing the power output of the vehicle
Rapid dissolution of the tab in the fuel tank (5-10 minutes)
Extending the life of the vehicle
The ability to switch to fuel with a lower octane number
Reducing wear of the cylinder-piston group of the engine and automotive filters
Cleaning the internal parts of your vehicle's engine
Reducing the emission of harmful vapors
Decreasing machine oil consumption and contamination
Stable results in different weather and driving modes.
What cars and engines can B-Eco be used on?
The saving effect is achieved both on old and on modern engines with any grade of fuel.
Suitable for cars, trucks, SUVs, motorcycles, RVs, boats, ATVs, semi-trucks, commercial fleets, industrial vehicles, and buses.
Equally effective for manual and automatic transmissions.
Can be added to gasoline, diesel and gas (propane, butane).
What does the B-Eco consumer get?
Your fuel costs will be significantly reduced. You will use less fuel for the same mileage.
Exhaust of harmful vapors and gases will decrease
You can switch to cleaner and cheaper fuel with a lower octane number (without affecting engine performance)
The motor will run more smoothly and evenly, without jerking when stopping and starting
Reduced wear on the engine cylinder as the product reduces the amount of soot and carbon build-up
The time for engine warm-up in winter time will decrease
The smell of fuel in the car interior will disappear or significantly decrease
It will be possible to service your car less often
With continued use, B-Eco Fuel Tabs can help reduce your vehicle's maintenance costs.
How to use B-Eco Fuel Tabs
The product should be added before refueling the vehicle (diesel, petrol or LPG).
Product dosage
1 B-Eco tab is designed for 20 gallons (about 75 liters) of fuel. If the tank has a volume of 10-15 gallons (or 35-50 liters), the tab should be divided into 2 parts. When refueling 5-10 gallons (15-35 liters) of fuel, the tab must be divided into 4 parts.
Adding tabs to fuel
For diesel and gasoline engines
Throw a tab or a part of it (see the Dosage section) into the tank or place it in the filler nozzle at the rate of one per 20 gallons (75 liters).
For gas engines
A tab is placed in the filler nozzle neck. Under the pressure of the fuel, the tab will be in the tank, where it will dissolve in a short time without the formation of a precipitate.
Notes for first use
When using B-Eco tabs for the first or second use, after adding the product to the tank, it is recommended to wait 5-10 minutes for the tablet to completely dissolve and the formation of a catalytic film.
There is no need to wait for subsequent additions of the tablet, since the film has already formed earlier.
At the very beginning of use (for the first 1-2 tabs), fuel savings can be (in rare cases!) Only 5-10 percent. But in the future (after using the 3-4th tablet), the savings will reach the declared 15-20 percent or higher.
Storage
Store away from direct sunlight and heat.
Keep out of reach of children
Warnings
Avoid contact with eyes and skin.
Do not swallow.
Keep out of reach of children
B-Eco safety and efficiency tests
The technology behind B-ECO Fuel Tabs has been subjected to rigorous testing, including in some of the largest and most prestigious testing laboratories in the United States. In addition, B-ECO Fuel Tabs technology has been used and tested by both industrial and commercial users and customers.
The product is safe for the vehicle and the environment. It does not increase the combustion temperature and does not change the octane number.
Certified by American Petroleum Institute (Washington, DC).
Certified by EPA (U.S. Environmental Protection Agency)
How it works?
How is the ecology and economy effect achieved?
The B-Eco product provides a more complete combustion of the fuel poured into the tank. In a normal situation, some of the fuel does not burn out and is simply thrown into the exhaust pipe.
B-Eco catalyzes (i.e. accelerates) the combustion process, allowing it to burn up in the combustion chamber by 95-97% instead of the usual 75-80%. As a result, the efficiency of the engine is higher and less harmful emissions into the atmosphere.
More details
Gasoline or diesel fuel is a mixture of hundreds of different hydrocarbon molecules of various lengths and sizes. Due to their diversity, the molecules burn at different rates, reducing the car's power and increasing fuel consumption. When combined with B-Eco fuel tabs, the hydrocarbon particles instantly break down in size and burn more easily. Increasing the surface area of the fuel promotes more complete combustion of the fuel in the combustion chamber. The result is greater conversion of fuel to heat and electricity, as well as significant reductions in CO2, CO, HC, NOX and smoke emissions.
FAQ (Video)
B-Eco Formulator Lowrance Kahn answers key questions
CONTENT
[00:00:00] Intro
[00:00:06] About B-Eco Formulator
[0:01:33 B-Eco safety, EPA registration
[0:02:20] Difference from other fuel products
[0:03:57] How do these tabs actually work?
[0:05:13] What are the actual benefits of B-Eco?
[0:06:18] About saving engine oil
[0:06:43] Are the tabs compatible with petrol and diesel?
[0:08:35] What are the product reviews?
[0:09:08] What about the warranty on my car?
[0:11:59] Do the tablets really dissolve completely in the fuel?
[0:13:53] How to use B-Eco with hybrid cars?
[0:16:58] Why does fuel economy differ on different vehicles?
[0:21:24] How to put the tab into the tank?
[0:22:23] Can I use too much product?
[0:24:37] How about smog checks?
[0:25:56] Why do tabs have slightly different colors and textures?
ABOUT LOWANCE KAHN
Lawrence was born in Johannesburg, South Africa where he received a Bachelor of Science degree in Computer Science. Lawrence moved to the US in 1980 to complete his MBA at MIT's Sloan School of Management, majoring in Marketing and Finance. After a successful marketing career as a Brand Manager for the Van de Kamp's division of Pillsbury, he worked extensively in the automotive aftermarket industry including 12 years with Armor All Products where he served as Vice President of Marketing. Lawrence co-founded ProOne, Inc. in 2007.
---
Lab test results
MPG / SAE J1321 Fuel Consumption Test Result

SAE J1321 is an elaborate fuel consumption test procedure that uses statistical analysis techniques to determine the change in fuel consumption for trucks and buses over 10,000 lb. GVW.

Injector Cleanliness Test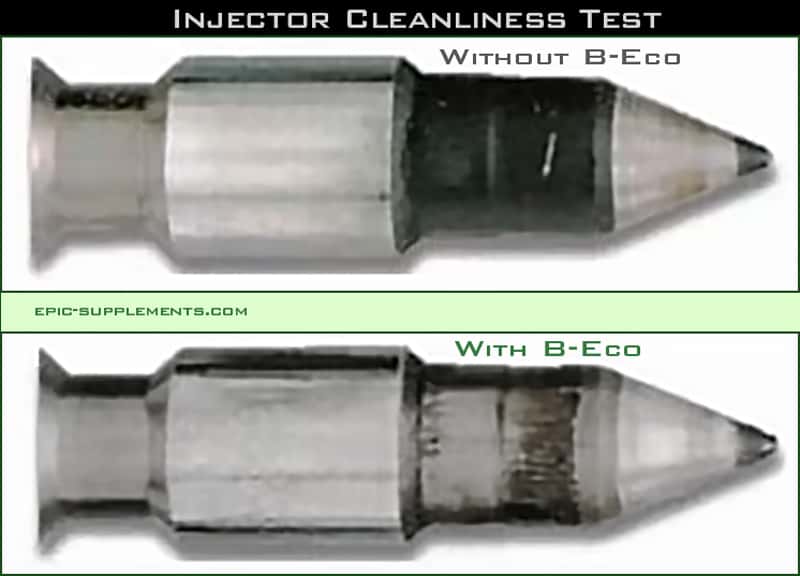 Explanation. This test method designed for evaluation of diesel fuel and overall quality for deposit reduction.
Inadequate fuel quality affects:
Deposit tendency
​Corrosivity
​Lubricity
​Injector performance
B-Eco using improves these parameters.
Injection Spray Cleanliness Test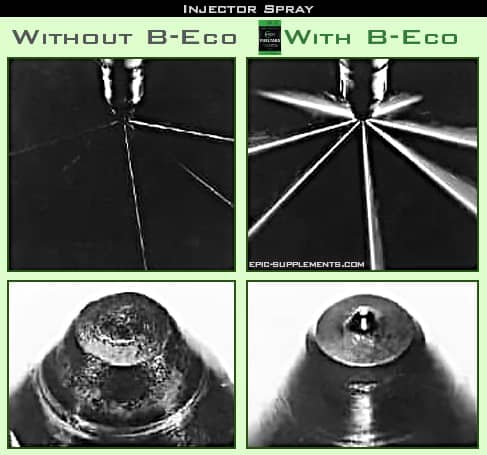 Explanation: The injector spray pattern must allow the fuel to be completely atomized for perfect combustion.
A common injector failure is caused by carbon deposits, contaminated fuel, and lack of lubrication. As a result, the fuel stream does not burn efficiently and carbon is formed.
B-Eco Fuel Tabs help to safely remove existing carbon deposits while keeping injectors working.
Carbon and Soot Test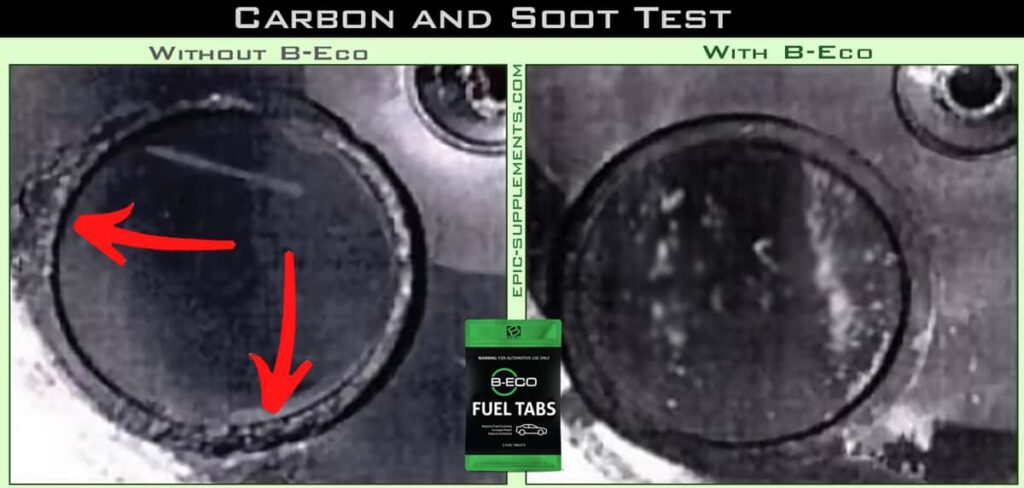 Explanation. Incomplete combustion results in carbon and soot buildup which will:
Contaminate your oil and clog oil & fuel filters
Increase oil viscosity and create sludge
Cause detrimental wear in cylinders and valve components
Using tabs will help avoid these problems.
---
Important note:

Do B-ECO void car warranties?
The proper use of reputable quality fuel and oil additives does not void car warranties.
Under federal U.S. Magnuson-Moss Warranty Act, Original Equipment Manufacturers (OEMs) cannot void your warranty simply for using a product.
Moreover, with the extensive testing over 12 years proven this product leaves a cleaner system and even can not be detected by OEMs.
---
What are the results of B-Eco consumers?
Real reviews!
B-Eco Tabs review by Johny Shandruk from Winnipeg, Canada:
Hi everybody! I am so excited and blown away with my continually improving results from my first tablet! I wanted to share this with everybody and let you know that you can share it however you would like!
And, if you're on the fence about giving these a try, get off the fence! These are incredible!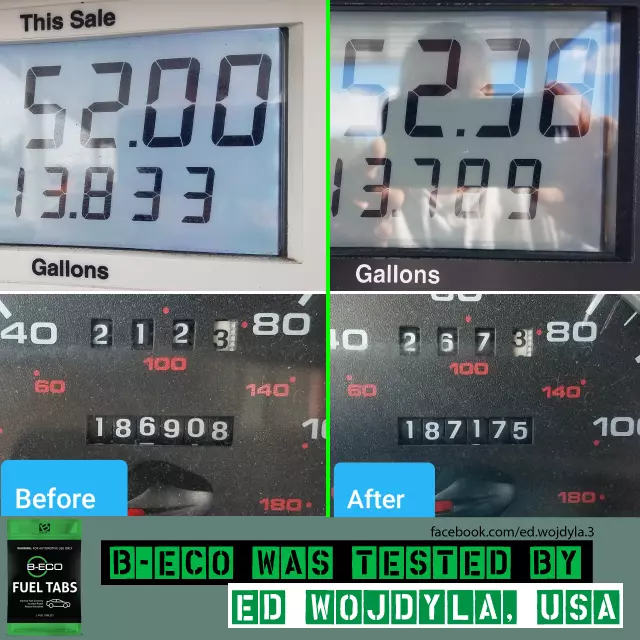 B-Eco customer review by Ed Wojdyla from Rome, New York:
Ok now I'm a believer. I am always skeptical especially about any product claims. So last week I put my car on "the pill".
First thing I noticed is that is was running smoother and getting more responsive. And thinking the whole time – is this really going to work? Well I got an extra 55 miles on the tank!
Now it's a 1999 Ford Taurus with over 187,000 miles and that was only the 1st tab! Gas prices aren't going anywhere but up so I can't wait to see the results from the 2nd tab!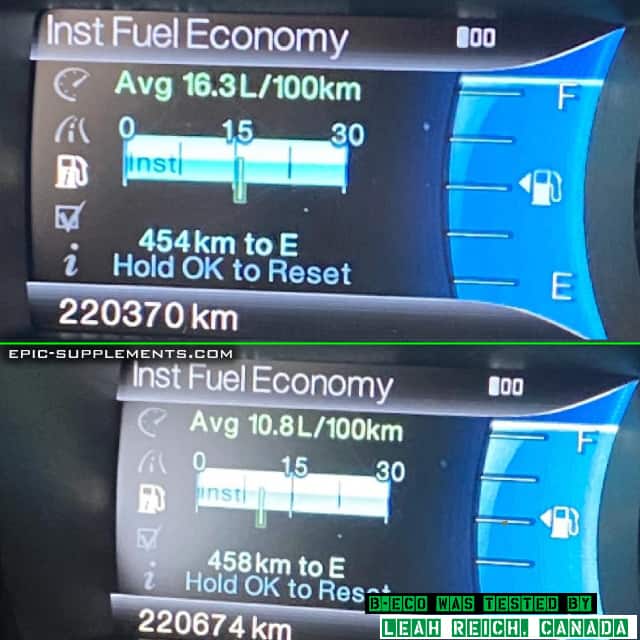 Fuel saving with BEco (posted by Leah Reich, Canada):
I thought I would share my results so far. I drive a 2011 Ford Edge with 220,000+km on it.
We live in Central Alberta so am used to my fuel economy varying quite a bit with the cold, idling, etc.
Today I am very excited because I haven't seen this kind of gas mileage in a looong time…even after an engine flush/service!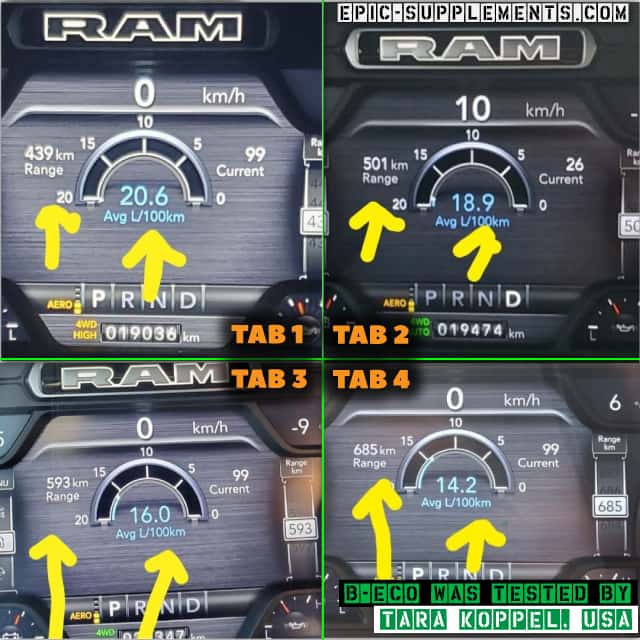 BEco tabs effect (tested by Tara Koppel, USA):
Skeptic turned believer!
We've used 4 tabs in my hubby's truck and working it out at current gas price of 166.9 (March 2022), we are saving about $70/ tank (on the highway)
If he fuels up weekly, that's $280 a month and $3360 a year!
That's just for his vehicle.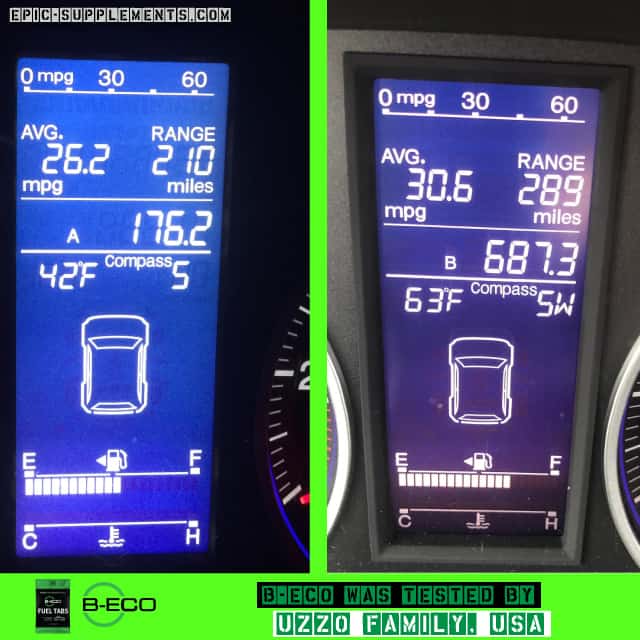 B-Eco fuel tabs review by Jim Uzzo from the USA:
My wife's Honda CRV was getting 22 MPG average Hwy/City before B-Eco fuel tabs.
Left photo 2nd tank – right 3rd mostly hwy.
She reports that power's increased noticeably.
It showed 32 MPG at one point.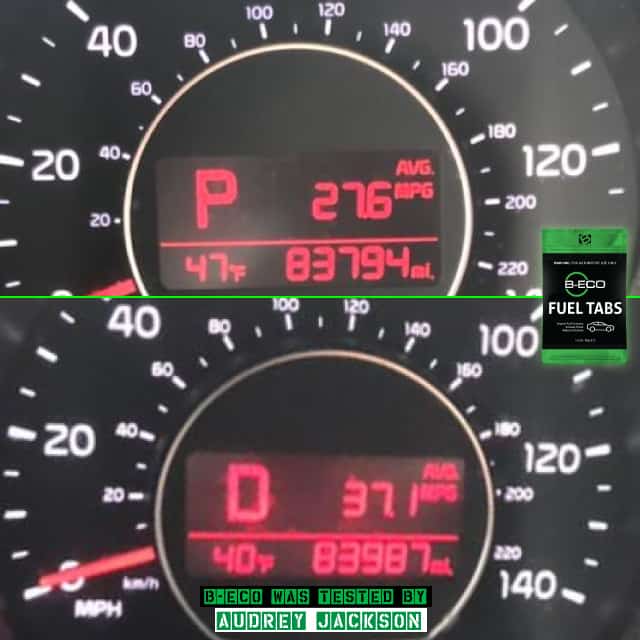 MPG increased by 34% (post of Audrey Jackson)
Before B-Eco I was averaging 27.6 mpg on the highway.
I'm on my 2nd tank with B-Eco and today I got up to 37.1 mpg on the highway!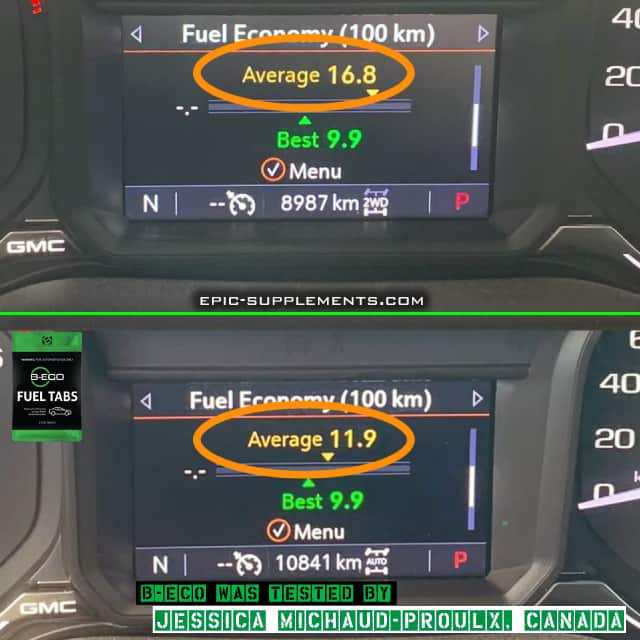 BEco high efficiency confirmed by Jessica Michaud-Proulx, Ontario
Check this out! Brand new GMC Sierra 1500 and this is after the 4th treatment!!
Went from using 16.8 liters of fuel per 100km down to 11.9 liters of fuel per 100km. I'm getting about 150km's more out of a tank!!!
I'll take it!!!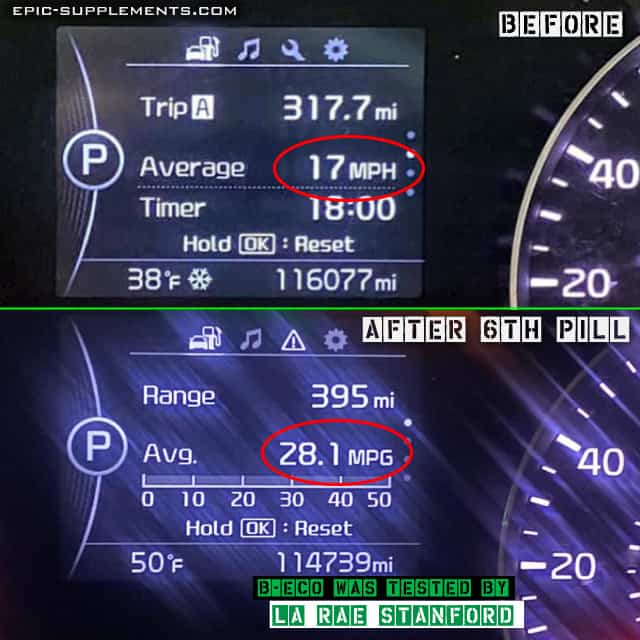 La Rae Stanford's B-Eco result
Car: 2017 Kia Sportage (purchased in 2019)
Top picture: before 1st B-Eco tab
Bottom picture: after 6th tab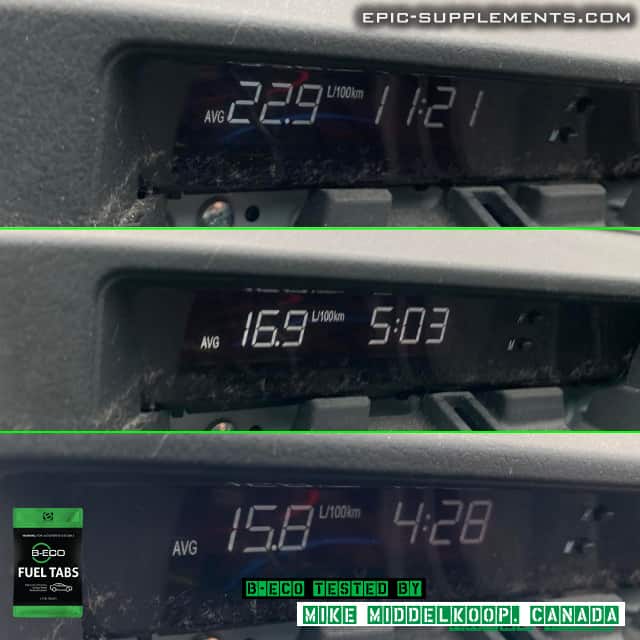 B-Eco results of Mike Middelkoop from Canada
So I finally got around to putting my truck on the pill.
2009 Toyota Tundra, 5.7 liters with a 3" lift. I love this truck, almost as much as it loves gas lol.
I am half way through my second tank and the results have floored me to the point I cannot have the avg mileage displayed while I am driving because it's too distracting.
So the first picture is when I filled up with the first pill. Second picture is after my first trip, and the third is half way through my second tank. I am so glad someone shared these with me, because it is saving me a fortune!
Click for more reviews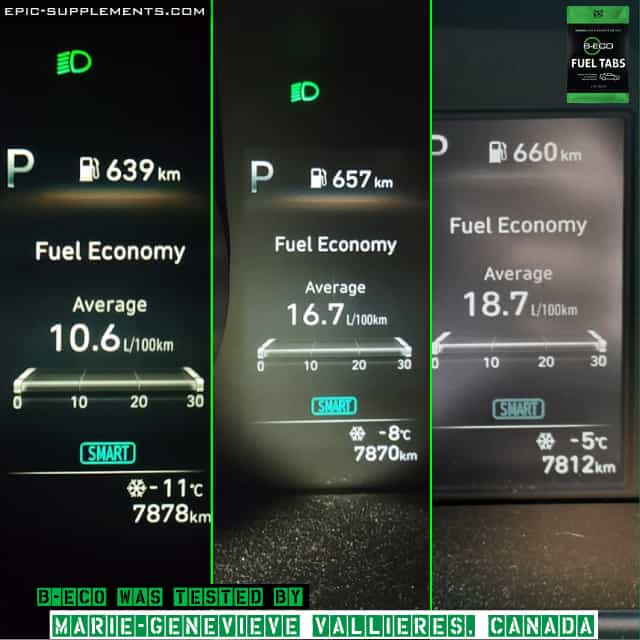 B-Eco experience of Marie-Genevieve Vallieres, Canada
I just put in my first tab in tonight after work.
Brought my daughter to her friend's, it kept going lower and lower, so I drove around town, the more I drove the lower MPG got
(Left picture – now, right one – before B-Eco)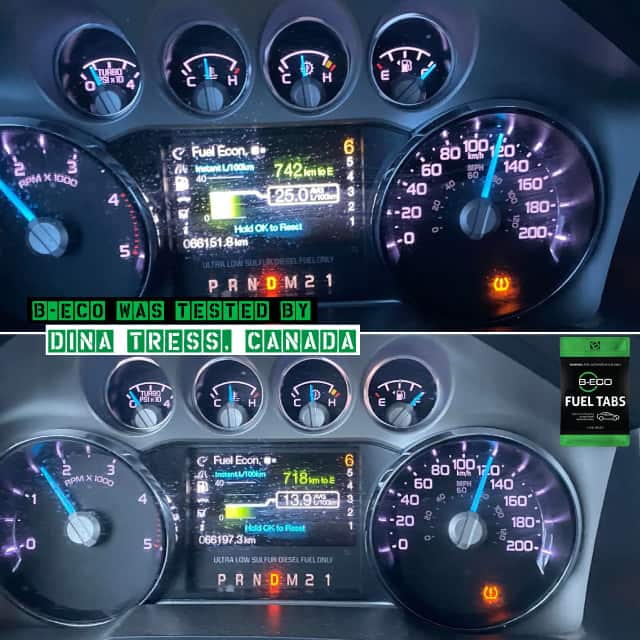 Fuel economy with BEco tabs (tested by Dina Tress, Canada):
Today I took my husband's 2016 diesel F350 to Edmonton. I took a picture of the starting average 25.0 L / 100kms.
I took another picture at an hour into my drive avg 13.9 kms per 100 kms. The best I got was 12.2 kms per 100kms… the F350 highway gets 15 kms / 100 kms as per their advertising!
His truck has incredible power now, it's so unbelievably quiet (on its 3rd pill ) no smoke ! If you're not on the pill you need to be, unbelievable fuel savings! ☺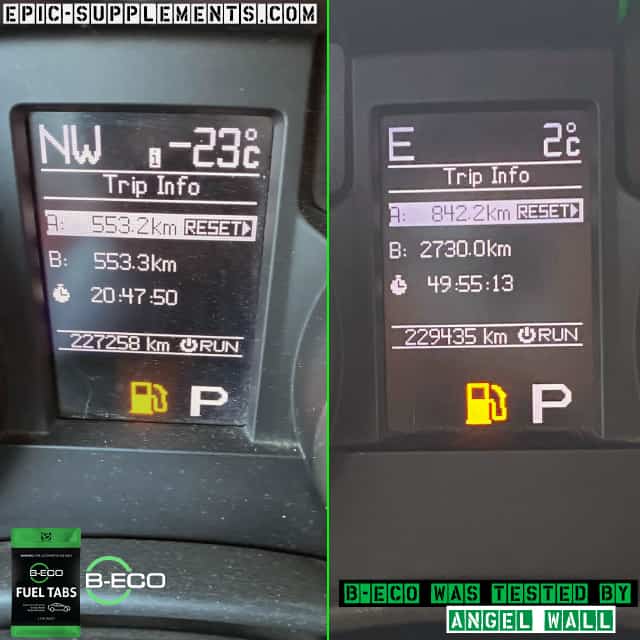 Fuel economy with BEco tabs (reviewed by Angel Wall):
This is my 2013 Jeep Grand Cherokee with Regular gas.
I got 300 extra kilometres from a tank of gas, which converted to 30 liters @ $1.359 a savings of $40.77 that I got!
The 1st picture is Jan 19 before using the fuel catalyst and the 2nd picture is my increased mileage on 1 tank of fuel on Jan 26 (it was my 3rd tank since using the fuel catalyst)!
The video is my shock lol… this works for Regular, Premium and Diesel!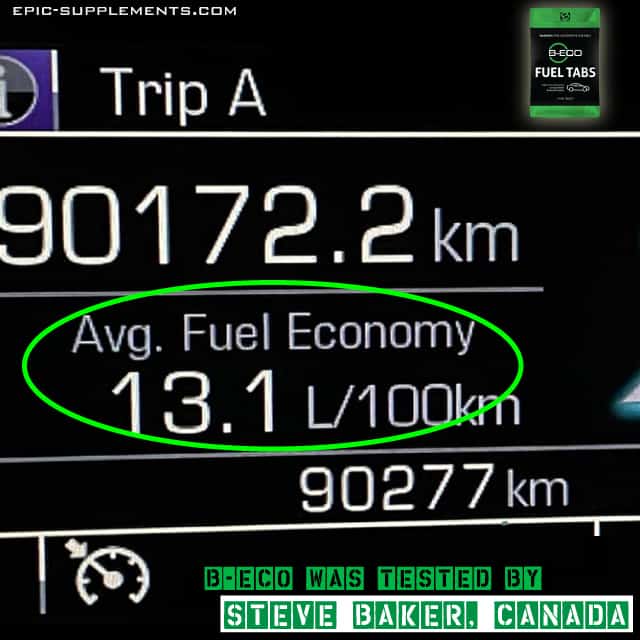 B-Eco experience of Steve Baker, Canada:
I wanted to post my results after using the B-Eco fuel tabs for about a month now.
I drive a 2018 Chevy Silverado I averaged before the B-Eco fuel tabs about 15.3L/100kms
After my first tab I averaged 14.9L/100kms
After second tab I averaged 13.9L/100kms
After my third tab I averaged 13.4L/100kms
And finally my forth tab – 13.1L/100kms
I feel these are awesome results for only using the B-eco fuel tabs for a month a saving of 2.2L/100kms. Such a great product for saving at the pump.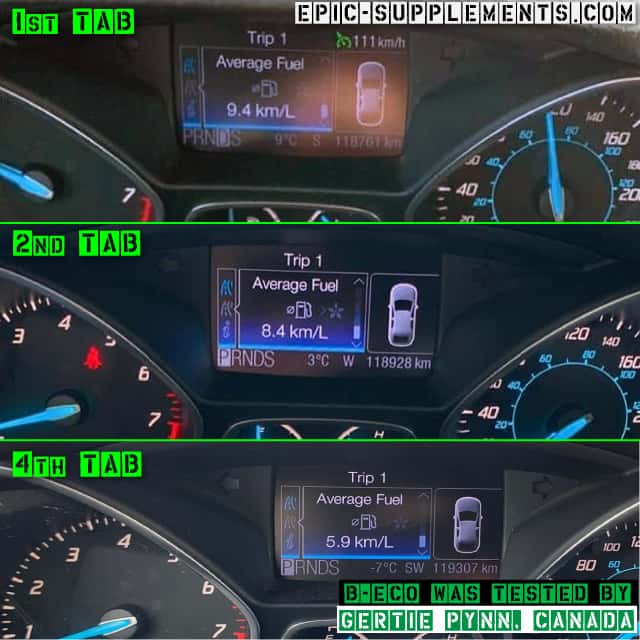 Fuel saving result by Gertie Pynn, Canada
Here is my update since using the fuel tabs.
From the first tab I used to my fourth tab.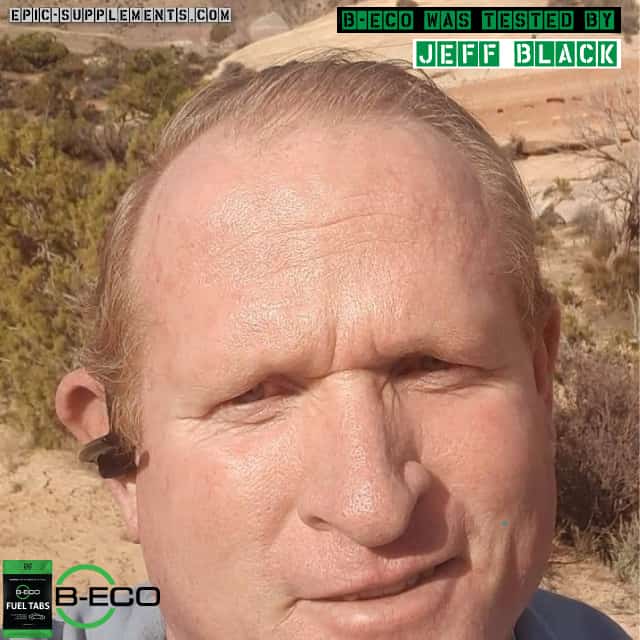 B-Eco experience of Jeff Black:
I put BEco in my 4 wheeler and motorbike, took my son for a ride for his birthday, got a noticeable power difference. I normally use about 3/8 of a tank to go the designated 19 miles off road and back, did the trip yesterday on an 1/8 of a tank, I'm pretty excited about how well it works.
I broke a tab in 4 pieces, put a quarter piece in the bike and same on my wheeler. My wheeler even started easier this morning.
I really am getting pretty excited about how well it works!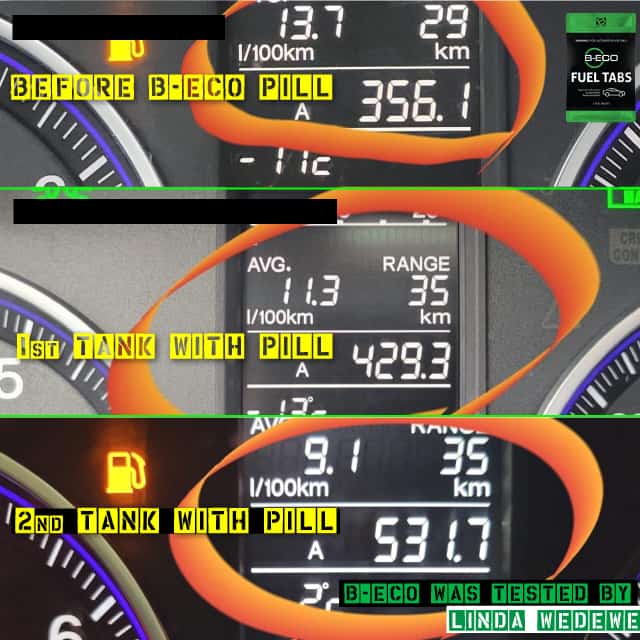 Fuel savings with B-Eco (reviewed by Linda Wedewer, Canada)
Ok the jury is in! After hearing about these fuel tabs l had to do my own research!
My gas mileage was horrible so any difference was better.
I filled the tank with 2 bars remaining just as the gas light went on each time. After the 1st tank I got 73 more kms, after the 2nd tank I got an additional 102 kms. So for 2 tabs I got 175 more kms to my tank. I went from 13.7 litres per 100 kms to 9.1 in only 2 tanks!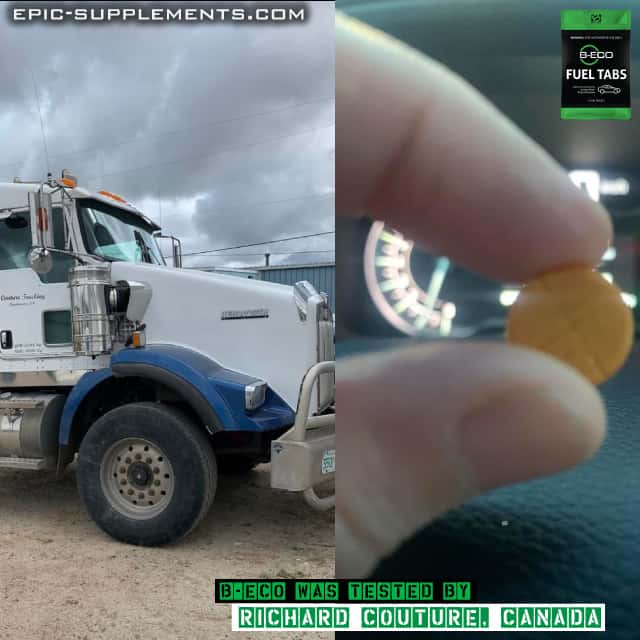 B-Eco results of Richard Couture from Canada
I was introduced to these fuel tabs that are newly available. What caught my attention was the 15-20% savings you would get on your gas, Diesel engines.
While waiting for my first tabs to come in I averaged my last 6 fill ups at 68.3L/ 100 km on my fluid hauling 2007 Kenworth Tri Drive.
After my fuel tabs "pills" came in I noticed a huge difference. After averaging 13 days my fuel consumption dropped to 58.75 L/ 100 km. A 9.5 L/ 100 km savings
$1.70 per L that is a savings of $16.15 per 100 k or $48.45 on 300 km. When I estimate a moderate 10,000 kilometers, my savings will be $1,453.50 for the month.
It will cost me $$$ not to put my truck on the pill.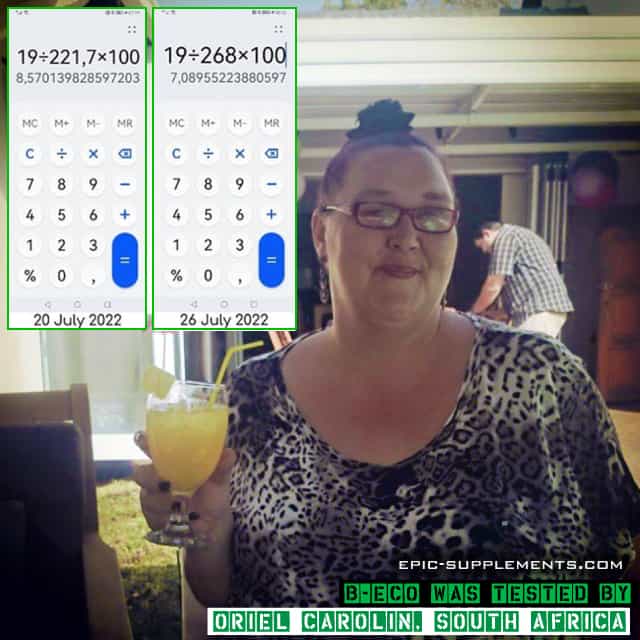 B-Eco experience of Oriël Carolin from South Africa
I have been using the B-Eco Fuel Tabs in my car (Hyundai Elantra 1.81 Executive, 2013 model).
I had filled my car using half of fuel tablet at the beginning of July. On July 20 I did my 1st refill and calculated my consumption (8.57 l / 100 km) I then used a quarter tablet for the 19 l of fuel used to fill the car.
Today 26 July I refilled my car again using 191 of fuel. My consumption calculation now shows 7.089 l / 100 km. That is an improvement of 1.481 / 100km or a 17.27% improvement and only doing town driving.
My car performance has also improved!
---
Prices / How to buy BEco
The product now available during promo actions for distributors only.
| Pack | Distributor | Customer |
| --- | --- | --- |
| •1 B-Eco Pack (5 tabs for 100 gallons) | 19.95 USD | – |
| •2 B-Eco Packs (10 tabs) | 34.95 USD | – |
| •3 B-Eco Packs (15 tabs) | 50.00 USD | – |
| •8 B-Eco Packs (40 tabs) | 110.00 USD | |
Shipping cost and custom fees (for international orders) are not included
5 B-Eco Fuel Tabs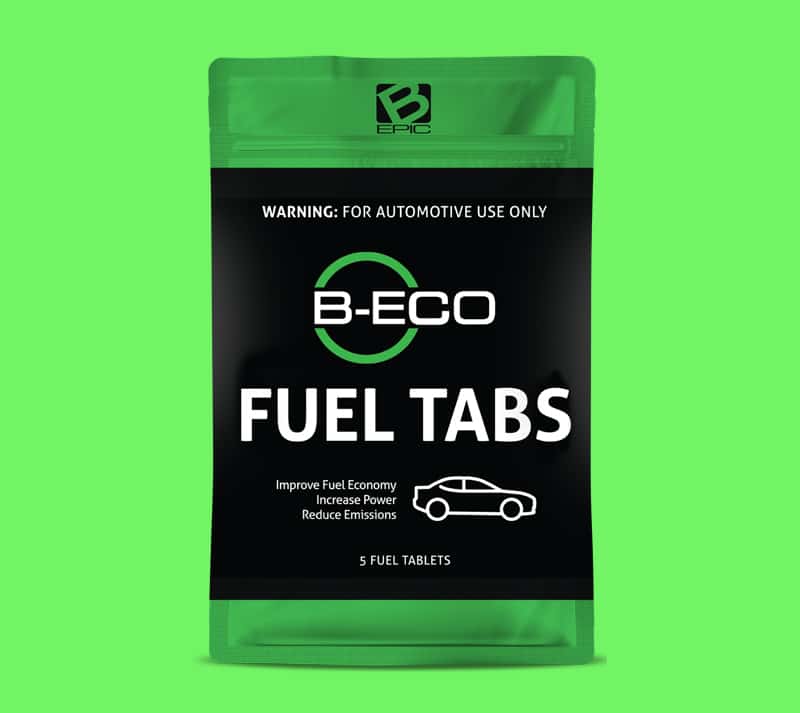 Save Money at the Gas Pump
Reduce Emissions and Exhaust
1 B-Eco tab for 20 gallons of fuel
Safe for engine, safe for nature
Enough for 100 gallons of fuel
Customer Price
24.95 USD
Excluding shipping & international fees
---
Distributor Price
19.95 USD
Excluding 19.95 USD registration fee, shipping & international fees
40 B-Eco Fuel Tabs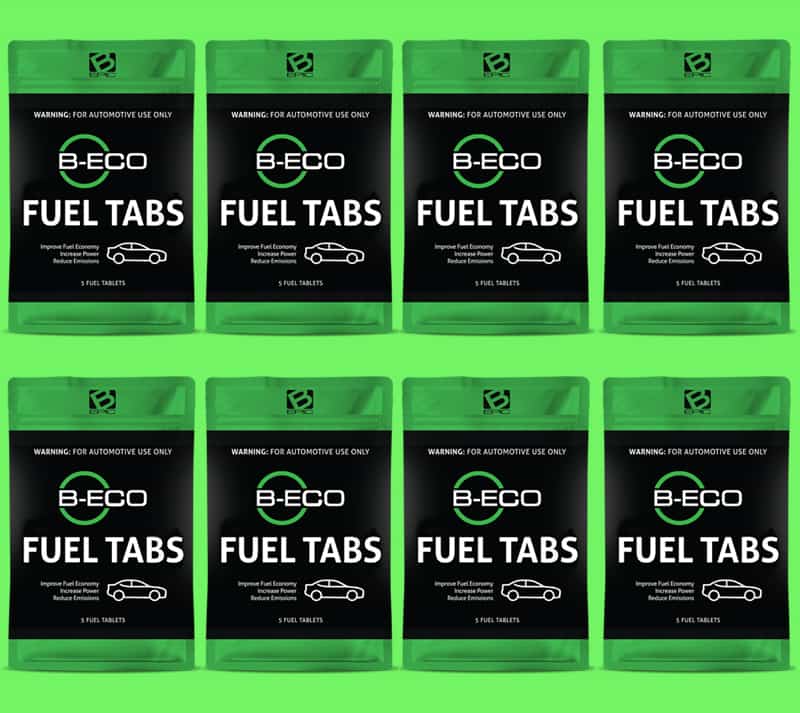 Increase MPG (miles per gallon)
Boost Power and Performance
1 B-Eco tab for 20 fuel gallons
Tested by independent labs
Enough for 800 gallons of fuel
Customer Price
Not Available
Excluding shipping & international fees
---
Distributor Price
110 USD
Excluding 19.95 USD registration fee, shipping & international fees
10 B-Eco Fuel Tabs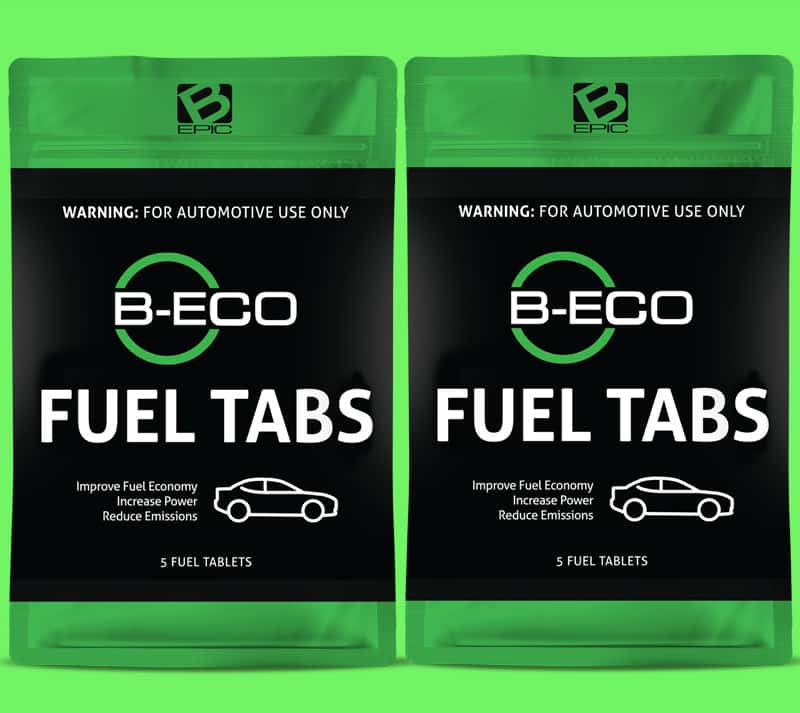 1 Tab for 20 Gallons of Fuel
15-20% Fuel Economy
Reduce Engine Emissions
Tested by Independent Labs
Enough for 200 gallons of fuel
Customer Price
Not Available
Excluding shipping & international fees
---
Distributor Price
34.95 USD
Excluding 19.95 USD registration fee, shipping & international fees
15 B-Eco Fuel Tabs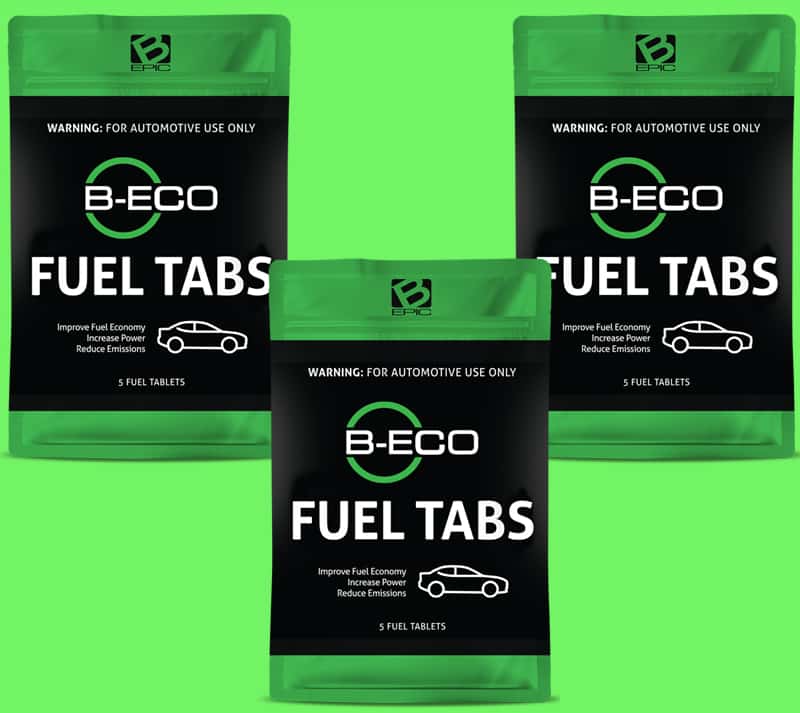 Save Money and Nature
For Gas, Petrol or Diesel
Tested and Approved
1 B-Eco tab for 20 gallons
Enough for 300 gallons of fuel
Customer Price
59.95 USD
Excluding shipping & international fees
---
Distributor Price
50 USD
Excluding 19.95 USD registration fee, shipping & international fees
---
NEW! B-Eco Engine Life Treatment Oil
B-Eco Engine Life Treatment Oil is designed to protect your vehicle's engine and complements the companionship of B-Eco Fuel Tabs that may give you extra miles per gallon.
The B-ECO Engine Life Treatment Oil does not just protect the engines but also helps the B-ECO Fuel Tabs work even better.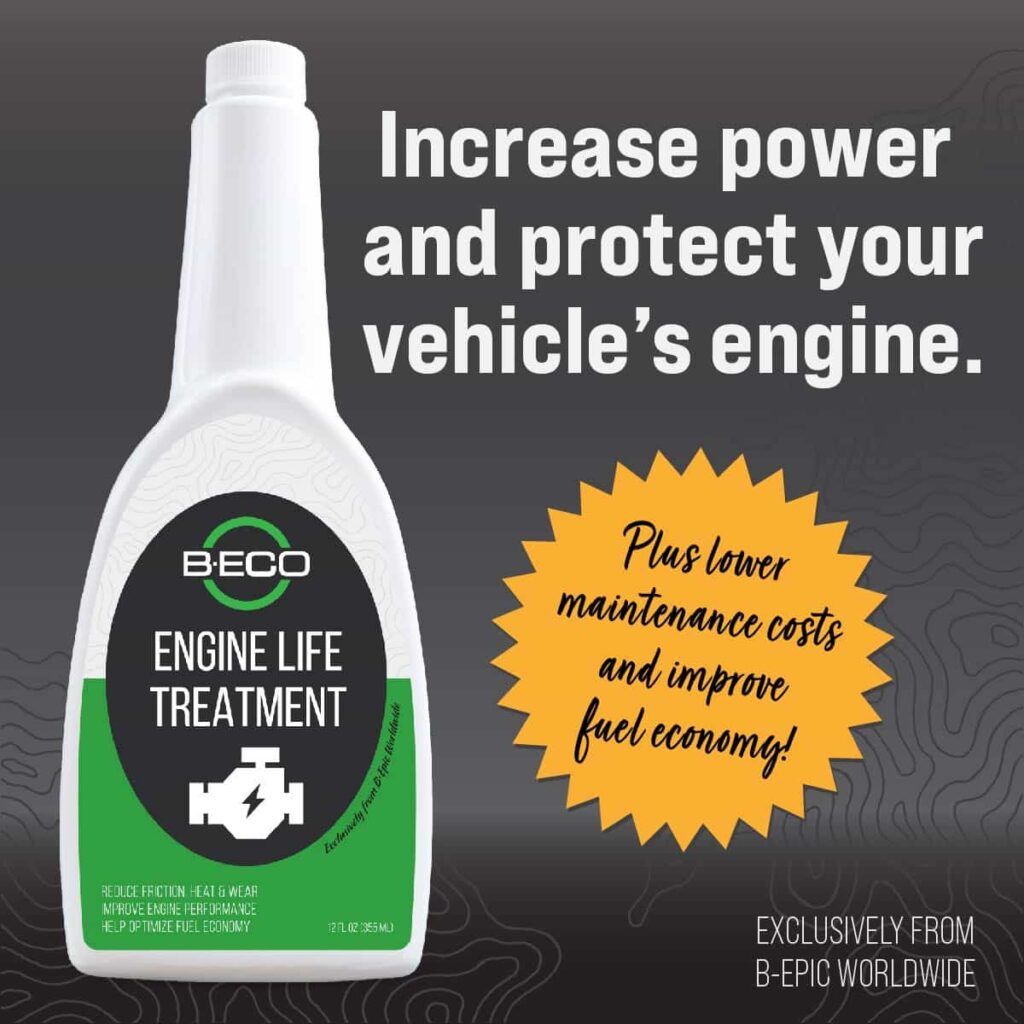 B-Eco Oil Details
Use with every oil change
Works for auto, truck, marine, off-Road, motorcycle, and other engines
Compatible with any motor oil
Environmentally friendly, stable, and safe
B-Eco Oil Benefits
Benefits may include:
Help increase engine life
Improve engine power and performance
Slow oxidation and corrosion
Help optimize fuel economy
May extend oil change intervals 25% to 50%
Can help lowers maintenance costs
Coming Soon!
---
See also: How to make money with B-Eco