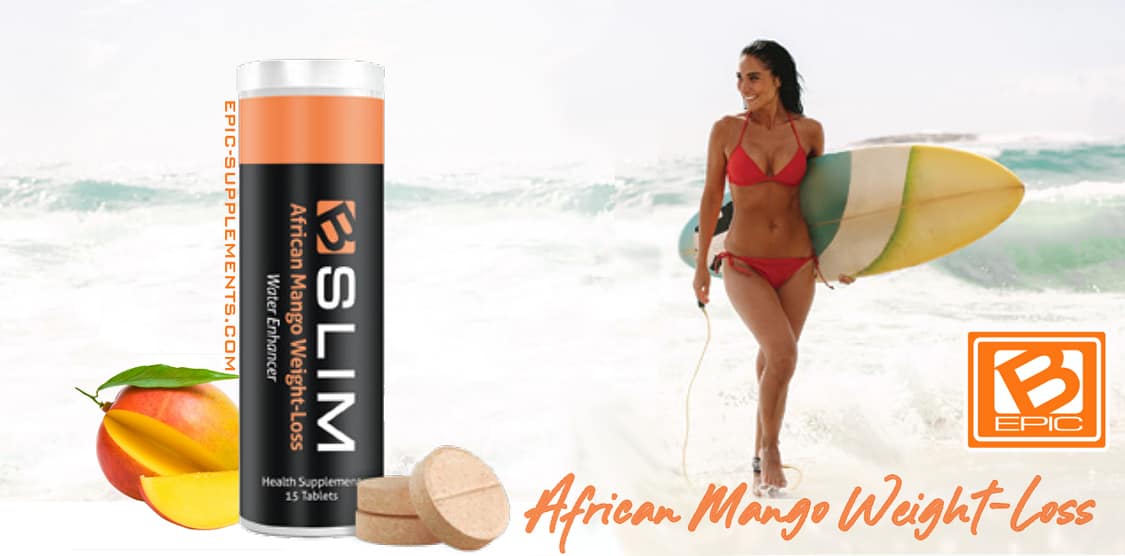 What is B-Slim tablets
BEpic B-Slim is easy-to-use hydration tablets, created by BEpic in 2020. A tablet is designed to make a full bottle of healthy weight loss water.
Create a refreshing weight-loss water in seconds! Just drink 30 minutes before largest meal for you slenderness!
B-Slim Brief Info
B-SLIM DOUBLE PACK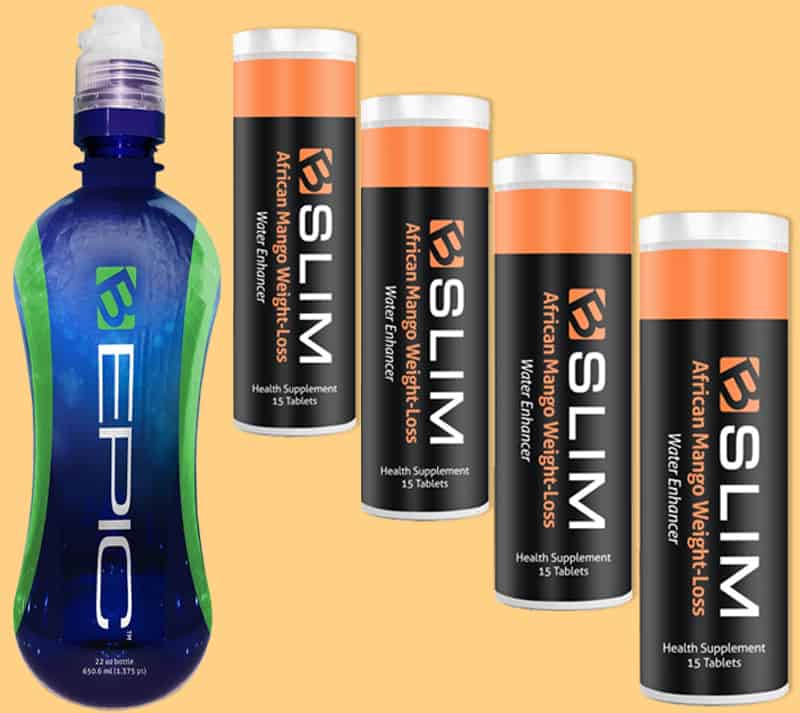 Weight Loss, Stress Relief & Body Hydration
Natural Ingredients
15

Tablets in a Tube

Dosage: 1 Tablet per Day
2 MONTHS SUPPLY
Customer Price
99.95 USD
Excluding shipping & international fees
---
Distributor Price
89.95 USD
Excluding 19.95 USD registration fee, shipping & international fees
Health Benefits
B-Slim Tablets health benefits may include:
Promoting weight loss and healthy weight control
Help fight obesity
Help relieve stress and anxiety
Normalize cholesterol levels
Decrease appetite and food cravings
Improving blood glucose levels in diabetic patients
Increase muscle mass and strength
Improve mood, concentration and sleep depth
Create an B-Epic account and make a purchase from the official online store
Ingredients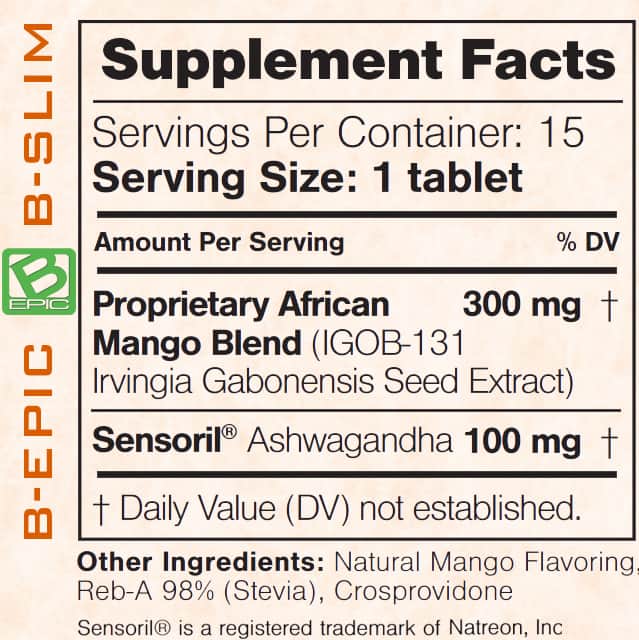 Proprietary African Mango blend (300 mg per serving)
B-Slim contains a patented, clinically proven Irvingia Gabonensis (aka African Mango) seed extract for weight loss. Irvingia gabonensis is a mango-like fruit that comes from the deciduous forest tree found in West Africa. It has long been used to promote weight loss and healthy weight control. It has also been found to be effective at helping reduce food craving, blood sugar, and body fat.
Scientific proofs: link 1 link 2 link 3
---
Sensoril® Ashwagandha (100 mg per serving)
Ashwagandha (Withania somnifera, aka Indian ginseng) is an Indian adaptogen herb known for its calming anti-stress properties. The plant, particularly its root powder, has been used for centuries in traditional Indian medicine. Withania somnifera includes a variety of nutrients, polyphenols and alkaloids that block free radicals and also have anti-inflammatory, anti-tumor, anti-stress, antioxidant, immunomodulatory and anti-aging properties.
Ashwagandha is safe for most people and widely available.
Sensoril® is a registered trademark of Natreon, Inc.
Scientific proofs: link 1 link 2 link 3
---
Stevia (Reb-A 98%)
Rebaudioside A (Reb-A) is a diterpene glycoside occurring in the leaves of Stevia. At Reb-A levels of 98%, Stevia powder is a deliciously sweet no-calorie sweetener with no aftertaste. Also, it may be effective in lowering blood pressure in hypertensive patients. This sweetener is 100% pure with no additives, fillers or chemical residues.
Scientific proofs: link 1 link 2 link 3
---
Crospovidone
Crospovidone (or polyvidone) is used as a binder in many pharmaceutical tablets. The U.S. Food and Drug Administration (FDA) has approved this chemical for many uses.
Scientific proofs: link
Natural Mango Flavoring
Instructions for use
Fill special BEpic bottle with tap water, place 1 Water Enhancer hydration tablet in the blue tablet chamber bottle* top, screw on the top. Drink 30 minutes before largest meal.
*Use special B-Epic bottle
Use 1-2 tablets per day; each with a full bottle of water. For best results, use with the B-Epic Hydration System (Hydr8tion supplement).
Store tablets in a cool dry place to maintain freshness.
Note: B-Slim is available only in tablets. There is no B-Slim in capsules, powder, etc.
Servings Per Container: 15 tablets
Serving Size: 1 tablet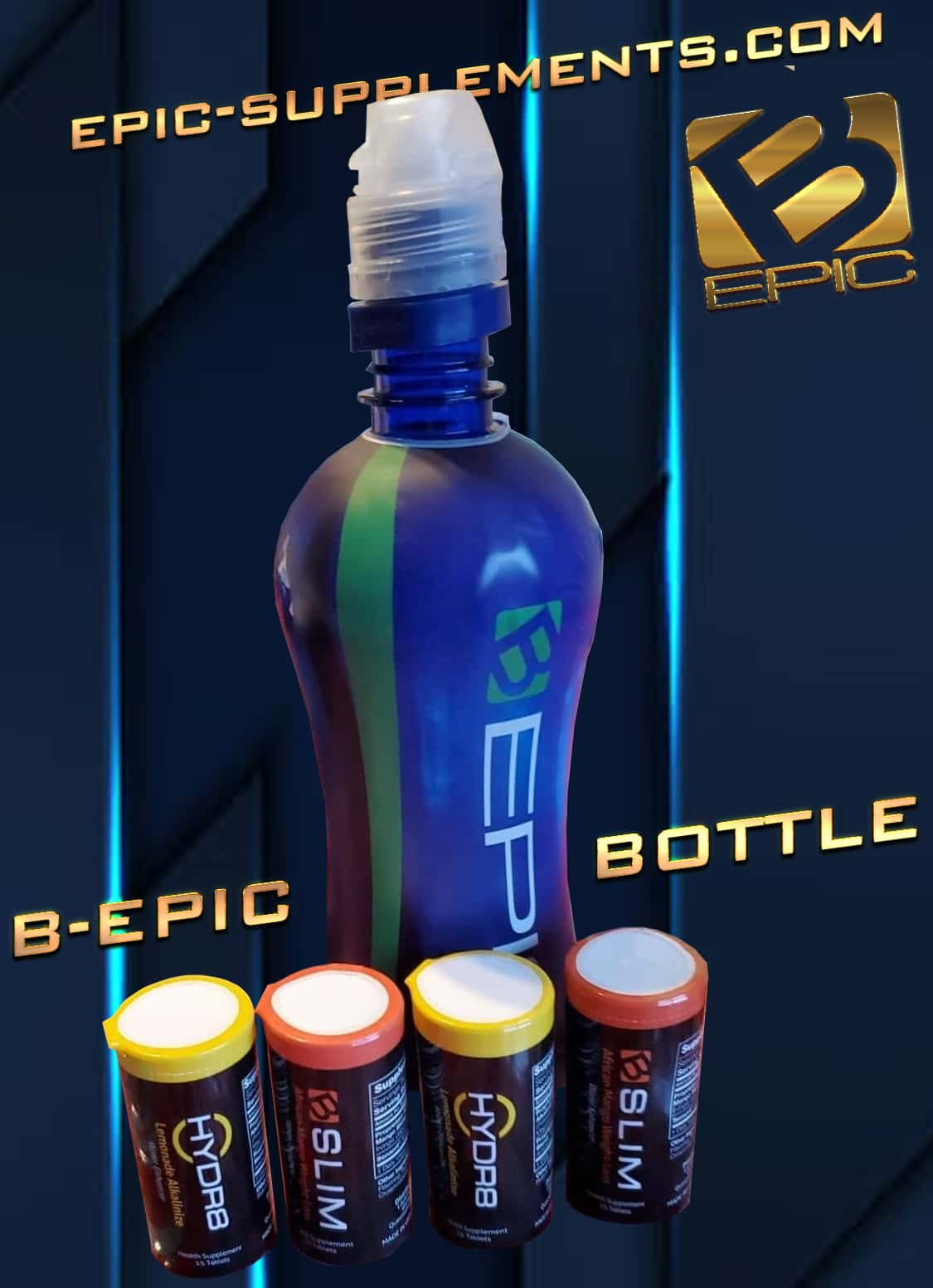 ---
What if the tablet is not completely dissolved?
The solubility of a tablet depends on the hardness of the water used. Therefore, sometimes you may notice that the tablet has not completely dissolved.
What to do?
There are several options. They can be combined.
Just wait. In your case, it may take a little longer to dissolve.
Before placing the tablet in the bottle, break it into several parts.
Place the tablet in the bottle and shake from time to time.
Drink some water from the bottle and refill it. This way you will consume more of the healthy liquid and the tablet will dissolve over time.
Side effects
Rarely, adverse reactions can include headache, dry mouth effect, flatulence, sleep disturbance, and flu symptoms.
Caution: consult your physician before taking this or any health supplement, especially if you are pregnant or nursing, have a medical condition, are taking prescription drugs, or are under the age of 18.
Reviews on B-Slim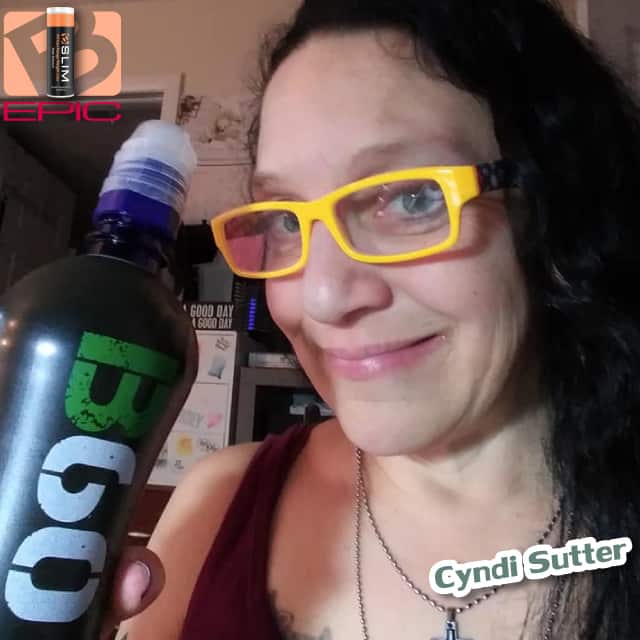 Review by Cyndi Sutter from Florida:
"This is AMAZING!!!
I tried the NEW African Mango weight loss drink for the first time TODAY… just before lunchtime (my biggest meal).
I was only able to eat half of what I thought I was gonna eat for lunch… Normally I eat (probably to MUCH) and through-out my entire eating window…
But No need for all the snacks TODAY!! Whoohoo!!!
This is AWESOME and it is sooooo yummy!"
*All statements have not been evaluated by the FDA. These products are not intended to diagnose, treat, cure, or prevent any disease."
---
Review on B-Slim by Claire Wilson Dolan from Ireland:
"This is my 15 day results with Bslim, only Bslim. I've eaten well, drank my water havent exercised as much as i would have liked. No change in my diet.
I was on many neuropathy medications and my weight went through the roof, with the medication. So I knew the weight was going to be tough to get down.
I've lost 5lbs. But have lost a lot of inches.
Obviously not the weight loss others have experienced but I knew mine would be different before I started."
---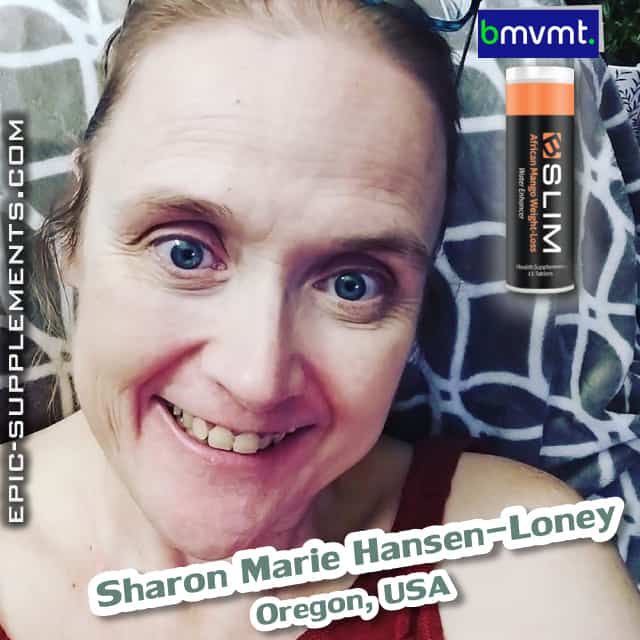 Reviewed by Sharon Marie Hansen-Loney, Oregon, the USA:
My name is Sharon Loney and I want to share my testimony about Epic Pack and BSlim.
I had gotten approved for bypass surgery but…I had to lose 10% of my body weight. My highest weight was 398.I needed help so a friend gave me a green 💊 while I was at her house. Energy was amazing and even helped with pain. I have arthritis throughout my body and bone on bone with both knees.
I started with the Epic Pack with great success. I lost 50lbs the doctor gave me a surgery date and I had to be at a certain weight by my next appointment. It was a week out I had 20lbs to lose.
I added drinking B-Slim 2 to 3 times a day. I made it I lost 20lbs in one week. Still shake my head in amazement. This may not be a typical result. These products work! Grateful for BEpic!
---
Swipe ◄-► for More Reviews
Prices
| Pack | For Distributors | For Customers |
| --- | --- | --- |
| 2×15 BSlim + B-60 bottle | 50 USD | 60 USD |
| 4×15 BSlim + B-60 bottle | 89.95 USD | 99.95 USD |
| 2×15 BSlim + Acceler8 (60 pills) + bottle | 89.95 USD | 99.95 USD |
Shipping cost and custom fees (for international orders) are not included
B-SLIM WATER TABLETS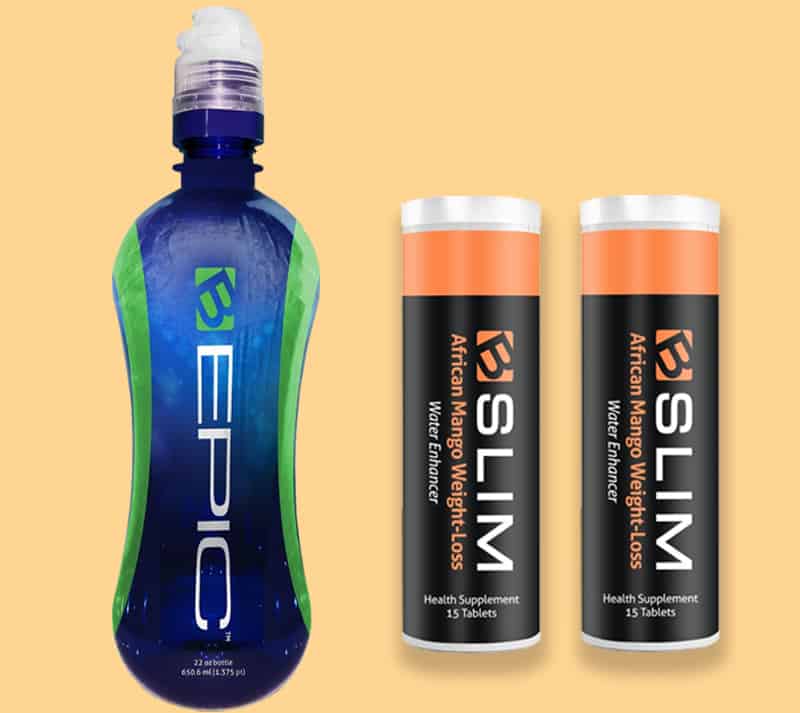 Weight Loss, Stress Relief & Body Hydration
Easily Soluble in Water
15 Tablets in a Tube
Dosage: 1 Tablet per Day
1 MONTH SUPPLY
Customer Price
59.95 USD
Excluding shipping & international fees
---
Distributor Price
50 USD
Excluding 19.95 USD registration fee, shipping & international fees
B-SLIM DOUBLE PACK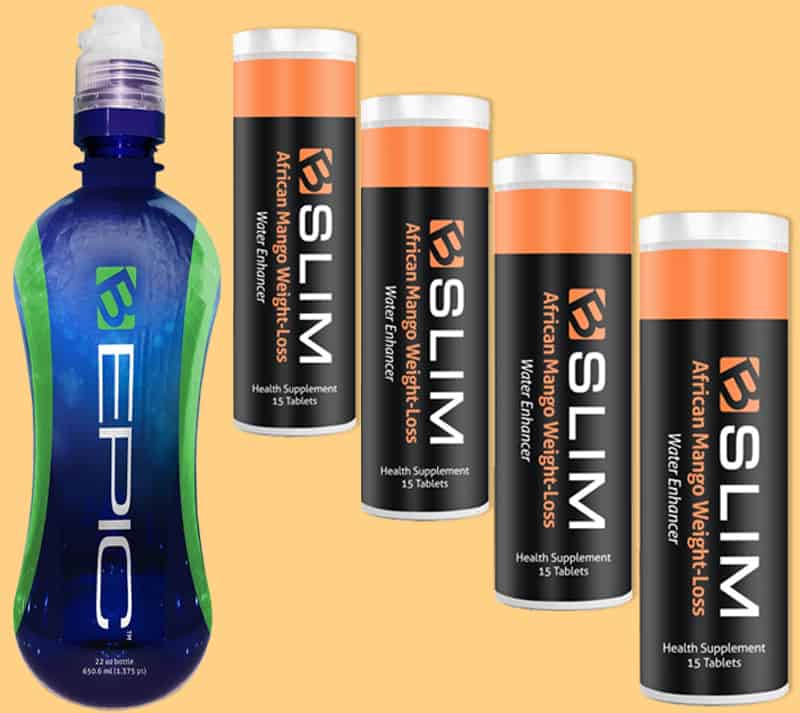 Weight Loss, Stress Relief & Body Hydration
Natural Ingredients
15

Tablets in a Tube

Dosage: 1 Tablet per Day
2 MONTHS SUPPLY
Customer Price
99.95 USD
Excluding shipping & international fees
---
Distributor Price
89.95 USD
Excluding 19.95 USD registration fee, shipping & international fees
Create an account and make a purchase from the official online store
---
Similar products: B-Keto & Acceler8