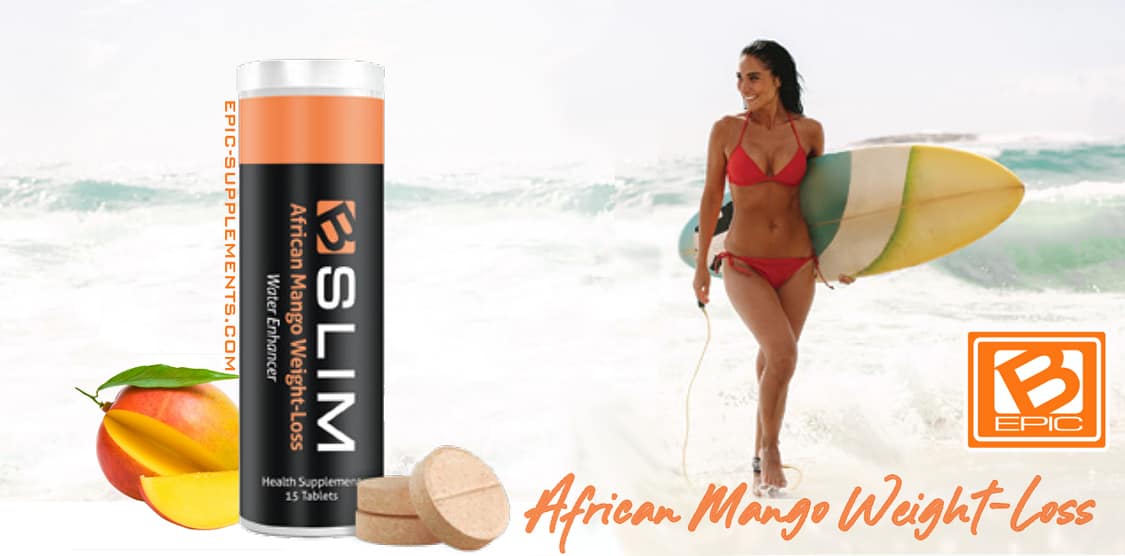 What is B-Slim
B-Slim is easy-to-use hydration tablets, created by BEpic in 2020. A tablet is designed to make a full bottle of healthy weight loss water.
Create a refreshing weight-loss water in seconds! Just drink 30 minutes before largest meal for you slenderness!
Servings Per Container: 15 tablets.
Serving Size: 1 tablet
Health Benefits
B-Slim health benefits may include:
Promoting weight loss and healthy weight control
Help fight obesity
Normalize cholesterol levels
Decreased appetite and food cravings
Improving blood glucose levels in diabetic patients

Help relieve stress

and anxiety
Increased muscle mass and strength
Improved mood, concentration and sleep

Ingredients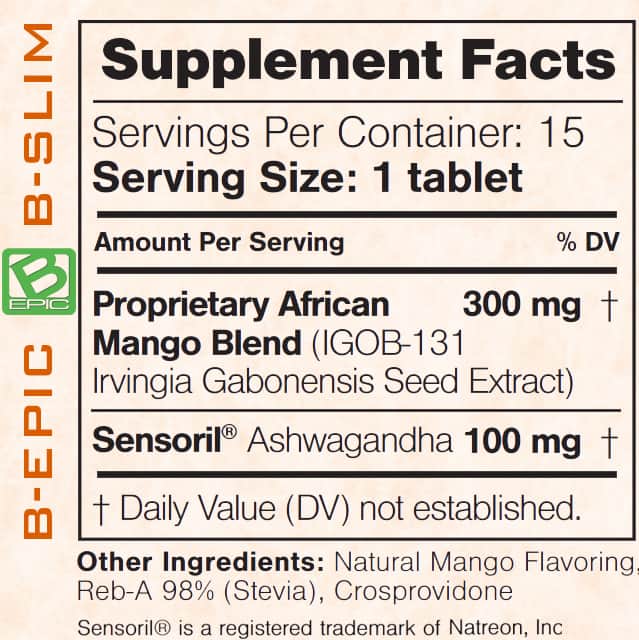 Proprietary African Mango blend (300 mg per serving)
B-Slim contains a patented, clinically proven African Mango (Irvingia Gabonensis) seed extract for weight loss. African Mango has long been used to promote weight loss and healthy weight control. It has also been found to be effective at helping reduce food craving and body fat.
---
Sensoril® Ashwagandha (100 mg per serving)
Ashwagandha aka Indian ginseng (Withania somnifera) is an Indian adaptogen herb known for its calming anti-stress properties. The plant, particularly its root powder, has been used for centuries in traditional Indian medicine. Ashwagandha is safe for most people and widely available.
Sensoril® is a registered trademark of Natreon, Inc.
---
Stevia (Reb-A 98%)
Rebaudioside A (Reb-A) is a diterpene glycoside occurring in the leaves of Stevia. At Reb-A levels of 98%, Stevia powder is a deliciously sweet no-calorie sweetener with no aftertaste. It's 100% pure with no additives, fillers or chemical residues.
---
Crosprovidone
Crosprovidone (or polyvidone) is used as a binder in many pharmaceutical tablets. The U.S. Food and Drug Administration (FDA) has approved this chemical for many uses.
---
Natural Mango Flavoring

Instructions for use
Fill bottle with tap water, place 1 Water Enhancer hydration tablet in the blue tablet chamber bottle* top, screw on the top. Drink 30 minutes before
largest meal.
*Use special B-Epic bottle
Use 1-2 tablets per day; each with a full bottle of water. For best results, use with the B-Epic Hydration System (Hydr8 supplement).
Store tablets in a cool dry place to maintain freshness.
---
Side effects
Rarely, adverse reactions can include headache, dry mouth effect, flatulence, sleep disturbance, and flu symptoms.
Caution: consult your physician before taking this or any health supplement, especially if you are pregnant or nursing, have a medical condition, are taking
prescription drugs, or are under the age of 18.
---