Gr8 Kids is a dietary supplement developed by BEpic specifically for children. This is a plant-based food blend that will provide children with the normal development of mind and body and reliable protection against diseases. *

Brief Gr8 Kids Info
GR8 KIDS SUPPLEMENT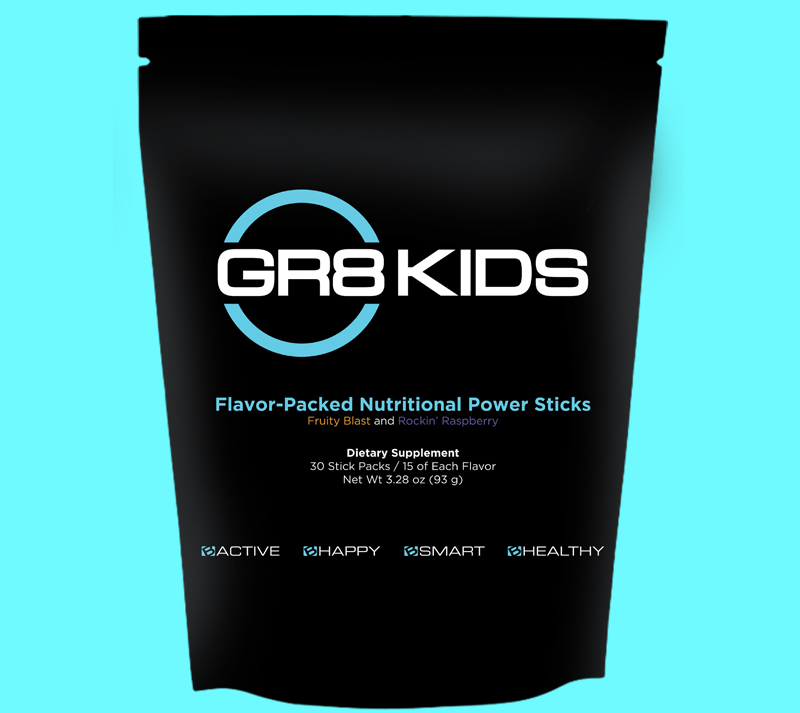 Healthy Development of Your Сhild
100% Natural Ingredients
30 Sticks in a Container
Serving size: 1 Stick Daily
1 MONTH SUPPLY
Customer Price
59.95 USD
Excluding shipping & international duty
---
Distributor Price
49.95 USD
Excluding 19.95 USD registration fee, shipping & international duty
Gr8 Kids is …
…. 100% Natural Whole Food Fruit and Vegetable Blend.
…a package with 30 sticks (sachets), intended for a whole month. One stick is for a day. Its contents should be dissolved in a glass of water and drink. The total net weight of the package is 93 grams.
… 0 Sugar and 0 Calories
…Vegan-Friendly and Gluten-Free supplement
Recommended for children from the age of 3 years. In some cases, the product may be taken by children of a younger age.
Warranty period – 2 years. Store in a cool, dry place, out of direct sunlight.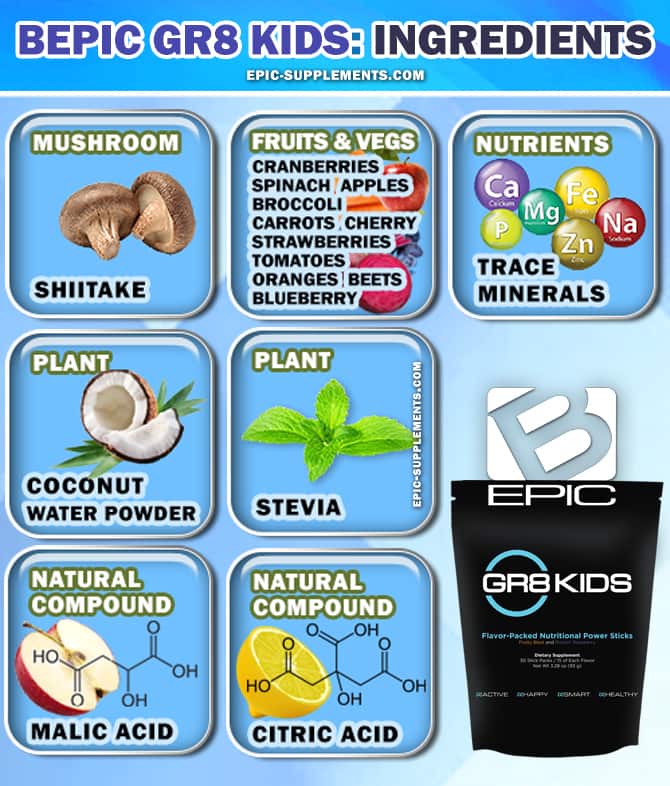 ---
Official video
Create an account and make a purchase from the official online store
---
Taste and Smell
Gr8 Kids has a great, light taste and a pleasant aroma. It quickly dissolves in a glass of plain filtered water at room temperature and turns into a fragrant drink. Children take it with pleasure and are not capricious.
At the moment, the packages contain sticks with two different tastes & aromas – Fruity Blast and Rockin' Raspberry. In the future, the variety of tastes will increase.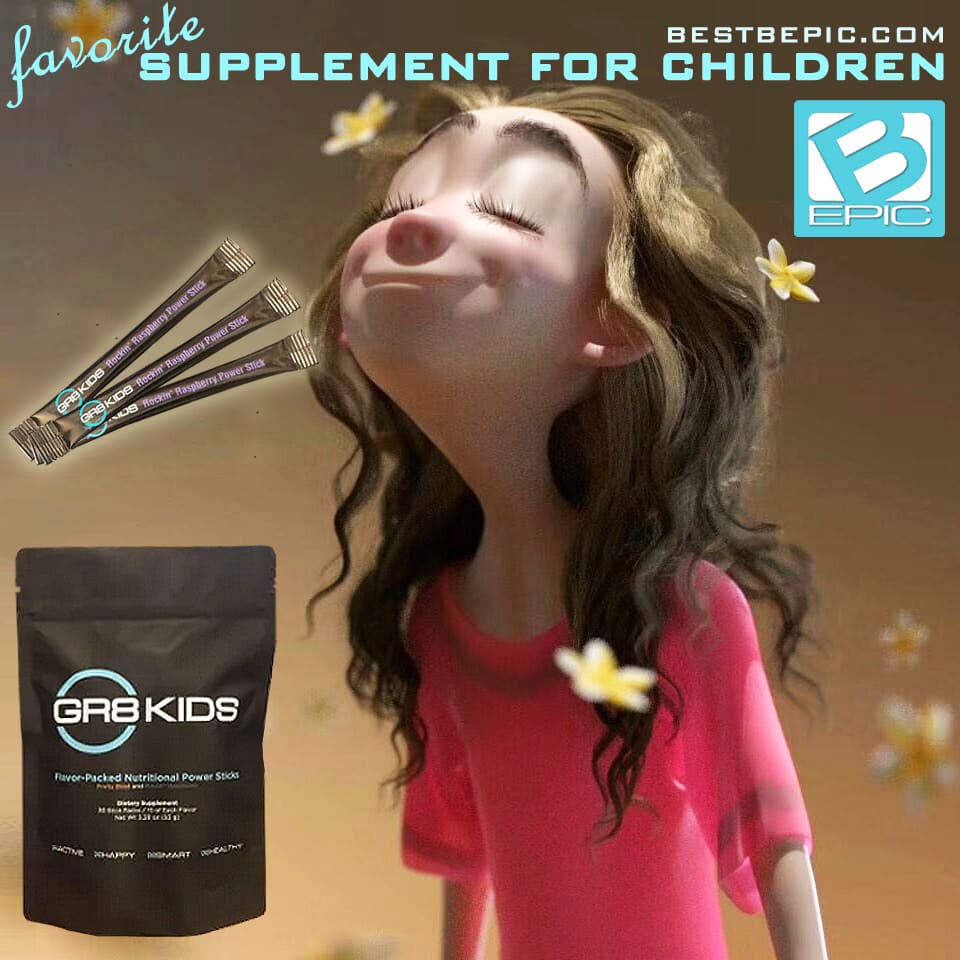 When does your child need Gr8 kids?
GR8Kids supplement will be useful in many cases….
Does the child get tired quickly, lose interest in games, constantly want to sleep?
Children's food supplement GR8 Kids will solve this problem efficiently and safely
Or vice versa – is your child hyperactive, has ADHD and has difficulty concentrating on schoolwork and homework?
The complex of vitamins for children GR8 Kids is able to calm the child and increase their concentration
Is it difficult for a child to learn or do they quickly forget things?
Components for memory and attention to children will improve the child's school performance!
Constantly annoyed, capricious, "tearful" mood for no reason?
GR8 Kids product helps to normalize the state of the nervous system
Teachers and educators complain about the child's bad behavior, restraint, aggression?
Start taking GR8 Kids vitamins and you will see how your baby's behavior will change for the better!
Have a sleep disorder? Restless or intermittent sleep, nightmares, a child screaming or urinating during sleep?
Nutritional supplements for children GR8Kids relieve tension and gently relax, help them calm down and fall asleep
Is there a constant lack of appetite?
GR8 Kids are effective vitamins for children's appetite, helping to improve and normalize digestion
Does the child often get sick, has no immunity, is he or she tormented by constant viral and bacterial infections?
Start giving our vitamins to children, and you will forget about frequent colds and seasonal diseases
Does the kid need constant attention and care?
Our GR8 Kids vitamins strengthen the immune system, normalize the development of the body and increase its resistance to diseases;
Is the child allergic to food, plant pollen, sun, etc.?
Some components of the product have an antiallergenic effect. They will help solve the problem
Does the baby have digestive problems, frequent indigestion, headache and abdominal pain?
GR8Kids contains natural vitamins and a complex of enzymes of natural origin to normalize the functions of the gastrointestinal tract
Is the child behind in development from peers?
The food supplement for children contains components to stimulate the brain and help to grow the child in height. They are also taken to develop and strengthen muscle mass.
Your child is healthy and develops normally, and you want it to be like this always!
GR8 Kids is a gentle and delicate care for the health of your baby, and your valuable contribution to their future!
The composition of Gr8Kids
Gr8 Kids contains 13 main plant components plus a variety of vitamins, including the rather rare K1 and B7. Supplement does not contain chemically synthesized ingredients, gluten, artificial dyes, flavor enhancers, GMO products, chemical preservatives, stabilizers, emulsifiers, parabens and more.
The basis of the supplement is whole food extracts of blueberries, strawberries, apples, cherries, oranges, spinach, broccoli, carrots, tomatoes, beets. The term "whole food extracts" means that not one or two useful components are extracted from the original vegetable or fruit, but a whole combination of them. Moreover, in fact, the extract contains almost all the beneficial substances that were contained in a living plant. To achieve this, modern extraction technologies are applied that minimize plant cells damage. Thanks to this, the product makes our children more healthy, energetic, smart and happy!
Instructions for use
For Children: just dissolve the stick in a glass of clean water and give it to your child.
Note: the best results are achieved using Hydr8tion alkalized water
For Adults: Pour contents of one stick pack directly into mouth.
Take one serving once daily on an empty stomach.
Store in a cool, dry place.
Gr8 Kids prices
For Distributors:
1 Gr8 Kids pack (30 Servings): $49.95*
2 Gr8 Kids pack (60 Servings): $89.95
1 Gr8 Kids + 1 Acceler8: $89.95
1 Gr8 Kids + 1 Elev8: $89.95
*Excluding international fees (outside US), shipping charges, and one-time registration fee $19.95
For Preferred Customers:
1 Gr8 Kids pack (30 Servings): $59.95 **
**Excluding international fees (outside US) and shipping charges
Create an account and make a purchase from the official online store
GR8 KIDS: REVIEWS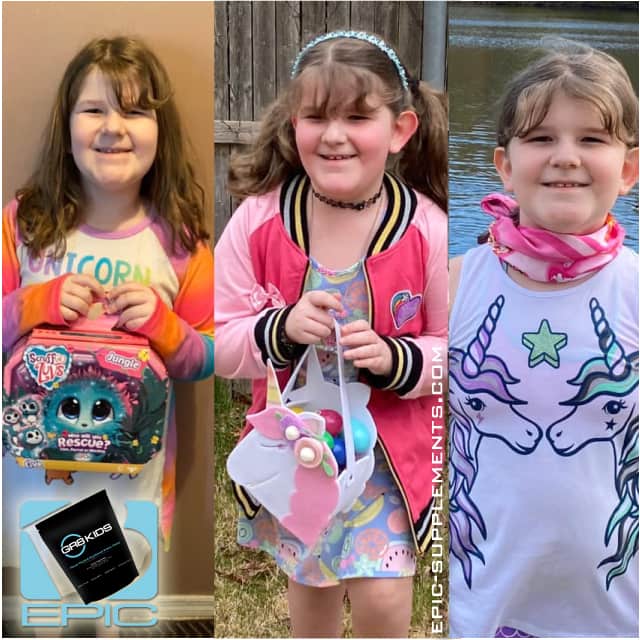 Michelle Jacobs from Bayport, New York says:
This is my 8 year old daughter!
She has been on Gr8 for kids for about 3 weeks…She has lost a few pounds but definitely inches. The first 2 pictures are on Easter before she started.
The one on the right is last weekend. I totally can see a change! I'm so excited that she loves this and it is safe and healthy for her to use! She has a way to go but I love her the way she is NO matter what. It's more about her being HEALTHY!!
April Beaulac (Canada) review: "My son is 12. He was diagnosed with ADHD and O.D.D in grade 4. He is an introvert and usually has very negative self talk, is always melancholy, or blowing up at his sister.
In school, he was shutting down because he didn't like certain teachers and they were getting fed up with his disrespectful behavior.
He has been on Gr8kids for nearly 2 weeks now and never misses a day! He is focused. He isn't a cranky ass anymore. He laughs and smiles, is affectionate and even enjoys his sisters company. I am amazed to say the least! He is a happy kid now. He is a Gr8Kid!"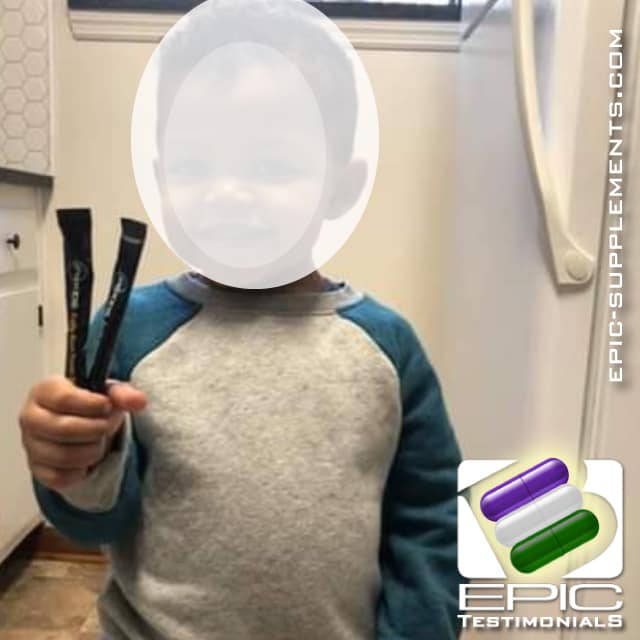 Alicia Crespo from Texas wrote:
"I have found the secret to ultimate health with these powerful sticks! My son has sensory issues and is usually apprehensive when it comes to trying something new.
Enter GR8 Kids!! This little guy asks for it everyday! He's getting 4.5 servings of fruit and vegetables, not to mention a ton of vitamins to help boost his immune system. Parents – this is an easy way to sneak in the good stuff!"
---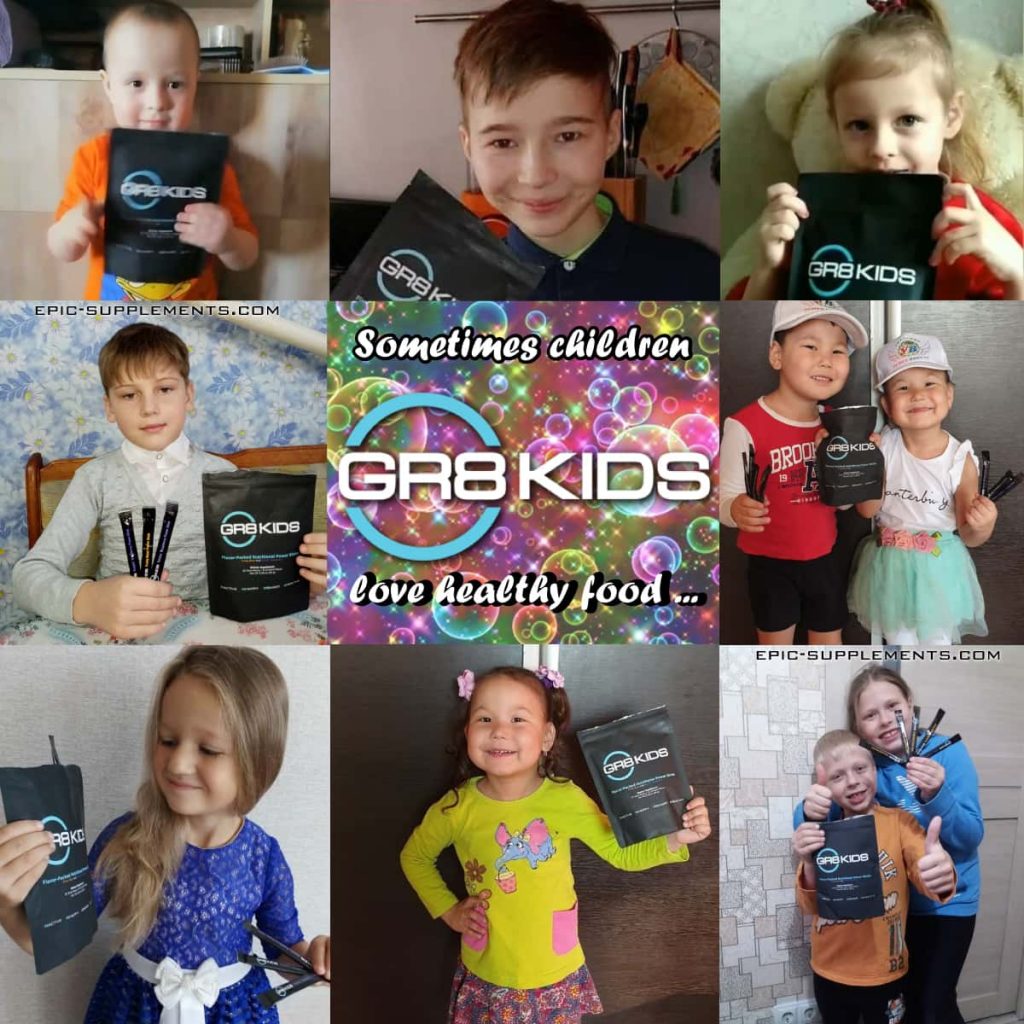 *Consult your doctor before using this or any health supplement if you are pregnant or nursing, have or had a medical condition, are taking prescription drugs, and/or are under the age of 18.
All BEpic Products