Taking B-EPIС capsules Elev8 & Acceler8 promotes brain health and helps relieve symptoms of many mental disorders (PTSD, ADHD, Tourette syndrome, bipolar and others).
Read real customer reviews that the capsules have helped in the fight against various dysfunctions of the brain and psyche.
Note: You have the opportunity to visit the review pages dedicated to depression, anxiety, stress, stroke.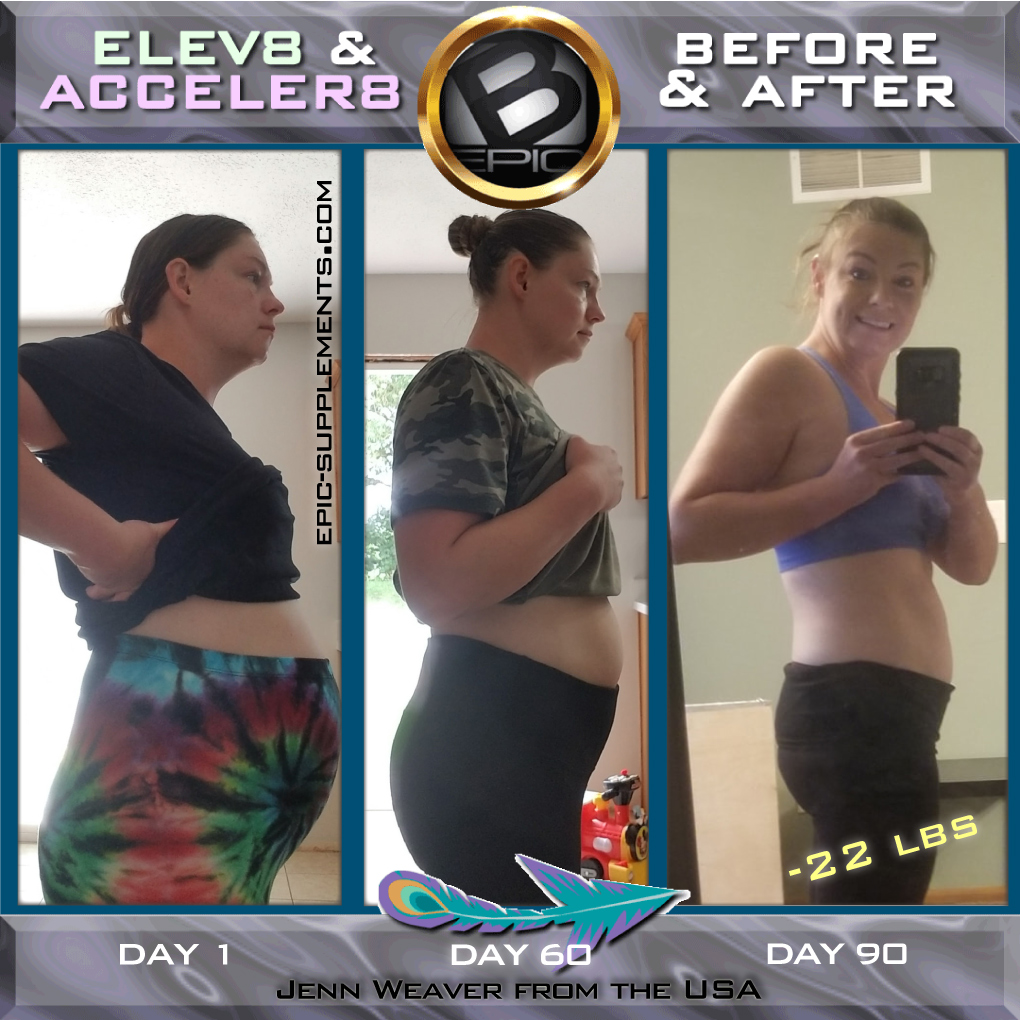 Story of Jenn Weaver from Indiana:
"So I started my journey on July 5th, sorry I never took a 30 day picture, but here are my results after month 2 and 3. To my surprise in as little as 3 months I have gotten what I think are AMAZING results! Dropping 22 lbs and 9", going from a size 12 to a size 8 in as little as 90 days!!
I also suffer from PTSD and in these past 3 months I may have had only 2 episodes as opposed to several a week. At first I didn't notice the mood changes or how many less episodes I've had, but then everyone else around me, including neighbors I rarely talk to, began to notice.
My absolute favorite part of this product has to be the amount of regained energy I have noticed. As a mother of a 3 year old and almost 2 year old it is exhausting trying to keep up with them on top of working afternoons 6 days a week.
Or at least it was. I also have a vitamin D deficiency and this supplement helps me feel like a normal person again, no longer groggy or just tired and laying around, I am up and ready to accomplish anything!!
That in itself is a fantastic feeling for me. I feel better than I had prior to having children, and that's including the time I spent bodybuilding. I can not stress enough how much better my life is now, how I feel and how much better everyone around me can see and feel it too, most importantly the happiness I see from it in my two young boys!"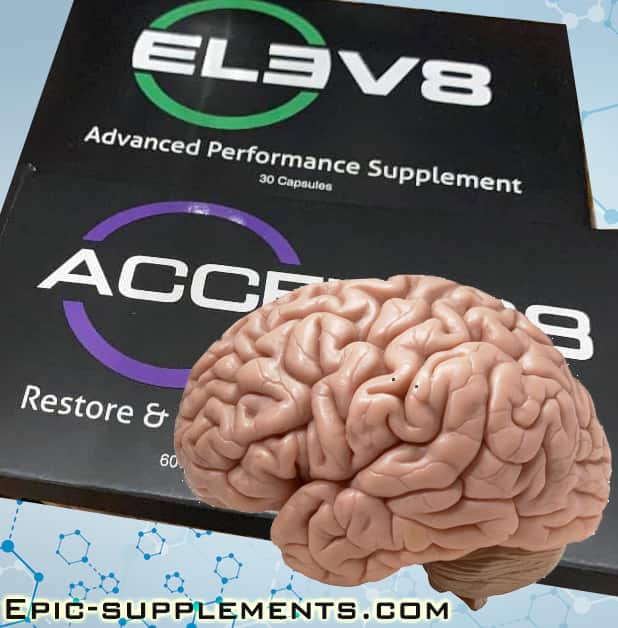 Review by Ally Reidinger from the USA:
"I'm 34 and a mother to four kids. I recently in the last 5 to 10 years have been confronting complex PTSD. I don't have a pre trauma self to look back on as my trauma started the earliest I can remember things at 2.5… that being said I have been through the ringer when it comes to therapists, medication, continuously switching medications up and trying to find what's right for me.
Now I'm not telling you this for any kind of pity or attention, I'm telling you this because as soon as I started Epic about a week in, I started to notice my mental health soaring. It might not work for everyone, but for someone like me, it does wonders.
I can say that right now I am grateful to have found Epic, because I am very confident in the fact that in a very short time I will be mostly Pharmaceutical free."
---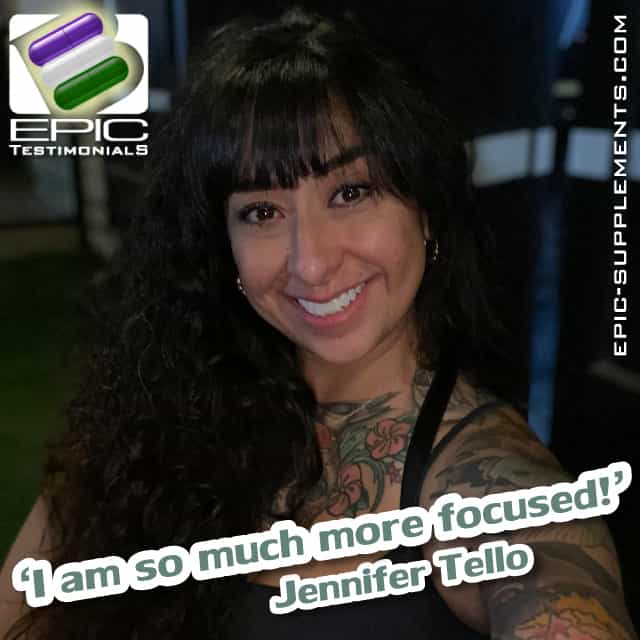 Jennifer Tello shared her BEpic experience:
"I've been on B-Epic capsules for two months now. I take daily mental illness medication and meds to sleep. That bloat IN MY GUT was frustrating, and no energy or focus. I was a nail technician for 17 years and my hands would hurt and to do anything, my grip was horrible.
Now, I am so much more focused , my hands don't hurt like they use to. I was able to do 3 sets of nails yesterday I've lost 5lbs and kept it off, no more bloat, Oh my gosh the ENERGY is sky high. If you are big coffee drinker, you wont need so many cups to get up. Promise that.
If you are sensitive to stimulates, I suggest you take half, you may sprinkle in your breakfast or in a drink. They are super easy to pull apart, the nootropics, whole foods and vegetables and green coffee bean to start your day is Amazing!
Sleep is so much better, I actually get RM.
Take care of your Brain, heart and Gut.
LIFE CHANGING!"
---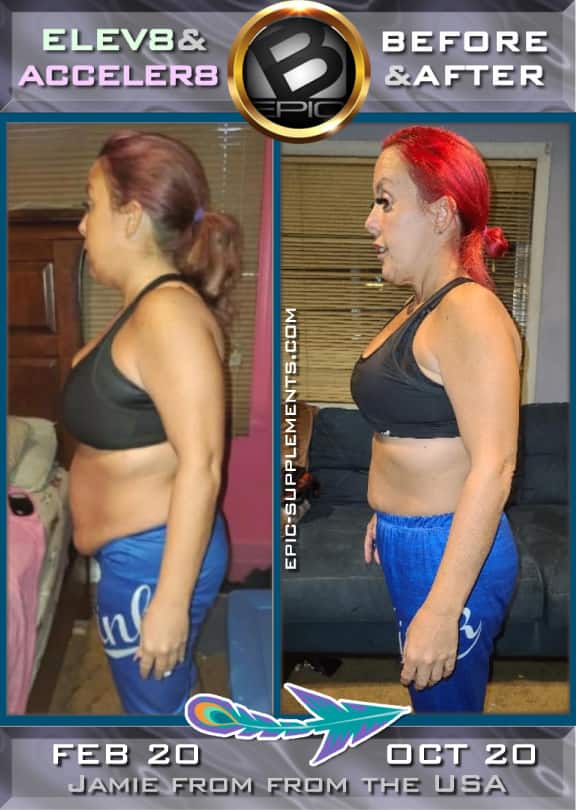 Story of Jamie Cochran from Georgia, USA:
"I been on since the end of February. I was on 10 pills for bipolar, depression and anxiety.
I'm no longer on medication for depression and anxiety and only on 3 pills for bipolar.
I feel so much better and no longer on medication for for my heart. Went from a 36dd bra to a 34c"
---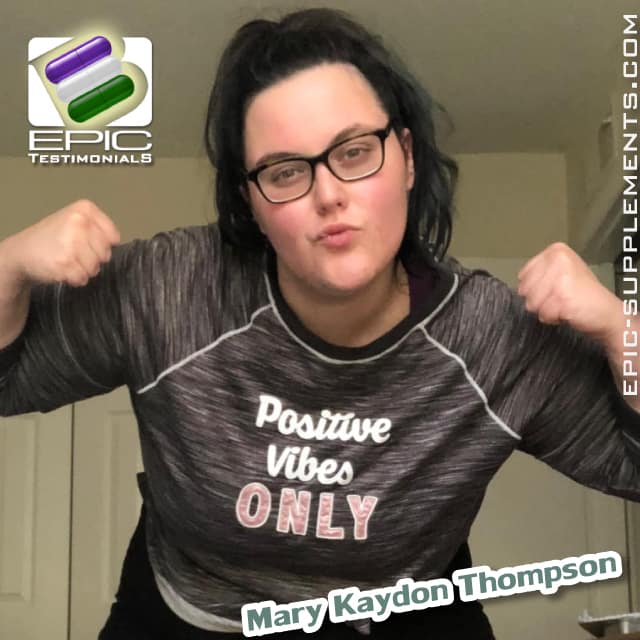 Mary Kaydon Thompson from North Carolina tells:
"I have been unhealthy since the 5th grade. I had horrible mental health problems, I craved food ALL THE TIME, didn't want to move my body, talked down on myself and beat myself up for everything that I thought was wrong with me, my confidence was at an all-time low, and I had no good nutrients that I was consuming.
I want you to keep in mind that I am an adult with autism, oppositional defiance disorder, ADHD, major depressive disorder, and generalized anxiety disorder. Dealing with all of this is insanely stressful and challenging, but b-epic has made my life WAY MORE MANAGEABLE.
I wake up and have energy to do things and stay productive, I don't talk crap about myself anymore, I feel capable and worthy, I am self-motivated and self-disciplined enough to run a successful business, my digestive health is the best it's been in the 25 years I've been alive, I'm finally receiving the nutrients my body needs, and I am enjoying my life.
Remember this when you see another comparison photo. Not everybody's journey will be the same, but one thing that will never change, is that these products will change your life in some positive way. Do not pass this up, these products are insane!"
---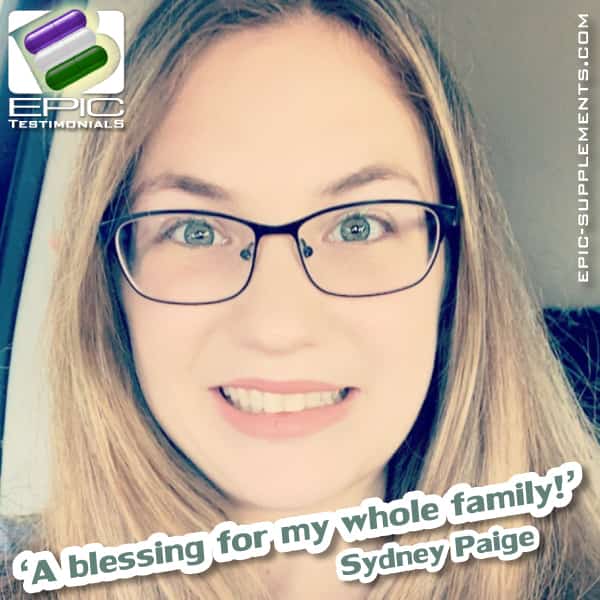 Sydney Page talks about her daughter:
My daughter (will be 12 next month) has ADHD and had to be put on medication for school. I am all for natural products when it comes to my children. I tried essential oils and other natural remedies before resorting to medication. I have read many articles and research stating that caffeine can reverse ADHD symptoms. So I let her try the green pill to see how she does before school starts. She has been on it for 4 days and I am amazed.
This child has been staying up until 1 or 2 am and waking up at noon all summer long. The last 4 days she has been up around 8 and going to bed at 9:30, she has been spending her time READING (hadn't read all summer), making her bed every day, helped wash clothes and cleaned her room yesterday without me asking her to. I am so happy to have found this.
These products have been such a blessing for my whole family! No longer supporting the pharmaceutical companies monthly.
---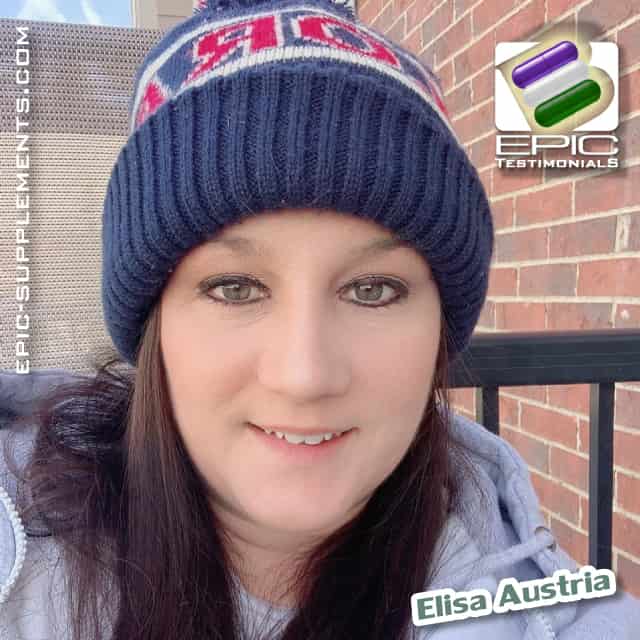 Customer review by Elisa Austria (Michigan, US):
"So I am 30 days in! I tried these products because I had become dependent on energy drinks to be productive and to help me sleep. (I have ADHD and caffeine calms me down). For the past 10 years I have used Ambien on and off for sleep. Since my first brain surgery in June 2018 I have been off my ADHD meds to help with the recovery process. I wanted to find a more natural way to achieve focus and sleep.
My energy levels and focus for the first week were ok. Not where I wanted them to be but it was better then nothing.
By week 2 things got to an acceptable level. I was able to get more things done and I didn't wear down too quickly. My sleep score on my Fitbit has improved from the 60s to 90s! Over all I have less heart burn, less bloating, more energy and better sleep! I have also been able to keep my head pressure at normal levels without overwhelming my shunt!"
---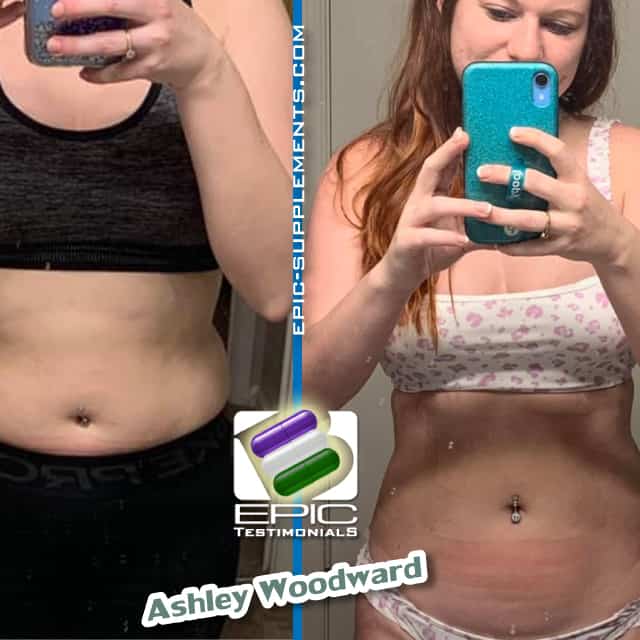 Review by Ashley Woodward from Mississippi:
"4 months in on these magic BEpic beans and I couldn't be more proud of myself.
I woke up one day and decided it was time for a change and it was time to TAKE CONTROL and that is exactly what I did. I can't say how much I am thankful for finding products that ACTUALLY work! 15lbs down and have officially hit my goal weight.
However, the weight loss is just a perk for me. My mental health has COMPLETELY changed my life. I have always doubted my potential, doubted myself and let my anxiety consume my life but I am here to tell you that I am 2 months off of my anxiety medicine and I am MYSELF again. I'm able to share my story with others because I know there's others that struggle with mental health. It will consume you until you take control of it!"
---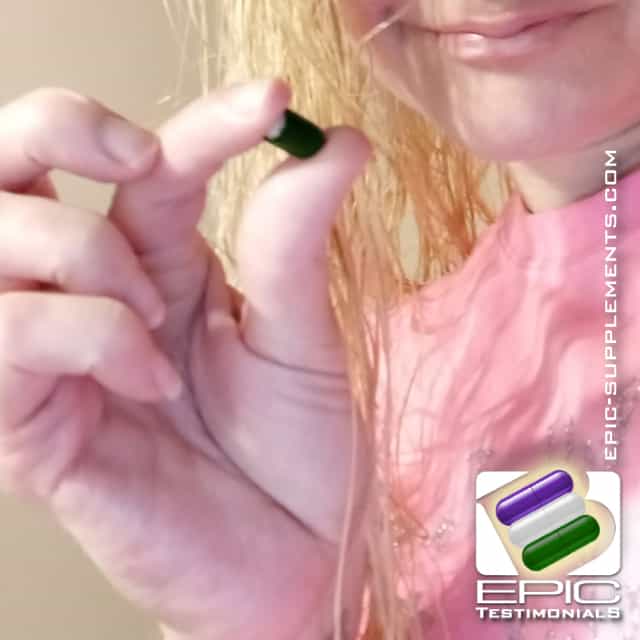 Review by Shanna M. from Maryland
"In respect of mental health awareness month I want to share my story. I went from a drug addict to a sober anxiety ridden frustrated exhausted mom and I needed help. I was sleeping my days away and not being productive. I didn't look in the mirror for a good year. I did not love myself and every one around me suffered.
I needed a something to help so after trying a few things and spending a few bucks I found my saving grace!! Talk about instant impact product. The 3 new pills changed my entire life. They did!!
I actually love myself today. Oh and every one around me knows I am not the same!! My kid's are happier and so is my hubby!! Happy wife happy life is so true!! I got back happy!!"
---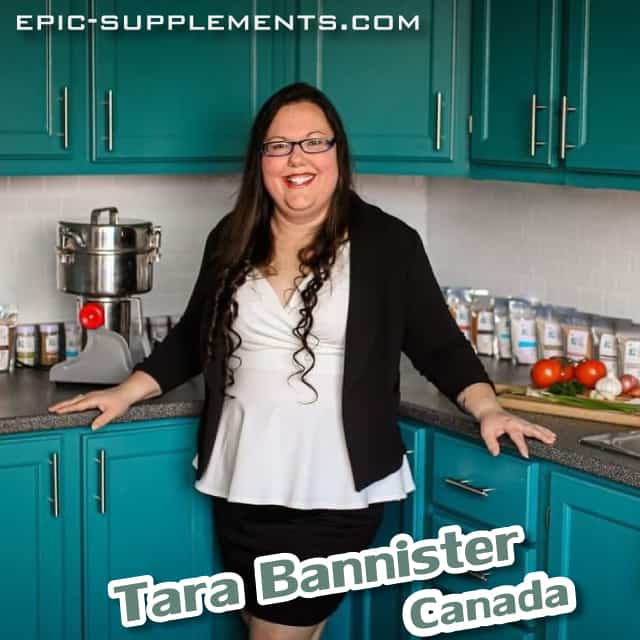 BEpic vs Tourette syndrome (review by Tara Bannister from Canada)
"My son has very severe Tourette syndrome. He has missed over a year of school within the past 2 years. His tic storms were so severe we often worried about broken necks and concussions.
When starting school this September we weren't sure what to expect for him. He asked us if he could take bepic for the first few weeks to help regulate his sleep schedule at night and help him not be tired in the morning. He is in grade 10.
Since these are made with natural ingredients we agreed. His first 3 weeks of school were amazing, he never came home once, and his tics were minimal. We thought his medications were finally working for him.
After 3 weeks I told him that he was on a good sleep schedule so he no longer needed bepic. That fourth week he came home from school every day by 10am because he was back to having major tic storms.
So I decided to fill out the paperwork to start homeschooling him. I was wracking my brain trying to figure out what happened. I couldn't understand why his first 3 weeks were so mild and now this week was severe again. What changed?
Finally before sending in the application I realized the ONLY thing that changed was the bepic. So I decided to try it again and see if that was it. I gave him bepic on week 5 and sent him off to school. He had another amazing day! So we decided to keep him on it. He hasn't come home since!!
And this is November. His tics have never been this mild before, he is a totally different kid and able to attend school all day every day!!"
---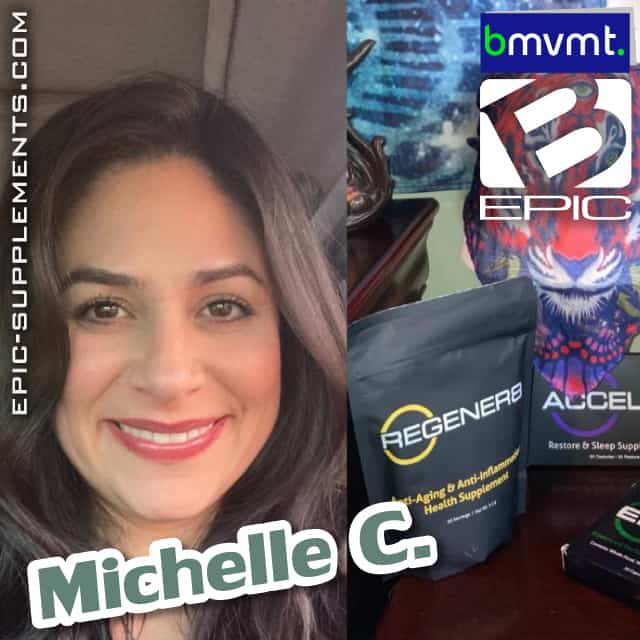 BEpic supps vs Drug Addiction (reviewed by Michelle C.)
"My sobriety is not only about asking God to remove the obsession to drink and use drugs!!
I was very excited to be using these new bepic supplements.
The first 9 months of sobriety were focused on aligning my will in life over to the care of God. Asking him to remove the obsession to drink and use drugs. And asking him to direct me thinking.
The next phase in my sobriety was all about becoming more spiritual and intuitive. 😉
In this phase of my sobriety. I am focused on being of service and freely giving away what has been given to me. 🥳🥳🥳"
---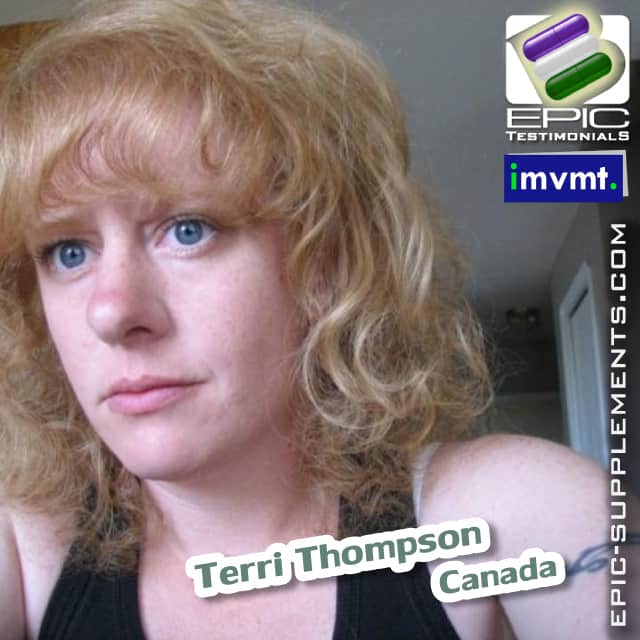 Terri Thompson from Canada shared her post::
"For the second time in 6 years I've contracted Encephalitis. It's rare to get this once in a lifetime and even rarer to get it twice.
This time was slightly different than the first and I think these supplements played a huge part in that. I didn't have the nagging migraine & severe neck pains that showed up 3 weeks prior and so far I don't have the migraine that lasted 4.5 years after. Unfortunately with not having the same symptoms as before I didn't catch it soon enough BUT I did manage to let my husband know I needed to go to the hospital before I totally blacked out. I was treated with antibiotics & antivirals for 5 days (first time was 11).
The day I was released I started back on the supplements and so far no nagging head and neck pains, migraines or headaches."
You can see reviews on a topic that interests you