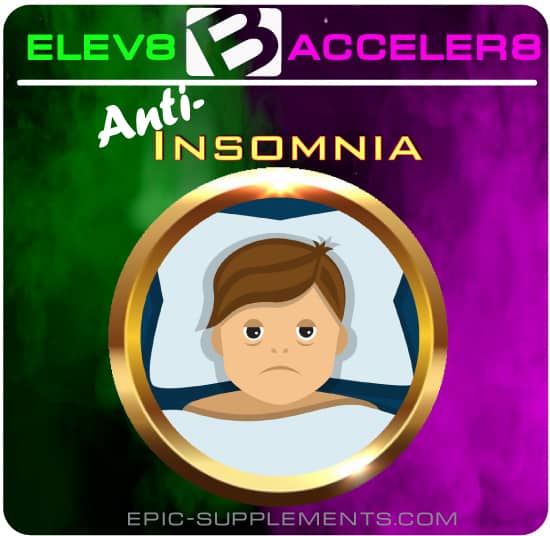 Insomnia is the most common sleep complaint. This happens when you have trouble falling asleep or sleeping, even if you had the opportunity to sleep all night.
As many as 30 to 35 percent of adults complain of insomnia. In most cases, people with insomnia report a worse overall quality of life.
B-Epic Acceler8 сapsules are great sleep boosters. Many people who used these pills got rid of insomnia (with or without apnea) and learned what a peppy morning awakening is.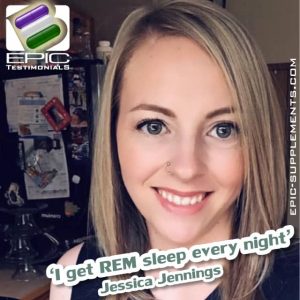 Jessica's review: "Check out the reviews of real people who have been given a good night's sleep by Acceler8 (+Elev8!) pills.
Before I started this three pill system I averaged 2 to 3 hours of sleep each night and of those 2 to 3 hours I got, I almost never got REM sleep. It was not uncommon for me to go to weeks at a time with no REM sleep and the most sleep I had in one night was less than four hours consistently for more than two months. Mentally, physically, and emotionally I was exhausted and drained all the time.
After I started taking these three little pills I now average over five hours of sleep each night and I get REM sleep almost every night.
I can work and keep my house fairly clean. I have more patience, I sleep better, I crave sugar less, I'm losing inches, I have mental clarity and now I'm happy, I'm healthy, and I am well rested and ready to take on any of my days challenges. I can no longer imagine what my life would be like if I hadn't started taking the supplements."
---
Testimony of Alexandria Frank:
"I started these products to help with improved sleep and more energy. I was waking up every 2/3 hours every single night. It was wearing on me. Since I have been using this system, I have been sleeping through the night, maybe only waking up once. Which is a BIG deal to me! My energy is amazing, and it lasts all day! Not struggling to keep up with my VERY energetic toddler. I am feeling so good! As an added bonus, LOOK!!! (Woot woot)
The 2 pictures were taken a month apart. I'm shocked at the difference in my belly! I love this stuff!!!!
if you've been waiting or debating to try this amazing stuff, I highly suggest you do!
ALSO*** Green pill in the morning, white/purple at bedtime."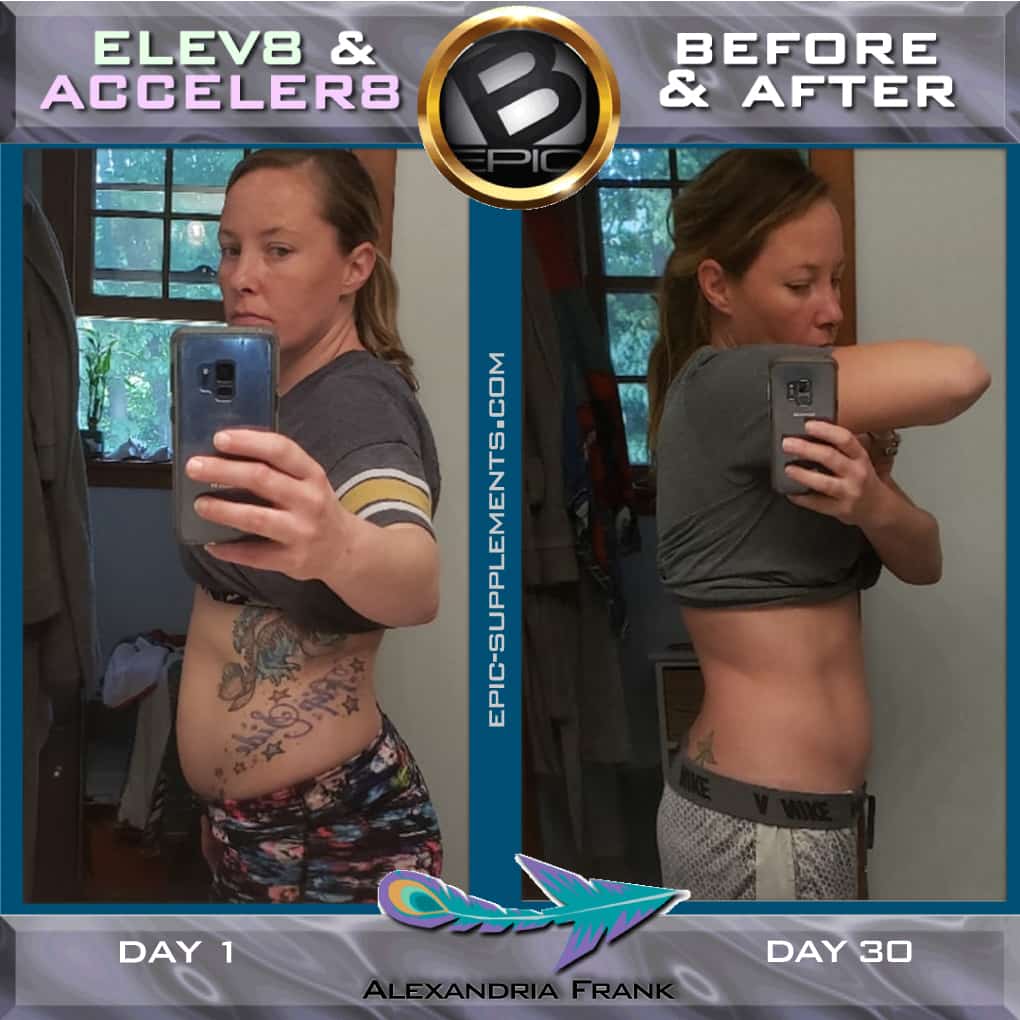 ---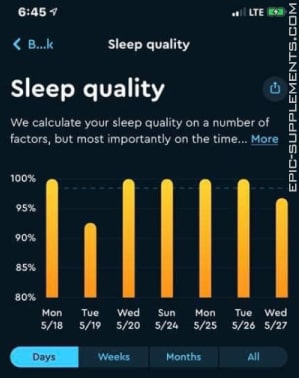 Keri Foster's review:
"Look at my sleep quality!! I'm telling you I've never slept so well!! I don't know how I made it so many years with terrible sleep…now I'm up every morning before my alarm ready to crush the day!!
Thank you BEPIC for changing so many factors that were weighting me down!!"
---
Testimony of Melissa Fletcher from Louisiana:
"That's what I love most about these products. It is so much more than weight loss.. I was a single mom running through life filled with anxiety. I was tired all the time but could not sleep at night.. I had tried all the things.. I felt defeated… I thought ok once again I will try another product but I am so forever grateful I did.. I feel like myself again, even better.
I get up feeling amazing and I even catch myself singing in the shower. I don't get stressed as easy and my anxiety is soo much better. My gut feels amazing and not bloated.. and to say I sleep like a dad is a understatement.. I never knew what that term meant till now.. BEpic pills have truly changed my life for the better.
You owe it to yourself to be the best version of yourself!"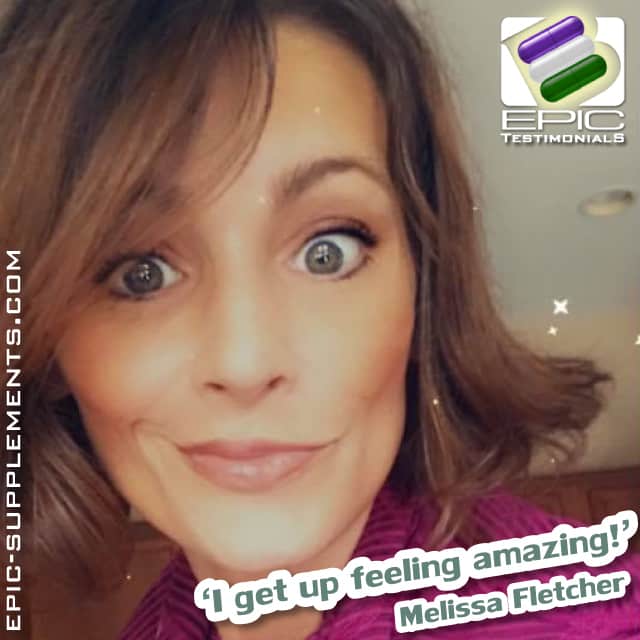 ---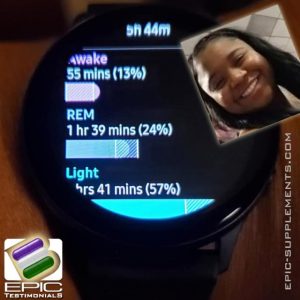 Review by Monet Farris from Texas:
Overall, I got 5 hours and 44 min of sleep last night, definitely a PLUS for me…..technically I spend more time in light sleep, REM was 1 hour and 39 min. Sleeping this much in one night is good for me considering… sometimes I only get that much in a week, with working 2 jobs.
Most nights when not working, I'm literally up ALL night, but since taking these pills, especially the sleep one, I can fall asleep without any problems and wake up feeling refreshed as if I had 8-10 hours of sleep
---
Post of Alicia Speas from Utah:
"Like clock work I would start to feel really tired by 9pm not able to keep my eyes open. I would have to go to bed. Then when waking up at 7am I just felt drugged and needed more sleep. Even though I got a full 10 hour sleep.
Fast forward to me taking a chance on this 3 pill system to lose help me lose weight. Little did I know my sleep is what would change. I am staying awake a lot later (11-12) and not feeling like I'm gonna pass out. I am even waking up before my alarm goes off. I have soo much energy to get things done around the house and the rescue I work at. I am NOT tired.
I must add I have only been taking the 3 pill system for 3 weeks but saw a difference in my sleep working 1 week! That is crazy to me.
Guys this is life changing for me. I could not be happier to be on this journey!"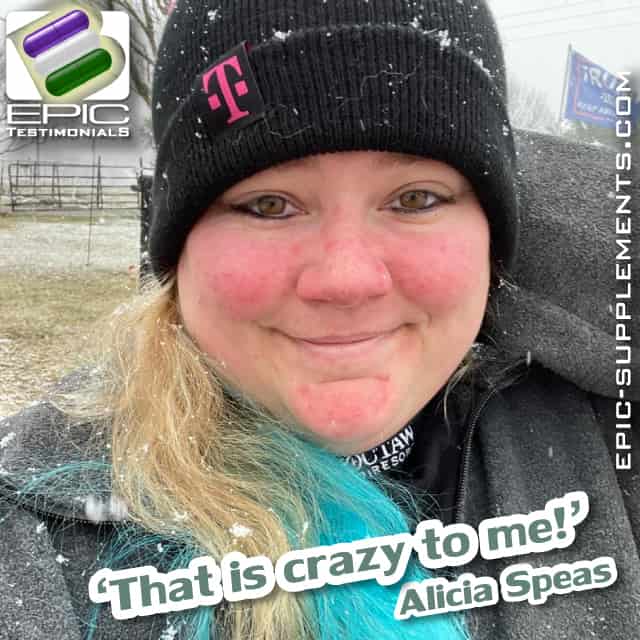 ---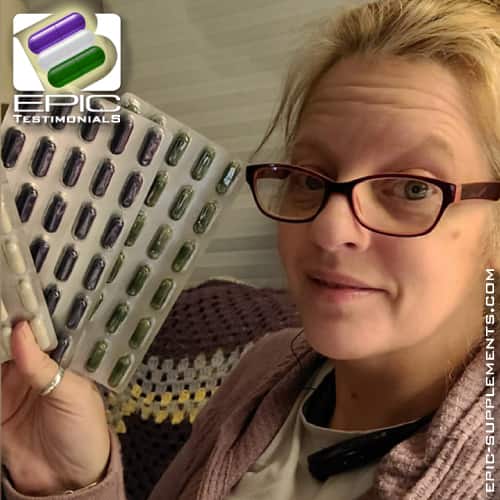 Kim Newell from the USA shared:
I sat back and watched the BEpic testimonies come every day for weeks… FINALLY decided it's time to give this system a go! I had nothing to lose.
1 month… 5 lbs gone. Gained a couple back but that's ok. My biggest excitement was my sleep. I have such a hard time falling asleep and staying asleep….. I now sleep like a baby!
And even bigger excitement… My nerve damage pain in my foot, that is a huge culprit in why I can't fall asleep… GONE!! Yes… GONE!!!
There's so many more exciting changes!
One piece of advice… Drink tons of water! And don't run out! Place your order on time. I'm impatiently waiting for mine to arrive. Auto ship from now on.
---
Customer review: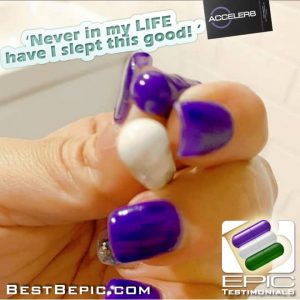 "Never in my LIFE have I slept this good!
Orrrr lost weight overnight 10 pounds down in 9 days! – Without changing a thang and traveling anddd within my BMI. SO IMPRESSED!! SO GRATEFUL!!
Have you had your little green pill today? I did.
You know how I know? I'm happy!!! I have energy!!! I am focused!!!"
---

---
Mary Larios from Washington tells:
"So I been dying to share this with you guys because I'm always bragging about how good I sleep with my supplements ))
So here it is…1 week ago my husband bought me a new Fitbit! Left pic is from when I had my old one and it's literally a representation of how much sleep I was getting or actually how much sleep I wasn't getting. Right pic is from last night…I love going to sleep and waking up with the biggest smile on my face!"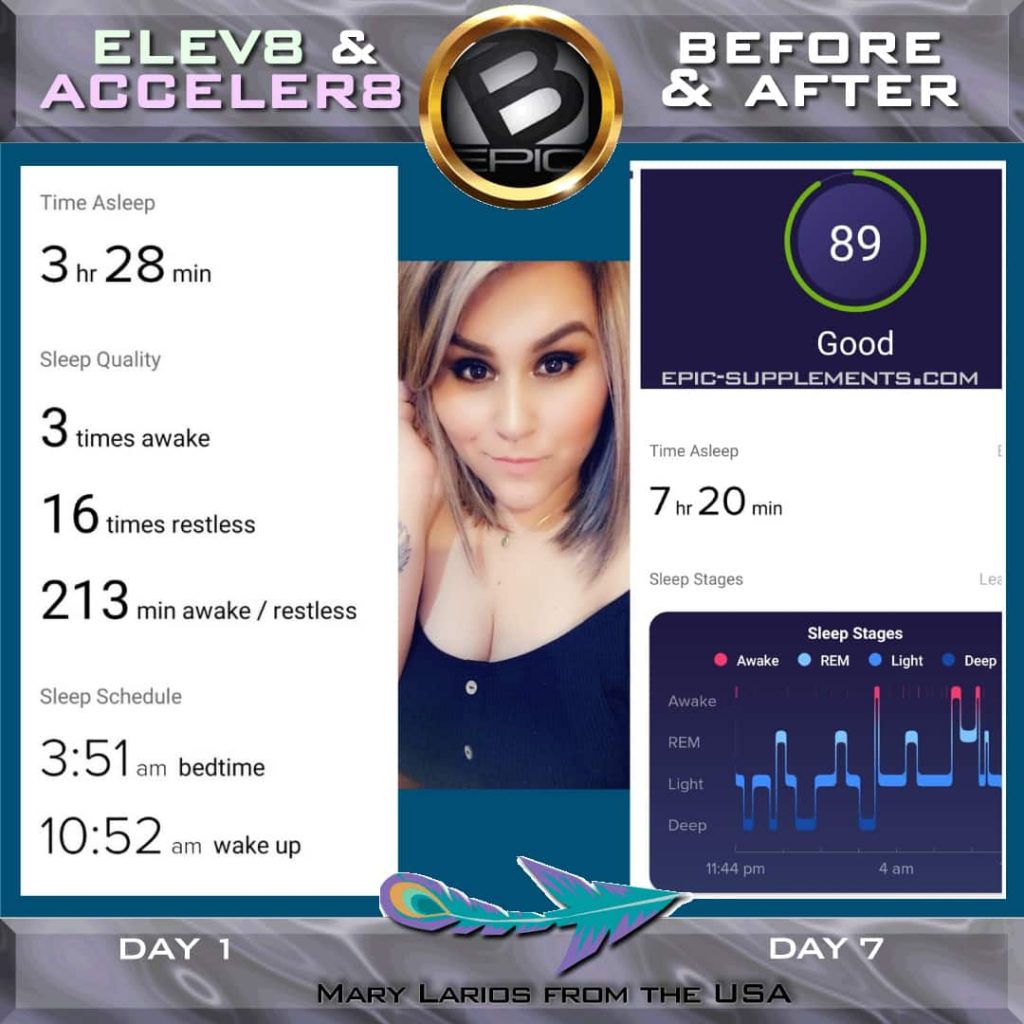 ---
Arreta Goodman wrote: "My sister has had amazing results! Let me tell you! She use to not sleep well at all. When she did get to sleep she would wake up foggy and feeling half drunk! To which she's not! But it took her drinking super strong coffee to wake up with a shower to boot.
She has dropped inches and pound's in 5 weeks. Her moods have change for the better now. She actually sleeps now and wakes up refreshed. I have seen all of this first hand. When she started bepic I was sceptical, but seeing with my own eyes. I see a total different side of her I haven't seen in a good while.
---
Customer review: "I feel fantastic!"
With the 3 pills I feel fantastic! Thanks to the #3PillMagic physically I feel younger and my self-confidence is back.
My #EpicJourney has been fast and furious, but very sweet. No more burying myself in bigger clothes and pretending it doesn't matter I'm overweight. I have the bounce back in my step and I can walk further, faster and without getting winded.
My mind can actually shut down and I'm sleeping faster, deeper and I wake up rested. I'm not a doctor and I'm not claiming anything more than expressing my #EpicExperience.
I have epilepsy and I don't have the best memory, but I feel my mind has more clarity. I'm in love with my new #GreenPillMagic
---
Yevonne shared this post: "I have sleep apnea. When I was tested it was recorded that I stopped breathing approximately 43 times an hour while sleeping. As you can imagine I have never had restful sleep. I would wake up multiple times during the night and wake up just as tired if not more tired than when I went to bed.
Since using the supplements I have had the best sleep of my life. I am sleeping straight through and when I get up I feeling rested and ready to start the day."

See also:
More Reviews
You can see reviews on a topic that interests you