(this text is Chapter 4 from official Brand Partner Handbook)

What is the Back Office?
The Back Office is the online dashboard (Member Zone) for your B-Epic account. It functions as a central hub for the business, marketing, and ordering systems. From their B-Epic member account / online dashboard, you can place and track your orders, manage your marketing system and autoresponder, overview your account balance and request commission payouts, view your customers and team member, manage your monthly autoship subscription, change your shipping information, submit support tickets, and more.
---
Where can I learn more about how to use my Back Office?
As soon as possible, we recommend looking around your B-Epic Back Office and checking out everything available to you there. Many of the Back Office's most common features and frequently asked questions are explained in this document. In addition, your Sponsor can help answer questions you may have. For more technical assistance, please contact Member Support.
How do I log into my Back Office?
The direct login URL for the B-Epic Back Office is www.bepic.com/backoffice. An easier way to remember is to login from your B-Epic website. Go to www.bepic.com, then click on "Member Login" in the top of the site.

On the Login screen, type in your B-Epic username and password, then click on the "Login" button.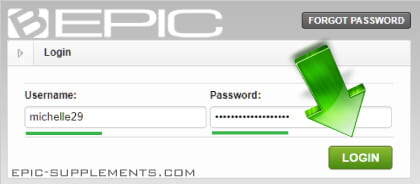 More information pertaining to usernames and passwords is provided in the "Account Access" chapter.
---
How do I make changes in my Back Office?
Use Back Office's Home menu and submenus Account Profile, Billing Profiles, Shipping Profiles and Autoship Profile.
NOTE: It can take up to 24 hours for changes effecting order processing and shipping to ripple through the system; therefore, be sure to make any such changes in advance of when you want them to go into effect.