(this text is Chapter 2 from official Brand Partner Handbook)

What is my username?
Your username is your unique identifier as a B-Epic member. You created your username when you first signed up for B-Epic. You need it to access your online account / Back Office, sign up new customers and distributors, and get assistance from Member Support. Also, your BEpic username is used at the end of your personal B-Epic website URLs in order to link them to your account.
Your B-Epic username is listed in the Welcome letter emailed to you when you signed up for B-Epic. Keep it somewhere safe for future reference. For reference, it is also listed at the top of the Your Account Profile screen in your member account / Back Office.
---
Can I change my username after I have signed up?
There is no setting to change the username in your Back Office. So, if you need to change it, contact Member Support.
---
Some tips on choosing a good username
Choose a username that will represent you well since it will be seen by others as part of your website URLs. The best usernames are easy to remember and simple to type.
IMPORTANT: Do not use an email address for your username. Do not use symbols, special characters, or non-English characters in your username; using them will cause issues in the system.

FYI: If you have chosen a login like
michelle89@hotmail.com
then in fact your login will be saved as
michelle89hotmailcom
Also, use of the "BEPIC" company name is not permitted in usernames. Lastly, just an FYI, usernames are not case sensitive.
Be sure to record your username somewhere secure for future reference.
What is the Sponsor Code?
When you sign up another distributor or customer, the system may prompt them to enter a Sponsor Code on the online sign-up form. They need to enter your username as the Sponsor Code to ensure they are placed in your organization (and not in another Brand Partner's inadvertently) More info
---
What is the minimum order I need to keep my B-Epic account active?
To maintain an active account with B-Epic, you need a qualifying product pack order (40 PV or higher) each calendar month. (FYI, this applies to all distributors. But it does NOT apply to retail customers; there is no monthly minimum order requirement for customers to keep their account open.)
Note: In order to qualify for ranking, commissions, and bonuses, the PV and CV requirements must be met by a single product pack's point value. In other words, it does not work if you mix and match different product packs of lower point values in order to reach the total PV and/or CV point value requirements to quality for the applicable ranks, commissions, and bonuses. The point values of separate product packs are NOT summative nor cumulative for monthly qualification purposes.
Be advised, if you signed up with a free trial distributor account, you need to upgrade your account with a qualified monthly personal order within 30 days to stay active. More information is provided in the "Upgrading an Account" chapter.
---
Where can I see my current rank?
Your current qualified rank and rank advancement details are listed in your member Back Office (for Independent Distributors only!). To view this information, log into your B-Epic Back Office and press "Binary Overview" button. Rank info is listed at the top of the main screen under "Rank Advancement".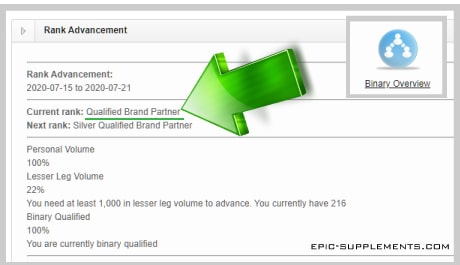 For more information about rank qualifications, commissions, bonuses, refer to the "B-Epic Brand Partner Compensation Plan".
---
Where do I enter my Tax ID or Social Security Number?
Brand Partners are independent contractors and as such are responsible for paying taxes pertaining to their B-Epic business. Therefore, make sure you have added your Tax ID or Social Security Number to your B-Epic Account Profile. To do this, log into your B-Epic member account. In the Back Office (online dashboard), go to the menu at the top of the screen, click on "Home", then click on "Account Profile" (or press "Account Profile" icon).
Then, on the Your Account Profile screen, scroll down to "Tax ID Number" (towards the bottom).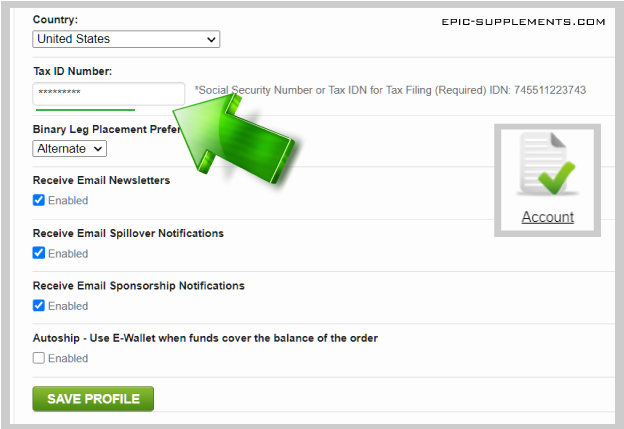 Type your Tax ID or Social Security Number into the field. Then click on the "Save Profile" button.