(this text is Chapter 1 from official Brand Partner Handbook)

If I have questions, where can I get help?
When you're first getting started, the best place to get direction is to contact your personal B-Epic representative (Sponsor). Their contact information is listed in the Welcome letter emailed to you when you signed up for B-Epic.
Another quick and easy way to find answers to common questions is to check out the frequently requested items and member resources linked to on the Bepic.com Support page. We recommend all distributors go through this complete handbook as well as the "Getting Started Checklist" as soon as possible.
Also, to ensure you get timely updates from Corporate, LIKE and FOLLOW official B-Epic pages bepic100epic at Instagram or Facebook.
How do I contact Member Support?
If you need assistance from Member Support, you can submit a support ticket via the Back Office online dashboard (see below), and our staff will respond (in the online support ticket system) as quickly as possible (usually within 24 business hours). Instructions for this are provided below in this section.
Or you can call Member Support at +1-888-335-7493 (USA) during business hours: 9 am – 5 pm Monday-Thursday and 9 am – 2 pm Friday, Mountain Time. Please note, we are closed on USA holidays.
IMPORTANT: We ask that you respond immediately to any requests or issues to avoid delays in processing and shipping of your order.
How do I submit a Support Ticket?
Log into your B-Epic member account. In the Legacy Back Office (online dashboard), go to the menu at the top of the screen, click on "Help", then click on "Contact Support" (or click here if you are already logged in account).

Then click on the blue "Support" round button in the bottom right-hand corner of the screen.

Fill in the contact form and click the "Send" button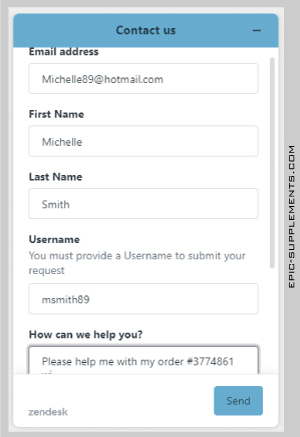 For fastest response, include all key details in your support ticket. If your request involves a specific order, list the order number. If you are inquiring about another account (i.e., not the one you are logged into when you submit the support ticket), list the applicable username.
A member of our support staff will respond (in the online support ticket system) as quickly as possible – usually within 24 hours during business hours (but not including weekends and USA holidays). When Member Support responds, you will be alerted via an automated email. You can respond back to that email if you feel like you need to add additional information.
IMPORTANT: After following any instructions given to you by Member Support, be sure to let us know that you have completed those steps, so we can assist you with the next steps as applicable. If you do not notify us, we will not know you are ready to proceed.
All your support tickets will be recorded for future reference in your Back Office on the "Contact Support" screen.