B60 Program is obsolete. Please read about BMvmt Program
Create a Healthier Lifestyle in 60 Days!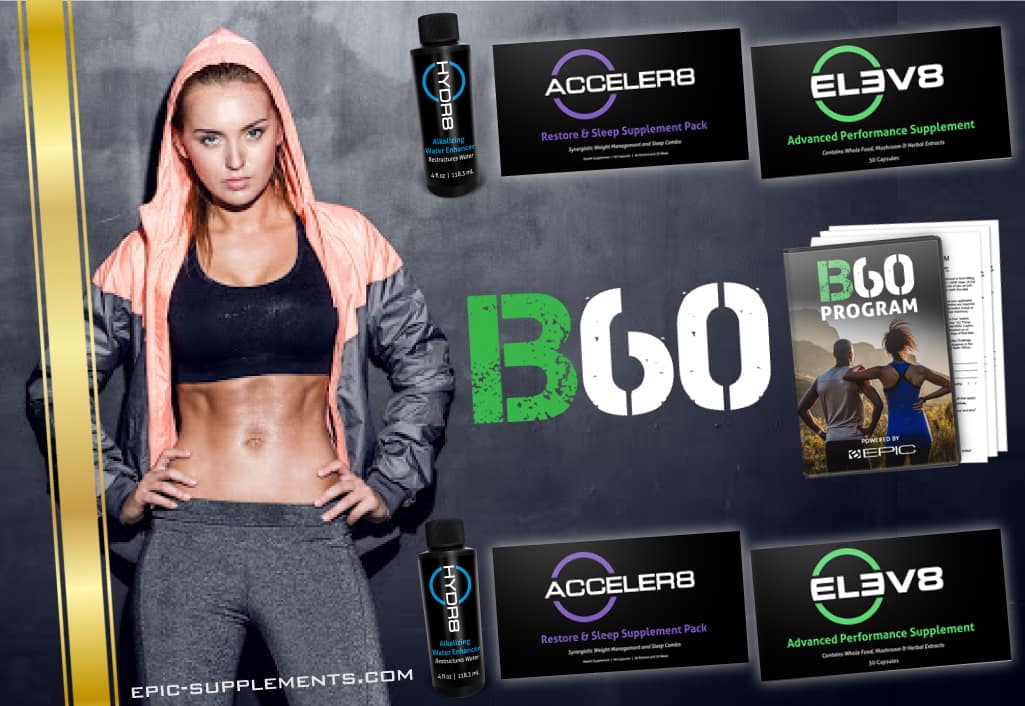 What is BEpic B60
B60 are 2 profitable bundles of B-Epic products (so called Transformation Packs) designed for 60-day weight loss Challenge Program. Available in the USA since October 25, 2020.
There are two types of B60 bundles, each containing several items for quick and safe weight loss:
Elev8 pills (2 months supply)
Acceler8 pills (2 months supply)
Hydr8tion water (2 months supply)
complete 60-days B60 Challenge Program (workout video-guide and printed instructions)
OR
B-Slim tablets (2 months supply)
Nutri-NRG (2 months supply)
Regener8 (2 months supply)
complete 60-days B60 Challenge Program (workout video-guide and printed instructions)
branded water bottle
The second type of B60 bundle is for those who prefer a more active way of losing weight.
B60 program slogans are
"Add more years to your life",
"Transform Your Life with B60!",
& "Warning! This product may cause extreme weight loss"
---
Create an account and make a purchase from the official online store
(15 Before-and-After pictures)
Products brief info
Elev8
Elev8 supplement is the first and most famous B-Epic product for your body and mind. Elev8 green pills are the highest potency and strength of selected plants, nootropic herbs and oriental mushrooms with adaptogens. As experience shows, the longer people take capsules, the better their condition, and the more diseases they can get rid of.
The Elev8 box contains 30 green capsules/pills (1 month supply). More info
Acceler8
Acceler8 is a product that allowed you to lose weight, while you got the best sleep of your life. Acceler8 is a dietary supplement that is a combination of two types of pills taken together before bed. Acceler8 Sleep white pills prepare your mind and body for a deeper night's sleep and promotes weight loss. Acceler8 Restore while the purple pills gently and naturally accelerate digestion, flush toxins, and increase metabolism.
The box includes 60 capsules – 30 Acceler8 Sleep and 30 Acceler8 Restore. More info
Hydr8tion
The easy-to-use liquid pH water enhancer restructures plain drinking water resulting in a more hydrating water, which the body can more readily use. This increase in hydration helps the cells function optimally. HYDR8ATION may also support digestion, absorption of nutrients, free radical scavenging, detoxification, and elimination.
1 bottle of Hydr8tion contain about 192 servings of restructured water. HYDR8tion is vegan, GMO & gluten-free. More Info
---
B-Slim
B-Slim is easy-to-use hydration tablets with African Mango and Ashwagandha. B-Slim health benefits may include: promoting weight loss and healthy weight control, help fight obesity, normalize cholesterol levels, food cravings decreasing, help relieve stress and anxiety and other.
Servings Per Container: 15 tablets. Serving Size: 1 stick per day. Read more
NutriNRG
NutriNRG is powder to prepare delicious and healthy lemonade drink. 100% sugar-free and only 25 calories per serving, NutriNRG is the perfect tasty supplement to a healthy diet or any weight-loss plan.
Sticks per pack: 30. Serving Size: 1 stick. Read more
Regener8
Regener8 is anti-aging and anti-inflammatory supplement. This product not only helps you look and feel great, but also tastes good! The main purpose of the supplement is to suppress inflammatory processes in the body after physical activity. Regener8 is fast-acting and bioavailable supplement, which works in hours, not days!
Sticks per pack: 30 sticks. Serving Size: 1 stick per day. Read more
B-Epic B60 Reviews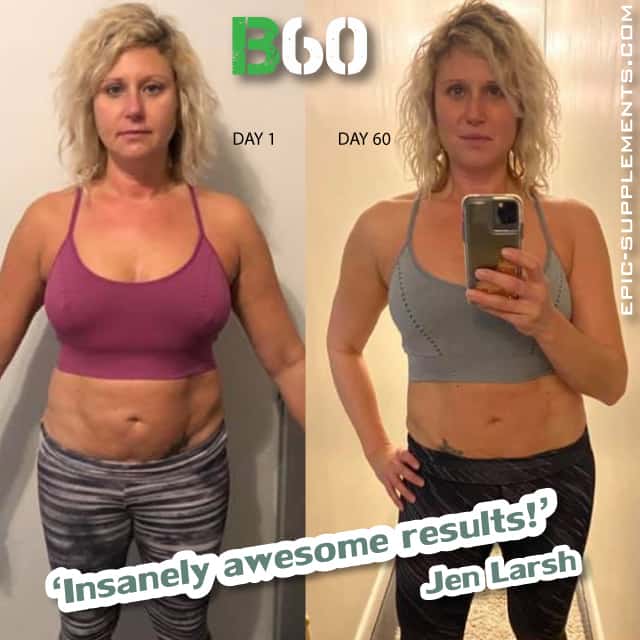 Review by Jen Larsh from Pennsylvania:
"Purple sports bra is day I started the B60 challenge. Grey sports bra is this morning after 60 days! This lifestyle challenge provides insanely awesome results! What you can't see is just how fantastic i feel on the inside.
Belly bloat gone, sleeping amazing, skin glowing, nails growing like crazy, lost 6 lbs & about 5 inches off my belly, waist & bust!
FEELING EPICALLY ALIVE!"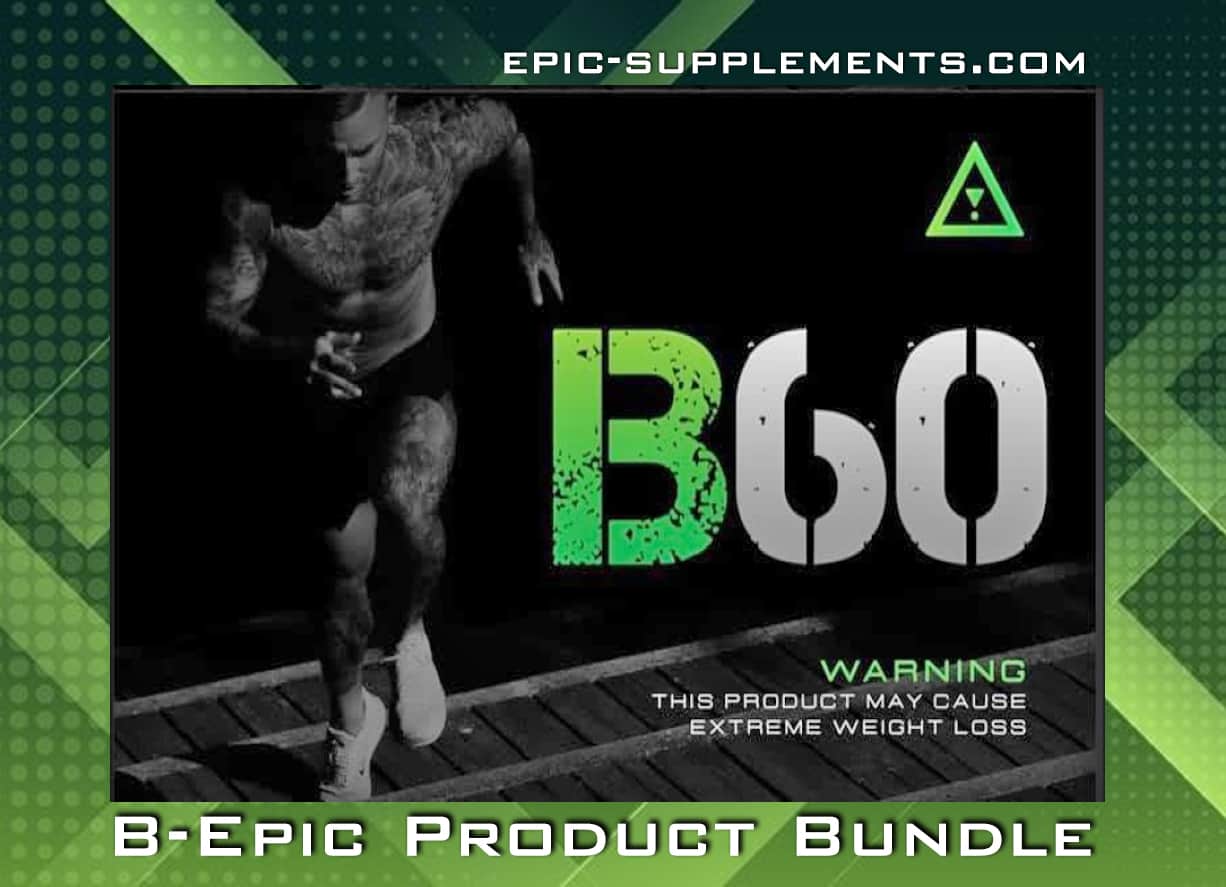 Price for BEpic B60 Transformation Pack
For distributors: $189.95 + shipping + international fees (outside the US) + $19.95 (One time Registration fee)
For customers: $199.95 + shipping + international fees (outside the US)
B60 PACK #1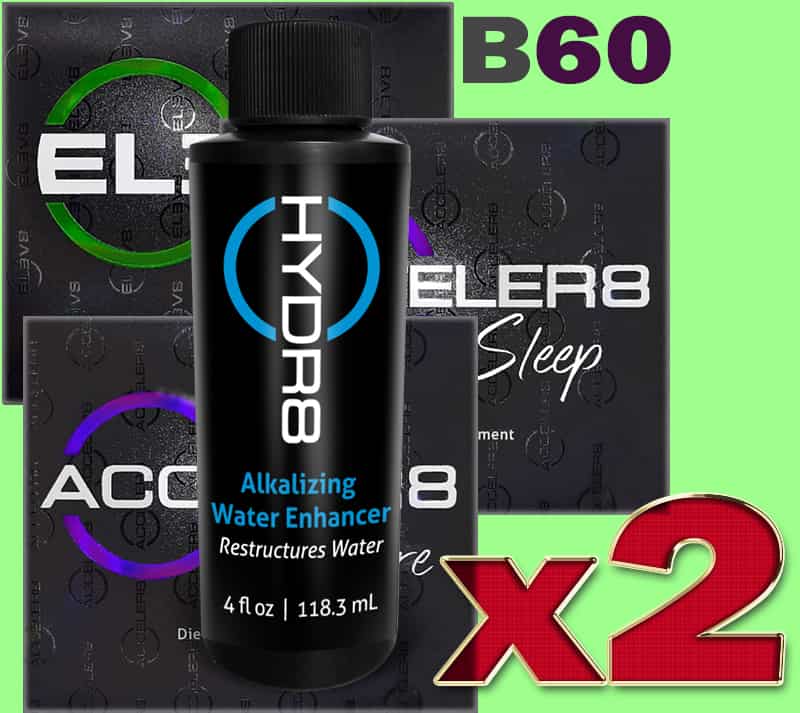 Comprehensive Transformation
Attractive Price
All-Natural Ingredients
3 pills per day + healthy water
2 MONTHS SUPPLY
Customer Price
199.95 USD
Excluding shipping & international fees
---
Distributor Price
189.95 USD
Excluding 19.95 USD registration fee, shipping & international fees
B60 PACK #2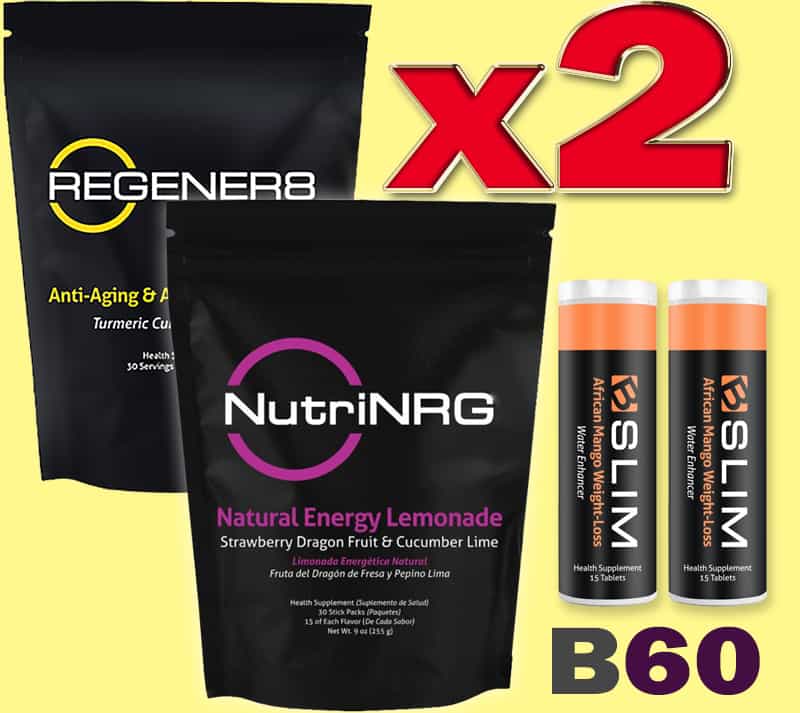 Healthy Joints, Energy, Weight Loss
Attractive Price
All-Natural Ingredients
2 sticks + 1 tablet per day
2 MONTHS SUPPLY
Customer Price
199.95 USD
Excluding shipping & international fees
---
Distributor Price
189.95 USD
Excluding 19.95 USD registration fee, shipping & international fees
---
---