Experience the power of the B-Epic mobile business building application, offering advanced Prospect Invitation, Social Publishing, Prospect Management, Team Management, Notification tracking, Account management tools & more, designed to help you quickly expand your results and success. The powerful yet intuitive design provides a highly duplicatable system anyone can use!

For its Brand Partners, B-EPIC launched a convenient mobile application in 2020. It is available for both iPhone and Android users. The download page on Google Play for Android looks like the one shown in the picture. The page on the App Store for iPhone users looks similar.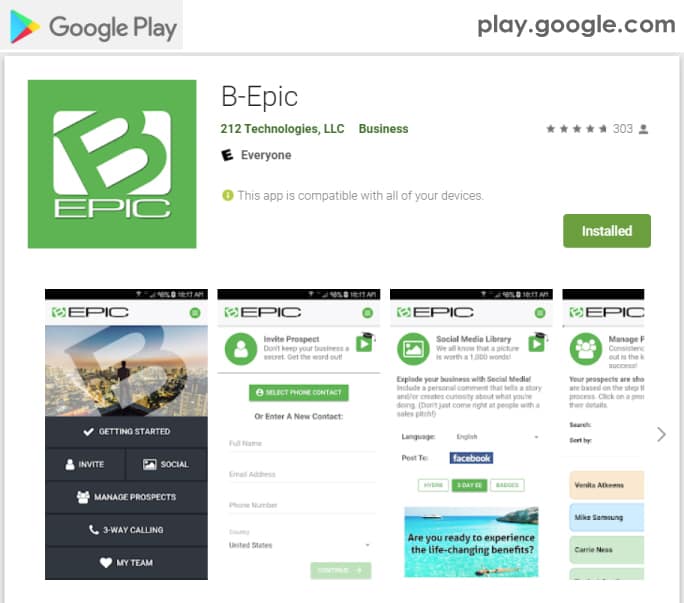 Note: You must have a B-Epic account to access the application. If you do not have an account, you should Sign Up on the official website (see instructions).
How to download B-Epic Mobile Application?
You can download the application for the Android smartphones and tablets via Google Play application (enter bepic in the search bar) or by this link.
You can download the application for iPhone, iPod touch and iPad through the App Store application.
---
Technical Details
Developer: 212 Technologies, LLC
Memory Size:
Apple: 20.8 M
Android: 14 M
Compatibility:
iOS 11.0 or later
Android 4.4 and up
---
Mobile App User Reviews
Starla Kramer: It's so easy and the step by step videos explain your progress. I'm building my business fast.
Jennifer Kamerman: Super amazing, extremely helpful in my business so quick, and literally you can reach out to anyone anywhere social media, email, telephone, endless opportunities! I love it…
Ashlee Starks: I love the app just a few things I don't like. When u press back it closes app completely and u have to start over. Also there no option to invite directly to individuals on fb messenger.
Ron Begin: I have been in the direct sales industry for 25 years and have never seen an app that is so well put together. Functions amazingly well.
bethmoell: Best app ever! I've been in network marketing for over 45 years! This app is by far the best tool I've gotten to use in network marketing!! Thanks
Shonah Bastian: I enjoyed the brief presentation of the different dynamics of how this product can assist ones health and boost there way of Living. I am eager to discover more indepth and try it for myself. This seems to be a well formulated and researched product that I would like to share to others to make there…
Elizabeth Ruiz: It's so professional. Easy to manage and always up to date
Gypsy PinkMinx: This app is genius and will definately help build my business. Thanks so much for this app
Sarah Kelley: Every company should look at this!!! IT'S AWESOME!!!! Take the time to go through the steps, they ARE WORTH IT!!!
RkyMtnSmile: Epic Dynamite!!! This is what I have been waiting for! Ready to Rock this with my amazing team!
Monet Bellagio: The best business app ever!!! Amazing, very self explanatory, the best I encountered ever!!!
User London's: Awesome App!! This is the most user friendly and motivation business app I've ever seen in this business!
Small glitch in the enrollment process as the potential prospect should be able to order the Hydrate pack too or
Enroll to be a customer if they do not want to enroll as a partner!
See the Google Play & App Store for more reviews.